We've all been there – that moment when we receive an invitation to a party or social gathering, and we just really don't want to go. It's not that we're antisocial or ungrateful for the invite; it's just that sometimes, life gets in the way, and we'd rather stay at home watching Netflix than put on our party clothes and make small talk with strangers.
But how do you get out of attending without offending your host? Fear not, because this article is here to provide you with some foolproof 30 best excuses to not go to a party.
Let's face it: coming up with believable reasons as to why you can't attend a certain event can be tough. You don't want to sound like you're lying or seem rude by outright declining the offer. That's where these handy excuses come into play!
Whether it's work-related stress, family obligations, or even a well-timed stomachache, we've got your back. So next time you find yourself dreading that upcoming soiree, take a deep breath and read on – salvation lies within these lines!
1. Work Commitments And Deadlines
One of the most common and justifiable excuses for not attending a party is having work commitments and deadlines.
In today's fast-paced world, it's not uncommon to find ourselves dealing with overtime stress and deadline anxiety on a regular basis. It can be challenging to balance our professional responsibilities with our social lives, especially when important projects or tasks are at stake.
Telling your friends that you have urgent work matters to attend to might make them understand the reasons behind your absence better, as they may also experience similar situations from time to time themselves.
So, if you genuinely need some extra hours in the office or at home working on an essential task, don't hesitate to use this excuse and prioritize your career goals over a night out.
2. Prior Family Engagements
Moving on from work-related reasons, another solid excuse for not attending a party is having prior family engagements.
Family commitments are often considered more important than social gatherings with friends or acquaintances, and it's generally understood that these events take precedence over parties.
Instances of family tradition clashes or conflicting schedules can make your attendance at the party nearly impossible.
For example, if you have a standing weekly dinner with your grandparents or need to attend a sibling's recital, it would be reasonable to prioritize those engagements above an invitation to a casual get-together.
Most people will understand and respect your decision to put family first in such situations.
How My Friend Used This Excuse to Not Go to a Party in Real Life:
One of my friends, John, received an invitation to a birthday party from a colleague. He was feeling overwhelmed with work and personal commitments, so he decided to decline the invitation using the excuse of prior family engagements.
Although he didn't have any actual family events, he felt relieved as he was able to spend quality time with his family and take a break from his busy schedule.
He appreciated the opportunity to prioritize his well-being and felt relieved that he didn't have to attend the party.
When a friend is going through a tough time, lending support can sometimes take precedence over attending social events like parties.
While it's important to maintain balance in our lives, there are instances when prioritizing the well-being of someone close to us becomes essential.
Providing emotional and practical help during their time of need might lead to some level of emotional exhaustion on your part as well; however, knowing that you're making a difference in their life often brings about an unparalleled sense of fulfillment and strengthens the bond between friends.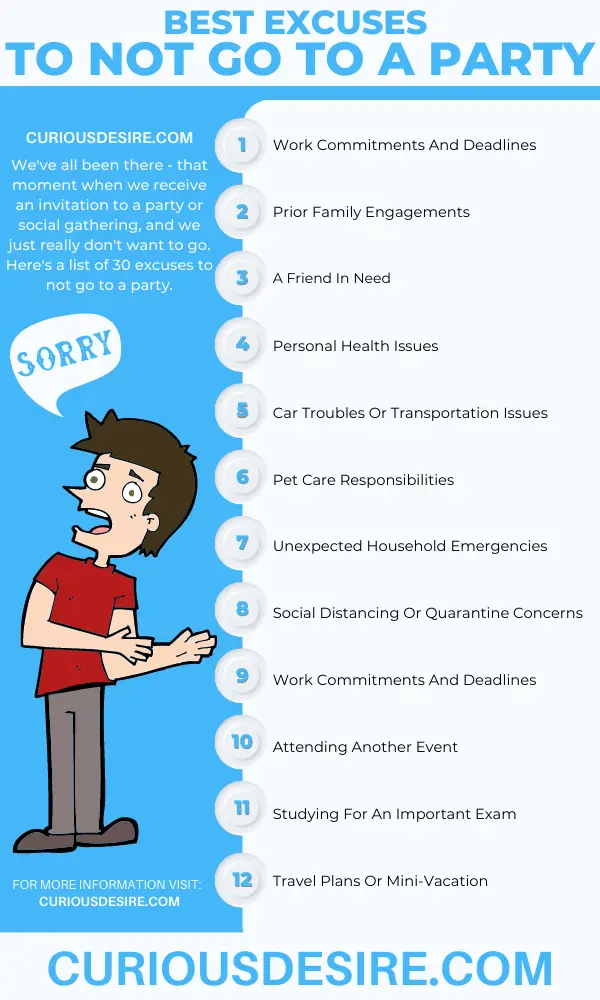 4. Personal Health Issues
Another compelling reason to skip a party might be personal health issues, which can pose significant challenges when it comes to socializing.
Chronic fatigue, for instance, could make attending such events extremely exhausting or even impossible for some individuals.
Additionally, allergy struggles may also present obstacles as one is never certain about the presence of allergens in food and the environment at parties; this uncertainty can cause distress and anxiety for those with severe allergies.
Moreover, discussing these concerns with hosts or attendees might not always be comfortable or understood by others.
In such cases, prioritizing personal well-being becomes essential and opting out of social engagements like parties seems reasonable.
5. Car Troubles Or Transportation Issues
Moving on from personal health issues, another common reason for not attending a party could be car troubles or transportation issues.
It's quite possible that your vehicle has experienced an unexpected breakdown or requires some significant repairs at the most inopportune time.
Furthermore, coordinating a carpool might prove to be more of a hassle than you anticipated, with people dropping out last minute or having trouble finding convenient pickup locations.
In such cases, relying on public transportation can also become troublesome as delays and service interruptions are all too familiar woes faced by commuters.
With these factors combined, it is understandable why one would opt to stay home instead of navigating through these challenges just to attend a social gathering.
6. Pet Care Responsibilities
Don't you just hate it when your fur baby gives you that look of despair as you're leaving the house?
Pet care responsibilities can be a legitimate reason to skip a party, especially if no one is available to take care of your beloved animals.
You might face pet-sitting challenges such as finding someone trustworthy and reliable who genuinely loves pets like you do.
Moreover, some people may decline due to animal allergies or other commitments, making it even more difficult for you to find a suitable caretaker.
So remember, taking care of our furry friends comes first – they need us just as much as we need them!
How I Used My Pet as an Excuse to Not Go To a Party in Real Life:
I recently received an invitation to a housewarming party from my coworker, but I had just adopted a new pet dog named Max. With Max still needing training and attention, I couldn't leave him alone for too long.
So, I politely declined the invitation, explaining that I had pet care responsibilities and needed to be home to take care of Max. I genuinely love my coworker, but I felt relieved that I could prioritize my pet's well-being and didn't have to leave him alone for the party.
7. Unexpected Household Emergencies
Unexpected household emergencies can certainly put a damper on party plans and provide valid excuses for not attending.
Imagine having to deal with emergency plumbing issues, like a burst pipe or an overflowing toilet that requires immediate attention.
Appliance breakdowns, such as a malfunctioning refrigerator or washing machine, can also create chaos at home and demand your undivided attention in order to prevent further damage.
These unforeseen situations often take priority over social events and understandably lead to staying home rather than heading out to join the festivities.
8. Social Distancing Or Quarantine Concerns
During these unprecedented times, social distancing and quarantine concerns are valid reasons to avoid attending a party. With the ongoing global health crisis, many individuals may experience pandemic anxiety when faced with the prospect of attending gatherings with large groups of people. This is entirely understandable as prioritizing one's personal safety, as well as that of others is crucial in mitigating the spread of the virus.
Instead of attending parties or social events where it might be difficult to maintain safe distances from other attendees, consider opting for virtual alternatives such as video calls or online game nights with friends and family members. These options allow you to stay connected while still adhering to necessary precautions against COVID-19 transmission.
9. Attending Another Event
One of the most valid reasons for not attending a party is when you have already committed to another event, resulting in the dreaded double-booking dilemma.
This scenario can be quite common, especially during busy social seasons or holiday periods where event clashes are more likely to occur.
In this case, it's essential to prioritize your commitments and make an informed decision about which gathering holds greater significance or urgency for you.
Furthermore, being honest with the host about your prior engagement will demonstrate your genuine regret for missing their celebration and help maintain strong relationships moving forward.
10. Studying For An Important Exam
Another valid excuse to skip out on a party is having to prepare for an important exam.
With the pressure of achieving good grades and dealing with exam anxiety, it's crucial for students to dedicate ample time to studying and mastering effective study techniques.
Missing a social gathering might not be ideal; however, prioritizing education and ensuring academic success can make a significant difference in one's future opportunities.
Balancing school life and social activities often requires making tough choices, but focusing on long-term goals should always take precedence when necessary.
11. Volunteering Commitments
In addition to exam preparations, another valid reason for not attending a party is having prior volunteering commitments.
Many people dedicate their time and energy to participating in community service projects or charity events that can sometimes conflict with other social gatherings.
These selfless acts show your dedication to helping others and making a positive impact on the world around you.
By prioritizing these important causes over a night out, you demonstrate your passion for giving back and supporting those in need.
Although it may be disappointing for friends who wanted to celebrate together, they should understand and respect this decision since it reflects personal values and commitment to creating meaningful change.
12. Travel Plans Or Mini-Vacation
One excellent excuse to skip a party is by planning a weekend getaway or indulging in some staycation activities.
A mini-vacation can be an opportunity to relax, recharge your batteries, and explore new experiences while creating lasting memories.
Whether you choose to escape the city for a quiet retreat in nature, immerse yourself in another culture through local museums and historical sites, or simply treat yourself with spa days and culinary delights from the comfort of home, taking this time away will not only provide you with peace of mind but also give you great stories to share when catching up with friends later on.
Plus, these adventures might even inspire others to plan their own memorable escapes!
13. Babysitting Or Childcare Duties
Another common excuse to avoid attending a party is having babysitting or childcare duties.
Navigating through childcare challenges can be tough, especially when it comes to finding a reliable and trustworthy person to watch over the little ones while their parents are away.
Parenting priorities take precedence over social events because ensuring the safety and well-being of children is vital for every responsible parent.
Additionally, last-minute cancellations from babysitters can cause unexpected conflicts in schedules, making it impossible for parents to attend gatherings without worrying about their kids.
So if you find yourself needing an authentic reason not to go to a party, taking care of your children might just be the perfect one for you!
14. Religious Or Cultural Observances
Picture this: you're enveloped in an atmosphere of solemnity and devotion, where candles flicker against the backdrop of a sacred altar.
At times, religious or cultural observances may take precedence over social gatherings such as parties.
For instance, if you are participating in a period of cultural fasting to connect with your spiritual roots, attending a party could be seen as disrespectful or even detrimental to your personal growth during that time.
Similarly, individuals on spiritual retreats often prioritize self-reflection and tranquility over mingling in noisy environments.
Therefore, it's essential to understand and respect one's commitment to these practices when considering whether to attend a party or not.
15. Self-Care And Mental Health Days
Taking a break from social events and focusing on self-care and mental health days can be incredibly beneficial for your overall well-being.
It's important to recognize when you need time alone or away from external pressures to recharge, refocus, and rejuvenate.
The mental health benefits of engaging in regular self-care practices are immense; they can help reduce stress, anxiety, and depression while promoting increased happiness, productivity, and resilience.
Some effective self care strategies include taking time for yourself to engage in activities that bring joy and relaxation such as reading a book, practicing meditation or yoga, spending time outdoors in nature, or simply enjoying a peaceful evening at home.
By prioritizing your own needs over attending yet another party, you're not only being kinder to yourself but also setting yourself up for success in the long run.
20 Excuses to Not Go To a Party at the Last Minute
To make it easy for you, I am listing all the effective excuses that you can use at the last minute in the form of a table.
| Excuse | Reason |
| --- | --- |
| Feeling unwell | Sudden onset of illness or discomfort |
| Family emergency | Unexpected family crisis or situation |
| Work commitments | Urgent work assignment or deadline |
| Transportation issue | Car breakdown, public transport delay |
| Prior engagement | Previously scheduled event or activity |
| Personal obligations | Taking care of a loved one or pet |
| Unforeseen circumstances | Unexpected event or situation that requires immediate attention |
| Feeling overwhelmed | Emotional or mental health reasons |
| Travel delay | Flight cancellation or travel disruption |
| Forgot prior commitment | Accidentally double-booked or forgot about an important obligation |
| Childcare issues | Babysitter canceled or child needs attention |
| Home emergency | Plumbing or electrical issues at home |
| Weather conditions | Inclement weather affecting travel or safety concerns |
| Allergic reaction | Sudden onset of severe allergies |
| Studying or exams | Need to study for an important test or exam |
| Transportation breakdown | Public transportation system disruption or strike |
| Personal safety concerns | Feeling unsafe to attend the party due to recent events or circumstances |
| Financial constraints | Unexpected financial expenses or budget constraints |
| Social anxiety | Feeling anxious or uncomfortable about attending social events |
| Time constraints | Overlapping appointments or time-sensitive tasks that require immediate attention |
21 Excuses to Not Go to a Birthday Party
Birthday parties are good, but sometimes, you just don't want to attend any birthday party. Here are some really effective excuses that you can use to not go to a birthday party.
| Excuse | Reason |
| --- | --- |
| Prior Commitment | Already committed to another event or engagement on the same day, such as a prior engagement or appointment. |
| Distance or travel | The party location is too far or difficult to reach, especially if it requires extensive travel or transportation arrangements. |
| Family event | There is a family gathering or event on the same day, such as a family reunion or a relative's special occasion. |
| Personal health issues | Dealing with illness, injury, or a medical appointment that prevents attendance at the party. |
| Birthday of a close friend or family member | Having another close friend or family member's birthday celebration on the same day, making it difficult to attend both events. |
| Work schedule | Being bound by work obligations, such as a sudden work assignment, deadline, or unexpected work commitment on the party day. |
| Lack of babysitter | Unable to secure reliable childcare for kids, making it challenging to attend the party. |
| Clash with a personal event | Having a personal event or celebration, such as an anniversary or special occasion, on the same day as the birthday party. |
| Financial constraints | Facing financial constraints or budget limitations that make it challenging to attend the party due to associated costs. |
| Feeling exhausted | Experiencing fatigue or lack of energy due to a busy schedule or other reasons that prevent attendance at the party. |
| Other social engagements | Being committed to other social events or gatherings that were planned before receiving the birthday party invitation. |
| Religious or cultural event | Observing a religious or cultural event that falls on the same day as the birthday party. |
| Unavoidable appointment | Having a pre-scheduled appointment, such as a doctor's appointment or an important meeting, that cannot be rescheduled. |
| Car trouble | Facing unexpected car breakdown or maintenance issues that make it impossible to attend the party. |
| Allergic reaction | Suffering from severe allergies or having an allergic reaction to the food or environment at the party. |
| Personal obligations | Having other personal obligations or responsibilities that require immediate attention, such as taking care of a family member or attending to urgent matters. |
| Personal safety concerns | Feeling unsafe or uncomfortable about attending the party due to personal safety concerns or recent events. |
| Mental health reasons | Needing a mental health day or taking care of one's mental well-being, which may require taking a break from social events like parties. |
| Overwhelming workload | Being overwhelmed with a heavy workload or pending deadlines that require immediate attention and prevent attendance at the party. |
| Feeling overwhelmed | Dealing with personal challenges or emotional overwhelm that make it difficult to attend social events like parties. |
21 Excuses to Not Go to a Children's Party
Children's parties are good, but sometimes, you just don't want to attend any children's party. Here are some really effective excuses that you can use to not go to a Child party.
| Excuses | Reason |
| --- | --- |
| Prior engagement | I already have plans that cannot be rescheduled. |
| Another party to attend | I have already committed to attending another event at the same time. |
| Feeling sick | I do not want to risk getting other children sick. |
| Take care of a family member | I need to be with a family member who is not feeling well. |
| Not feeling well-prepared | I may not be prepared for the activities or the dress code. |
| Not comfortable around children | I may not be comfortable or confident around children. |
| Work on a project | I have an important task that needs to be completed. |
| Attend a family function | I have a family event or gathering that I need to attend. |
| Catch up on sleep | I may not have had enough sleep and need to rest. |
| Tight budget | I may not have enough money to buy a gift or attend the party. |
| Other commitments | I may have other responsibilities that need my attention. |
| Class or workshop | I have enrolled in a class or workshop that cannot be missed. |
| Run errands | I have some urgent tasks that cannot be delayed. |
| Out of town | I am already out of town and cannot attend the party. |
| Previous engagement | I may have attended another event and am already tired. |
| Finish a book or a movie | I may have started reading a book or watching a movie and need to finish it. |
| Household chores | I have some unfinished tasks or chores that need to be done. |
| Catch up on work | I may have a lot of pending work that needs to be completed. |
| Overwhelmed with responsibilities | I may have too many responsibilities and need a break. |
| Socializing | I may not feel like socializing at the moment. |
| Break from social events | I may be taking a break from attending social events for personal reasons. |
Conclusion
In conclusion, we all have moments when we just can't muster up the energy or desire to attend a party. It's important to remember that it's perfectly okay to put ourselves and our well-being first.
Don't be afraid to use any of these valid excuses if needed. At the end of the day, what matters most is taking care of ourselves and our responsibilities while maintaining healthy relationships with others.
So go on, give yourself permission to say 'no' sometimes – you deserve it!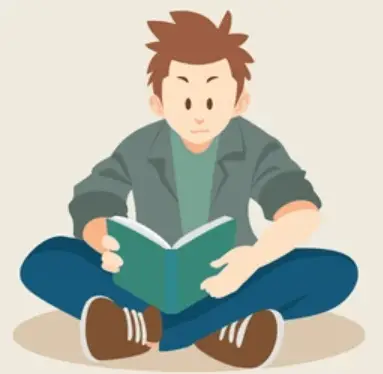 Yusuf is interested in exploring the world around him and making meaningful connections with it. He then express these ideas with words for the world to enjoy. In his free time, Yusuf loves to spend time with books, nature & his family.