Man has always been creative. From simple bulbs to flying high in the air, every invention is a result of human creativity. The same applies to innovation as well – the possibilities are infinite.
Innovation is defined as introducing something new. It allows the growth of many new ideas, customs, and inventions.
Innovative ideas can change the course of our lives for the better. It works in all fields – be it education, business, or entertainment. In this blog post, we'll discuss why innovation is important in our lives and how it makes a difference.
15 Benefits Of Innovation Highlighting Its Significance
Innovation is the driving force to hunt for new possibilities and opportunities. In education, it has the power to make a difference by implementing practical knowledge. It also determines the growth of any organization. New ideas and products are created which helps a business stay competitive in an ever-changing market.
1. Innovation Drives People To Find Opportunities
Monotony is bound to strike any place at some point in time. It is not something we want, but it takes effect, nevertheless. Innovation can be an antidote for this boredom that sets in once the novelty of a situation wears off.
When it comes to learning or working, you need to get your creative juices flowing. Innovation can help you get there and help you come up with something unique every time.
Innovation changes the way we live our lives. It is a driving force that encourages us to go beyond boundaries and find opportunities. It opens our minds to new possibilities.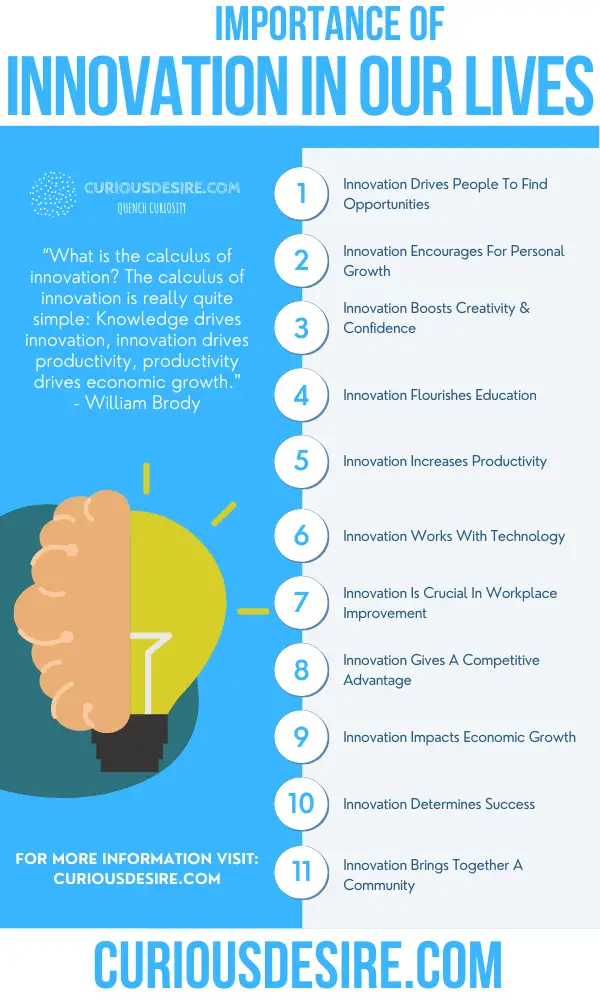 2. Innovation Is Important For Personal Growth
Creativity drives your brain to think and seek new opportunities. It helps you get out of the box and research concepts that aren't conventional. Your imagination is unleashed with innovative ideas, which help you come up with something unique and original.
Innovation enhances your mental abilities such as focus, imagination, memory, and reasoning power. It is a way to challenge yourself with something new and helps you stay motivated in whatever activity you're doing.
Growth leads to development, which leads to perfection. The circle goes on forever and helps us grow in all aspects of our lives. When we focus on continuous growth and innovation, our lives become exciting with new opportunities, which can help us learn and grow in many ways.
3. Innovation Boosts Creativity & Confidence
Creativity also helps reduce the fear of making mistakes which will lead people to do great things on their own. It encourages people to take more risks that may end up in failure but it's still worth it because these failures eventually pave the way for success.
Apart from creativity, innovation fosters confidence in people. They will be motivated to continue moving forward and finding new ways of doing things.
Cultivating creativity can help businesses bring better solutions to the table. Many small businesses have been able to make a name for themselves through innovation and their willingness to take risks.
4. Innovation Flourishes Education
The future of education depends on innovation as well. Educational institutions around the world are now providing students with hands-on experience. This helps them learn better and work towards building careers that interest them.
Innovation changes how we learn things instead of just reading about them in textbooks or online sources. Students are allowed to do practical activities that help them apply what they've learned to real-life situations.
Related Video – What Is Innovation?
5. Innovation Works With Technology
The human race is always trying to do better than before. This feeling has led us to greater ways to achieve our goals.
Innovation doesn't necessarily mean coming up with something original. It is more of finding ways to use what's already available, in a better way of combining different ideas, to create something completely new.
According to a study, over half of Americans feel that technological progress has made life better in the last 50 years.
Innovation can work with existing technology instead of creating something completely new. It helps people discover how to use resources more efficiently and implement them in daily life.
6. Innovation Increases Productivity
Productivity is crucial for business owners and employees alike. It helps them get more work done by finding new solutions or coming up with better ways of doing things without straining resources.
Without innovation, the world would be stuck with old ideas and traditional ways of doing things. It is because it contributes to increased productivity in the workplace.
Innovation motivates employees and inspires them to new ways to improve their work. By fostering a culture of innovation, a business can reap many benefits and continue to thrive.
7. Innovation Is Crucial In Workplace Improvement
Innovation is necessary for the workplace because it's more of a mindset than anything else.
It encourages employees to become more involved and find new ways to improve their work. They are encouraged to innovate, feel valued by their employers, and perform better on the job.
As a result of the enormous potential for development, it's no surprise that in a recent survey conducted by The Boston Consulting Group, 79 percent of interviewed CEOs placed innovation among their top three business initiatives – the most since the poll began almost a decade ago.
Innovation methods create a learning, growing, and personal development culture. This type of innovative setting can reignite the passion inside people to continuously improve their approach as well as that of their team.
8. Innovation Creates Better Products & Services
Spurred by the desire to come up with a top-notch product, innovation allows us to create a better version of what we already have in the market.
New products and services are created with the customer in mind so that their needs are met, whether it is through ease of use, more convenience, or an added benefit.
Besides being beneficial to customers, improving existing products can also help businesses remain competitive. By making slight changes to a product instead of completely reinventing it, organizations can reduce costs and time to market while still giving themselves a competitive edge.
9. Innovation Gives A Competitive Advantage
Penetrating new markets allows a business to stand out from the competition. Innovation is the main driver of new ideas and finding ways to clinch the top position.
Being able to develop new products and services gives a company an edge over its competitors in entering new markets. New developments can also open up a whole new stream of revenue that was previously unavailable.
Hence, the business must be capable to respond to external challenges swiftly. In fact, according to Deloitte, only 12% of the Fortune 500 firms founded in 1955 are still operational today, and half of the S&P 500 companies will go out of business within ten years.
10. Innovation Impacts Economic Growth
Every business is important for the economy because it provides services to consumers. Without innovation, companies would not be able to grow fast enough to stay afloat.
It helps businesses overcome obstacles of growth by thinking of new ways to address potential problems. It allows them to create new products and services, expand their customer base, open up new markets, or improve existing ones.
By increasing our chances of survival, innovation has also created future jobs by developing new technologies. According to the World Economic Forum's report, by 2022, almost 133 million new employment opportunities will be available due to AI, automation, and robotics.
Innovation is essential to find efficient solutions for cost-cutting exercises, which help the economy flourish.
11. Innovation Determines Success
Innovation is key to success – in business, entrepreneurship, or life. It can help you survive and beat your competitors while helping you find new ways to enjoy the things that interest you.
No matter how many times we get knocked down in life, we must always be willing to come back fighting harder.
Innovation can enhance a brand's creativity, design thinking process, and nature. Learning the stages of creativity is a new business's best opportunity to achieve success. Innovation in Entrepreneurship can help companies keep up with current trends by assisting them in developing innovative ideas.
12. Innovation Combats Social Threats In Society
The rapid development of technology has led to the rise of many social issues. Innovation is important in this regard – it can create new opportunities that aren't harmful to society.
Hunger, poverty, pollution, or ostracism – you name it, innovation is crucial to fight the evils of society and make a difference.
Innovative thinking helps people come up with solutions for problems without harming others or the environment. It combats social issues that would otherwise harm society.
13. Innovation Is Necessary For Sustainability
Innovation helps to reduce an effect on the environment. Everything from recycling, reducing pollution, and harvesting natural resources more efficiently contributes to innovation.
Innovation encourages people to try new things instead of repeating what they've always been doing. When a process becomes a routine, productivity decreases, and there's a lack of motivation in the workplace.
Innovation is crucial for sustainability because it helps people discover better ways to reduce their carbon footprint and become more environmentally aware. Without innovation, the world would suffer from a lack of natural resources and extreme pollution that could harm everyone involved.
14. Innovation Is Next To Prosperity
Innovation has the power to shape and define success and gives people the freedom to do what they love. It leads them to be more creative while increasing their confidence levels.
A country's growth largely depends on its citizens' creativity and ingenuity. Countries that encourage innovation will prosper while the others will fall behind in terms of development, security, education, employment opportunities, etc.
Above all, it is essential for survival which makes innovation one of the most important aspects of our lives.
15. Innovation Brings Together A Community
When a community works together towards a common goal, that is when innovation can be brought to life. It helps people learn from each other and connect with others who share the same interests as them.
Innovation allows those who are passionate and continue to come up with ideas that make the world a better place. This eventually helps communities become more knowledgeable and useful to one another.
It has the power to bring communities together, which can help develop us as humans. By working towards innovation, we can become better versions of ourselves. We can make a world for future generations to enjoy.
The Importance Of Innovation – Conclusion
Innovation can do a lot for us in ways we never thought possible. It helps people reach their full potential, allows them to discover new ways of doing things, and motivates them to become better versions of themselves. It has a global effect. Since we get so many benefits out of it, a little change won't hurt much!
References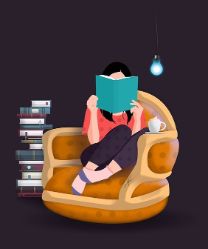 A sophomore in engineering, I'm a budding writer and an adventure enthusiast. My passion leads me on to try my hands on different things. I enjoy music, food, and good company. Making my way through life in my own ways, you'll find me holding a camera and capturing what this world has to offer.