Sacrificing your life for your country – its integrity and honor – is one of the greatest deeds one can do. Every nation respects and pays regard to their martyrs in their own way.
Memorial Day is a time of year where many Americans take the opportunity to remember, honor and show appreciation to fallen troops who sacrificed their lives for our country. It includes military members who perished in times of war or peace.
Memorial Day is an important holiday and celebrated with solemn respect and gratitude. We bring you 15 reasons why memorial day is important.
15 Facts About Memorial Day That Highlights Its Significance
Memorial Day is a time to reflect on the cost of freedom. It's about honoring those who have died while serving our country. We take a moment to remember those who gave their lives for us and be grateful for all we have.
1. Memorial Day Has A Historical Reference
Memorial Day was originally known as Decoration Day, which originated after the American Civil War. It was first observed on May 30th, 1868. The original purpose of memorial day was to honor Union soldiers who died during the civil war.
The holiday's meaning shifted in the 1880s to honor those who died fighting for the Union during the American Civil War.
The practice of decorating graves with flowers is attributed to the Women's Tribute of Honor on May 4, 1866. It was the first formal observance of Memorial Day.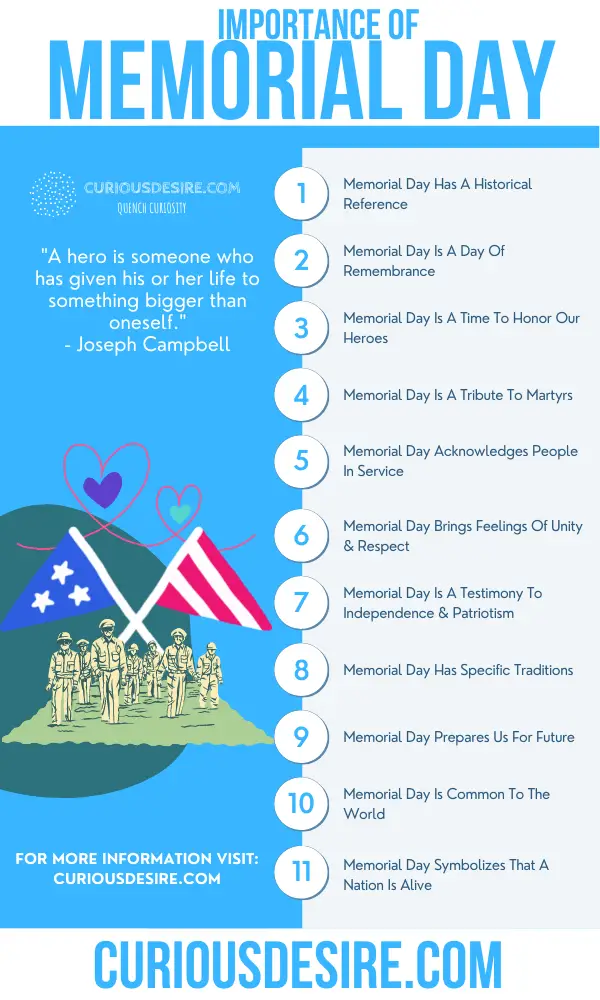 2. Memorial Day Is A Day Of Remembrance
Memorial Day is a day of remembrance. It is a day to remember those who have made the ultimate sacrifice for their country.
We honor those who died to ensure our freedom. It is a day to reflect on the freedoms we enjoy because of their sacrifice. And it is a day to celebrate the lives of those who have passed away.
3. Memorial Day Is A Time To Honor Our Heroes
Memorial Day is a time to honor our heroes. No matter who they are, we should always remember the sacrifices made by those who have served our country.
Some people want to turn Memorial Day into a spending holiday. But it's much more than that. We need to value Memorial day as a time for reflection and remembrance of those who have given their lives defending our country.
We must take this day off and remember the people who have died protecting our country for us. The least we could do is take a break from work and reflect on why we should be grateful for what we have.
4. Memorial Day Is A Tribute To Martyrs
The word martyr originates from Ancient Greek, which means witness. They are the people who died willingly on behalf of others without expecting anything in return. They sacrifice themselves for the greater good of humanity.
Memorial Day isn't only about honoring the dead. It is also a tribute to their martyrdom, which is one of the most significant reasons why we celebrate it.
The tradition is to decorate graves before Memorial Day to pay respect to all the veterans who have passed away since the last memorial day. It also allows military members to visit their fallen comrades and spend time with them one last time.
Related Video – What Is Memorial Day All About?
5. Memorial Day Acknowledges People In Service
In the United States, there are currently 1.3 million people in active military service. That's 0.5% of the total population! It means that one out of every 200 Americans is serving our country by protecting us, helping us, and keeping us safe.
With so many people prepared to put their lives at stake for peace and prosperity, it is our responsibility to acknowledge their selfless services.
Memorial Day is a great day to show our appreciation for those troops who have made the ultimate sacrifice for us.
6. Memorial Day Brings Feelings Of Unity & Respect
Memorial Day brings people together. It gives us a chance to celebrate our freedom and be grateful for what we have.
It uplifts our sense of belonging to our homeland. We feel the part of one whole, a nation based on good morals and righteousness.
Not only that, but the patriotic sentiments that come with it give us stronger feelings of unity and respect for one another. Memorial Day is all about coming together as Americans and celebrating our independence.
7. Memorial Day Is A Testimony To Independence & Patriotism
Memorial day is a testimony to independence and patriotism. It is a reminder of what we owe to our people.
The holiday isn't just about honoring those who fell during the war. It also reminds us of the values and virtues we should demand from ourselves as patriots – love, patience, courage, and selflessness.
We need to keep the history of memorial day alive by teaching it in our classrooms, sharing it on social media, and discussing its meaning with others. We also need to continue honoring the men and women who have served this country throughout history.
8. Memorial Day Is A Time To Celebrate & Reflect
Memorial Day is a time to celebrate and reflect. It provides us with an opportunity to revaluate who we are as Americans and what we stand for.
It reminds us of the glories our countries have achieved over the years. We need to take a day off from our busy schedules to remember the sacrifices made by those soldiers.
Memorial Day isn't just about honoring those who died fighting for this freedom, but also about being grateful for the many blessings we have in America.
9. Memorial Day Reminds Us To Cherish The Freedom
It has been said, "Freedom isn't free." But it's exactly what our veterans have proved. The country they fought for is where people can be free and live life to the fullest, no matter their background or social standing.
We need to cherish the freedom we have in our country because it's something many people dream of obtaining one day.
We must honor veterans and active members for their selfless acts of heroism, compassion, and bravery.
10. Memorial Day Has Specific Traditions
Many people believe that the tradition of decorating graves with flowers started in 1865 when flowers were placed on the graves of both the North and South dead. Then in 1868, General John Logan designated an official day for national remembrance.
The tradition remained even up until this very day. Nowadays, it's a custom to place flowers and memorabilia on the graves of brave soldiers.
Hence Memorial day has specific traditions.
These are just a few of many traditions passed down through the years. We must take this time to reflect on the values our country is based upon.
11. Memorial Day Connects Us With The Past
Memorial Day reminds us of those who fought for our country in the past. It also helps us connect with the men and women currently fighting on our behalf.
The holiday was originally a way to honor those killed during the civil war. Since then, it has evolved into a day for all American patriots. The unity displayed throughout the country reminds us that we're all patriotic Americans.
12. Memorial Day Prepares Us For Future
Memorial day prepares us for future challenges. When we honor our veterans, we find the courage within ourselves to fight harder when faced with problems in the future.
It gives us national pride – which allows us to be more confident in ourselves and our countrymen. We are stronger because of what Memorial day represents.
Honoring those who served this country by decorating their graves would be a great way to start.
13. Memorial Day Can Be Referred As A Federal Holiday
Memorial Day is the only federal holiday that we spend in honor of those who have sacrificed their lives for our convenience and safety.
No matter what we do on Memorial Day, we must never forget the sacrifices of those who have given their lives to ensure your safety.
It's more than just a day off from work – it's about being grateful for our families and good health. We should take this opportunity to spend time with family members and loved ones.
14. Memorial Day Is Common To The World
Memorial Day is celebrated in different parts of the world accordingly. It has been a global event since World War II.
It is our responsibility as citizens of the world to respect the sacrifices made by these people, no matter where they are from.
Although Memorial Day was originally created to honor American soldiers, it has since evolved into a universal tribute. We must take this opportunity to be grateful for the sacrifice made by those who fought to keep us safe.
We need to remember that freedom isn't free, and we must treasure what little time we have with our loved ones.
15. Memorial Day Symbolizes That A Nation Is Alive
A nation is considered alive when it follows its traditions and presents itself respectfully in front of the world. It can make changes and improve its flaws.
It's definitely more important than you think it is. It has become a symbol of our freedom, liberty, and national pride. No matter what race or culture you are from, everyone deserves to be grateful for their lives.
Memorial day represents all of these qualities. What's most important about this date is that a nation stays alive because of selfless heroes who sacrificed their lives for others.
The Importance Of Memorial Day – Conclusion
Memorial Day gives us a reason to reflect on those who gave their lives for our country. We should take time to remember and honor those who died fighting in the war for this country. It is a thank you to all those who have served our country and made the ultimate sacrifice. It means a silent promise that we will never forget them.
References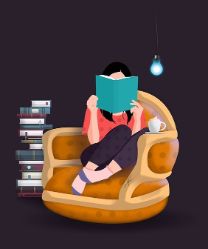 A sophomore in engineering, I'm a budding writer and an adventure enthusiast. My passion leads me on to try my hands on different things. I enjoy music, food, and good company. Making my way through life in my own ways, you'll find me holding a camera and capturing what this world has to offer.