A healthy diet is one of the most important things for our health. Calcium is one of the nutrients we need. It is an important mineral that helps form and maintain healthy teeth, bones, muscles, and nerves.
It's in almost everything we eat. The body needs a lot of calcium to function properly and deficiencies in the nutrient can lead to several serious health problems. Calcium comes in handy for many industries too. It can help us produce glass, cement, and paint.
This article will explore why calcium is important in our lives.
15 Benefits Of Calcium In Our Lives
Calcium is a mineral that all living things require. It is the most abundant mineral in the body and is necessary for bone health. Calcium is involved in blood coagulation and the release of hormones. It has its utility in various industries too.
1. Calcium Is One Of The Abundant Metals On The Earth's Crust
Earth's crust is composed of many different minerals, and calcium makes up almost five percent of the earth's crust. It is present in plants, animals, and the soil.
The main source of calcium in humans comes from dairy foods. This means that calcium is found in milk, cheese, yogurt, and other dairy products. Even non-dairy sources contain a good amount of calcium – for example, almonds are a good source of calcium.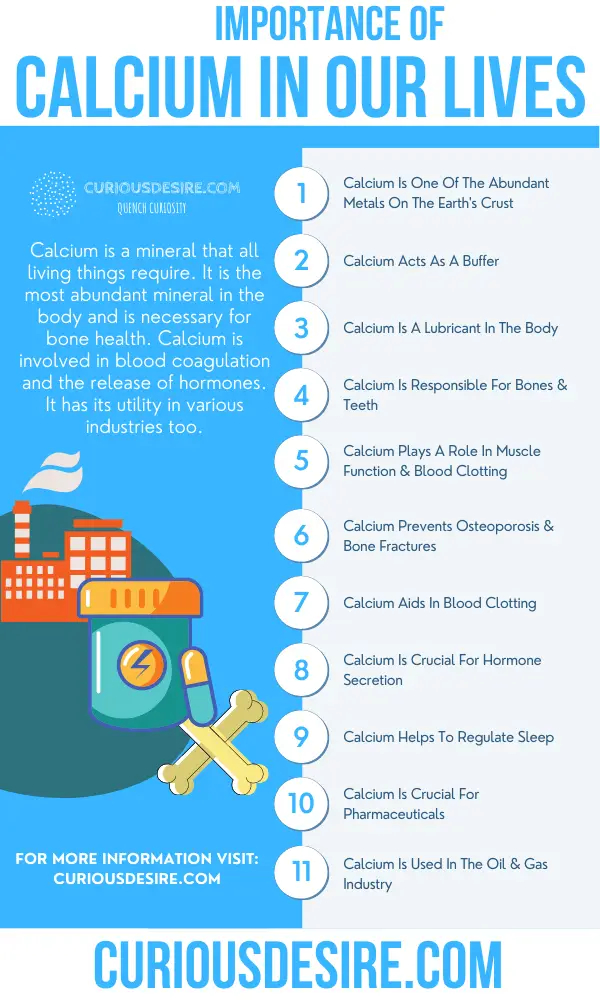 2. Calcium Acts As A Buffer
A buffer is a substance that helps to maintain the pH of a solution. This is important because the pH of the body needs to be kept within a certain range in order to function properly.
Calcium can act as a buffer by binding to hydrogen ions and preventing them from changing the pH.
One of the main functions of calcium in the body is to help regulate pH, which means it can also be used as a buffer.
3. Calcium Is A Lubricant In The Body
The inside surfaces of cells are lined with a layer called the cell membrane. This membrane has channels that allow different nutrients to enter cells.
Calcium helps lubricate these channels so that they can move more easily. This helps the nutrients move into cells, but it also means that calcium can be used in other areas of the body. For example, enzymes use calcium to function properly.
If there is not enough calcium in the cell membrane, then it can become stuck and prevent essential nutrients from getting into cells. This can lead to cellular malfunction and is linked with chronic diseases like diabetes.
4. Calcium Is Responsible For Bones & Teeth
The bones and teeth contain about 99% of the calcium in the human body.
Bones are constantly remodeling, meaning that the old bone is broken down and new bone is formed. Osteoclasts, special cells that break down bone, release calcium into the blood. This calcium is then used by osteoblasts, special cells that form new bone, to create new bone. Hence, calcium is essential for bone growth and maintenance.
Teeth are also in a state of constant turnover. Calcium is used to build new teeth and calcium loss weakens the tooth structure. So to have healthy bones and teeth, you need enough calcium in your diet.
Related Video – Calcium – Why Does The Body Need Calcium:
5. Calcium Plays A Role In Muscle Function & Blood Clotting
Calcium plays a role in muscle contraction and nerve function. It is needed to release neurotransmitters, chemicals involved in sending messages from a neuron to a muscle or gland so that the body can carry out a specific action.
Calcium aids in the connection within muscle fibers. Calcium binds to the troponin, causing a change in tropomyosin that exposes the actin sites on which myosin will attach for contraction. This is why you're muscles may feel tense, sore, and stiff when you're deficient in calcium. So calcium also plays a role in muscle contraction.
6. Calcium Prevents Osteoporosis & Bone Fractures
When calcium levels are low, the body takes calcium from the bones to keep blood levels of calcium normal. Over time, regular losses of calcium lead to weak and brittle bones that are more prone to fractures.
Osteoporosis is a condition in which the bones become thin and weak. This increases the risk of fractures, particularly in the spine, hips, and wrists.
Calcium is essential for preventing osteoporosis because it helps form and maintain strong bones.
7. Calcium Aids In Blood Clotting
If the blood doesn't clot properly, you'll start bleeding excessively when even the smallest cut occurs. This could lead to dangerous blood loss.
One of the ways the blood clots is by a process called coagulation. Coagulation happens when platelets, which are special cells in the blood, clump together and start to form a clot.
Calcium is needed for platelets to attach to the blood vessel wall and form a plug. Therefore, calcium is needed to help with blood clotting.
8. Calcium Is Crucial For Hormone Secretion
Hormones are chemicals that are released by endocrine glands. They travel through the bloodstream and act on specific organs or tissues to bring about a change.
Calcium is needed for the release of some hormones, including insulin and parathyroid hormone. Insulin is a hormone that helps the body use glucose for energy. Parathyroid hormone is involved in maintaining healthy levels of calcium.
Calcium deficiencies can lead to hormone imbalances such as serotonin deficiency, which can cause feelings of depression and anxiety.
When you don't get enough calcium, it can affect your body's ability to release these hormones! This could lead to severe issues with glucose metabolism and muscle cramping.
9. Calcium Regulates Blood Pressure
Hypertension is a condition where the blood pressure is too high. This can lead to health problems such as heart attack, stroke, and kidney failure.
Calcium can help regulate blood pressure by affecting the way the body responds to hormones that affect blood pressure. Research shows that limiting calcium can worsen hypertension.
However, taking large amounts of calcium supplements is not recommended. High levels of calcium in the body can cause kidney stones and other health problems.
10. Calcium Is Necessary For Cardiovascular Health
The cardiovascular system is made up of the heart, blood vessels, and blood. This system delivers nutrients throughout your body, regulates your hormones, and helps you stay active.
Every part of this system depends on calcium in order to function properly. The heart needs calcium to pump blood efficiently, blood vessels need it to stay strong, and the various cells in the body need it for metabolism.
If you don't get enough calcium, your cardiovascular health could be at risk.
11. Calcium Helps To Regulate Sleep
Many people know that calcium is important for strong bones and health. But did you know it can also help your sleep? Calcium seems to be involved in the regulation of melatonin production, which helps us regulate our circadian rhythm and maintain a healthy sleep cycle.
According to the research, a calcium deficit is linked to sleep disturbances, especially if there is no normal amount of deep REM or disrupted REM sleep. After the blood calcium level was restored to normal, typical sleep resumed.
When we don't get enough calcium, we may have trouble sleeping. This can lead to problems like fatigue and decreased productivity.
12. Calcium Is Crucial For Pharmaceuticals
In order to make medications, the active ingredient needs to be isolated from natural sources. Pharmaceutical companies use a process called extraction to get the desired compound from the plant.
Calcium is often used in the extraction process because it binds to other compounds very well. This means that it can be used to isolate and purify pharmaceuticals from natural extracts.
13. Calcium Is A Stabilizer In Foods
Foods that are high in calcium tend to be more stable and less likely to spoil. This is because calcium binds with other compounds in the food and creates a tighter network.
A tighter network means it is harder for bacteria or mold to grow. Calcium is also used as a stabilizer in the food industry because it can prevent foods from changing their texture. It can even be used to help form gels.
This is why milk lasts longer than other beverages, and why hard cheeses have a longer shelf life than soft cheeses.
14. Calcium Is Used In Construction Industry
One of the main uses for calcium is in the construction industry. It is used to make cement, mortar, and plaster.
All of these materials are put in place to build structures. Cement is used to hold the concrete together, mortar is used as the glue that holds bricks together, and plaster is for building non-load bearing walls or ceilings.
Although calcium's main use is in the construction industry, it can be used for other things like fertilizer production and animal feed.
15. Calcium Is Used In The Oil & Gas Industry
Calcium carbonate can be used in the oil and gas industry for things like drilling muds, frac plugs, gels, barrier fluids, and more.
Oil and gas wells require calcium chloride to form and keep their oil flow. It helps well fluids gain required consistency, increases density, and stabilizes shale formations by aiding in the creation and maintenance of wellbore casings. As a completion fluid, it seals well casings and displaces drilling mud.
This makes it useful for a variety of applications in the industry. It can be used to help extract oil and gas from wells, to keep the wells clean, and prevent corrosion.
The Importance Of Calcium – Conclusion
Calcium plays a role in many different aspects of our lives, from regulating sleep to stabilizing foods. It is also used in the construction and oil and gas industries.
So make sure to include calcium-rich foods in your diet and enjoy all the benefits that it has to offer!
References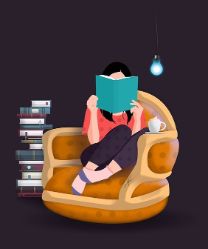 A sophomore in engineering, I'm a budding writer and an adventure enthusiast. My passion leads me on to try my hands on different things. I enjoy music, food, and good company. Making my way through life in my own ways, you'll find me holding a camera and capturing what this world has to offer.