Critical thinking is defined as the disciplined process of skillfully analyzing, synthesizing, and evaluating information gathered from observation, experience, or communication. This way of thinking helps you understand the thought process.
Critical thinking helps you in all areas of life. It is a vital need for effective communication. Many consider critical thinking as a set of skills that can be learned through effort. This blog post will highlight why critical thinking is important.
15 Benefits Of Critical Thinking That Help Create Better Understanding
The ability to think critically is valuable in many aspects of life including work environments and relationships with others. Critical thinking where drives the thought process, it also sharpens your mind and makes you view things from various perspectives. It further boosts your confidence and enhances creativity.
1. Critical Thinking Sparks Curiosity
Curiosity drives us to expand our knowledge of the world and everything that lies within. It surrounds every aspect – from school to our daily routine.
Critical thinkers are always curious, they want to know more about the world around them. They try to find answers themselves rather than taking everything at face value.
Critical thinking encourages you to be inquisitive and ask questions. It makes you open to new possibilities and ideas. It helps you recognize uncharted paths and opportunities that might otherwise go unnoticed, so it is a crucial part of innovation.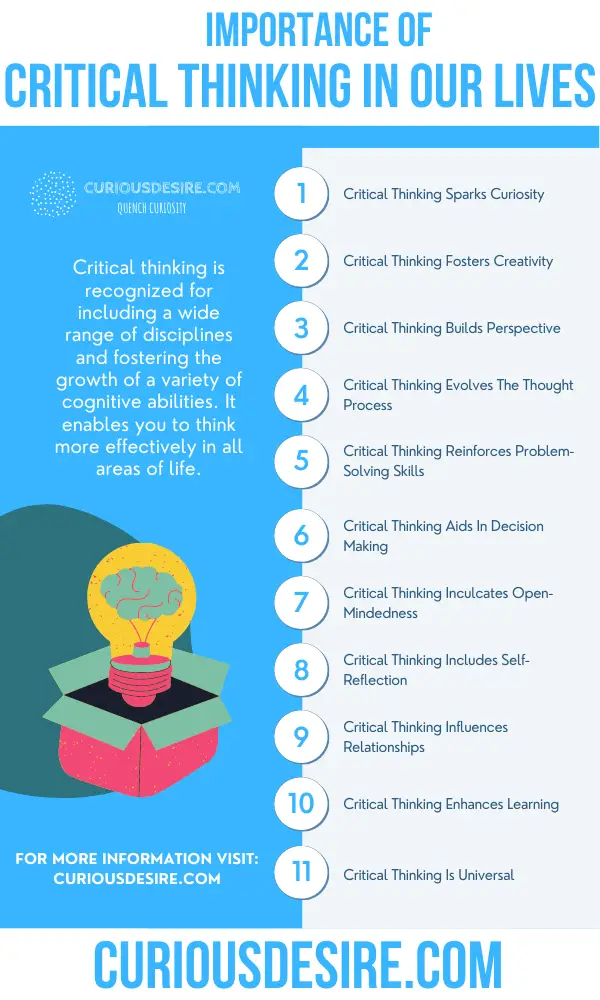 2. Critical Thinking Fosters Creativity
Creativity has unquestionably emerged as a must-have skill for the collaborative modern business.
Critical thinking allows us to think more creatively because it goes beyond just accepting information we hear or see. It changes the way we view things and provides different ways about the same thing, so it is a powerful source of creativity.
Focusing on the bigger picture rather than getting stuck in the smaller details and thinking outside of the box boosts creativity, making it easier for creative people to find out innovative solutions that might not occur to others.
3. Critical Thinking Builds Perspective
Critical thinking changes the way you view things, it boosts your perspective and makes you expand your knowledge. It helps you understand how things work.
Critical thinkers are not bound by the rules and regulations, they suggest new approaches to known problems. They can look at things from fresh perspectives and unique angles because it helps them prioritize the value, importance, and usefulness of every concept.
4. Critical Thinking Evolves The Thought Process
Critical thinking is an intellectual approach that sharpens your mind and makes it work faster, so your thought process becomes clearer and more efficient.
Critical thinkers have a better understanding of the information they have and can use it to explore different possibilities. It helps you discover new opportunities and enhances your problem-solving skills. It evolves your thought process because it requires you to constantly analyze and re-evaluate what you know.
As a result, critical thinking also helps create new neural connections in our brains which enhances learning.
Related Video – What is Critical Thinking?
5. Critical Thinking Reinforces Problem-Solving Skills
Critical thinking is an effective way to solve problems because it requires you to think through the situation and determine what actions or decisions will be effective and beneficial for everyone involved.
It not only helps you find a solution but also allows as to come up with multiple solutions that might work better depending on the situation. Hence it further reinforces your problem-solving skills.
6. Critical Thinking Aids In Decision Making
Critical thinking enhances our decision-making skills. It allows us to make responsible decisions because it makes us aware of the potential consequences of every action.
Critical thinkers are aware of what they are capable of and minimize the chances of failure by identifying challenges before they act.
It helps you understand how things work which gives you an upper hand, helping you make informed choices based on your current knowledge.
7. Critical Thinking Can Increase Confidence
By developing a deeper understanding of how things work, critical thinking can increase your self-confidence.
Critical thinking enhances our problem-solving skills. It requires you to take a step back and look at your situation in a different way, so it helps you gain a better understanding of the problems and challenges that you face.
It makes you more confident in yourself because you understand all the aspects rather than blindly following something. It also improves your chances of success when facing new situations.   
8. Critical Thinking Inculcates Open-Mindedness
Being open-minded is a great asset in personal and professional lives because it allows you to look at things from different perspectives and see their connection.
Critical thinking encourages us to understand other viewpoints and take up an objective approach. It helps you open your mind and prevent coming to hasty conclusions.
It's crucial for healthy understanding amongst people with conflicting ideas or opinions because critical thinkers are not afraid of being challenged. They're open-minded to different perspectives.
9. Critical Thinking Includes Self-Reflection
Critical thinking requires you to step back and reflect on yourself and your thoughts.
It helps you think about what is happening around you which allows you to make better decisions. This way, it enhances your self-understanding and builds a strong foundation for more significant decisions that require a lot of introspection and analysis of your actions and thoughts.  
10. Critical Thinking Boosts Communication Skills
Critical thinking enhances creative and logical thought processes, which makes it a great tool to use when explaining concepts or strategies to others.
Critical thinking helps you communicate better because it clearly conveys your own thoughts and opinions in a way that is easy for the other person to understand.
11. Critical Thinking Influences Relationships
Critical thinking encourages us to present our point of view and justify it in a logical manner, which helps us develop better relationships. It enables us to communicate our feelings and thoughts without the fear of being misunderstood or judged harshly.
We can think more objectively when we apply critical thinking in our daily lives and be more open to what other people say. It not only enhances our communication skills but also promotes understanding and empathy.
12. Critical Thinking Enhances Learning
Critical thinking enables us to learn faster because it encourages flexibility in our thought processes. With critical thinking, you can see new ideas as they arise rather than sticking to the traditional ones, which makes learning more fun!
It enhances your memory too, because it engages your brain and helps you focus on a particular idea. Critical thinking also cultivates a deeper imagination, which allows you to explore every possible solution to a problem.
It further enhances our self-understanding and knowledge of the world. Critical thinkers are always open to learning new things, so it promotes life-long learning.
13. Critical Thinking Helps Separate Decisions And Emotions
Critical thinking enables you to detach your emotions from decisions and take a more objective point of view. It enhances self-awareness, the ability to recognize and distinguish between rationality based on reasoning and that based on feelings or personal preconceptions, which is the essence of any thought process.
Critical thinking helps you better understand others and comprehend the ideas in your daily life. Critical thinking also helps minimize the negative effects of emotional reasoning. It further allows us to acknowledge and analyze our actions and emotions. It is, therefore, crucial for making informed decisions without any influence of emotions.
14. Critical Thinking Is A Versatile Practice
Critical thinking is recognized for including a wide range of disciplines and fostering the growth of a variety of cognitive abilities.
It could be argued that critical thinking is a multifaceted mental activity, and the mind must be exercised like a muscle to remain healthy.
Critical thinking further improves your focus, concentration, and memory because you're always in an active state of mind. It benefits interpersonal skills because people learn to understand others' points of view better when they look at life from a critical perspective.
15. Critical Thinking Is Universal
The ability to think critically is an approach that can be applied across all cultures and communities. It thus encourages you to reach different perspectives and understand the world in its entirety.
Critical thinking helps us identify inconsistencies, evaluate our thoughts and beliefs, look at the bigger picture, think analytically about what we see, and determine why something is the way it is.
It helps us acknowledge different cultures and see issues from various perspectives without stereotyping or judging people harshly.
The Importance Of Critical Thinking – Conclusion
The ability to think critically is a gift that not every person is blessed with. It's an indispensable life skill that helps you make better decisions, communicate effectively with others, and understand the world around you.
References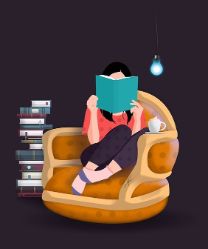 A sophomore in engineering, I'm a budding writer and an adventure enthusiast. My passion leads me on to try my hands on different things. I enjoy music, food, and good company. Making my way through life in my own ways, you'll find me holding a camera and capturing what this world has to offer.