Many of us are unaware of the significance and influence of imagination in our lives. We only use it when we need it for solving problems or imagining what might happen next, etc. But then how come children just born don't come with full-fledged imaginations?
It's because they have to develop through every stage in life to be able to use it to their fullest potential. And that's why imagination is so important – because it helps us develop as humans. Here are more reasons why imagination is important.
15 Benefits Of Imagination For Human Life
Though people think that imagination is only good in the field of arts, it has much more significance for human life. We, as humans, have a powerful ability to imagine things. Some people use it more than others do and that's why some of us might seem more creative or intelligent than others.
Imagination isn't just limited to the process of imagining something – you can imagine smells, sounds, and anything else around you. It's a powerful gift. Here are 15 benefits of imagination for human life.
1. Imagination Enhances Mental Exercise
Have you ever wanted to get your creative juices flowing? If so, one of the best ways to do so is through imagination.
Whether they're writing a piece of fiction, painting a masterpiece, or trying to solve their next math problem, highly imaginative individuals tend to solve problems more efficiently and retain that information for longer periods.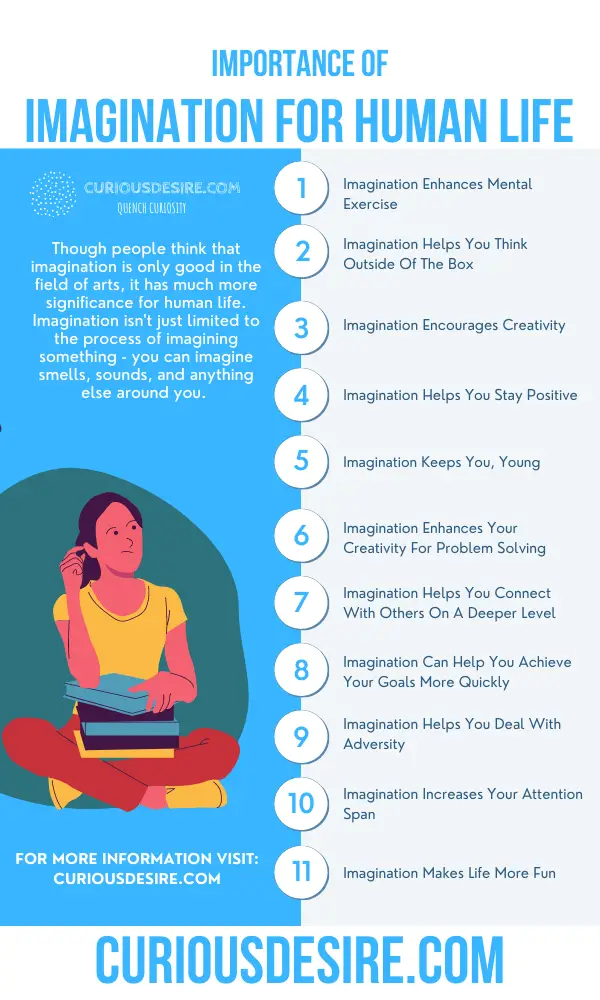 2. Imagination Helps You Think Outside Of The Box
Ever heard of the term "thinking outside of the box?" Even if you haven't, you've probably done something similar at some point in your life. The ability to think outside of the box is something that's heavily attributed to imagination.
People who can imagine different possibilities and outcomes are typically the ones who come up with the best solutions to problems.
3. Imagination Encourages Creativity
As mentioned before, imagination is one of the main ingredients in creativity. To be creative, you have to be able to imagine different possibilities and outcomes. And that's precisely what imagination allows us to do.
4. Imagination Is The Root Of Innovation
Many of the world's most innovative products and services can be credited to the imagination. Apple, for instance, is a company that's well-known for its innovative products.
But what many people don't know is that the founder, Steve Jobs, was a very imaginative individual.
Reference Video – Imagination Is More Important Than Knowledge
5. Imagination Helps You Stay Positive
When you're feeling down, one of the best things you can do is to imagine a better future. By imagining a better future, you'll be setting yourself up for success when the opportunity to achieve that future presents itself.
By feeling like you've achieved something, you'll be able to put yourself in a better mood which will make it easier for you to focus on the tasks at hand.
6. Imagination Keeps You, Young
Believe it or not, imagination can help you stay young. And it's also a great way to keep the kids entertained by encouraging them to use their imaginations.
Some of the products that are most beneficial for children typically involve some sort of role-playing and/or an imaginary scenario.
7. Imagination Enhances Your Creativity For Problem Solving
Ever feel like you're not quite bright enough to solve certain problems? Sometimes it helps to use your imagination to come up with the solution that best works for you.
That's what many people do when they're young, and it's also how many geniuses have solved some of the world's most complex problems.
8. Imagination Encourages Social Interaction
In a study that was conducted by the University of Kansas, it was found that people who are good at imagining social scenarios tend to be better at interacting with others.
So, if you want to improve your social skills, it might be a good idea to start exercising your imagination more.
9. Imagination Helps You Connect With Others On A Deeper Level
When you're able to imagine what someone else is feeling, it allows you to connect with them on a deeper level.
This is because you're essentially putting yourself in their shoes and trying to understand what they're going through.
10. Imagination Can Help You Achieve Your Goals More Quickly
According to a study that was conducted by a professor at the University of California, it might be a good idea for you to imagine your future self as often as possible.
During this study, participants were instructed to spend just five minutes each day imagining their best possible selves.
11. Imagination Helps You Manage Stress And Anxiety
Ever feel like your imagination is playing games with your mind? If so, that may not be such a bad thing, because playing these mind games may help you manage your stress and anxiety.
Creating a mental image of yourself in a relaxed state can lower your stress level.
12. Imagination Makes You More Successful In Life
Individuals who have strong imaginations tend to be more successful in life than those who don't.
This is because imagination allows you to come up with new and innovative ideas, which can help you achieve your goals much faster.
13. Imagination Helps You Deal With Adversity
When bad things happen, it's often hard to stay positive. However, if you can use your imagination, you'll be able to find a way to turn that bad situation into a positive one.
This is because imagination allows you to visualize the positive outcome of your situation before it even takes place.
14. Imagination Increases Your Attention Span
Did you know that many of the most successful individuals in world history had very active imaginations?
This is because having an active imagination can help you increase your attention span while decreasing stress levels at the same time.
15. Imagination Makes Life More Fun
When we can imagine what's going to happen, that gives us a thrill and excites us.
The unknown becomes known through imagination. For example, when you're about to go on a trip somewhere far away from your hometown, your mind uses its ability of imagination to think about what you might see, who you might meet, where you might eat, etc.    
 And so, imagination is the source of fun for us because it turns something ordinary into extraordinary.
Importance Of Imagination – Conclusion
From helping you connect with others on a deeper level to managing stress and anxiety, imagination can do wonders for your overall well-being.
So, if you're looking for a way to improve your life, start using your imagination more often. You may be surprised at just how beneficial it can be.
References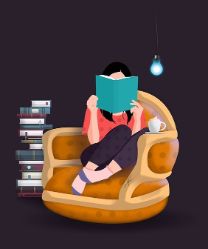 Hello, I am Aatka Azhar. I have done bachelor's degree in Computer Science. Writing articles is my passion through which I explore so many things. So, I am using my passion by working here and it will be the source of knowledge for the readers.