Nature is the playground for any outdoor enthusiast. We truly discover ourselves in these settings, whether it's by strolling through lush forests, scaling snow-capped peaks, or walking along windy beaches. We all have little areas in nature that give us more than spectacular vistas.
Nature is one of the most important parts of our lives. However, with urban sprawl happening so quickly, it can be hard to find time to enjoy nature.
Humans, as a component of this ecosystem, needs nature to connect with all the other aspects of their life. So we bring you 15 reasons why nature is important to remind you how beautiful it really is!
15 Benefits Of Nature That Impact Our Lives
Nature is where we get fresh air, exercise, and beautiful scenery. It's also where animals live, plants flourish, and natural resources are created. It has numerous health benefits for humans too.
1. Nature Nurtures All Life On The Planet
The earth and everything on it is a result of billions and billions of years of natural processes. Natural things are what keep us alive. The Earth's atmosphere, gravity, life-giving properties in the soil, photosynthesis in plants, temperature regulation, oxygen production in oceans, water cycle which enables humans to drink clean water – all these are the result of natural processes.
Nature nurtures all life on this planet, from the largest mammal to the tiniest microorganism. Without nature, no one would be here!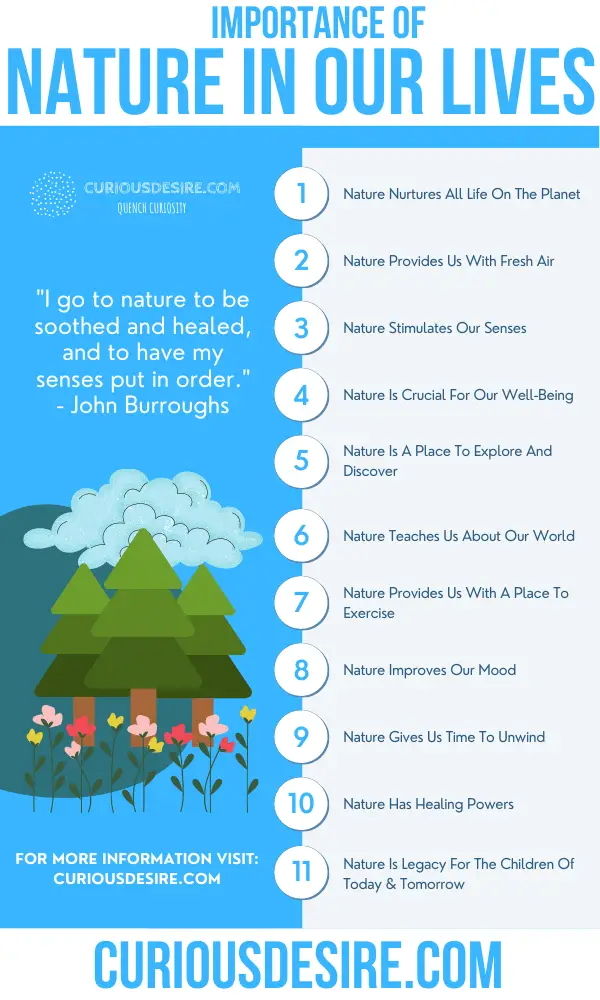 2. Nature Provides Us With Fresh Air
Fresh air is important to the well-being of humans and animals. While we can seem to get enough air-conditioning inside, humans need fresh, clean air as much as they need water and food.
Air pollution has become an increasing concern in the world. People these days find comfort in natural locations where the air is cleaner. Of course, this makes natural places ideal for meditation and yoga, both of which require breathing to be effective.
As a result, we're seeing an increase in natural locations for meditation and yoga, with more areas taking up the effort to create these spaces.
Nature is the best source of abundant fresh air that can help us relax and refresh our minds and bodies.
3. Nature Stimulates Our Senses
Spending quality time alone and going on a trip can be beneficial to your health and well-being in several ways. It will help you rejuvenate while also demonstrating the strength of your body.
Scientists discovered that individuals who spend more time in nature are better tuned in to their surroundings, which may lead to a slew of advantages.
A variety of sounds, aromas, colors, textures, and peace can all be found in natural settings. Hence it boosts our senses, which makes us more mindful and sharpens our senses.
4. Nature Is Crucial For Our Well-Being
The mental, emotional, and physical health benefits of nature are well documented. From reducing stress and depression to improving heart health and memory, nature has something to offer everyone.
Nature can also help you avoid heart disease by lowering your stress level. Compared to urban exposure, nature experience is linked to substantial reductions in anxiety and improved mental health.
Spending time in nature is crucial for our well-being. In an increasingly digital world, it's more important than ever to unplug and get outside.
Related Video – Science Spotlight: The Hidden Benefits of Nature:
5. Nature Is A Place To Explore And Discover
Nature provides a beautiful backdrop for exploration. There are endless opportunities to explore new things in nature, including different plants, animals, rocks, and landscapes.
Exploring nature can also lead to discoveries about ourselves. For example, we may find that we're capable of more than we thought or that we enjoy things we didn't know existed.
6. Nature Teaches Us About Our World
Nature is one of the best places to learn about the world around us. There are endless amounts of information that we can gather from spending time outside, whether it's learning about animal behavior, plant growth, weather patterns, or other scientific concepts.
Going for a hike or camping can be as entertaining as it is educational. In addition to learning about nature, spending time out in the world makes us better stewards of our planet.
7. Nature Provides Us With A Place To Exercise
Exercise is something that everyone needs in their daily lives. However, not everyone enjoys gyms or other fitness activities. Nature is a great place to work out because it offers a wide variety of terrain to cover and paths to explore.
Hiking, biking, and running are all popular ways to exercise outdoors. Nature also offers hills to climb, streams to wade in, and forests to explore while exercising.
Most people find that they can clear their head better when they're outside in nature versus in a gym.
8. Nature Improves Our Mood
Nature has a way of making us feel good. Whether we're surrounded by plants, trees, and wildlife or just sitting near a body of water, nature has a positive impact on our mood.
Studies have shown that spending time in nature can improve our moods as much as antidepressants. It's an easy and free way to boost our happiness and well-being. Researchers at a psychiatric unit discovered that patients who were in nature felt less lonely and calmer – resulting in improved moods and being happier.
What's more, nature can also help us see the world from a new perspective. Even when we're in a crowded city, there are ways to get outside and explore. It can provide a mental break from daily stressors and routine in a way that reminds us why it's great to be alive!
9. Nature Gives Us Time To Unwind
Spending time in nature can help us de-stress and unwind from the demands of our everyday lives. This is especially beneficial for people who don't typically get a lot of downtimes.
Even when we do take time to relax, we're generally in front of screens – whether it's a TV, phone, or laptop. Getting outside in nature teaches us to slow down and check-in with ourselves away from daily distractions.
Nature provides an opportunity to be away from technology, which can be a huge source of stress for some people. It's also a great place to relax and take time for yourself. A genuine connection with nature might really help us connect better with ourselves.
10. Nature Gives Time For Self-Therapy
There are plenty of ways that nature can facilitate self-therapy. One way is by providing individuals with a sense of calm and peace.
Nature also allows for positive distractions. Rather than ruminating on negative thoughts or problems, getting lost in nature can provide a temporary distraction from these issues. This can help sort through problems and come up with solutions.
Nature can also help us deal with negative emotions by allowing us to express them in a healthy way. This form of catharsis is beneficial for both physical and mental health.
11. Nature Enhances Our Memory & Creativity
It's no secret that spending time in nature is good for our minds. From improving our focus to enhancing our memory, nature has a lot to offer us.
Recent studies suggest that nature can help improve our memory more than indoor activities since natural environments are less distracting and provide more opportunities for cognitive stimulation.
When we're out in nature, our minds are free to wander and explore. This can lead to new insights and creative ideas. We're also more likely to remember information that we learned while outdoors.
Nature is great for our minds! It improves our focus and creativity. By spending more time in nature, we can gain more benefits for our minds.
12. Nature Helps Us Relax And Destress
Nature is well known for its stress-relieving abilities. Whether you're lying among the grass or listening to the birds chirping, there are plenty of calming elements in nature that can help us restore our energy and relax both mentally and physically.
Spending 20 to 30 minutes in nature every day can significantly lower stress by producing a cortisol drop of nearly 2 times greater than that observed among individuals who don't spend time in nature.
The best part is that everyone can find something serene about nature. It can put us in a better mood and calm our nerves, which can improve our overall quality of life and provide some peace and quiet when we need it the most.
13. Nature Connects Us With People
Nature is a place to be with others while still being by yourself. Whether we're hiking or camping, we can enjoy the outdoors while also socializing and relaxing with friends and family.
This helps us get out of our comfort zone and connect with people in new ways. It's great for families, friends, and couples since everyone can find something to do outdoors.
Nature can also help us connect with the Earth. When we're hiking or camping, for example, we're often surrounded by nature. This can help us appreciate and respect the planet more.
14. Nature Has Healing Powers
Nature has been used for healing for centuries. From aromatherapy to hydrotherapy, nature provides us with a variety of ways to improve our health.
When we're feeling under the weather, spending time in nature can help speed up our healing process. It's a great way to relax and restore our energy.
Studies have shown that spending time in nature can improve our physical health. Exposure to green spaces is linked with lower mortality rates, improved mental health, and reduced stress levels.
Nature has healing powers that can improve our physical and mental health. Whether we're feeling sick or just stressed out, spending time outside can help us feel better.
15. Nature Is Legacy For The Children Of Today & Tomorrow
One of the best reasons to appreciate nature is that it's something we can pass down to future generations. We can show our children and grandchildren the importance of nature and how to enjoy it.
We can also teach them about the importance of preserving nature and taking care of the planet. By instilling a love for nature in our children, we're ensuring that it will be around for future generations.
All of us must be preparing for the future by ensuring that what we have today is still here for our descendants tomorrow. When we teach our children about nature, we're teaching them values that will stay with them for life.
The Importance Of Nature – Conclusion
Whether we're sitting in our backyard or hiking through mountain trails, nature is something special. Spending time in nature can help us learn and grow as people.
Nature doesn't discriminate; it provides the same benefits to rich and poor, young and old. It doesn't take much to enjoy nature either. Even a small city park can offer us a chance to relax and escape the hustle and bustle of daily life.
We should all make an effort to appreciate nature and spend time in it whenever we can. Not only is it good for our minds and bodies, but it's also something we can pass down to future generations. Let's work together to make sure the future has plenty of green spaces for kids and adults alike.
References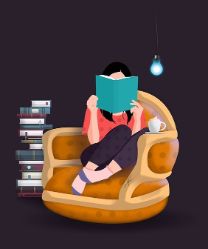 A sophomore in engineering, I'm a budding writer and an adventure enthusiast. My passion leads me on to try my hands on different things. I enjoy music, food, and good company. Making my way through life in my own ways, you'll find me holding a camera and capturing what this world has to offer.