Everyone needs to be aware of their surroundings to make sure they are doing all they can to maintain a healthy lifestyle.
Public health is a field that studies the science and techniques of preventing disease, prolonging life, and promoting human welfare. It is an essential part of the healthcare system.
Public health touches every aspect of our lives – it is responsible for creating programs and policies to promote the wellness of individuals, communities, and populations. This blog post will discuss why public health is important to society.
15 Benefits Of Public Health Highlighting Its Significance In Our Lives
Public health allows us to maintain a level of basic sanitation and enjoy a high quality of life. Without public health initiatives in place, our world would be a very different place. Here are 15 reasons why public health is crucial.
1. Public Health Prevents The Spread Of Deadly Illnesses
One of the most important functions of public health is to prevent the spread of deadly illnesses. By implementing effective prevention programs, public health officials can minimize the impact of epidemics and pandemics.
Public health officials are constantly working to prevent the spread of deadly illnesses like Ebola, Zika, and SARS.
They do this by monitoring outbreaks, tracking the movements of people who may have been exposed to the disease, and providing information and education to the public.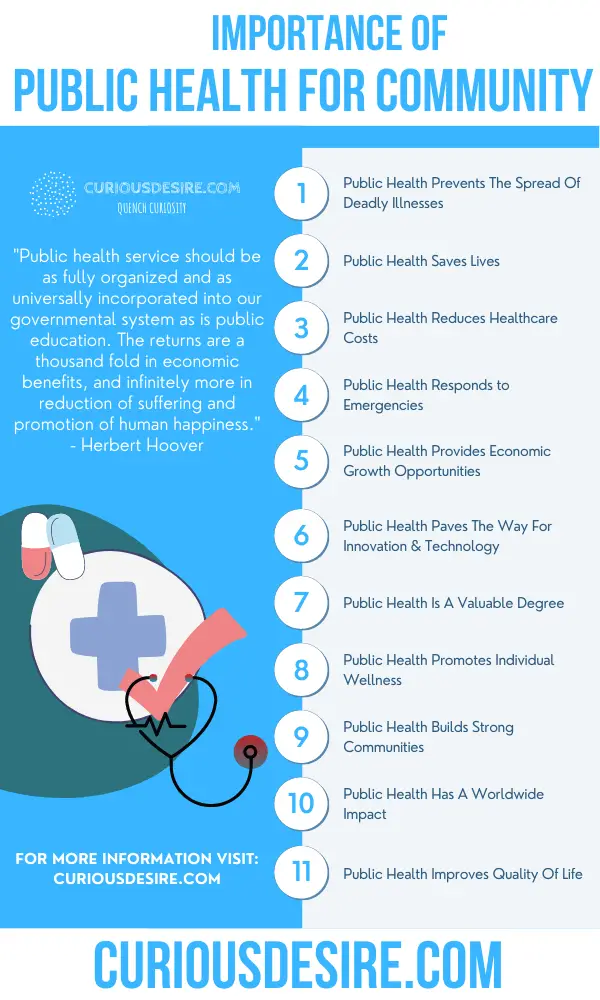 2. Public Health Saves Lives
Public health initiatives have led to several life-saving discoveries, such as the development of vaccines and the use of antibiotics.
The U.S. Centers for Disease Control and Prevention (CDC) estimates that in 2016, public health will cost taxpayers $14 million while preventing over 500,000 deaths each year through programs like immunizations and cancer screenings.
Public health professionals are also responsible for promoting healthy lifestyles, which can help reduce the risk of developing deadly diseases.
3. Public Health Reduces Healthcare Costs
Public health initiatives help to reduce the number of people who get sick and need healthcare. This, in turn, reduces the amount of money that we spend on healthcare each year.
For example, the CDC reports that tobacco-related illnesses cost more than $300 billion per year in the United States on medical costs and lost productivity.
Public health initiatives like smoking cessation programs and anti-obesity campaigns not only promote physical health but financial well-being as well. The CDC also states that healthier communities have lower healthcare costs due to fewer hospitalizations and doctor's visits.
4. Public Health Provides Essential Services
Public health officials provide essential services that keep our society functioning. They are equipped to deal with disasters and emergencies. They also develop policies to protect us from environmental hazards and work to improve air quality.
For example, public health nurses provide prenatal care to pregnant women, which can help ensure a healthy pregnancy and baby.
Public health professionals also work with schools to promote healthy behaviors and teach kids about important health topics like nutrition and hygiene.
Related Video – The Role of Public Health:
5. Public Health Responds to Emergencies
Public health officials are often the first responders during a public health emergency. They work quickly to assess the situation and develop a plan of action.
Public health professionals have the knowledge and experience to handle a wide variety of emergencies, from hurricanes to pandemics. Hence they form a crucial component of a society.
6. Public Health Enforces Policies That Keep Us Safe
Public health officials provide oversight for many initiatives, such as restaurant inspections and vaccinations, that help keep our communities safe.
For example, public health program managers are responsible for overseeing everything from child care centers to hospitals.
They also work with law enforcement to investigate foodborne illnesses and outbreaks, and they help to develop emergency plans in the event of a natural disaster or public health emergency.
7. Public Health Promotes Social Equality
Public health officials work to ensure that everyone has access to basic needs like clean water and safe food.
They also work to promote social equality by implementing programs that address health disparities based on race, ethnicity, income level, and sexual orientation.
Public health officials work to ensure that everyone has an equal opportunity to lead a healthy life.
8. Public Health Provides Economic Growth Opportunities
In addition to helping the country save money on healthcare costs, public health initiatives also help create jobs and boost the economy.
Local and state health departments also employ many nurses, doctors, and other healthcare professionals. For example, government agencies like the CDC and the World Health Organization (WHO) employ thousands of people around the world.
Public health initiatives also create opportunities for businesses to provide products and services that promote healthy living, such as exercise equipment, healthy foods, and vaccines.
9. Public Health Paves The Way For Innovation & Technology
Public health professionals are responsible for driving innovation in the healthcare sector through research and development, which can have major positive implications for businesses that provide products and services related to our health.
Public health officials are also responsible for implementing new technologies, such as the electronic medical record (EMR), which can improve the efficiency and quality of healthcare. They also helped develop self-testing technology, which revolutionized the way we test for STIs.
Public health professionals are responsible for many advancements in the field of medicine. For example, public health officials played a crucial role in eradicating smallpox – one of the most deadly diseases in history.
10. Public Health Is A Valuable Degree
Public health professionals often hold advanced degrees that can open up a variety of opportunities after graduation.
For example, most public health professionals earn their master's degree in public health (MPH) or doctorate in public health. These degrees allow them to work as researchers and faculty members at universities. They also prepare graduates for senior-level positions in the healthcare and pharmaceutical sectors.
Public health professionals often hold graduate degrees that can lead to exciting and high-paying careers after graduation.
11. Public Health Can Lead To A Lucrative Career After Graduation
Graduates with a degree in public health have several options for work after college, including working in the government, private sector, or non-profit organizations.
Public health professionals can also work as healthcare administrators, health educators, and public health researchers. Many public health professionals also choose to go into business by starting their consulting firms.
12. Public Health Promotes Individual Wellness
Public health officials work to promote wellness on an individual level. This includes educating people about things like hand hygiene, food safety, and how to prevent the spread of disease.
Public health professionals also develop programs that encourage healthy behaviors, such as getting regular exercise and eating a balanced diet. It aware people of the dangers of unhealthy behaviors, so they shun them. It enhances life expectancy and individual well-being.
13. Public Health Builds Strong Communities
Public health officials also work to build strong relationships with local organizations and community members. This helps to create a sense of community spirit and support, which is essential for promoting good health.
Public health officials work to build strong and healthy communities. They do this by creating and supporting programs that address the social and environmental determinants of health.
14. Public Health Has A Worldwide Impact
Public health specialists work to help communities at the local level and participate in worldwide policy initiatives. They may establish a global presence by influencing public policy and international programs designed to improve public health in developing countries and prevent epidemic situations. Some use these statistics to develop strategies for reducing health-related issues in specific locations, while others utilize them to assist start policy changes via international organizations that will have a long-term impact on those countries.
Public health has a worldwide impact. For example, the World Health Organization (WHO) is an international organization that's focused on protecting and improving global health and wellbeing.
15. Public Health Improves Quality Of Life
Public health officials work to ensure that everyone has access to essential services, which can make a huge difference in people's lives. They do this by promoting healthy behaviors and creating programs that address important health issues.
It improves the quality of life for all members of society and creates a positive environment that supports good health.
The Importance Of Public Health – Conclusion
Public health has an overall impact on the quality of life for everyone in society. It is an important field that helps to promote wellness and prevent disease. There are many reasons why public health is important, and these are just a few of them. We should strive to create a society where everyone has access to healthcare and education because these important factors lead to better health.
References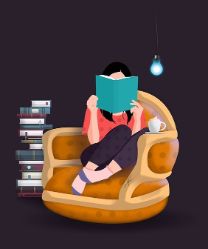 A sophomore in engineering, I'm a budding writer and an adventure enthusiast. My passion leads me on to try my hands on different things. I enjoy music, food, and good company. Making my way through life in my own ways, you'll find me holding a camera and capturing what this world has to offer.