Vitamin D is a fat-soluble vitamin that influences the development, maintenance, and function of many organs and tissues in the body. It helps the body absorb calcium and phosphorous. Vitamin D is a part of a healthy lifestyle to keep your muscles and bones strong.
Among various sources, sun and fish oils are most prominent. Since our bodies can not produce vitamin D on their own, we must inculcate it in our diet. This blog post will discuss why vitamin D is important.
15 Benefits Of Vitamin D In Keeping Us Healthy
Vitamin D is crucial for healthy bones and teeth. It also plays a role in strengthening your immune system, reducing inflammation in cells, and helping fight against infections like influenza or tuberculosis.
1. Vitamin D Is Crucial For Bone Growth
Vitamin D is a crucial part of our bones. Our body uses vitamin D to make a hormone called calcitriol, which helps calcium be absorbed from the intestines and added to bones. Vitamin D also helps muscles contract and move around the body, including those in the heart.
In children, having enough vitamin D contributes to healthy bones. In adults, vitamin D helps keep bones strong and may help prevent osteoporosis.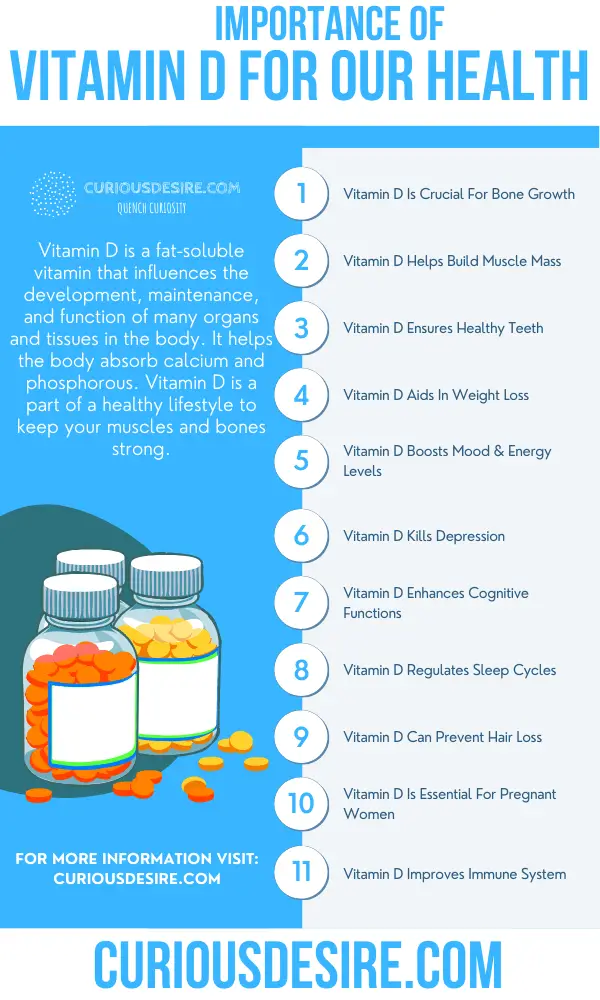 2. Vitamin D Helps Build Muscle Mass
Vitamin D plays a pivotal role in muscle function and strength. It ensures that our muscles stay healthy and maintain the body's natural bone-to-muscle ratio.
A lack of vitamin D can make it hard to work out or engage in physical activities. It also makes your muscles weak and decreases lean muscle mass. It is because vitamin D helps calcium and phosphorus absorption, two minerals essential for building muscle mass and strength.
If you're trying to build lean muscle mass, vitamin D should be one of your top priorities. Make sure you get enough sunshine to keep vitamin D levels topped up and consider taking a supplement if you're not getting enough from your diet.
3. Vitamin D Ensures Healthy Teeth
Teeth are the hardest substance in the human body. Our teeth are made up of calcium phosphate, which allows us to chew different kinds of food. The body uses vitamin D to activate a protein called osteocalcin, which is important for healthy teeth.
A lack of vitamin D can also lead to tooth decay.
Having enough vitamin D in your system ensures calcium is absorbed by saliva glands and added to the enamel of the teeth. This makes them strong enough to avoid cavities and other issues that can damage teeth, like gingivitis.
4. Vitamin D Aids In Weight Loss
A study published in the journal Nutrition Reviews in 2012 found that obese people were nearly twice as likely to be vitamin D deficient as those who were a healthy weight.
If you're struggling to lose weight, adding vitamin D to your diet could be the solution. It helps you lose fat, especially that stored around your midriff. It also boosts the production of testosterone in your body, which is vital for health and well-being.
This suggests that obese people need to take more vitamin D supplements than those who are at a healthy weight.
Related Video – Do You Need Vitamin D Supplements?
5. Vitamin D Boosts Mood & Energy Levels
A lack of vitamin D can cause fatigue, mood swings, and low energy levels. This is because it is essential for the production of serotonin, the hormone that regulates mood and energy.
People with adequate levels of vitamin D are less likely to experience these symptoms. Sun exposure is the best way to increase your vitamin D levels and boost energy and mood.
6. Vitamin D Kills Depression
Vitamin D doesn't just help you avoid heart disease, but it also lifts your mood and kills depression. It is seen that people with low levels of vitamin D are at a higher risk of developing clinical depression or having depressive symptoms.
Researchers have found an association between being vitamin D deficient and experiencing symptoms of depression. A study published in the journal JAMA Psychiatry in 2013 found that people with very low levels of vitamin D were almost twice as likely to be depressed as those who had normal levels.
7. Vitamin D Enhances Cognitive Functions
The body's ability to produce vitamin D decreases as we age. This makes it very important for older people to get enough of the vitamin. It can also hamper cognitive functions by causing neurological disorders.
Vitamin D is essential for maintaining cognitive health. It helps in the development of new brain cells and prevents the deterioration of existing brain cells.
It also helps in the absorption of calcium, which is known to protect against age-related memory decline and Alzheimer's disease.
8. Vitamin D Regulates Sleep Cycles
Adequate levels of vitamin D are necessary for maintaining a regular sleep cycle. It helps in the production of melatonin, the hormone that regulates sleep.
A lack of vitamin D can cause insomnia and other sleep disorders. However, increasing your vitamin D levels is necessary to get a good night's sleep.
9. Vitamin D Can Prevent Hair Loss
Hair loss can be caused by low vitamin D levels as well as other factors like genes, medications, and stress. A study found that premenopausal women with thin hair had significantly lower levels of vitamin D compared to healthy controls.
Hence maintaining a balanced diet and taking enough vitamin D is crucial for healthy hair. The researchers further say that improving vitamin D levels could help prevent hair loss and thinning hair among those who are genetically predisposed to the condition.
10. Vitamin D Is Essential For Pregnant Women
Pregnant women need vitamin D to ensure a healthy pregnancy. It helps in the development of the baby's bones and teeth. A lack of vitamin D can cause the baby to be born prematurely or have a low birth weight.
Vitamin D is also essential for nursing mothers. It helps pass on important nutrients to the baby and boosts the amount of breast milk.
11. Vitamin D Prevents Asthma And Allergies In Children
Vitamin D is vital for children's growth and development. It ensures that their bones and teeth mature properly, preventing diseases like rickets.
The research found that children who had low levels of vitamin D were more susceptible to respiratory infections like asthma and hay fever.
Early exposure to the sun helps people develop healthy vitamin D levels, which could prevent them from developing allergies and asthma during childhood.
12. Vitamin D Reduces Inflammation In Cells
The body is constantly producing harmful chemicals called cytokines in chronic illnesses. These cytokines can damage cells and organs in the body, including the brain.
Vitamin D has been shown to reduce the production of cytokines, which could be the reason it has been considered for arthritis and other autoimmune diseases.
13. Vitamin D Improves Immune System
Vitamin D is an excellent immune system booster as we age. It enhances the body's ability to fight against infections like influenza and tuberculosis, which usually occur in people with low immunity.
Whenever your body comes in contact with a microbe, it releases cytokines. This is why the flu or a common cold triggers a severe reaction in you.
However, many people around the age of 65 have low vitamin D levels. It causes an immune system overload and worsens their health further, increasing the risk of diseases like diabetes and arthritis.
Vitamin D comes to save the day! According to 2008 research published in Circulation, it may help you avoid heart disease. It may also protect you from breast, colon, and prostate cancers.
14. Vitamin D Prevents Autoimmune Diseases
Autoimmune diseases occur when the body's immune system mistakenly attacks its cells and tissues. Vitamin D is thought to help prevent autoimmune diseases by suppressing the overactive immune system.
A lack of vitamin D can increase your risk of developing autoimmune diseases like rheumatoid arthritis, lupus, and multiple sclerosis. Vitamin D is crucial to protect yourself from autoimmune diseases.
15. Vitamin D Wards Off Death
A lack of vitamin D links to an increased risk of premature death. Researchers discovered that people who had low vitamin D levels in their blood were nearly three times more likely to die during the study period than those with adequate levels. The study stressed that it was regardless of whether they had cancer or not.
The study's authors say that the findings suggest that everyone should have their vitamin D levels checked, and those who are deficient should be treated.
The Importance Of Vitamin D – Conclusion
Vitamin D is extremely important for overall health and well-being. Make sure you get enough sunshine or take a vitamin D supplement and include plenty of vitamin D-rich foods in your diet to stay healthy and happy!
References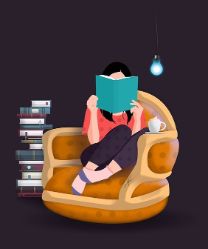 A sophomore in engineering, I'm a budding writer and an adventure enthusiast. My passion leads me on to try my hands on different things. I enjoy music, food, and good company. Making my way through life in my own ways, you'll find me holding a camera and capturing what this world has to offer.