When bad weather strikes, it can mess up our work plans. Heavy snow, rain, or storms can make it tough to get to work or do our jobs properly.
In this guide, we'll talk about simple and honest excuses for bad weather at work. No fancy words, just straightforward ways to explain things to your boss when the weather gets in the way.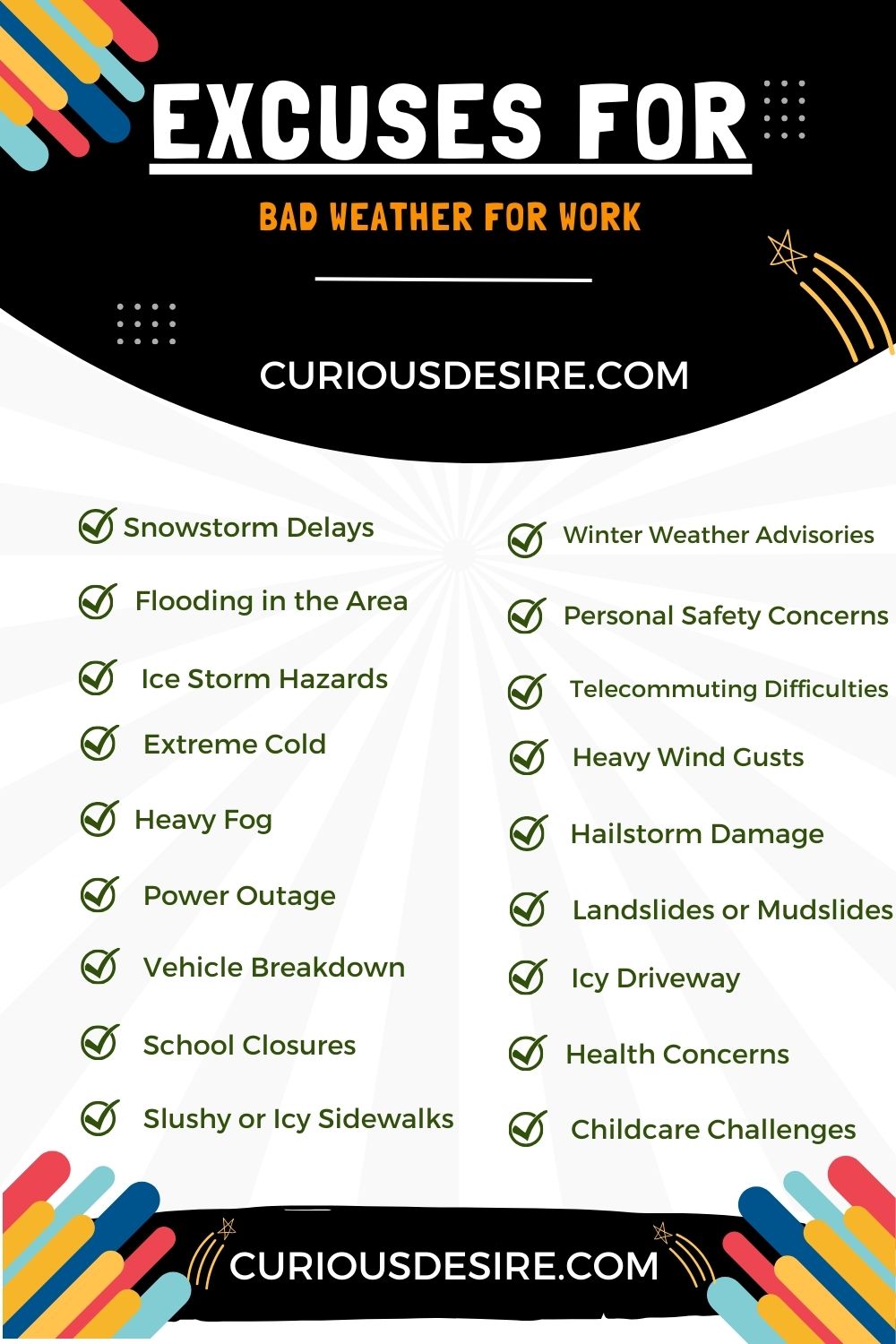 Top 30 Common Bad Weather Excuses For Work
"Top 30 Bad Weather Excuses for Work" is a helpful resource for dealing with work challenges caused by bad weather. It offers practical and honest excuses for situations like heavy snow or rain that can affect your job.
These excuses are about being straightforward when you face weather-related problems that make it hard to work as usual.
Whether you need to explain a late arrival, difficulties with remote work, or concerns for your safety during bad weather, this guide provides clear communication tips for addressing these issues with your employer.
Here are the Top 30 Bad Weather Excuses For Work.
1. Snowstorm Delays
Snowstorms can wreak havoc on commutes. When a severe snowstorm blankets your area, resulting in treacherous roads and slow-moving traffic, it's a legitimate reason for arriving late to work. Explain the specific challenges you faced during your commute, such as road closures or heavy snowfall, to provide context to your delay.
2. Flooding in the Area
Heavy rainfall can lead to flooding in some regions. If your workplace or your route to work is affected by flooding, it's important to prioritize safety. Notify your employer about the flooding in your area and the resulting travel disruptions that prevented you from getting to work on time.
3. Ice Storm Hazards
Ice storms can create dangerously slippery conditions. If your safety is compromised due to icy roads or walkways, it's essential to inform your employer about your decision to stay home. Emphasize the risk of accidents or injuries that such conditions present.
4. Extreme Cold
Extreme cold weather, particularly with wind chill, can make outdoor activities hazardous. If the cold weather poses a significant risk to your well-being, making travel unsafe, it's a valid reason to stay home from work. Mention the low temperatures and the potential health risks associated with prolonged exposure.
5. Heavy Fog
Dense fog can reduce visibility and impact road safety. When heavy fog significantly hampers your ability to navigate safely on your commute, it's essential to communicate this to your employer. Describe the poor visibility and its impact on travel conditions.
6. Power Outage
Severe weather conditions like storms or heavy winds can lead to power outages. If your home experiences a power outage that affects your ability to work remotely, notify your employer about the situation, and explain your inability to perform your tasks without electricity.
7. Public Transportation Disruptions
Bad weather often leads to disruptions in public transportation systems. If your usual mode of public transportation is canceled or delayed due to adverse weather conditions, inform your employer about the service interruptions that prevented you from reaching work on time.
8. Vehicle Breakdown
Sometimes, extreme weather can take a toll on vehicles, causing breakdowns or malfunctions. If your car or other means of transportation experiences issues related to the weather, explain the mechanical problems you encountered and their impact on your ability to commute to work.
9. School Closures
When you have children, school closures due to inclement weather can affect your ability to work. Notify your employer about the school closures, which necessitate your presence at home to care for your children in the absence of school.
10. Slushy or Icy Sidewalks
After a winter storm, sidewalks and walkways can become hazardous due to slush, ice, or snow accumulation. If your walk to work is dangerous or impassable due to these conditions, emphasize the unsafe state of the sidewalks and your concern for personal safety.
11. Winter Weather Advisories
Pay attention to weather advisories and warnings issued by authorities. If local authorities have issued advisories urging residents to stay off the roads or take precautions due to severe weather conditions, mention these advisories when explaining your absence from work.
12. Personal Safety Concerns
Your personal safety should be a top priority. If bad weather conditions create circumstances where your safety is at risk during your commute, explain your concerns to your employer, underscoring the importance of prioritizing safety above all else.
13. Telecommuting Difficulties
While remote work may be an option, it's not always feasible during extreme weather events. If your home experiences power outages, internet disruptions, or other technical issues that hinder your ability to work remotely, inform your employer of these challenges.
14. Heavy Wind Gusts
Strong winds can create hazardous conditions on the road, especially for high-profile vehicles. If you drive a vehicle that is particularly susceptible to wind gusts, such as a tall truck or a motorcycle, mention the safety concerns posed by the strong winds.
15. Hailstorm Damage
Hailstorms can cause damage to vehicles and property. If your vehicle or home sustains damage from a hailstorm, provide details about the extent of the damage and its impact on your ability to attend work.
16. Landslides or Mudslides
In areas prone to landslides or mudslides during heavy rainfall, these natural events can close roads and pose significant risks. Notify your employer about any road closures or safety concerns related to landslides or mudslides in your area.
17. Tornado Watches or Warnings
Tornado watches and warnings indicate the potential for severe weather conditions, including the risk of tornadoes. When these warnings are in effect, it's crucial to prioritize safety and inform your employer about your decision to take precautions.
18. Icy Driveway
An icy driveway can prevent you from safely accessing your vehicle or leaving your property. Describe the icy conditions of your driveway and how it rendered your vehicle inaccessible, making it impossible to commute to work.
19. Health Concerns
Extreme weather can exacerbate existing health conditions or pose health risks. If you have a medical condition that is worsened by specific weather conditions, explain the impact on your health and why it is unsafe for you to travel to work.
20. Childcare Challenges
When childcare arrangements are disrupted due to bad weather, it can affect your ability to work. Inform your employer about any childcare challenges arising from weather-related school closures or caregiver unavailability.
21. Public Transportation Strikes
Occasionally, public transportation workers may go on strike, affecting your ability to use public transit. If a strike occurs during bad weather, explain the lack of transportation options available to you.
22. Airport Delays or Cancellations
Air travel can be greatly affected by bad weather. If you were scheduled for a business trip but your flight was delayed or canceled due to adverse weather conditions, communicate the circumstances to your employer.
23. State of Emergency
In extreme cases, a state of emergency may be declared in your area due to severe weather. Mention this declaration as a significant factor affecting your ability to travel or perform work duties.
24. Commute Time Doubling
Bad weather can drastically increase commute times due to road conditions or traffic congestion. Explain how your normally manageable commute time doubled or tripled due to the weather, making it impractical to reach work on time.
25. Medical Appointments
Existing medical appointments or treatments may not be rescheduled easily. Notify your employer if you have a previously scheduled medical appointment that conflicts with work due to bad weather.
26. Localized Power Outages
Even if your home has power, localized power outages in your work area can disrupt business operations. Explain the impact of these power outages on your workplace, making it difficult for you to perform your job.
27. Severe Thunderstorms
Severe thunderstorms with lightning, heavy rain, and strong winds can pose safety risks, particularly if you work outdoors. Communicate your concerns about safety during such storms.
28. Poor Visibility
Fog, heavy rain, or snow can reduce visibility on the road, increasing the risk of accidents. When poor visibility makes travel dangerous, it's important to prioritize safety over commuting to work.
29. Remote Work Equipment Issues
Remote work may be an option during bad weather, but technical problems can hinder your ability to work from home. Explain any equipment or internet issues that prevented you from performing your remote tasks effectively.
30. Evacuation Orders
In extreme weather events, authorities may issue evacuation orders for certain areas. If you were under such an order and needed to evacuate your home, provide details about the evacuation and the importance of complying with official directives for safety.