In the realm of personal finance, excuses for not saving money can be the silent saboteurs of our financial well-being. There's no room for sugar-coating it; these excuses have real and lasting consequences.
In this exploration, we'll strip away the rationalizations and dive headfirst into the tangible financial fallout that accompanies them.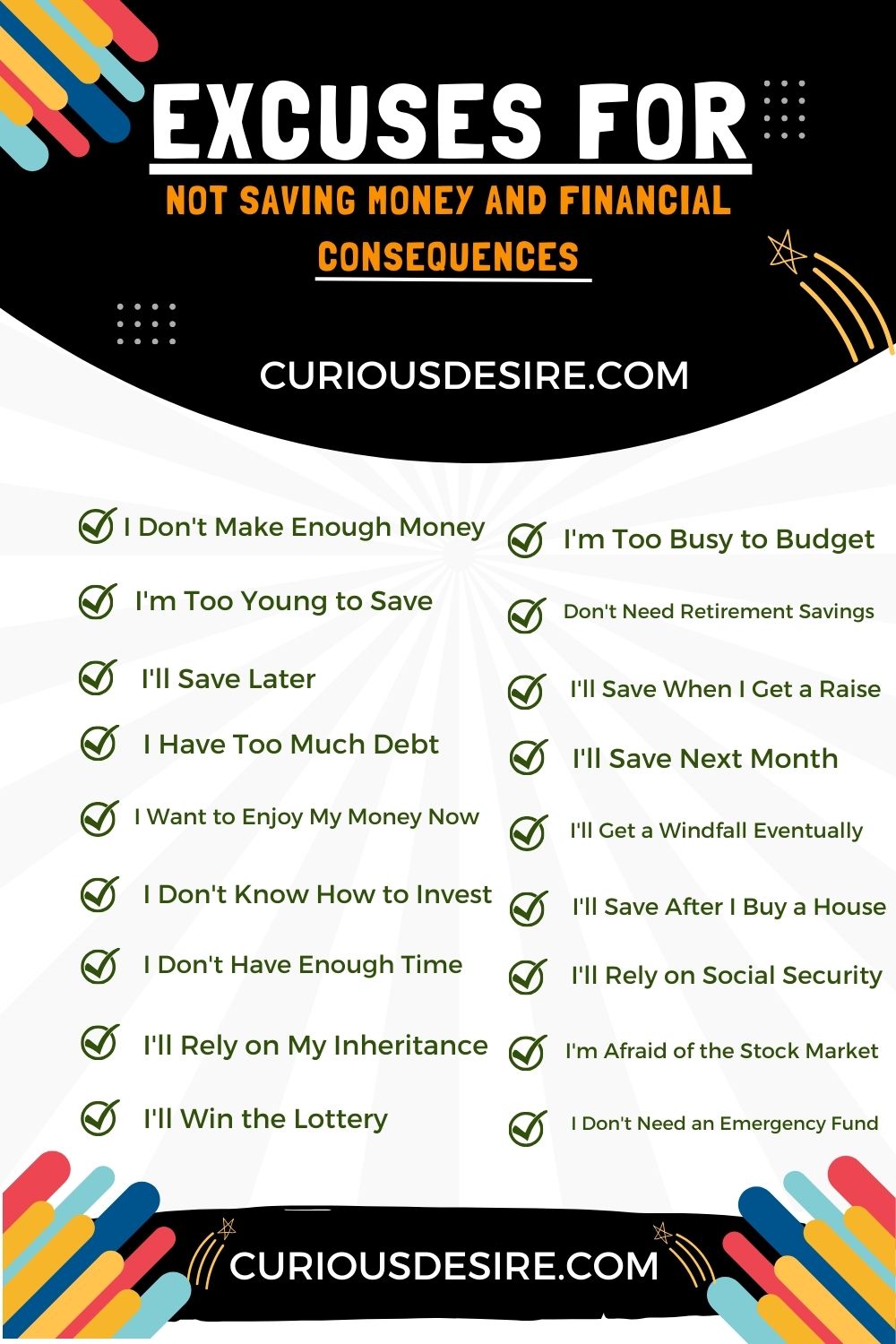 Top 30 Excuses For Not Saving Money And Financial Consequences
When it comes to handling our money, there are 30 common excuses that people use for not saving. But here's the thing: these excuses can lead to serious financial problems.
From saying, "I'll save later" to justifying unnecessary spending, these excuses might not seem like a big deal at first, but they can really hurt our financial future.
In this straightforward discussion, we're going to break down these excuses and show you how they can cause some serious money troubles.
Here are the Top 30 Excuses for Not Saving Money and the Financial Consequences.
1. I Don't Make Enough Money
Many people argue that their low income makes it impossible to save. However, failing to save money can lead to financial instability, making it even harder to cover unexpected expenses, emergencies, or long-term financial goals.
2. I'm Too Young to Save
Young adults often feel they have plenty of time to save for the future. Yet, the longer you delay saving, the less time your money has to grow through compounding interest, resulting in a smaller nest egg for retirement.
3. I'll Save Later
Procrastination is a common excuse. Delaying savings means missing out on potential investment returns and makes it challenging to meet financial milestones, such as buying a home or retiring comfortably.
4. I Have Too Much Debt
Prioritizing debt repayment over saving is wise, but ignoring savings altogether can leave you unprepared for unexpected expenses. Creating a balanced plan is essential to ensure both goals are met.
5. I Want to Enjoy My Money Now
Living in the moment can be fulfilling, but excessive spending without saving can lead to financial struggles later in life, limiting your ability to enjoy your retirement years.
6. I Don't Know How to Invest
Fear of investing can lead to hoarding cash, which loses value due to inflation. The consequence is that your money won't grow as efficiently as it could with well-informed investment choices.
7. I Don't Have Enough Time
Balancing work, family, and other commitments can be challenging. However, not dedicating time to financial planning can result in missed opportunities to secure your financial future.
8. I'll Rely on My Inheritance
Counting on an inheritance can be risky, as circumstances can change. Failing to save can leave you without a safety net when you need it most.
9. I'm Healthy and Don't Need an Emergency Fund
No one is immune to accidents or unexpected health issues. Not having an emergency fund can force you into debt or hinder your financial recovery.
10. I'll Win the Lottery
Relying on luck to solve financial problems is not a viable strategy. The odds of winning the lottery are exceedingly slim, and relying on such an event can lead to financial ruin.
11. I'm Too Busy to Budget
Without a budget, it's easy to overspend and underestimate your financial needs. This can lead to constant financial stress and a lack of progress toward your goals.
12. I Want to Keep Up with Others
Trying to match the spending habits of friends or neighbors can lead to financial strain. Overspending to fit in can result in debt and insufficient savings.
13.  Don't Need Retirement Savings
Believing that retirement is too far away to worry about can result in insufficient funds when you eventually do retire, leading to a lower quality of life in your golden years.
14. I'll Save When I Get a Raise
Counting on future income increases can lead to missed opportunities for saving and investing. It's important to start early to maximize your savings potential.
15. I'll Save Next Month
Postponing savings each month can become a habit that's hard to break. This can result in a lack of progress towards your financial goals and missed growth opportunities.
16. I Don't Want to Sacrifice My Lifestyle
Maintaining a high-spending lifestyle without saving can lead to financial instability in the long run, as your income may not always support such expenditures.
17. I'll Get a Windfall Eventually
Counting on unexpected windfalls can lead to financial complacency. It's crucial to have a consistent savings plan to secure your financial future.
18. I'll Save After I Buy a House
Prioritizing home purchases without first establishing an emergency fund and saving for retirement can strain your finances, making homeownership less enjoyable.
19. I Can't Afford to Save and Pay Off Debt
While it's essential to pay off debt, neglecting savings can leave you vulnerable to financial emergencies and hinder your long-term financial security.
20. I'll Rely on Social Security
Relying solely on Social Security for retirement income can lead to financial hardship, as it may not cover all your expenses, especially if you want to maintain your current lifestyle.
21. I Don't Want to Deal with Finances
Avoiding financial responsibility can result in missed opportunities for growth and long-term financial success, ultimately hindering your financial security.
22. I'll Save When I'm in a Better Job
Waiting for the perfect job can delay your savings journey. It's better to start saving now and adjust your contributions as your income grows.
23. I'm Too Young to Worry About Retirement
Starting early in saving for retirement is crucial. Delaying retirement savings can result in a significantly smaller nest egg and a more challenging retirement.
24. I'll Save When My Kids Are Grown
While raising children is costly, neglecting your savings can lead to financial stress during retirement, affecting both you and your children.
25. I'm Afraid of the Stock Market
Avoiding investment in the stock market out of fear can hinder your ability to achieve long-term financial growth and may result in insufficient retirement savings.
26. I Don't Need an Emergency Fund
Thinking that emergencies won't happen to you can leave you financially vulnerable when unexpected expenses arise, potentially leading to debt.
27. I'll Save When I'm Debt-Free
Prioritizing debt repayment is essential, but ignoring savings can result in financial instability if an emergency occurs during your debt paydown journey.
28. I'll Save When I'm Older
Delaying savings until you're older can make it much harder to reach your financial goals, as you'll have less time to save and invest.
29: I'll Save When I Get Married
Waiting until marriage to start saving can delay your financial progress and limit your ability to achieve your individual goals.
30. I Don't Believe in Saving
Rejecting the concept of saving altogether can lead to a future without financial security, leaving you vulnerable to unexpected expenses and financial hardship.
Resources Consulted For This Article On