The acronym STEM stands for Science Technology Engineering and Mathematics. In the past decade, STEM education has been a high priority in schools throughout the world.
STEM is important in education because we live in a world where the majority of the workforce is employed by industries that require STEM skills.
College graduates cannot expect to be hired just because they have a degree, rather they are competing against thousands of other graduates. As countries like India and China produce more college graduates than the United States.
STEM education is the future, this article will share reasons as to why STEM is important.
15 Benefits Of STEM Education For Your Child Future
The jobs that were for high school or even college graduates, require five or ten years of experience. To stay competitive corporations have moved operations to countries where people are willing to accept lower pay and work longer hours.
To keep up various corporations have begun to push STEM education so hard in today's job market.
The following are 15 benefits of STEM education are listed below:    
1. STEM Education Leads To A Higher Salary
STEM jobs command a higher level of pay, meaning more money for families and better standards of living. One-fifth of workers making over six figures have at least a bachelor's degree in STEM fields.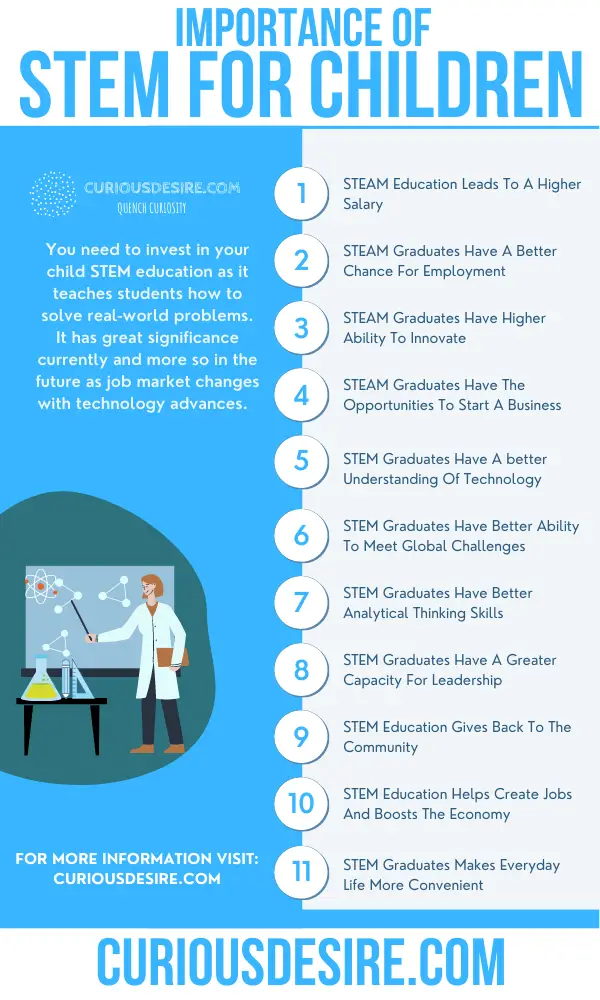 2. STEM Graduates Have A Better Chance For Employment
STEM jobs are predicted to grow at twice the rate of non-STEM jobs during the next decade. According to Labor Statistics, STEM occupations will grow by 17% in one year, compared to 6% for all other jobs.
This is due to industries like pharmaceuticals, biotechnology, and even military technology becoming more advanced.
3. STEM Graduates Have A Better Chance For Advancement
For someone considering their future careers, advances are not only possible but also likely in STEM fields. There is a wider range of job titles available for these individuals compared to some other industries.
Some of these positions include geologist, astronomer, or even data scientist which are all expected to increase in demand by 2020.
4. STEM Graduates Have Higher Ability To Innovate
Those with STEM educations have many opportunities available beyond their original major. For example, a statistician who works with big data is essentially solving problems similar to how an engineer might solve them.
Due to this versatility, STEM graduates are better able to think outside the box and come up with new solutions to old problems.
Related Video – Developing 21st Century Problem Solvers
5. STEM Graduates Have The Opportunities To Start A Business
It is very likely for STEM graduates to start their own businesses. Innovative and bright individuals often have great ideas for new products. So, there is always a chance that one of them will take off with an enthusiastic entrepreneur behind it.
Many companies have been started by STEM graduates in recent years.
6. STEM Graduates Have A Better Understanding Of Technology
STEM degrees include courses about how to use complicated equipment, understand technical manuals or work with computers and software programs.
This knowledge provides a greater ability to function when faced with any technological situation. All professional occupations rely on newer technology from time to time, but those with an understanding can solve problems quickly.
7. STEM Graduates Have Better Ability To Meet Global Challenges
Due to the increase in globalization, many employers now require workers who can communicate effectively across cultural boundaries as well as be more adaptable due to shifting markets or new ideas.
STEM graduates are usually more prepared for this than those without these sorts of backgrounds.
They can look at issues from different angles and find solutions that fit communities across the country or even around the world thanks to their knowledge, communication skills, and ability to empathize with others.
8. STEM Graduates Have Better Analytical Thinking Skills
STEM graduates are not only better prepared to work with technology, but also understand how it functions. This is because they have taken courses that require them to analyze information and then apply their findings to solve problems.
In most career fields there is a lot of data available but those who can make use of this information will be able to find success within the field. 
9. STEM Graduates Have A Greater Capacity For Creativity
While all students must think critically and creatively, STEM students tend to score higher on these abilities according to standardized testing results from both public and private schools around the country.
These tests usually include questions about geometry, reading comprehension, understanding different types of literature as well as other areas one would find in a STEM major.
10. STEM Graduates Can Discover New Frontiers
STEM graduates are often the ones who go on to discover, analyze and present information about new places, ideas, or technologies.
They may work for private companies that require their employees to travel as well as those who take a role in government projects related to astronomy, archaeology or another field.
11. STEM Education Helps Increase Children's Problem-Solving Skills
The earlier students start learning STEM subjects the more opportunities they have available to them later in life. These courses break down complex topics into smaller pieces so it is easier for students to learn one concept before moving on to the next.
This problem-solving process is important because it builds self-confidence and encourages students to keep learning.
12. STEM Graduates Have A Greater Capacity For Leadership
Those who work in STEM fields often put others before themselves. They see what needs to be done and do it, not worrying about credit or recognition. This may help them become more comfortable taking the lead in the future.
As a result, STEM graduates are great leaders because they know how to communicate with people from all different backgrounds effectively.
13. STEM Education Gives Back To The Community
STEM majors are often known for taking time off of their studies to work on projects with schools, non-profits, or other organizations within the local community.
They may help build things for new schools or provide assistance with science fairs by judging experiments or giving demonstrations about new technologies like robotics.
This is all part of the learning process because students get to see how their ideas can be used by others.
14. STEM Education Helps Create Jobs And Boosts The Economy
Around 60% of people within the workforce today will need to find a new job over the next 10 years.
This means that those who graduate with relevant degrees will be highly sought after because they possess the skills and knowledge needed to solve problems within these fields.
Not only do graduates acquire personal benefits but it also benefits society as a whole through employment opportunities.
15. STEM Graduates Makes Everyday Life More Convenient
As technology continues to advance people can enjoy conveniences like ordering clothing online, applying for jobs without ever needing to leave the house, and even learning new skills at home with online resources.
Without STEM majors we wouldn't have these advancements because they set off a ripple effect that revolutionizes society as we know it today.
For this reason alone, everyone should be encouraged to learn about STEM as it is the key to building a better future.
The Importance Of STEM– Conclusion
From this article, you understood why STEM is important and people need to invest in it because it teaches students how to solve real-world problems.
Rather than learning theories that don't apply to the future, STEM majors are building valuable skills that will help them get ahead of everyone else in their careers.
References