We breathe in millions of germs every hour. From coughing, sneezing, or even talking on the phone. Germs get attached to hair and skin easily and can be carried anywhere we go throughout the day.
Many people forget that they touch their face all the time, transporting those germs onto our face as well as under our fingernails where they remain for up to 48 hours.
Meaning if we don't wash our hands often enough, this means we're giving ourselves a nice dose of other peoples' germs each time we touch our faces after touching something dirty!
This is why wearing a mask is important and this article will share further details.
15 Benefits Of Wearing A Mask For People
Wearing a mask stops those nasty and potentially dangerous germ-carrying creatures from getting into our respiratory system, which lessens the chance of us getting sick that much more.
It's always better to be safe than sorry because staying healthy is much more important than looking cool or anything else for that matter!
Let's look at the 15 reasons why wearing a mask is important:    
1. Wearing A Mask Lowers The Spread Of Flue
It is important to wear a mask when one has flu symptoms because the flu virus is easily transmitted from person to person via saliva droplets that are sprayed into the air with coughing or sneezing. The diseases tend to be worst in children and the elderly, but people of all ages can contract them. It is estimated that about 20% of the American population gets the flu every year.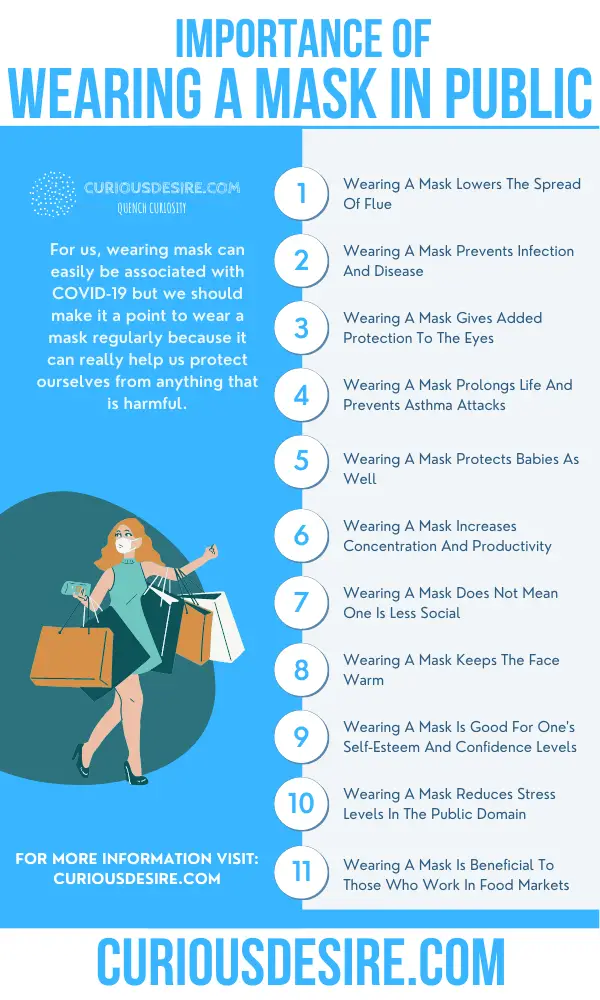 2. Wearing A Mask Prevents Infection And Disease
A mask helps to prevent infections and diseases such as severe acute respiratory syndrome and influenza. It may also prevent the spread of other diseases such as tuberculosis. The wearing of a face mask is one of the most effective ways to reduce contracting tuberculosis.
3. Wearing A Mask Gives Added Protection To The Eyes
Another benefit of wearing a mask is that it gives added protection for eyes from dust, dirt, fine powders, chemicals, gases, and other hazardous materials. Also, wearing a mask protects the eyes from ultraviolet radiation emitted by the sun's rays.
4. Wearing A Mask Prolongs Life And Prevents Asthma Attacks
A study conducted in Taiwan suggests that children who wear masks are less likely to develop asthma or breathing problems that are associated with allergies. Many of these illnesses can prove fatal due to lack of breath. The study also concluded that these children tend to have reduced visits to the doctor for respiratory problems when compared with their peers who do not wear face masks.
Related Video – Why Asians Always Wear Masks
5. Wearing A Mask Protects Babies As Well
Wearing a mask helps one protect babies because it helps to prevent infants from coming in contact with harmful bacteria and viruses. Also, babies tend to have a weak immune system, so they need to wear masks as they are particularly vulnerable to such diseases.
6. Wearing A Mask Increases Concentration And Productivity
It has been found that concentration and productivity at work increase when workers wear face masks. This may be because the absence of dust particles improves air quality, thereby increasing productivity and efficiency at the workplace. It is also true that many people who wear face masks report not suffering from common cold or flu symptoms which would otherwise reduce one's ability to concentrate on their work.
7. Wearing A Mask Allows better Breathing
Breathing inside a mask is better as one does not have to breathe through the nose which causes dryness and irritation. Moreover, wearing a face mask allows easy breathing for those with respiratory problems such as asthma or bronchitis whose symptoms are aggravated by exposure to dust particles and other pollutants in the air.
8. Wearing A Mask Improves Personal Hygiene
It helps improve personal hygiene and reduces the number of germs that we come in contact with every day. This is particularly beneficial for people who work at food outlets such as cafeterias, restaurants, etc., where they come into direct contact with many customers every day. Also, people who have a habit of touching their face frequently should wear a mask as it helps prevent the spread of germs to other parts of the body. 
9. Wearing A Mask Does Not Mean One Is Less Social
Wearing a mask does not mean one is less social or outgoing. It only means that one cares enough about life and health to take steps that are necessary to protect themselves from potential harm. Those who wear masks are usually more focused on trying to lead healthier lives by taking better care of themselves through exercise, proper diet, etc. On the other hand, one who does not wear a mask may appear irresponsible or strange to others.
10. Wearing A Mask Helps In Keeping One's Face Cleaner And Healthier
One of the most common reasons for wearing a face mask is that it helps keep the face cleaner and healthier as it prevents the accumulation of dust particles, dirt, and other pollutants on the face which can cause acne and rashes if they stay on the skin for a long time. A consistent habit of washing one's face with water and soap before going to bed also helps in keeping skin clean and healthy. This is another reason why people should consider wearing masks as this would be beneficial in many ways such as helping them improve their hygiene.
11. Wearing A Mask Keeps The Face Warm
Face masks can keep one's face warm and protect it from harsh weather conditions such as chilling winds which cause the skin to become dry and chapped leading to other problems such as infection when taken internally or when the skin comes in contact with something harmful.
12. Wearing A Mask Is Good For One's Self-Esteem And Confidence Levels
Wearing a mask also helps in boosting self-esteem and confidence levels in people who are shy by nature. If they wear face masks, they will be more comfortable in crowds. Where they would otherwise find difficulty communicating or being sociable.
13. Wearing A Mask Reduces Stress Levels In The Public Domain
People who wear a mask while traveling in public transport such as bus, train or plane help reduce their stress levels and prevent them from feeling anxious or suspicious about other people on board looking for an opportunity to harm them either physically or otherwise.
14. Wearing A Mask Is Beneficial For Those With Sensitive Skin
Wearing a face mask is beneficial for those with sensitive skin or pre-existing conditions who are more vulnerable to pollutants in the air which may aggravate their symptoms if they do not wear a mask when going outside.
15. Wearing A Mask Is Beneficial To Those Who Work In Food Markets
Wearing a mask while working in fish markets, slaughterhouses and other industries where disposal of dead bodies or animal carcasses is involved is highly important as this prevents the spread of diseases such as swine flu which can cause havoc if detected among animals or humans.
The Importance Of Wearing A Mask – Conclusion
Now you know why wearing a face mask is important to one's health and well-being. There should be no doubt about the importance of wearing masks in public places. One should also know that wearing masks is not just a matter of public safety, but it's also a matter of personal hygiene and health.
References