Quarantine is important not only for the sake of protecting oneself from diseases, but also to protect others. It is an effective way of preventing infectious illnesses from infecting families and communities.
To help you better understand why quarantine is so important to individuals and society, here are important reasons why quarantine is important.
15 Benefits Of Quarantine For Human Life
When people are faced with unknown circumstances that may cause harm to their lives, it is natural for them to feel fear. The reason why people are given different vaccinations against various infectious diseases is that most people do not fully understand how they can be contracted or what the symptoms may be like, thus making them apprehensive about coming into contact with infected individuals.
The benefits of quarantine outweigh its inconveniences and it is important to implement this protocol to help protect society from the outbreak of dangerous infectious diseases. Here are fifteen benefits that will make you rethink its importance for human life.
1. Quarantine Keeps Society Healthy
Quarantine helps keep society healthy by preventing the spread of potentially fatal illnesses. This is especially important when dealing with highly contagious diseases. It also prevents the development of an epidemic, which has the potential to cause widespread damage.
 Not only that, but it is especially imperative in hospitals with sick people where one patient may have an unknown disease that he or she could transmit through the air. Isolation of patients would prevent this from occurring.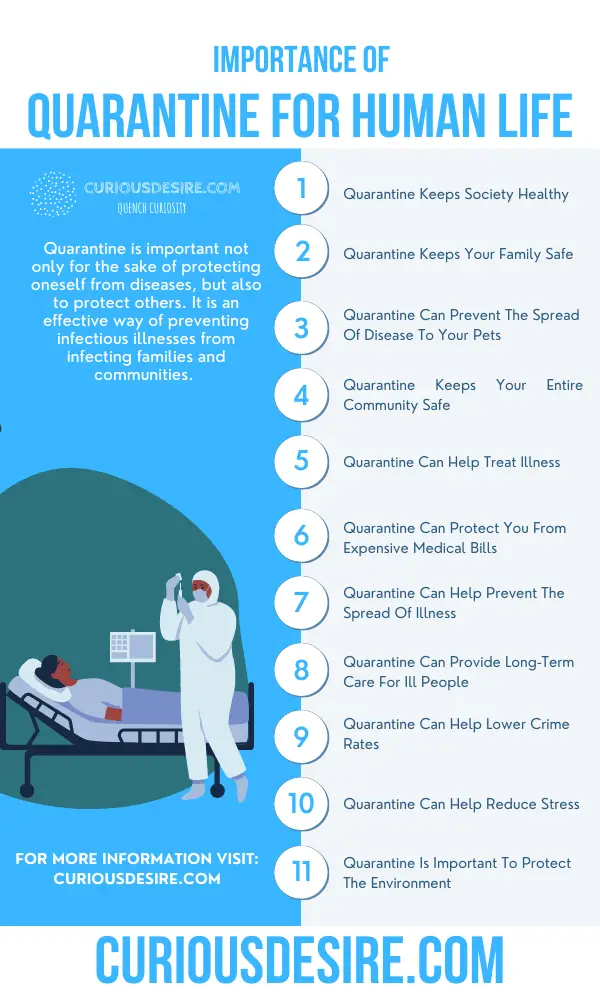 2. Quarantine Keeps Your Family Safe
Quarantine helps keep families safe by keeping illnesses from spreading. This is especially important in the case of dangerous communicable diseases. Furthermore, quarantine can help prevent death and/or serious illness for family members who have been exposed to a contagious illness.
3. Quarantine Can Prevent The Spread Of Disease To Your Pets
Quarantine also helps to keep pets safe by preventing them from contracting a potentially fatal illness. This is especially true in the case of rabies which is a disease that can be transmitted from animals to people.
Keeping pets away from infected areas helps prevent them from contracting such diseases and helps keep your family safe.
4. Quarantine Keeps Your Entire Community Safe
Quarantine helps keep each town, city, and community safe from infectious diseases by preventing them from being transmitted. This includes communities with children who have been infected with a contagious illness.
Furthermore, quarantine can help prevent the spread of certain illnesses that require long-term care of more than one month in duration. Such illnesses will be prevented from reaching others by keeping people who are infected in isolation.
Reference Video – Explained: 'In Home Quarantine?
5. Quarantine Can Help Treat Illness
Quarantining ill patients helps to treat them more effectively and with greater results than if they weren't quarantined. This is true for contagious diseases that require isolation of the patient as well as those that don't.
 For instance, a hospital patient who comes down with a virus that isn't contagious can still benefit from being quarantined. In this case, it would be easier to monitor the patient's symptoms and progress without having to worry about others being exposed to the illness.
6. Quarantine Can Protect You From Expensive Medical Bills
The quarantine can help protect you from any exorbitant medical expenses that would be incurred if the infection had spread to other areas. For example, this is especially important in hospital settings where one patient with an infectious disease could end up infecting others while also increasing treatment costs for all of the patients involved.
7. Quarantine Can Save Lives
The quarantine can also be used for patients that do not have access to proper medical care or those who may not receive such care as soon as they need it. Various ailments could prove fatal if left untreated and quarantine can prevent this from happening.
 Additionally, some illnesses require a certain amount of time and isolation to properly treat, and quarantine can help ensure that this is done.
8. Quarantine Can Help Prevent The Spread Of Illness
In addition to helping those who have been infected, quarantine can also prevent the spread of illness by containing it in a single area. This is especially important in the case of infectious diseases that are easily transmitted through a common source.
For instance, a child with a contagious illness could infect others while at school or on a playground. The quarantine can help prevent the spread of these diseases by preventing infected individuals from coming in contact with others until they are declared medically fit.
9. Quarantine Can Provide Long-Term Care For Ill People
Long-term care of ill people requires that they be quarantined for extended periods, which can provide a safe and supportive environment for them. This also helps to protect their well-being as well as that of those who may come into contact with them during this period.
Furthermore, quarantine provides a place where community members have the opportunity to help ill people by visiting them or bringing them gifts/foods that they love.
10. Quarantine Can Protect Ill Children
Children are always the most susceptible members of society when it comes to infectious diseases that can be transmitted through close contact with others. This is why quarantine is so important for children who have been diagnosed with an infectious disease since they still need to attend school and be able to interact socially without fear of spreading the illness to others.
11. Quarantine Can Help Improve The Economy
Quarantining ill patients in hospitals can help promote the local economy by providing jobs for medical staff, construction workers, food service employees, etc., who would otherwise be unemployed when the patient is later released.
This helps to lessen the impact on unemployment rates when difficult economic times are present.
12. Quarantine Can Help Lower Crime Rates
Anxiety and the need to escape can cause people to commit criminal acts, which is why crime rates go up during times of natural disasters. Quarantining people in hospitals helps reduce these criminal activities due to the decreased numbers of people that are on the streets at any given time.
This not only helps protect law-abiding citizens but also gives the police forces more time to focus their attention on criminal activities instead of dealing with the aftereffects of an outbreak.
13. Quarantine Can Save Money
When patients are quarantined in hospitals, they don't need to be protected by law enforcement agencies or other security personnel which allows them to focus their attention elsewhere instead of having to pay for guards to watch over the patient/s.
This helps save money on an already strained budget. Also, there are fewer people in the hospitals that reduce the cost of maintenance, utilities, etc., which can further help to reduce costs.
14. Quarantine Can Help Reduce Stress
Stress is proven to be detrimental to the human body and can lead to an array of illnesses that are difficult to treat without adequate rest. When patients are quarantined in hospitals, they can get the much-needed rest they need while still receiving quality care which helps them recover faster than if they weren't quarantined with the proper care.
This helps to prevent the spreading of illness as well as preventing any further damage due to stress.
15. Quarantine Is Important To Protect The Environment
Quarantining people in hospitals can protect the environment by reducing the amount of pollution that is released into the atmosphere which would normally occur when individuals are forced to flee their homes due to an outbreak.
Not only does this help save money, but it also helps to prevent environmental disasters that could result in serious damage to the ecosystem.
Importance Of Quarantine – Conclusion 
Quarantine has been proven to be beneficial regarding protecting the livelihood of individuals and preventing unnecessary deaths which could have occurred had it not been for the implementation of quarantining.
We may take precautions against the spread of illness, but it is still possible for an outbreak to cause widespread damage that can't always be prevented. It isn't always easy to make difficult decisions, but we must understand the importance of quarantine and other preventative measures to save lives.
References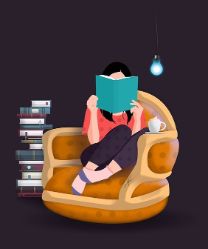 Hello, I am Aatka Azhar. I have done bachelor's degree in Computer Science. Writing articles is my passion through which I explore so many things. So, I am using my passion by working here and it will be the source of knowledge for the readers.