Volunteering for community projects is a great way to help others and make a positive difference. But sometimes, people have real reasons for not volunteering.
In this discussion, we'll explore some common excuses that stop people from getting involved in volunteer work. We'll try to understand why some folks, despite wanting to help, might find it hard to take that step.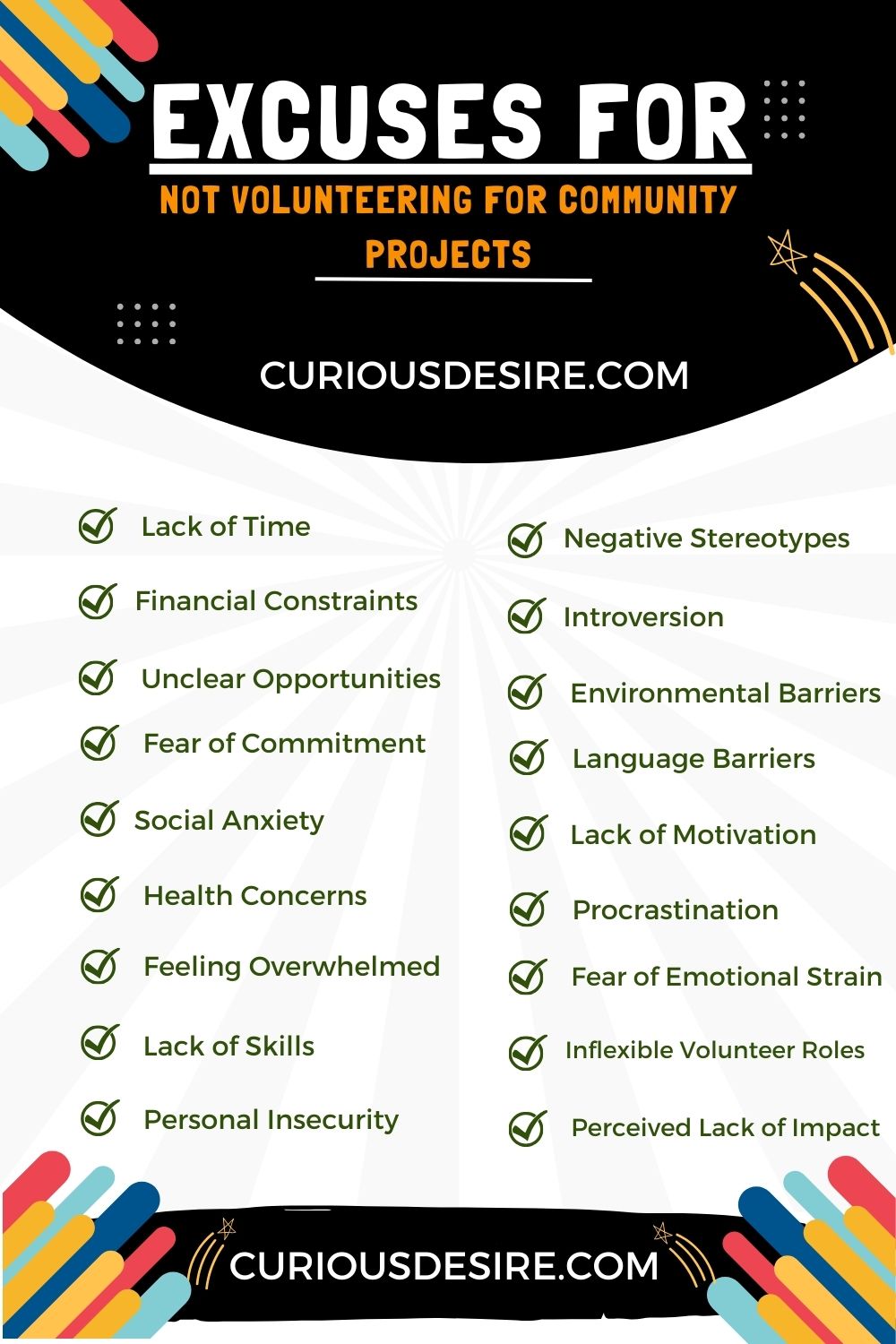 Top 30 Excuses for not Volunteering for Community Projects:
Discover the 30 common reasons why people don't volunteer for community projects. We'll take a closer look at what often stops individuals from getting involved in important causes, from busy lives to personal worries.
Understanding these barriers can help us build a more caring and connected community.
Here are the Top 30 Excuses for Not Volunteering for Community Projects:
1. Lack of Time
One of the most prevalent excuses for not volunteering in community projects is a perceived lack of time. People often lead busy lives, juggling work, family, and personal commitments.
It can seem daunting to find extra hours for volunteering. However, it's important to recognize that volunteer opportunities come with various time commitments. Even dedicating a few hours a month can make a significant difference in your community.
2. Financial Constraints
Financial limitations can be a valid concern for some individuals. They worry that volunteering may entail unexpected expenses, such as transportation or purchasing supplies.
While some volunteer roles may have associated costs, many organizations offer opportunities that are cost-neutral or even provide stipends to cover expenses.
3. Unclear Opportunities
Some people are unsure about where or how to volunteer. They might not be aware of local opportunities or find it challenging to connect with organizations.
Overcoming this excuse requires proactive research and reaching out to community groups or volunteer agencies to identify available opportunities.
4. Fear of Commitment
The fear of long-term commitment is another reason why people avoid volunteering. They worry that once they start, they'll be locked into a never-ending obligation.
However, many organizations offer flexible volunteer roles that allow individuals to choose short-term or project-based commitments.
5. Social Anxiety
For those with social anxiety or shyness, the prospect of meeting new people in a volunteer setting can be daunting.
However, many volunteer opportunities can be completed independently or in smaller, more intimate groups, accommodating those who prefer a quieter, less crowded environment.
6. Inconvenient Schedules
Volunteer opportunities don't always align with an individual's work or personal schedule. Some people believe they can't find a project that fits their availability.
Yet, many organizations offer flexible hours, and weekend, or evening opportunities, making it possible to volunteer around a busy schedule.
7. Health Concerns
Health issues, whether temporary or chronic, can be a significant barrier to volunteering.
Some individuals may worry that their health conditions will prevent them from fulfilling their volunteer commitments.
In such cases, it's essential to communicate with organizations to find roles that accommodate specific health needs.
8. Lack of Transportation
Difficulty in accessing transportation can hinder volunteering, especially in rural areas or places with limited public transit.
While transportation can be a valid concern, it's worth exploring remote or virtual volunteer opportunities that don't require physical presence.
9. Family Responsibilities
Caring for children, elderly family members, or other dependents can make it challenging to volunteer. People might feel they can't commit to projects when they have family obligations to prioritize.
However, some organizations offer family-friendly volunteer opportunities or flexible scheduling to accommodate caregivers.
10. Feeling Overwhelmed
The demands of daily life can leave individuals feeling overwhelmed, making the idea of taking on additional responsibilities through volunteering seem impossible.
It's important to recognize that volunteering doesn't always have to be time-intensive. Finding small ways to contribute, such as donating items or participating in short-term projects, can be more manageable.
11. Lack of Skills
Some people hesitate to volunteer because they believe they lack the necessary skills or expertise. They fear they won't be able to make a meaningful contribution.
However, many organizations offer training and on-the-job learning, making volunteering a valuable opportunity for skill development.
12. Personal Insecurity
Insecurity about one's abilities or self-worth can deter individuals from volunteering. They may worry that they won't measure up to the expectations of the organization or other volunteers.
Overcoming this excuse requires recognizing that everyone has unique strengths to offer, and volunteer work often fosters personal growth and confidence.
13. Negative Past Experiences
Previous negative experiences with volunteering, such as feeling unappreciated or overwhelmed, can create a reluctance to volunteer again.
It's important to acknowledge past experiences but also to explore different organizations and opportunities that align better with personal values and preferences.
14. Perceived Ineffectiveness
Some individuals doubt whether their volunteer efforts will have a significant impact. They may feel that their contributions won't make a difference in addressing larger societal issues.
However, it's essential to understand that collective volunteer efforts can lead to meaningful change, even if individual contributions seem small.
15. Disconnection from the Cause
A lack of personal connection to a specific cause or issue can be a barrier to volunteering. People are more likely to engage when they feel a strong emotional or personal connection to the mission of an organization.
Exploring various causes and finding one that resonates can help overcome this excuse.
16. Age-Related Concerns
Both younger and older individuals may have age-related concerns about volunteering. Younger people might feel they lack the experience, while older individuals might worry about physical limitations.
Many organizations embrace volunteers of all ages, and there are diverse roles that can suit different abilities and experiences.
17. Workplace Constraints
Some individuals may face workplace policies or commitments that discourage or prohibit volunteering during work hours.
In such cases, they might feel constrained by their jobs and unable to find opportunities that align with their schedules.
18. Negative Stereotypes
Negative stereotypes or misconceptions about volunteering can discourage people from participating. They may have preconceived notions that volunteering is only for certain types of individuals or that it's a time-consuming and unfulfilling endeavor.
Challenging these stereotypes and seeking firsthand experiences can help change perceptions.
19. Concerns About Burnout
The fear of burnout is a legitimate concern for some individuals.
They may worry that volunteering on top of their existing responsibilities will lead to exhaustion and stress. It's essential to strike a balance and prioritize self-care while volunteering.
20. Introversion
Introverted individuals may find it challenging to engage in volunteer activities that require extensive social interaction.
However, there are many volunteer roles that cater to introverts, allowing them to contribute in ways that align with their personality traits.
21. Environmental Barriers
Environmental factors, such as living in an area with limited access to volunteer opportunities or a lack of nearby organizations, can restrict people from volunteering. In such cases, exploring online or remote volunteer opportunities can be a viable solution.
22. Language Barriers
Language barriers can deter individuals from volunteering in communities where they don't speak the predominant language.
However, organizations often appreciate multilingual volunteers who can bridge communication gaps and serve diverse populations.
23. Perceived Lack of Impact
Some individuals believe that their volunteer work won't result in tangible outcomes.
They may view volunteering as a futile endeavor. However, recognizing the broader context of community development and the cumulative effects of volunteer efforts can provide a more realistic perspective.
24. Disengagement from Civic Life
People who feel disengaged from civic life and politics may not see the value of volunteering.
They might believe that their actions won't influence systemic change. Education on the importance of community engagement and advocacy can help address this issue.
25. Inflexible Volunteer Roles
Some organizations may have rigid volunteer roles that don't accommodate individual skills or preferences.
Feeling forced into a specific role can discourage potential volunteers. Finding organizations that offer flexibility in volunteer positions is key.
26. Fear of Emotional Strain
Volunteering in certain settings, such as hospices or disaster relief, can expose individuals to emotionally challenging situations.
The fear of emotional strain can deter people from these types of volunteer work. Organizations typically provide support and resources to help volunteers cope with emotional challenges.
27. Reluctance to Step Outside Comfort Zones
Stepping outside one's comfort zone can be intimidating. People may fear unfamiliar environments or populations they haven't interacted with before.
However, personal growth often occurs when individuals push their boundaries and engage with new experiences through volunteering.
28. Political or Ideological Differences
Some individuals might avoid volunteering for organizations with differing political or ideological beliefs.
They worry that their involvement will conflict with their values or beliefs. However, there are countless non-partisan or neutral volunteer opportunities available.
29. Lack of Motivation
At times, a lack of motivation can be a significant barrier to volunteering.
People may feel uninspired or apathetic about community issues. Finding causes or organizations that resonate with personal values and passions can reignite motivation.
30. Procrastination
Procrastination is a common barrier to many endeavors, including volunteering.
People may delay taking action, thinking they'll volunteer "someday." Overcoming procrastination often involves setting specific goals and taking small steps toward involvement.
Resources Consulted For This Article On: