Learning a new language can be exciting and open doors to amazing experiences. But sometimes, we make excuses that stop us from trying. In this exploration, we'll talk about common reasons people give for not learning a new language. We'll show you that these excuses can be overcome, and you can learn a new language at any age.
So, let's forget about these excuses and start the journey of discovering new languages together. It's never too late to say "Hello" to a world of words and adventures!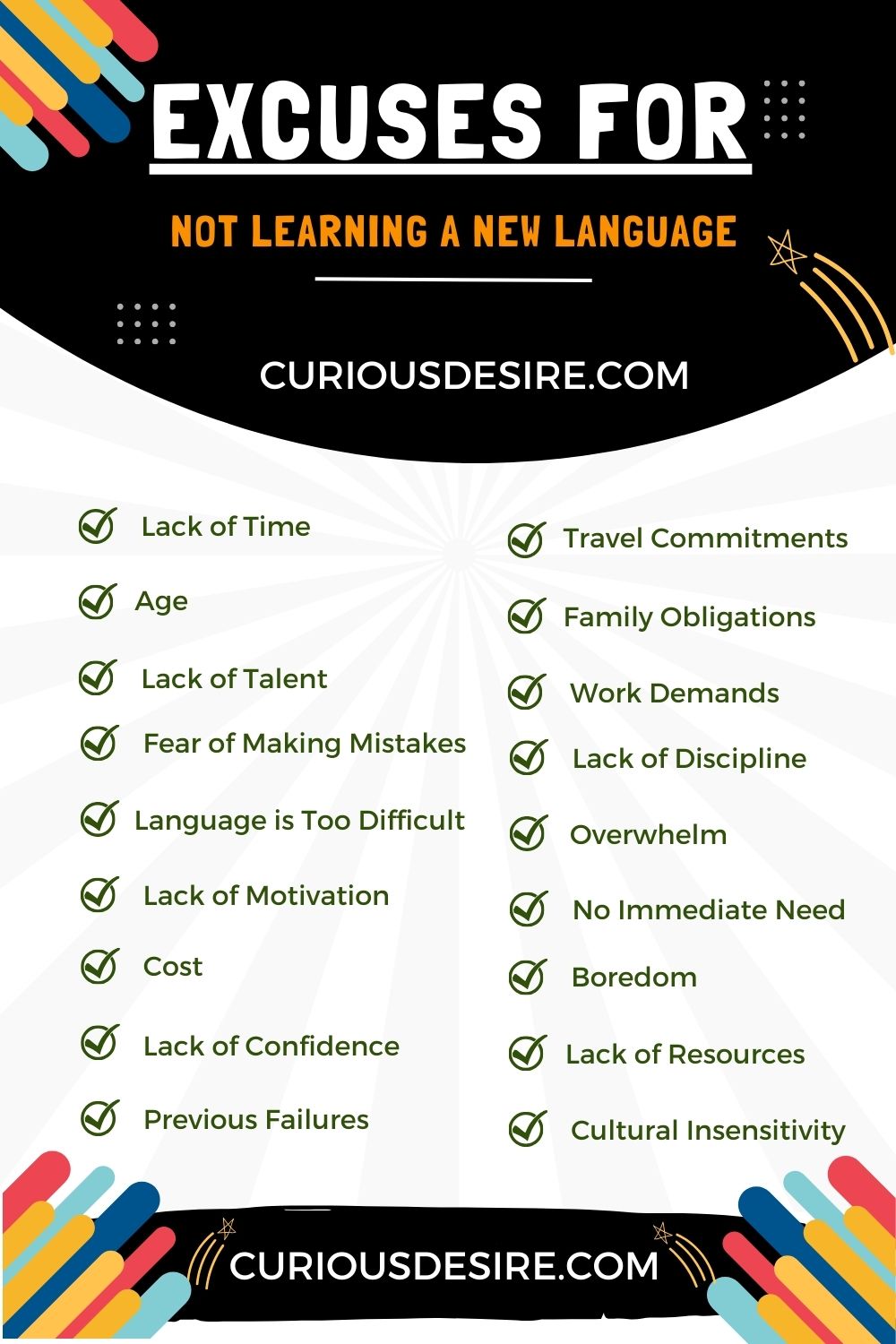 Top 30 Excuses for not Learning a new Language:
Learning a new language is exciting, but sometimes we make excuses that stop us from trying. These excuses, like "I'm too busy" or "I'm not good at it," can make us feel like we can't learn. But the truth is, these excuses can be overcome. In this exploration, we'll talk about the top 30 excuses people give for not learning a new language.
We'll show you that you can learn, no matter your age or schedule. So, let's forget about these excuses and start the journey of learning new languages together. It's a fun adventure waiting for you!
Here are the Top 30 Excuses for not Learning a new Language:
1. Lack of Time
Many people claim that they don't have enough time to dedicate to language learning. They often prioritize other responsibilities and commitments over acquiring a new language.
Learning a language indeed demands a substantial time investment, but it's essential to realize that you can integrate language practice into your daily routine. By setting aside even just 15-30 minutes a day, you can make steady progress.
2. Age
Some individuals believe that it's too late to learn a new language as they get older. They assume that language learning is easier for children.
While it's true that children tend to pick up languages more quickly, adults have the advantage of cognitive maturity, previous language knowledge, and effective learning strategies that can make language learning achievable at any age.
3. Lack of Talent
Many people attribute language learning success to innate talent and believe they lack this talent.
Language learning is more about dedication and practice than innate talent. While some individuals may seem more naturally gifted, anyone can become proficient in a new language with consistent effort and effective learning methods.
4. Fear of Making Mistakes
Fear of making mistakes can be a significant barrier to language learning. People worry about embarrassing themselves or being corrected by native speakers.
Making mistakes is an integral part of the learning process. Embracing these errors and learning from them is a crucial step toward language proficiency.
5. Language is Too Difficult
Some languages are reputed to be more challenging than others, and this perception can deter potential learners.
While some languages may be more complex due to grammar rules or pronunciation, the difficulty of learning a language is subjective and depends on individual background and resources available for learning.
6. Lack of Motivation
Without a strong reason to learn a new language, motivation can wane.
Identifying a personal motivation, such as travel, career advancement, or connecting with a new culture, can help sustain your interest in language learning.
7. No Opportunities to Use the Language
Individuals living in an environment where their target language is not spoken may feel that there are no opportunities to practice.
Thanks to technology and the internet, access to native speakers and language immersion experiences is more accessible than ever, even if you don't live in a region where the language is spoken.
8. Cost
Some people believe that language learning resources, such as classes or tutors, are prohibitively expensive.
While formal language courses and tutors can be pricey, there are plenty of free or affordable resources available online, including language learning apps, YouTube tutorials, and language exchange partners.
9. Lack of Confidence
A lack of confidence in one's language abilities can lead to avoidance of learning.
Building confidence in language learning requires patience and practice. Start with simple conversations and gradually work your way up to more complex interactions.
10. Previous Failures
People who have attempted to learn a language in the past and failed may be discouraged from trying again.
Each language learning experience is unique, and previous failures should be seen as valuable learning experiences that can inform your approach to future attempts.
11. Family Obligations
Family responsibilities and commitments can make it challenging to find time for language learning.
While family obligations are important, finding a balance between your responsibilities and personal goals is essential. Involving your family in the learning process can also be a fun and enriching experience.
12. Work Demands
Busy work schedules can leave little time and energy for language learning.
Integrating language practice into your work routine, such as listening to podcasts or practicing vocabulary during breaks, can help overcome this barrier.
13. Lack of Discipline
Some people struggle with self-discipline, finding it difficult to stick to a consistent language-learning routine.
Setting clear goals, creating a study schedule, and using language learning apps or resources with structured lessons can help maintain discipline.
14. Overwhelm
The sheer volume of vocabulary and grammar rules in a new language can be overwhelming, causing people to give up.
Break down language learning into manageable chunks, focusing on specific topics or skills at a time, and gradually build your knowledge.
15. No Immediate Need
If there's no immediate need to learn a new language, individuals may put it off indefinitely.
Consider the long-term benefits of language learning, even if there isn't an immediate need. Learning a new language can open up future opportunities and enrich your life.
16. Boredom
Some people find language learning boring, especially when confronted with repetitive exercises or drills.
Explore different learning materials, such as movies, music, or books in your target language, to make the process more engaging and enjoyable.
17. Lack of Resources
Limited access to language learning resources, such as books or courses, can be a genuine obstacle.
Online resources and libraries often offer a wide range of materials for language learners, and you can also explore language exchange communities or online courses.
18. Cultural Insensitivity
Fear of unintentionally offending speakers of the target language can deter individuals from learning.
Approach language learning with cultural sensitivity in mind, and seek guidance or resources that provide cultural context.
19. Perceived Inefficiency
Some people may feel that language learning is not an efficient use of their time and energy.
Recognize the cognitive and cultural benefits of learning a new language, and consider the personal growth and fulfillment it can bring.
20. Procrastination
Procrastination can be a significant hurdle, with people delaying language learning indefinitely.
Combat procrastination by setting specific goals and deadlines for your language learning journey.
21. Lack of Support
Lack of support from friends or family who may not share your language learning goals can make it harder to stay motivated.
Seek out language learning communities, forums, or meetups where you can connect with like-minded individuals for support and encouragement.
22. Learning Disabilities
Individuals with learning disabilities may feel that language learning is beyond their abilities.
Recognize that different learning methods and accommodations may be necessary, and consult with a language learning specialist if needed.
23. Lack of Patience
Language learning can be a slow process, and impatience can lead to frustration and quitting.
Cultivate patience by celebrating small victories along the way and understanding that language proficiency takes time.
24. Low Self-Esteem
Low self-esteem can lead to self-doubt and hinder language learning progress.
Work on building your self-esteem through positive self-talk and acknowledging your language learning achievements, no matter how small.
25. Social Anxiety
Social anxiety can make it challenging to practice speaking with native speakers or fellow learners.
Start with online language exchanges or find a supportive language partner who understands your anxiety and can help you gradually build confidence.
26. Perfectionism
Some individuals strive for perfection in their language skills and become discouraged by minor imperfections.
Embrace the idea that language learning is about communication, not perfection. Mistakes are part of the learning process.
27. Lack of Interest in Other Cultures
If someone has little interest in other cultures, they may see no point in learning a new language.
Discover the aspects of the culture that pique your interest and use them as a gateway to language learning.
28. Travel Barriers
People who cannot afford to travel to a country where their target language is spoken may feel that learning it is pointless.
Learning a language can enhance your travel experiences, but it's not a requirement. You can still benefit from language skills in your own region or through virtual interactions.
29. Content with Current Language Skills
Some individuals are content with their current language skills and see no reason to learn another.
While proficiency in one language is valuable, learning another can open doors to new opportunities and perspectives that you may not have considered.
30. Feeling Overwhelmed by Options
The abundance of language choices available can be paralyzing, leaving some individuals unsure of which language to pursue.
Research the languages that align with your personal or professional goals, and choose one that resonates with you on a deeper level.
Resources Consulted For This Article On: