Learning to play a musical instrument is a wonderful skill that can bring joy and fulfillment to one's life. However, it's not uncommon for individuals to come up with reasons why they haven't taken the plunge into the world of music.
In this discussion, we will delve into some of the common excuses people give for not embarking on the journey of learning to play a musical instrument. Understanding these excuses can help us overcome barriers and inspire more individuals to embrace the beauty of music.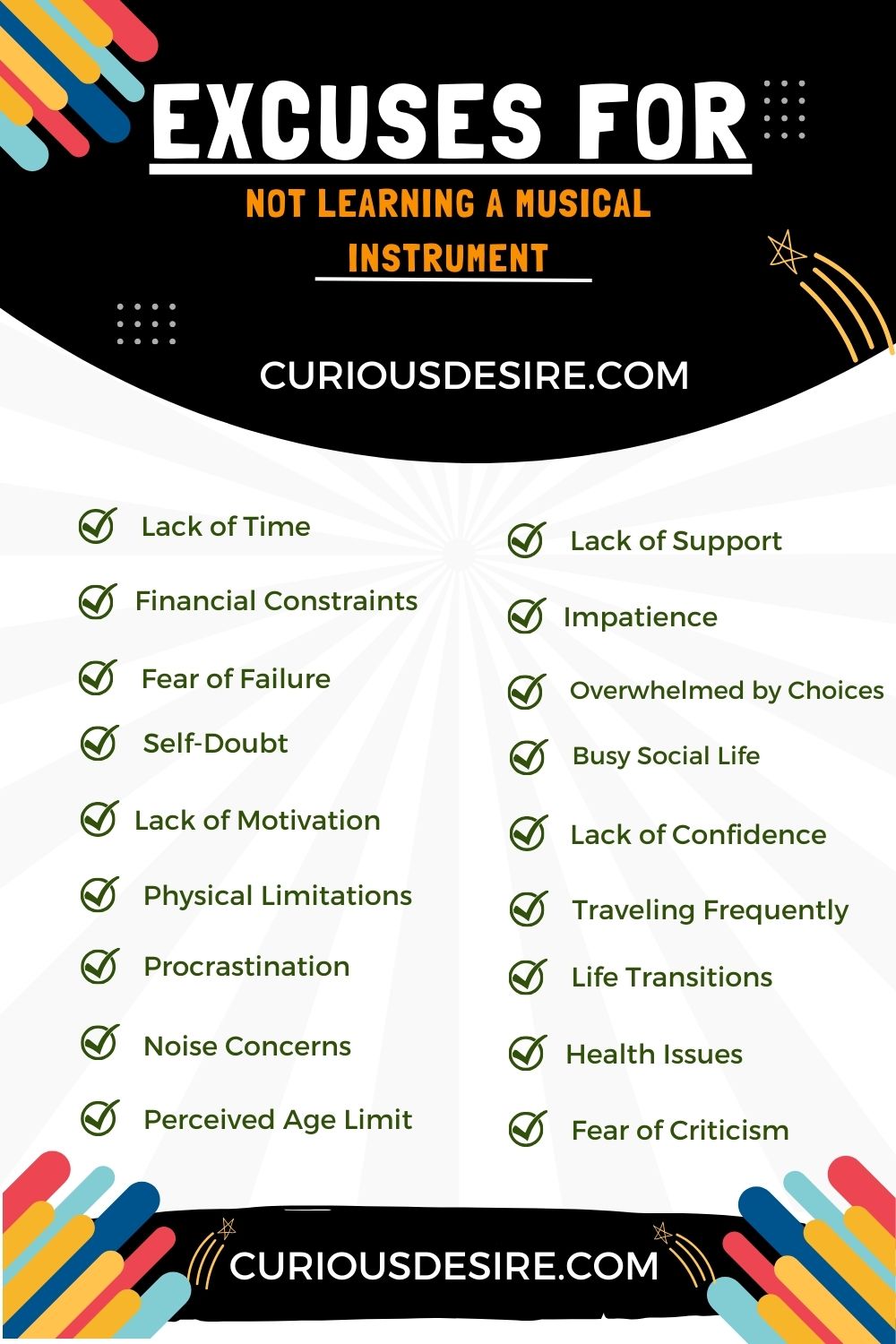 Top 30 Honest Excuses for Not Learning a Musical Instrument:
Many people miss out on the enriching experience of learning to play a musical instrument due to various common excuses. Often, lack of time is cited as a primary reason, as busy lives can make it challenging to dedicate consistent practice. Financial concerns also play a role, with the belief that instruments and lessons are expensive.
Some individuals feel they're too old to start, underestimating their ability to learn at any age. Fear of failure or the misconception that music is too complex can deter potential learners as well. Recognizing and addressing these excuses can empower more people to explore the joy of making music.
1. Lack of Time
Learning a musical instrument requires a time commitment. With a busy schedule, finding hours to practice can be challenging. Work, family, and other responsibilities take precedence.
2. Financial Constraints
Quality instruments and lessons can be expensive. Many people can't afford the initial investment, ongoing maintenance, and professional instruction.
3. Fear of Failure
The fear of not being good enough or failing can deter people from starting. The thought of making mistakes in front of others can be intimidating.
4. Self-Doubt
Some individuals doubt their own musical abilities. They may think they're not "musically inclined" and avoid trying altogether.
5. Lack of Motivation
Without a strong passion or desire to play an instrument, it's easy to lose motivation. Learning an instrument should be driven by personal interest.
6. Physical Limitations
Physical limitations, such as disabilities or health issues, can make it challenging to learn and play certain instruments.
7. Procrastination
Procrastination is a common excuse. People delay starting, thinking they can learn "someday" but never actually begin.
8. Noise Concerns
Instruments can be noisy, which can be a problem in shared living spaces or apartments. Fear of disturbing others may discourage learning.
9. Perceived Age Limit
Some believe that they're too old to start learning an instrument, assuming it's something for young people.
10. Lack of Support
Without a supportive network or encouragement from family and friends, it's easy to give up on learning.
11. Impatience
Learning an instrument takes time and patience. Impatient individuals may abandon their efforts if they don't see quick progress.
12. Overwhelmed by Choices
The vast array of musical instruments can be overwhelming, making it difficult to choose one to learn.
13. Busy Social Life
A bustling social life can take precedence over practicing an instrument, especially for those who prioritize social activities.
14. Limited Access to Instructors:
In rural or remote areas, finding a qualified music teacher can be challenging, hindering learning opportunities.
15. Previous Negative Experience:
Past failures or negative experiences with music lessons may discourage individuals from trying again.
16. Lack of Confidence:
Low self-esteem can prevent someone from taking the first step in learning an instrument. They may feel they're not capable.
17. Traveling Frequently:
Frequent travel can disrupt regular practice routines, making it hard to progress consistently.
18. Life Transitions:
Major life changes, like moving or changing jobs, can disrupt the learning process and cause people to abandon their instrument.
19. Distractions:
Modern distractions like smartphones and social media can divert attention from practicing an instrument.
20. Unrealistic Expectations:
Expecting to become a virtuoso quickly can lead to disappointment and quitting when progress is slower than anticipated.
21. Lack of Proper Equipment:
Not having access to a suitable instrument can be a major hurdle in the learning process.
22. Health Issues:
Physical or mental health issues can limit the ability to concentrate on learning and practicing an instrument.
23. Fear of Criticism:
Some fear criticism or judgment from others, causing them to hide their musical efforts.
24. Stage Fright:
The thought of performing in front of others can be terrifying, discouraging those with stage fright.
25. Limited Learning Resources:
In some areas, there may be a scarcity of learning materials and resources.
26. Unsupportive Environment:
Living with unsupportive roommates or family members can discourage practice and progress.
27. Lack of Inspiration:
Without exposure to inspiring music or musicians, it can be challenging to stay motivated.
28. Time Management Skills:
Poor time management skills can make it difficult to allocate time for consistent practice.
29. Other Hobbies:
Some people have other hobbies they prioritize over learning an instrument.
30. Not a Priority:
Ultimately, if learning an instrument isn't a personal priority, it's easy to find excuses to avoid it.
Resources Consulted For This Article On: