In today's digital world, knowing how to code and program is super important. But, even with all the ways to learn, some people still make excuses to avoid it.
These excuses might seem valid, but they often hide the chance to grow and do cool stuff. In this straightforward discussion, we'll dive into the usual reasons people give for not learning to code.
No fancy talk, just real talk—let's figure out these roadblocks and get you started on the exciting journey of coding.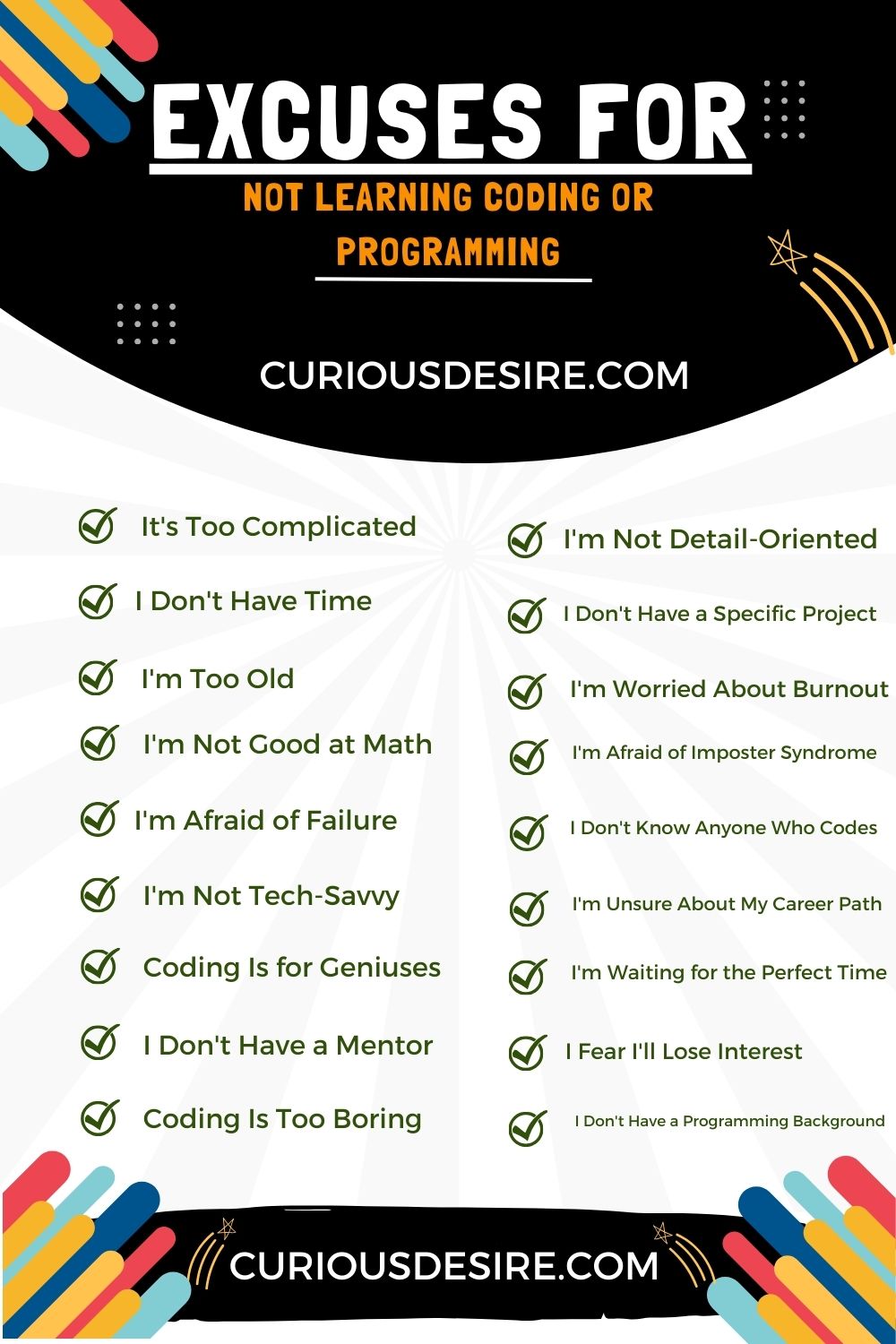 Top 30 Excuses for Not Learning Coding or Programming
Learning coding and programming is a gateway to countless opportunities in the digital age, but many individuals still find themselves making excuses to avoid diving into this valuable skill.
In this no-nonsense exploration, we delve straight into the top 30 excuses people use to put off learning coding. No frills, no fuss – it's time to uncover these barriers and pave the way for embracing the world of coding and programming.
Here are the Top 30 Excuses for Not Learning Coding or Programming:
1. It's Too Complicated
One of the most common excuses for not learning coding or programming is the belief that it's too complicated. People often perceive coding as a realm of obscure symbols and complex algorithms that only geniuses can decipher.
However, this misconception couldn't be further from the truth. While coding can indeed become intricate at advanced levels, it starts with simple concepts that are accessible to anyone.
Coding languages have evolved to be user-friendly, and there are numerous beginner-friendly resources available online. By starting with the basics and gradually building your skills, you'll find that coding is not as complicated as it may seem.
2. I Don't Have Time
Time is a precious commodity, and many people feel they don't have enough of it to dedicate to learning coding. With busy work schedules, family commitments, and other responsibilities, it can be challenging to find the time to sit down and study programming.
However, the beauty of learning coding is that you can start small. Even dedicating just 15 to 30 minutes a day can lead to significant progress over time. Learning to code is not an all-or-nothing endeavor; it's a gradual process that can fit into your schedule if you make it a priority.
3. I'm Too Old
Age should never be a barrier to learning coding or programming. Some individuals believe that coding is a skill reserved for the young and tech-savvy, but this is a misconception.
People of all ages, from teenagers to retirees, have successfully learned how to code. In fact, the tech industry welcomes diversity, and mature coders bring valuable life experiences to the table.
Learning coding is about the willingness to explore and adapt to new challenges, regardless of your age.
4. I'm Not Good at Math
Coding and math are often associated, leading some to believe that strong math skills are a prerequisite for programming. While math can be a helpful tool in coding, it's not an absolute requirement.
Many aspects of coding, such as web development and building applications, don't rely heavily on advanced math.
Furthermore, there are plenty of coding languages and projects that require minimal math knowledge. If math isn't your forte, don't let it discourage you from learning to code.
5. I Don't Have a Computer Science Degree
Some individuals assume that a formal computer science degree is necessary to embark on a coding journey. While a computer science degree can provide a structured education in coding and related topics, it's by no means the only path to becoming a proficient programmer.
Many self-taught coders have found success in the field, and there are countless online resources, coding boot camps, and courses that offer practical, hands-on learning experiences. Your passion and dedication to learning coding matter more than the letters on your diploma.
6. I Don't Have a Programming Background
Not having a background in programming is another common excuse. People often assume that coding is only for those who have been immersed in the world of technology from a young age.
However, coding welcomes individuals from diverse backgrounds and experiences. Many skilled programmers started with zero programming knowledge and learned through curiosity and persistence. Your lack of a programming background should not deter you from exploring this valuable skill.
7. I Don't Have the Right Equipment
Another frequently heard excuse is the lack of the right equipment or tools for coding. Some believe they need high-end computers or specialized software to begin learning. While having a decent computer and internet access is helpful, it's not a barrier to entry.
Many coding environments and languages require minimal hardware resources, and some online coding platforms only require a web browser. Coding can be learned on a wide range of devices, including budget-friendly options.
8. I'm Afraid of Failure
The fear of failure is a powerful deterrent for many potential coders. People worry about making mistakes, encountering errors, and not grasping concepts immediately.
However, it's crucial to understand that failure is an integral part of the coding journey. In fact, coding often involves trial and error. Every mistake is an opportunity to learn and improve.
Embracing failure as a stepping stone to success is a mindset shift that can make the coding learning process less intimidating.
9. I Don't Know Where to Start
Feeling overwhelmed and not knowing where to begin is a common excuse. The world of coding is vast, with numerous languages, frameworks, and libraries to choose from. This abundance of choices can lead to paralysis by analysis.
However, the key is to start with a clear, achievable goal. Determine what you want to create or achieve with coding, whether it's building a website, developing a mobile app, or automating a task. Once you have a specific goal, you can find a learning path that suits your needs.
10. I Don't Have a Purpose for Coding
Some individuals believe that coding is only worthwhile if they have a specific project or purpose in mind. They think, "Why learn coding if I don't have a concrete reason to use it?" However, coding itself is a valuable skill that can open doors to various opportunities.
Whether you have an immediate project in mind or not, learning to code equips you with problem-solving skills, enhances your logical thinking, and broadens your career prospects.
11. I'm Not Tech-Savvy
Being "tech-savvy" is often associated with having an innate understanding of technology. Some people use this excuse, believing that they lack the inherent knowledge required for coding.
However, tech-savviness is developed over time through exposure and learning. Coding is a skill that you acquire gradually, regardless of your initial level of tech knowledge. Don't let the perception of not being tech-savvy hold you back from exploring coding's possibilities.
12. Coding Is for Geniuses
The misconception that coding is reserved for geniuses is pervasive. People sometimes assume that programming requires an exceptionally high IQ or exceptional talent.
While coding can be challenging, it's not exclusive to geniuses. Success in coding is often the result of perseverance, practice, and problem-solving skills. Intelligence plays a role, but determination and effort are equally important factors in becoming a proficient coder.
13. I Don't Have a Mentor
Some individuals believe that they need a coding mentor to learn effectively. While having a mentor can be beneficial, it's not a prerequisite for learning to code.
Many successful coders are self-taught or learned through online resources and communities. However, if you do wish to find a mentor, numerous online platforms and coding forums connect learners with experienced programmers who can offer guidance and support.
14. Coding Is Too Boring
The perception that coding is dull or monotonous can be a significant deterrent. People imagine hours of staring at lines of code with little excitement. While coding can indeed involve periods of focused attention, it can also be incredibly creative and rewarding.
Coding allows you to bring your ideas to life, solve real-world problems, and build innovative solutions. The potential for creativity and the satisfaction of seeing your work in action can make coding far from boring.
15. I'm Intimidated by the Coding Community
The coding community can seem intimidating to newcomers. Online forums, coding groups, and open-source projects may appear exclusive to those who are already well-versed in the field.
However, the coding community is diverse and welcoming, with numerous beginner-friendly resources and communities specifically designed for learners. Don't let intimidation deter you from seeking support and camaraderie within the coding community.
16. I Don't Have Strong Problem-Solving Skills
Coding often involves solving complex problems and puzzles, which can be intimidating to those who don't believe they have strong problem-solving skills. However, coding is an excellent way to develop and enhance your problem-solving abilities.
It encourages you to break down large problems into smaller, manageable steps and find creative solutions. Over time, you'll find that your problem-solving skills naturally improve as you gain coding experience.
17. I'm Afraid of Making Mistakes
The fear of making mistakes, also known as "coding anxiety," is a genuine concern for many learners. People worry that errors in their code will lead to failure and frustration.
However, it's important to understand that making mistakes is a fundamental part of the learning process in coding. Every mistake is an opportunity to identify and correct issues, which ultimately enhances your understanding and skills. Embracing the inevitability of mistakes can alleviate this fear.
18. I Can't Keep Up with the Rapid Changes
The fast-paced nature of technology can be overwhelming. Some individuals feel that they can't keep up with the constant changes and updates in coding languages and frameworks.
However, learning coding is not about mastering every new technology immediately. It's about building a foundation of programming principles that can adapt to evolving technologies. By focusing on core concepts and continuous learning, you can navigate the ever-changing landscape of coding.
19. I Don't Have Access to Coding Courses
Access to coding courses can be a concern, especially in areas with limited educational resources. However, the internet has democratized access to coding education.
There is a wealth of free and paid online courses, tutorials, and documentation available. Additionally, coding communities often share resources and provide support for learners in various locations. Lack of access to formal coding courses should not prevent you from exploring online alternatives.
20. I Don't Have a Technical Background
Having a non-technical background, such as a degree in the humanities or social sciences, can lead to the belief that coding is out of reach. However, many successful programmers come from diverse educational backgrounds.
Coding is a skill that you can learn regardless of your prior academic focus. In fact, individuals with non-technical backgrounds often bring unique perspectives and problem-solving approaches to coding projects.
21. I'm Not Detail-Oriented
Detail-oriented individuals may feel more inclined to excel in coding, while those who perceive themselves as less detail-oriented might shy away.
However, coding is not solely about being meticulous; it's also about creativity and problem-solving. While attention to detail is essential in debugging and fine-tuning code, coding also involves conceptual thinking and big-picture problem-solving.
22. I Don't Know Where to Find Resources
Some aspiring coders are unsure where to find reliable learning resources. They may worry about stumbling upon outdated or incorrect information. Fortunately, there are reputable platforms, such as Codecademy, Coursera, edX, and others, that offer structured coding courses.
Additionally, coding communities and forums provide valuable guidance and recommendations for high-quality learning materials.
23. I Don't Know What Language to Learn
The abundance of coding languages can be overwhelming, leading some individuals to delay learning because they can't decide which language to focus on. However, the choice of programming language often depends on your goals.
If you're unsure, starting with a widely-used language like Python can provide versatility and a strong foundation. Remember that the principles of coding can be applied to various languages, so learning one language can make it easier to pick up others.
24. I Don't Have a Specific Project
Not having a specific coding project in mind can lead to hesitation. Some believe that coding is only worthwhile if they have a defined goal or project to work on.
While having a project can provide motivation, learning to code itself is a valuable endeavor. You can start with small exercises, challenges, or even recreating existing programs to build your skills. Once you gain confidence, you can explore larger projects aligned with your interests.
25. I'm Worried About Burnout
Concerns about burnout can deter some individuals from diving into coding. They worry that the intense focus and long hours required for coding will lead to exhaustion.
While burnout is a legitimate concern, it can be mitigated by adopting healthy learning habits. Setting realistic goals, taking breaks, and maintaining a balanced lifestyle can prevent burnout and ensure sustainable progress in coding.
26. I'm Afraid of Imposter Syndrome
Imposter syndrome, the feeling of inadequacy despite evidence of competence, is a common challenge among aspiring coders. People worry that they'll never truly be "good enough" in the coding world.
It's important to recognize that imposter syndrome is a shared experience among many professionals, not just coders. Building self-confidence, seeking mentorship, and acknowledging your progress are effective strategies to combat imposter syndrome.
27. I Don't Know Anyone Who Codes
Feeling isolated in your coding journey because you don't know anyone who codes can be discouraging. However, the coding community extends far beyond your immediate circle.
Online coding forums, social media groups, and coding meetups provide opportunities to connect with fellow learners and experienced programmers. Engaging with these communities can offer support, encouragement, and valuable connections.
28. I'm Unsure About My Career Path
Some individuals delay learning coding because they're uncertain about their desired career path. They believe that coding is only worthwhile if it directly aligns with their future job.
However, coding skills are versatile and applicable in various industries. Learning coding can open doors to a wide range of career opportunities, and you don't need to have your entire career path mapped out before you start.
29. I'm Waiting for the Perfect Time
Procrastination often takes the form of waiting for the "perfect time" to start learning coding. Whether it's waiting for a less busy period at work or for life to become less hectic, this delay can extend indefinitely.
The reality is that there's no perfect time to begin. Learning coding is about prioritizing your goals and taking the initiative, even when life is busy. Start where you are, and you'll find that progress is possible in any circumstance.
30. I Fear I'll Lose Interest
The fear of losing interest or motivation after starting to learn to code is a valid concern. Some people worry that their initial enthusiasm will wane, leading to abandonment of their coding journey.
To counter this fear, it's important to set achievable goals, stay engaged with coding projects that align with your interests, and seek out a supportive community. Additionally, reminding yourself of the practical benefits and the creative potential of coding can help maintain your motivation.