In a world where sharing meals and enjoying food together is a common practice, there may be times when you simply don't want to eat. It could be due to personal reasons, dietary restrictions, or just a need to take a break from eating.
This guide is all about how to say "no" to food gracefully. We'll provide you with various excuses that allow you to decline a meal politely without hurting anyone's feelings.
Whether you're at a social gathering, dining out at a restaurant, or having a family dinner, these excuses will help you maintain politeness while also respecting your own preferences and needs.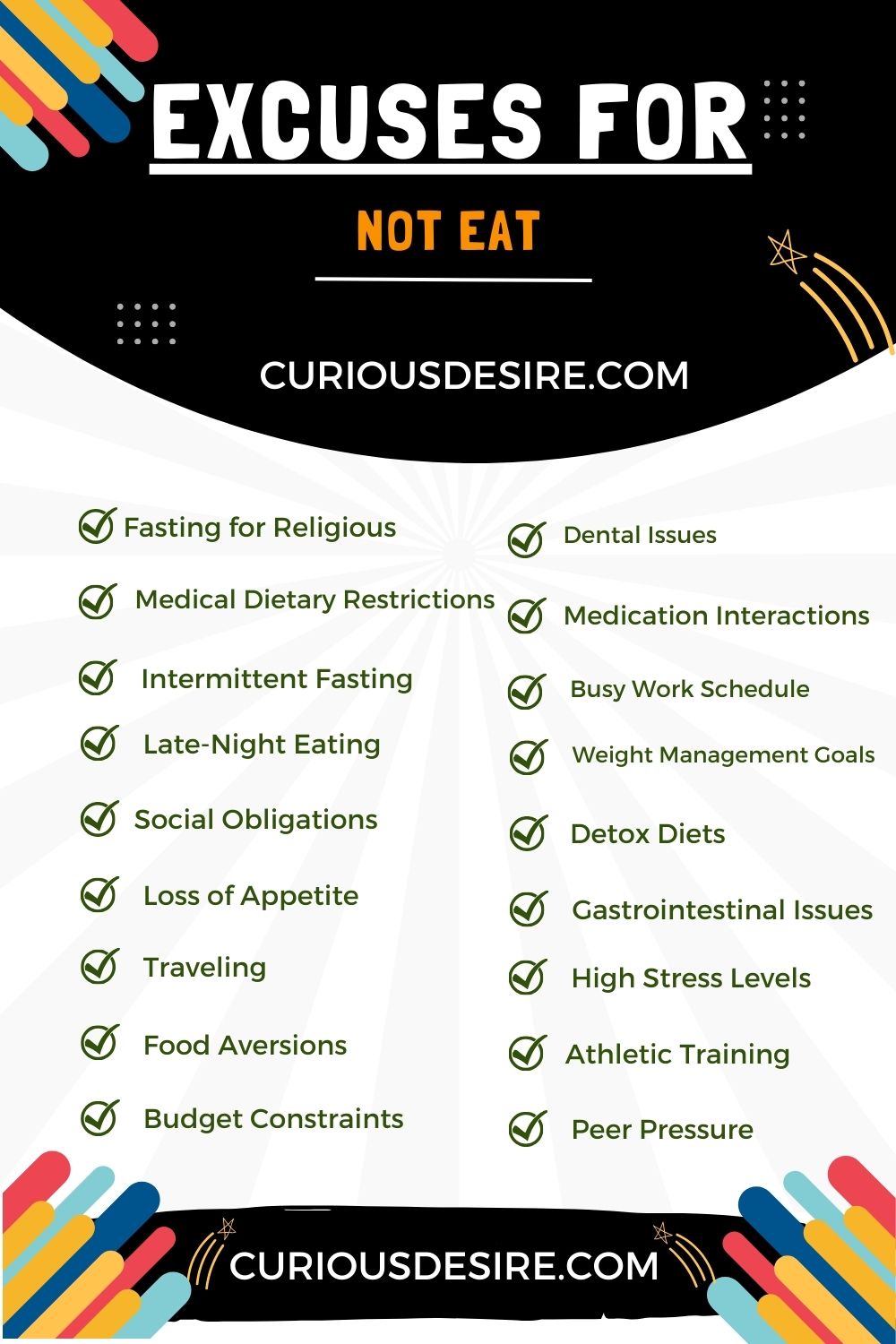 Top 30 Real Time Excuses To Not Eat
"Top 30 Real-Time Excuses to Not Eat" is a straightforward guide that offers practical reasons you can use when you want to decline a meal.
These excuses are suitable for various situations, from social gatherings to family dinners, and they allow you to politely say "no" to food without causing offense.
Whether it's due to personal preferences, dietary restrictions, or simply not feeling hungry, this guide provides you with genuine and considerate excuses to navigate mealtime situations with ease and respect for your choices.
Here are the Top 30 Real Time Excuses To Not Eat.
1. Fasting for Religious or Spiritual Reasons 
Fasting for religious or spiritual reasons is a practice observed by many faiths across the world. For instance, during Ramadan, Muslims fast from dawn till sunset to commemorate the first revelation of the Quran to Muhammad.
Similarly, Yom Kippur, the Day of Atonement in Judaism, involves a 25-hour fast. These fasts serve as acts of devotion and self-discipline, providing individuals with an opportunity for spiritual reflection and purification. They are not excuses to avoid eating but rather expressions of faith and commitment.
2. Medical Dietary Restrictions
Medical dietary restrictions are necessary for individuals with allergies, intolerances, or health conditions. A person with a severe nut allergy must abstain from nuts to prevent life-threatening reactions.
Those with lactose intolerance should avoid dairy to avoid digestive discomfort. Celiac disease requires strict gluten avoidance to prevent intestinal damage. These restrictions are vital for health and safety, emphasizing the importance of adhering to dietary guidelines.
3. Intermittent Fasting
Intermittent fasting is a dietary approach gaining popularity for potential health benefits. It involves alternating periods of eating and fasting. Common methods include the 16/8 method (16 hours of fasting, 8-hour eating window) and alternate-day fasting.
Advocates suggest it can aid weight loss, improve metabolic health, and promote longevity. Research indicates potential benefits for blood sugar control and cellular repair. However, it's not suitable for everyone, and professional guidance is recommended before starting any fasting regimen.
4. Late-Night Eating 
Late-night eating can disrupt sleep and digestion. Consuming food near bedtime diverts the body's focus from restorative sleep to digestion, potentially causing sleep disturbances.
Additionally, late meals can lead to indigestion, making it challenging to fall asleep or stay asleep. While the occasional late-night snack may not harm, consistent late eating can contribute to weight gain and metabolic issues.
It's crucial to recognize that individual responses vary, and some people may tolerate late-night eating better than others. To optimize sleep and digestion, it's advisable to avoid large or heavy meals close to bedtime, allowing time for digestion before sleeping.
5. Social Obligations 
Social events like weddings, parties, and gatherings often disrupt regular meal schedules. These occasions prioritize social interaction, celebration, and enjoyment over adhering to typical eating routines.
It's not an excuse to avoid eating but a testament to the significance of communal bonds and shared experiences around food. Flexibility in meal timing and choices can help strike a balance between enjoying social moments and maintaining a healthy diet.
6. Loss of Appetite
Periods of stress, illness, or emotional turmoil can lead to a loss of appetite. During such times, individuals may find it difficult to eat, even though they recognize the importance of proper nutrition. Coping with the underlying causes of appetite loss is essential, and seeking support from healthcare professionals or therapists can be valuable.
7. Traveling 
Long journeys or crossing time zones can disrupt meal schedules. Motion sickness or jet lag can also suppress appetite. Adapting to new time zones and routines can take time, and during this transition, meal timing may be irregular.
8. Food Aversions 
Some people have strong aversions to specific foods due to past negative experiences or personal preferences. Avoiding these foods is a way to maintain comfort and mental well-being.
9. Budget Constraints
Economic challenges can lead to meal skipping. When financial resources are limited, individuals may prioritize other necessities like housing, utilities, and transportation over food.
10. Dental Issues 
Dental problems such as toothaches or dental procedures can make chewing painful or difficult, leading to temporary meal avoidance. Dental care is essential for overall health, and addressing dental issues promptly is vital.
11. Medication Interactions
Some medications interact negatively with food, requiring individuals to time their meals carefully or skip them to avoid potential side effects. Healthcare providers typically provide guidance on medication and food interactions.
12. Busy Work Schedule 
Demanding work commitments can lead to irregular eating patterns. People may skip meals due to work-related time constraints, highlighting the importance of work-life balance and prioritizing breaks for nourishment.
13. Weight Management Goals
Individuals focused on weight loss or maintenance may skip meals or reduce calorie intake as part of their diet plan. It's essential to approach weight management with a balanced and sustainable approach, consulting with healthcare professionals if needed.
14. Detox Diets 
Detox diets claim to eliminate toxins from the body through dietary restrictions. These diets may involve temporary meal avoidance or specific food choices. However, the scientific evidence supporting detox diets is limited, and it's important to approach them with caution.
15. Gastrointestinal Issues
Digestive problems like irritable bowel syndrome (IBS) can cause discomfort after eating, leading some individuals to avoid meals to prevent symptoms. Managing gastrointestinal issues often requires dietary modifications, and seeking guidance from a healthcare provider or dietitian is advisable.
16. Emotional Eating Avoidance 
Those trying to break the habit of emotional eating may intentionally skip meals to avoid using food as a coping mechanism. Seeking support from mental health professionals can be beneficial in addressing emotional eating patterns.
17. High Stress Levels 
Chronic stress can suppress appetite, making it difficult to eat regularly. Managing stress through relaxation techniques and self-care is essential for overall well-being.
18. Athletic Training
Athletes sometimes modify their eating patterns to align with training schedules or competition demands. This may involve meal skipping or specific nutritional strategies to optimize performance and recovery.
19. Pregnancy-Related Nausea
Morning sickness or nausea during pregnancy can make eating difficult, leading pregnant individuals to skip meals or opt for small, bland snacks. Healthcare providers can provide guidance on managing pregnancy-related symptoms and ensuring proper nutrition.
20. Peer Pressure
In certain social situations, peer pressure or diet culture may encourage people to skip meals or restrict food intake to conform to perceived beauty standards. It's important to prioritize health over societal pressures and seek support if needed.
21. Lack of Food Availability
In areas with limited access to nutritious food, known as food deserts, or during emergencies, individuals may not have access to regular meals. This highlights the importance of addressing food insecurity and improving food accessibility.
22. Hectic Family Life
Parents with busy family schedules may skip meals due to time constraints or prioritize their children's needs before their own. Balancing family responsibilities with self-care is essential for parental well-being.
23. Fasting for Weight Loss 
Some individuals practice fasting as a weight loss strategy, believing it can help them shed pounds by restricting calorie intake during specific time windows. It's crucial to approach weight loss in a healthy and sustainable manner, consulting with healthcare professionals if necessary.
24. Lack of Interest in Food 
Occasionally, individuals may not feel like eating due to a temporary disinterest in food or a preference for other activities. Maintaining a balanced diet is essential over the long term, even during periods of reduced appetite.
25. Medical Procedures
Before certain medical procedures or surgeries, doctors may recommend fasting to reduce the risk of complications related to anesthesia or surgery. Following medical guidance is crucial to ensure a safe procedure.
26. Natural Appetite Fluctuations
Appetite naturally varies from day to day. Some days, people may not feel as hungry and may choose to skip a meal without adverse effects. Listening to one's body and eating intuitively can promote a healthy relationship with food.
27. Social Anxiety 
People with social anxiety may find it challenging to eat in public or social settings, leading them to avoid meals when faced with such situations. Seeking support from mental health professionals can help manage social anxiety and improve eating habits.
28. Weight Maintenance After Weight Loss 
Individuals who have successfully lost weight may continue some dietary restrictions to maintain their new weight. It's essential to maintain a balanced diet and avoid extreme restrictions for long-term health.
29. Environmental Concerns 
Some individuals committed to reducing their carbon footprint or environmental impact may skip meals with a high carbon footprint, such as those containing significant amounts of red meat. Making environmentally conscious food choices is commendable but should be done in conjunction with meeting nutritional needs.
30. Educational or Work Deadlines
Academic or work-related pressures and deadlines can lead to meal skipping as individuals prioritize completing tasks overeating. Time management and self-care strategies are essential to ensure proper nutrition even during busy periods.
Resources Consulted For This Article On