In everyday life, we often find ourselves trying to explain why we did something or why we feel a certain way. We call these explanations "excuses." Excuses are like shields we use to protect ourselves from blame or criticism.
We've all done it – come up with reasons to justify our actions or feelings. Excuses can be simple or very complicated, depending on the situation.
Think of excuses as the reasons we give when we don't want to admit we made a mistake or when we want to hide our true feelings. They can be like our safety nets when we feel judged or questioned.
But if we dig a little deeper, we can discover why we make these excuses and what they mean about us.
So, why do we make excuses? What do they do for us, and what happens when we rely on them too much? In this exploration, we'll take a close look at excuses.
We'll figure out where they come from, how they work in our minds, and what they reveal about our feelings and actions. It's like peeling back the layers to uncover the truth behind why we do what we do and feel what we feel.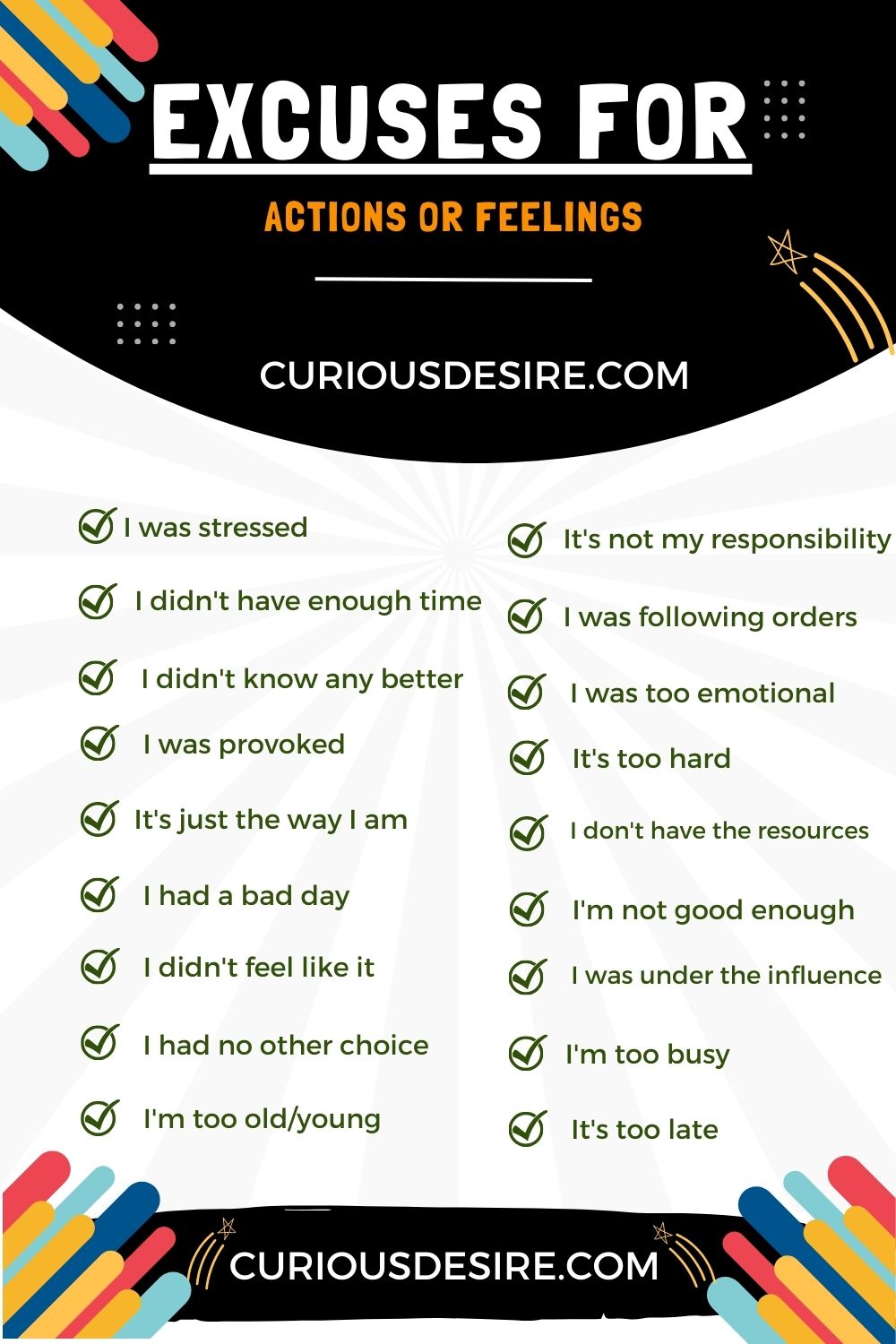 Top 30 Excuses For Actions Or Feelings
In the complex world of human behavior, making excuses for our actions and feelings is something we all do. It's like a common language we share, a way to explain away our actions or emotions.
We've compiled a list of the Top 30 excuses people use, ranging from the every day to the more creative. These excuses reveal a lot about our minds and how we handle situations. They're like shields we use to protect ourselves from blame or judgment.
So, why do we make these excuses? What drives us to do it? In this exploration, we'll dive into the Top 30 excuses, dissecting each one to understand why we use them.
It's like peeling back the layers to uncover what's really going on beneath the surface.
These excuses reveal the complex mix of human nature, where feelings like ego, fear, pride, and guilt come into play. By understanding these excuses, we gain insight into our shared human experience.
Here are the Top 30 making excuses for actions or feelings.
1. I was stressed
Stress is a common excuse for many behaviors. It's true that stress can impact our actions and emotions, but it shouldn't be used as a constant excuse.
While stress can make it harder to cope, taking responsibility for our reactions is essential.
2. I didn't have enough time
Lack of time is a classic excuse for not accomplishing tasks or meeting commitments.
While time constraints can be real, often, effective time management can help us allocate our time more wisely.
3. I didn't know any better
Ignorance can be an excuse for actions that hurt others or ourselves. However, in the age of information, access to knowledge is easier than ever. Ignorance is only an excuse if you actively avoid learning.
4. I was provoked
Blaming others for your actions because they provoked you is a common excuse for aggression or rudeness. While provocation can be challenging, it's essential to manage your reactions responsibly.
5. It's just the way I am
People often use their personality or character as an excuse for behavior. While we all have unique traits, it's vital to work on self-improvement and adapt when necessary.
6. I had a bad day
Bad days happen to everyone, but using this excuse regularly can hinder personal growth. Instead of letting a bad day justify your actions, seek healthier ways to cope with stressors.
7. Peer pressure made me do it
Succumbing to peer pressure is a common excuse, especially in adolescence. However, it's crucial to develop the strength to resist negative influences and make independent choices.
8. I didn't feel like it
Lack of motivation or laziness can lead to excuses for not pursuing goals. While everyone has off days, building discipline is essential for long-term success.
9. I had no other choice
Feeling trapped and using this as an excuse can limit personal growth. In most situations, there are alternative choices, even if they require courage or creativity to find.
10. I'm too old/young
Age is often used as an excuse to avoid change or responsibility. It's important to recognize that age should not dictate your potential for growth or learning.
11. It's not my responsibility
Avoiding responsibility by shifting blame onto others is a common excuse. Taking ownership of your actions and their consequences is crucial for personal development.
12. I was following orders
This excuse is prevalent in hierarchical environments. While following orders is essential in certain situations, it doesn't absolve you from personal responsibility when those orders are unethical.
13. I was too emotional
Emotional reactions can sometimes lead to regrettable actions. It's important to learn how to manage emotions effectively rather than using them as an excuse for poor behavior.
14. It's too hard
Avoiding challenges by claiming something is too difficult is a self-limiting excuse. Embrace challenges as opportunities for growth and learning.
15. I don't have the resources
Limited resources can indeed present challenges, but resourcefulness and creativity can often overcome these limitations.
16. I'm not good enough
Self-doubt can be a powerful excuse to avoid trying new things or taking risks. Building self-confidence and seeking support can help overcome this excuse.
17. I was under the influence
Substance use is frequently used as an excuse for poor choices. It's vital to take responsibility for your actions, even when intoxicated, and seek help if substance abuse is a problem.
18. I'm too busy
Busyness can be a legitimate constraint, but it can also be a way to avoid confronting issues. Prioritization and time management can help mitigate this excuse.
19. It's too late
Procrastination often leads to the excuse that it's too late to start something. In reality, it's never too late to pursue your goals or make positive changes.
20. I was just joking
Humor is sometimes used as a cover for hurtful or offensive comments. It's crucial to be mindful of the impact your words can have on others and take responsibility for them.
21. I can't change
Stubbornness and resistance to change can lead to the excuse that personal growth is impossible. Embracing change and seeking support can break this cycle.
22. I didn't have the support
Lack of support from others is often cited as a reason for not pursuing dreams. While support can be helpful, self-determination and resilience can overcome this excuse.
23. I'm too tired
Fatigue can lead to a lack of motivation and productivity. However, it's essential to find ways to recharge and maintain a healthy work-life balance.
24. It's too expensive
Financial constraints can be challenging, but this excuse can sometimes be used to justify not investing in self-improvement or important endeavors. Creative budgeting and seeking alternatives can help.
25. I've always done it this way
Resistance to change and tradition can lead to this excuse. It's important to evaluate whether sticking to old habits truly serves your best interests.
26. I didn't think it would matter
Trivializing the impact of your actions can be an excuse for not taking responsibility. Recognizing that even small actions can have consequences is essential.
27. I'll do it later
Procrastination often results from this excuse. Overcoming it requires developing discipline and prioritizing tasks effectively.
28. I'm not in the mood
Emotional states can sometimes lead to avoidance behaviors. Cultivating resilience and commitment can help overcome this excuse.
29. I was too busy helping others
Neglecting your own needs in favor of helping others is a noble but sometimes self-limiting excuse. It's important to strike a balance between self-care and helping others.
30. I didn't think I could succeed
Self-doubt and fear of failure can lead to this excuse. Building self-confidence and embracing failure as a learning opportunity can help overcome this mindset.
Resources Consulted For This Article On