Many of us dream about traveling and exploring new places, but sometimes we come up with reasons not to. Today, we'll talk about these reasons without any extra words, and we'll figure out why we might be holding ourselves back from exciting adventures.
Let's get to the heart of the matter and find out why we hesitate to explore the world, and whether it's time to change that.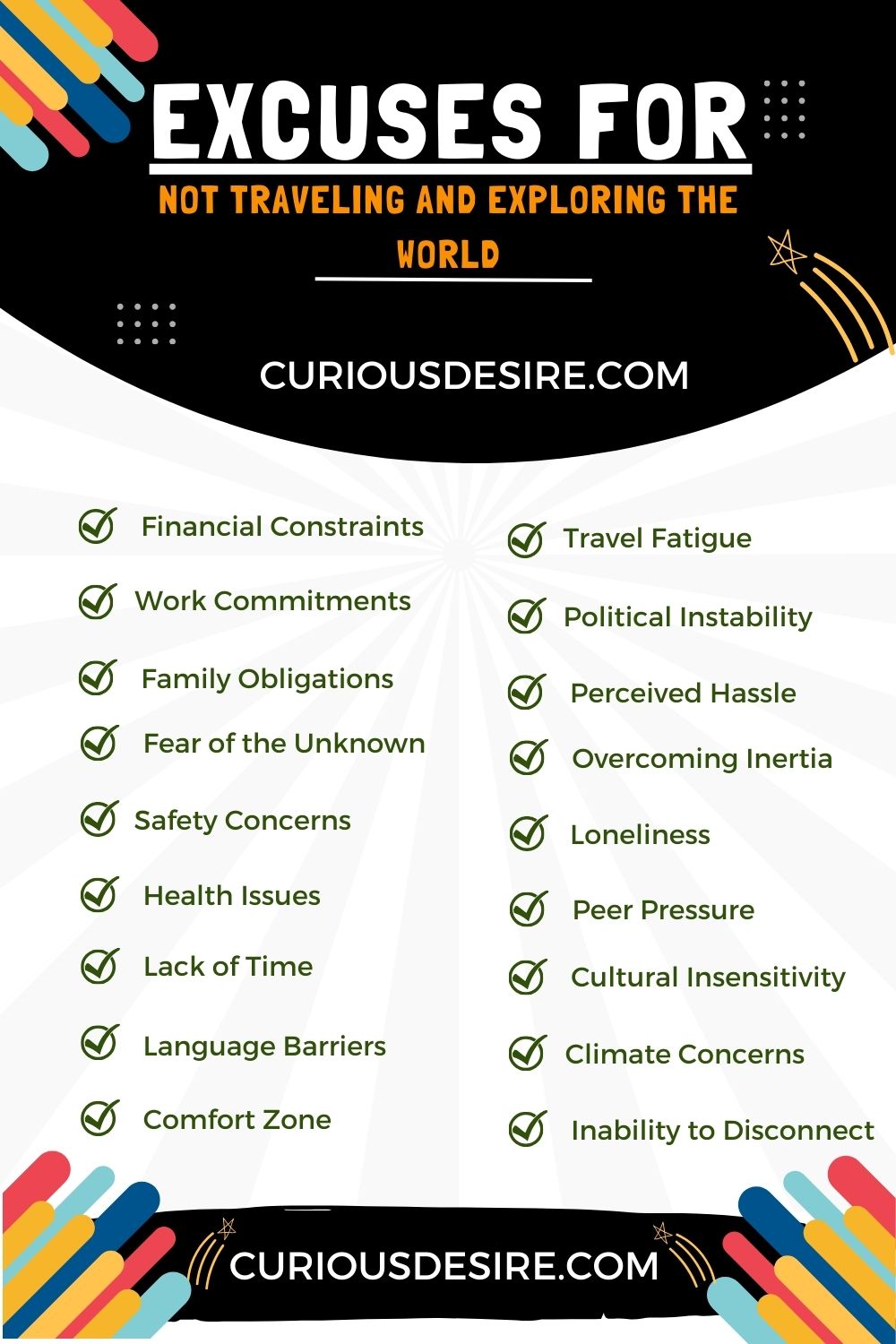 Top 30 Excuses for Not Traveling and Exploring the World:
People have many reasons for not traveling and exploring the world. Some say they can't afford it, while others claim they're too busy with work or family.
Some folks are just afraid of going to new places or worry about safety. Some don't find other cultures interesting, and some are just happy staying where they are.
But it's important to know that traveling and seeing new places can bring lots of good things, like personal growth and new experiences. So, don't let these excuses hold you back from a more exciting life.
Here are the Top 30 Excuses for not traveling and exploring the world:
1. Financial Constraints
Many individuals believe they can't afford to travel, citing the high cost of flights, accommodation, and activities as a major barrier. While travel can be expensive, there are numerous ways to budget and save for trips, including travel deals, rewards programs, and careful planning.
2. Work Commitments
Some people feel tied to their jobs and are afraid to take time off to travel. They worry about missing work responsibilities or losing income. It's crucial to remember that taking a break from work can lead to improved productivity and overall well-being.
3. Family Obligations
Family commitments, such as caring for children or elderly relatives, can deter individuals from traveling. While family responsibilities are essential, it's also possible to plan family-friendly trips and involve loved ones in travel experiences.
4. Fear of the Unknown
Fear of the unknown, including unfamiliar cultures and languages, can make people hesitant to explore new places. Overcoming this fear involves embracing the opportunity for personal growth and learning that travel provides.
5. Safety Concerns
Safety concerns, both real and perceived, can discourage travel. It's essential to research destinations, follow safety guidelines, and stay informed to mitigate potential risks.
6. Health Issues
Health problems or concerns may lead individuals to believe they can't travel. While some health conditions may limit travel options, many destinations are accessible with proper planning and accommodations.
7. Lack of Time
Busy schedules and time constraints can be a significant excuse. Prioritizing travel and making time for it often requires planning and balancing responsibilities.
8. Language Barriers
Language differences can make people feel uncomfortable when traveling to non-English-speaking countries. However, many travelers navigate language barriers successfully through translation apps, basic language skills, and non-verbal communication.
9. Comfort Zone
Staying within one's comfort zone can be tempting, as it avoids the stress of adapting to new environments. However, stepping out of this zone is where personal growth and transformation often occur.
10. Travel Fatigue
Some individuals may have experienced challenging trips in the past, leading to travel fatigue. It's crucial to learn from these experiences and approach future journeys with a fresh perspective.
11. Lack of Interest in Other Cultures
A lack of curiosity about other cultures can be a significant barrier. Embracing diversity and recognizing the value of cultural immersion can open doors to enriching travel experiences.
12. Environmental Concerns
Concerns about the environmental impact of travel, such as carbon emissions from flying, can lead to hesitation. Travelers can reduce their ecological footprint by choosing sustainable transportation and accommodations.
13. Political Instability
Political unrest in certain regions can deter travelers due to safety concerns. Staying informed about current events and consulting travel advisories can help make informed decisions.
14. Perceived Hassle
Some people view travel as a hassle, from packing and navigating airports to dealing with travel logistics. Streamlining travel plans and embracing the journey as part of the adventure can alleviate this perception.
15. Overcoming Inertia
A lack of motivation or the feeling that travel requires too much effort can keep people at home. Discovering personal reasons and setting specific goals can combat inertia.
16. Loneliness
Solo travelers may fear loneliness on the road. However, travel often provides opportunities to meet new people and form connections, both with fellow travelers and locals.
17. Peer Pressure
Peer pressure, such as feeling pressured to travel to popular destinations, can lead to resistance. Choosing destinations that align with personal interests and goals is essential.
18. Cultural Insensitivity
Concerns about inadvertently offending people from other cultures can deter travelers. Cultural sensitivity and research can help ensure respectful interactions.
19. Perceived Lack of Time to Plan
Planning a trip can seem overwhelming, especially for those with busy lives. However, breaking the planning process into manageable steps and using travel resources can simplify the process.
20. Preference for Other Hobbies
Some individuals prioritize other hobbies and activities over travel. While it's essential to pursue one's interests, integrating travel can add a new dimension to life experiences.
21. Attachment to Material Possessions
Possessiveness and attachment to material possessions can hinder the desire to travel. Recognizing the value of experiences over possessions can shift this perspective.
22. Climate Concerns
Concerns about extreme weather conditions or undesirable climates in certain destinations can be a barrier. Researching optimal travel times and choosing destinations accordingly can address this issue.
23. Inability to Disconnect
The inability to disconnect from technology and work obligations can impede the relaxation and enjoyment of travel. Setting boundaries and using technology mindfully can help.
24. Lack of Travel Companions
Some people avoid travel due to the absence of suitable travel companions. Exploring solo travel options or joining travel groups can provide solutions.
25. Commitment to Home
Homeowners may feel tied to their properties, making them reluctant to leave for extended periods. Rental options and property management services can provide peace of mind.
26. Economic Uncertainty
Economic concerns and the fear of financial instability can discourage travel. Creating a travel budget and financial plan can alleviate these worries.
27. Aversion to Long Flights
The prospect of long-haul flights can deter travelers. Selecting destinations with shorter flight durations or making layovers part of the journey can make long flights more manageable.
28. Unrealistic Expectations
Unrealistic expectations about travel experiences can lead to disappointment. Embracing the unexpected and being open to new adventures can enhance travel satisfaction.
29. Lack of Knowledge About Destinations
Lack of information or familiarity with potential destinations can be a roadblock. Conducting thorough research and seeking advice from experienced travelers can build confidence.
30. Procrastination
Procrastination and delay in making travel plans can hinder exploration. Setting concrete travel goals and deadlines can overcome this tendency.
Resources Consulted For This Article On: