In today's fast-paced world, many of us have reasons (or excuses) for not taking the time to meditate and practice mindfulness. We often say we're too busy, too stressed, or that our minds are just too active for these practices.
But what if I told you that these very reasons are why we should make an effort to meditate and be mindful? In this discussion, we'll explore these common excuses and see how overcoming them can help us find peace and clarity in our hectic lives.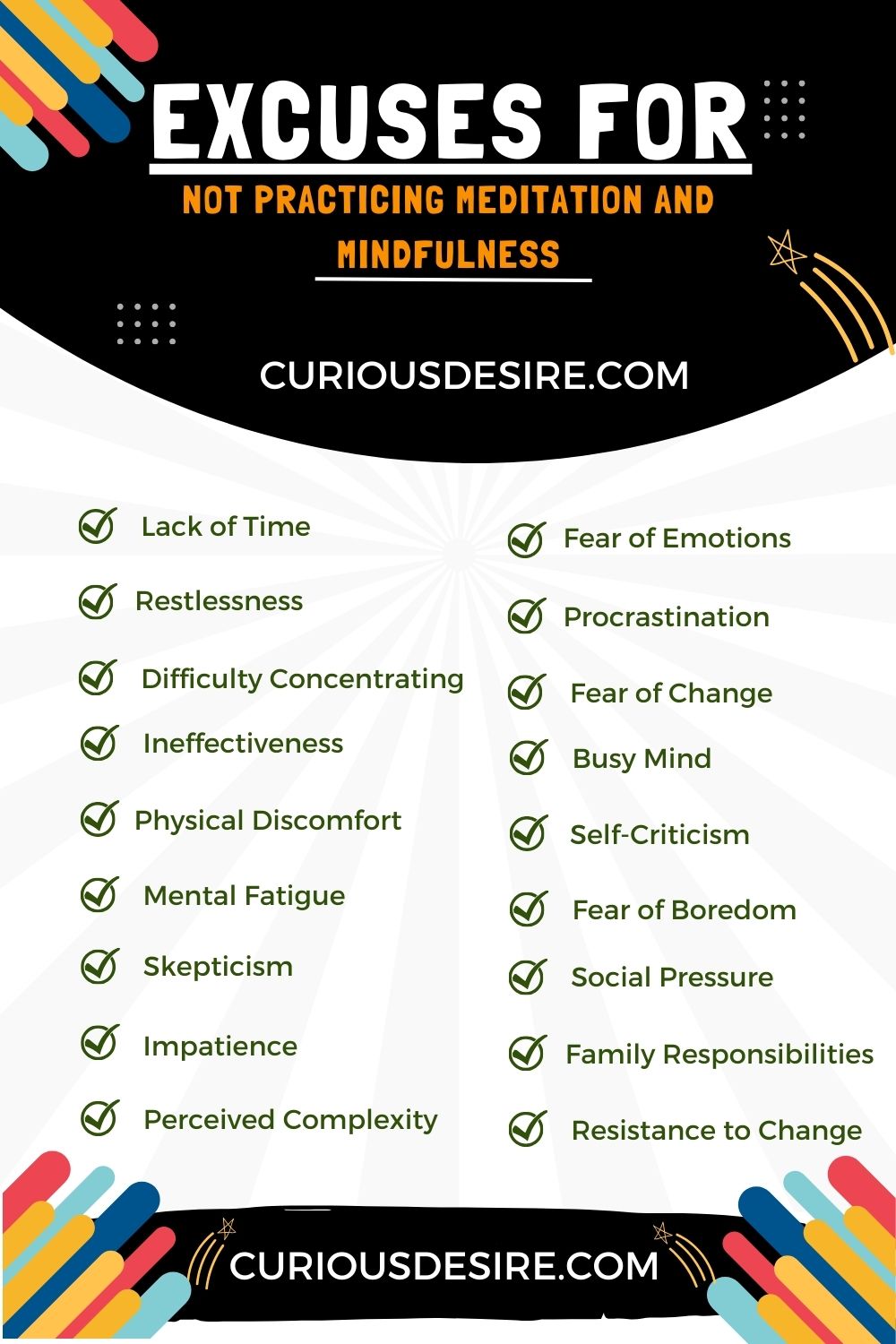 Top 30 Excuses for Not Practicing Meditation and Mindfulness:
People often come up with all sorts of reasons to avoid meditation and mindfulness. They might say they're too busy or claim that they can't calm their thoughts. But here's the thing: these excuses can keep us from experiencing the many benefits of these practices, like inner peace and mental clarity.
In this discussion, we're going to look at the top 30 excuses people use to dodge meditation and mindfulness. We'll break down each excuse and show you that achieving a more relaxed and centered self is totally doable.
Here are the Top 30 Excuses for Not Practicing Meditation and Mindfulness:
1. Lack of Time
Many individuals believe that they are too busy to dedicate time to meditation and mindfulness. Their schedules are packed with work, family, and social commitments, leaving little room for contemplation. However, it's essential to recognize that even brief mindfulness practices can be beneficial. By integrating mindfulness into daily activities, such as mindful breathing during a commute, you can make progress.
2. Restlessness
Restlessness is a common excuse for avoiding meditation. People feel agitated and uncomfortable when trying to sit still and focus their attention. The key here is understanding that restlessness is a natural part of the process. Through regular practice, one can learn to manage and calm the restless mind.
3. Difficulty Concentrating
Many find it challenging to maintain their focus during meditation. Thoughts wander, and distractions abound, making concentration seem elusive. It's important to realize that meditation isn't about achieving perfect concentration from the start. Instead, it's about gently guiding your attention back to your chosen point of focus whenever it drifts away.
4. Ineffectiveness
Some individuals give up on meditation because they don't experience immediate, dramatic changes in their lives. They expect instant relief from stress or anxiety, and when that doesn't happen, they may deem meditation ineffective. However, meditation is a gradual process, and its benefits often become more apparent over time as you build consistency in your practice.
5. Physical Discomfort
For many, sitting in a cross-legged position or on a cushion for extended periods can be physically uncomfortable. This discomfort can deter people from meditating regularly. However, there are various postures and props available to support a comfortable meditation experience. Experimenting with different options can alleviate physical discomfort.
6. Mental Fatigue
At the end of a long, mentally draining day, the idea of meditating may seem unappealing. Mental fatigue can make it challenging to engage in meditation effectively. However, it's precisely during such moments that meditation can be most helpful. It provides an opportunity to unwind, relax, and rejuvenate the mind.
7. Skepticism
Some individuals are skeptical about the scientific validity and practical benefits of meditation and mindfulness. They may view it as a vague or mystical practice without tangible results. However, a robust body of research supports the positive impact of meditation on mental and emotional well-being, making it a legitimate and evidence-based approach to self-improvement.
8. Impatience
Impatience can be a significant obstacle to meditation. People expect quick results and get frustrated when they don't see immediate changes in their lives. It's important to approach meditation with patience and an understanding that personal growth takes time. Small, incremental progress is meaningful.
9. Perceived Complexity
Some people avoid meditation because they perceive it as complex or challenging to learn. They believe they need to master intricate techniques and follow specific rules. In reality, meditation can be quite simple, with various approaches catering to different preferences. Starting with basic techniques and gradually exploring more advanced ones can make the practice more accessible.
10. Fear of Emotions
Meditation can bring up buried emotions and thoughts, which can be unsettling. People may fear confronting their inner struggles and choose to avoid meditation to circumvent this discomfort. However, working through these emotions with mindfulness can lead to greater emotional resilience and well-being.
11. Religious or Cultural Beliefs
Some individuals worry that meditation conflicts with their religious or cultural beliefs. They may view it as incompatible with their faith or background. In reality, many spiritual traditions incorporate meditation, and mindfulness can be adapted to align with a wide range of belief systems.
12. Need for External Stimulation
In a world filled with constant stimulation from screens, social media, and entertainment, some people find it challenging to sit in silence and engage in self-reflection. The idea of being alone with their thoughts can be intimidating. Yet, this is precisely what meditation aims to address – learning to be comfortable with your own mind.
13. Procrastination
Procrastination can be a pervasive excuse for avoiding meditation. Some individuals might postpone starting a practice, thinking they'll do it later or that there's always a better time. However, delaying meditation often leads to missed opportunities for personal growth and well-being.
14. Perceived Lack of Progress
People might stop meditating because they feel they're not making any progress. They expect noticeable changes in a short period and become discouraged when they don't see them. However, progress in meditation can be subtle and gradual, requiring patience and continued effort.
15. Fear of Change
Meditation can lead to personal growth and transformation, which can be intimidating for some. They may fear the changes in their thinking patterns, behaviors, or priorities that can result from regular practice. It's important to embrace the potential for positive change that meditation offers.
16. Busy Mind
A busy mind, filled with racing thoughts and mental chatter, can discourage people from meditating. They believe that their minds are too active to benefit from mindfulness. However, meditation is precisely the tool to calm and quiet a busy mind over time.
17. Self-Criticism
Some individuals are overly self-critical and perfectionistic. They believe they're not "good" at meditation because they can't silence their thoughts or achieve a state of complete calm. In reality, self-compassion and acceptance are essential aspects of meditation.
18. Fear of Boredom
The idea of sitting quietly and doing nothing can be boring for some people. They prefer constant stimulation and excitement, making meditation seem unappealing. However, mindfulness can help you find richness and depth in the present moment, even in seemingly mundane situations.
19. Social Pressure
Peer pressure or societal expectations can deter people from practicing meditation. They may worry about what others will think or believe it's a trend they don't want to follow. It's crucial to remember that meditation is a personal practice, and its benefits are independent of external opinions.
20. Need for Instant Gratification
In today's fast-paced world, many seek instant gratification. Meditation's benefits often accrue gradually, which can be discouraging for those who crave quick rewards. Shifting your mindset to value long-term well-being over immediate satisfaction is key to overcoming this excuse.
21. Inconsistent Routine
Maintaining a consistent meditation routine can be challenging. Some individuals start and stop their practice repeatedly, making it difficult to experience the full benefits. Creating a regular schedule and holding yourself accountable can help establish a lasting habit.
22. Perceived Uniqueness
People may believe that meditation is for a select group of individuals who possess specific traits or qualities. They might think, "I'm not the type of person who meditates." However, meditation is accessible to anyone, regardless of personality or background.
23. Desire for Quick Fixes
Some individuals are drawn to quick-fix solutions for their problems. They hope to find a single solution that instantly solves their stress, anxiety, or other challenges. Meditation, while powerful, is not a magic bullet but a tool for gradual self-improvement.
24. Physical Disabilities
People with physical disabilities may feel limited in their ability to practice meditation due to mobility or posture issues. However, there are adaptive techniques and practices that can accommodate various physical conditions.
25. Financial Barriers
Some believe they need to invest in expensive meditation classes or retreats to practice effectively. While guided sessions can be helpful, many resources are available for free or at a minimal cost, making meditation accessible to all.
26. Fear of Stillness
Silence and stillness can be uncomfortable for some individuals. They might fear facing their inner thoughts and emotions, preferring the constant noise and distractions of daily life. Meditation encourages you to embrace stillness and discover its value.
27. Family Responsibilities
Balancing family responsibilities with meditation can be a challenge. Parents may feel that they don't have time to meditate when caring for their children. However, involving the family in mindfulness practices can be a meaningful way to integrate meditation into family life.
28. Perceived Complexity of Techniques
Some individuals are intimidated by the variety of meditation techniques available. They may worry that they need to master multiple methods to benefit from meditation. However, starting with a simple, foundational technique can be highly effective.
29. Negative Preconceptions
Preconceived notions about meditation, such as it is too "woo-woo" or mystical, can deter people from trying it. It's essential to approach meditation with an open mind, understanding that it's a practical and evidence-based practice.
30. Resistance to Change
Lastly, resistance to change can be a significant excuse for avoiding meditation. People may be comfortable with their current routines and resist any new habit, even if it promises greater well-being. Recognizing the potential for positive transformation can help overcome this resistance.
Resources Consulted For This Article On: