Avoiding public speaking can be tough, and there are many different reasons why people do it. Some fear facing a big crowd, while others worry about forgetting what to say.
These excuses can hold you back, but they also hide opportunities for personal growth and career success. In this clear and simple discussion, we'll look at the most common excuses people use to avoid speaking in public.
It's time to uncover these obstacles, face them, and realize the benefits that come with being a confident speaker.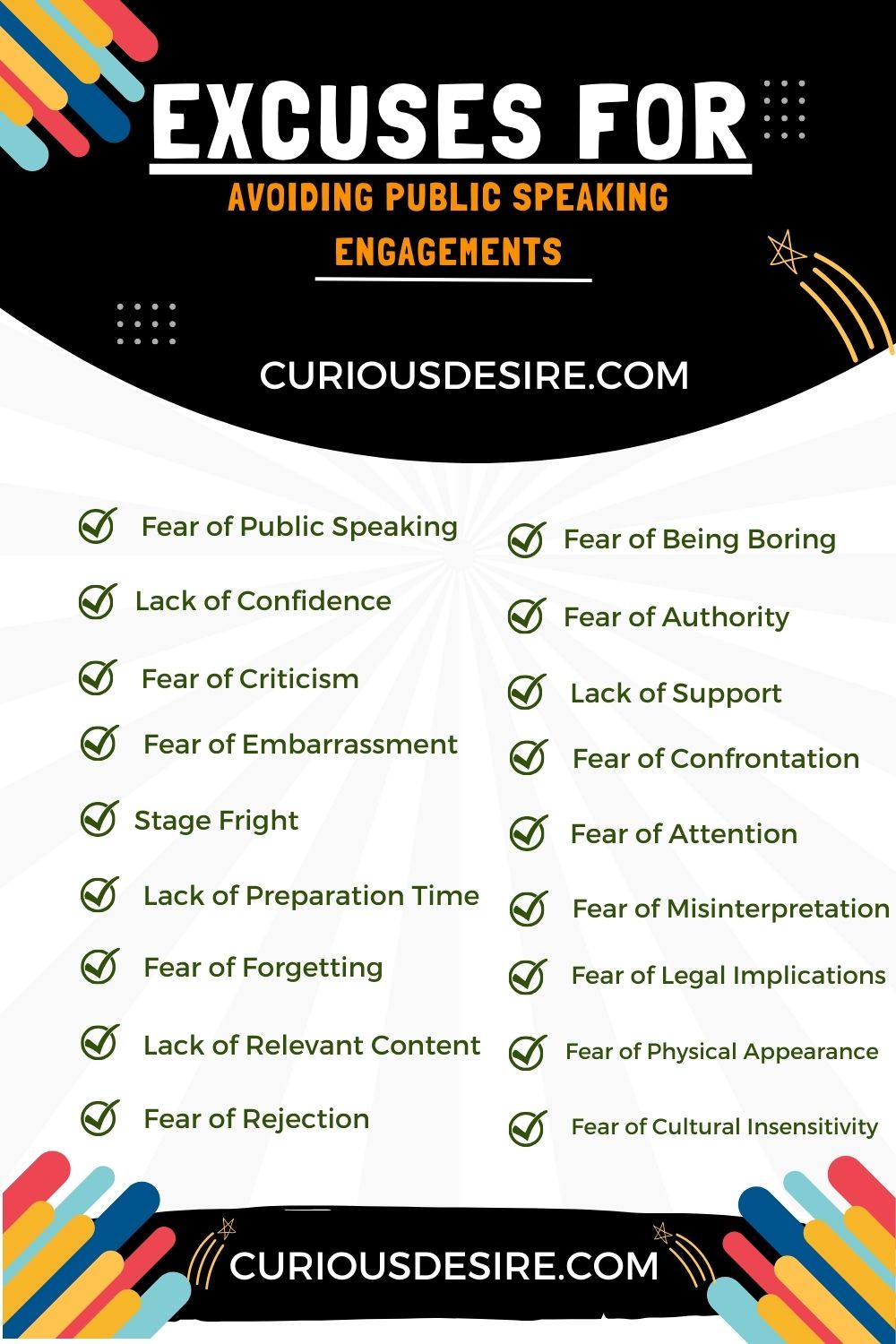 Top 30 Excuses for Avoiding Public Speaking Engagements
Dodging public speaking opportunities is a common practice, and the reasons behind it vary widely. Whether it's the fear of an audience's judgment or simply feeling unprepared, these excuses are as numerous as the individuals who utter them.
In this direct exploration, we'll dive straight into the top 30 excuses that people frequently use to steer clear of public speaking engagements.
No beating around the bush – it's time to uncover these roadblocks, address them head-on, and unlock the potential that confident public speaking can bring to your life.
Here are Top 30 Excuses for Avoiding Public Speaking Engagements
1. Fear of Public Speaking
Public speaking anxiety, known as glossophobia, is a widespread excuse. The fear of speaking in front of an audience, the fear of judgment, and the potential for embarrassment all contribute to this anxiety. Overcoming this fear requires practice, preparation, and gradual exposure to speaking in public.
2. Lack of Confidence
Many individuals lack self-confidence in their speaking abilities. They worry about their competence to deliver a compelling speech and believe they will not engage the audience effectively. Building confidence involves practice, self-belief, and constructive feedback from peers or mentors.
3. Fear of Criticism
The fear of facing criticism or negative feedback from the audience is another common excuse. People worry that their speech will be dissected and criticized by listeners.
However, it's essential to recognize that constructive criticism can be valuable for improving as a speaker and refining your message.
4. Fear of Embarrassment
Fear of making mistakes or embarrassing oneself during a speech is a significant concern. People fear stuttering, forgetting their lines, or experiencing technical difficulties while on stage.
To alleviate this fear, it's crucial to accept that making mistakes is a part of the learning process and that audiences are generally forgiving.
5. Stage Fright
Stage fright refers to feeling overwhelmed by the physical presence of a large audience. The anxiety often leads to physical symptoms like sweating, trembling, or a racing heart. Techniques such as deep breathing exercises, visualization, and desensitization to stage settings can help manage stage fright.
6. Lack of Preparation Time
Claiming a lack of time to prepare adequately for a speech is a common excuse. People may procrastinate or have busy schedules that hinder their preparation. Effective time management, setting priorities, and starting preparations early can address this issue.
7. Fear of Forgetting
The fear of forgetting what to say during a speech is a significant concern. People worry about going blank in front of an audience.
To mitigate this fear, it's essential to create a well-structured outline, rehearse the speech multiple times, and have confidence in your preparation.
8. Lack of Relevant Content
Some individuals avoid public speaking because they believe they have nothing valuable or interesting to say. This often stems from self-doubt or imposter syndrome. Identifying a topic of personal interest, expertise, or relevance to the audience can address this excuse.
9. Lack of Speaking Experience
Inexperience can lead to reluctance in public speaking. People may feel uncomfortable in unfamiliar speaking situations. Joining speaking clubs, participating in workshops, or seeking opportunities to speak in smaller settings can gradually build experience and confidence.
10. Fear of Rejection
The fear of the audience rejecting or disapproving of the message is another common excuse. Individuals worry that their ideas or viewpoints will not resonate with the audience. It's important to accept that not everyone will agree with your perspective, and that's perfectly normal in public discourse.
11. Fear of Being Boring
Some people worry about boring their audience. They fear that their speech will lack engagement and fail to capture the listeners' interest.
Crafting engaging content, using storytelling techniques, and incorporating visual aids or examples can make your speech more interesting and relatable.
12. Fear of Authority
Speaking in front of higher-ups, supervisors, or authority figures can be intimidating. Individuals may fear making mistakes or saying something that contradicts their superiors' views. It's essential to recognize that effective communication is valued at all levels of an organization, and everyone benefits from clear and persuasive speaking.
13. Fear of Technology Failure
Concerns about technical glitches during a presentation can deter some individuals. They worry about equipment malfunctions, presentation software crashes, or connectivity issues. Familiarizing oneself with presentation technology, conducting thorough equipment checks, and having backup plans in place can alleviate this worry.
14. Fear of Language Barriers
Fear of language barriers, especially for non-native speakers, can discourage public speaking. Individuals may worry about mispronunciation, grammar errors, or difficulties in expressing themselves clearly. Improving language skills through practice and seeking language support can boost confidence in overcoming this excuse.
15. Lack of Personal Connection
Failure to connect with the audience on a personal level is another excuse for avoiding public speaking. People may perceive their speech as impersonal or irrelevant to the audience's needs and interests. Engaging the audience by addressing their concerns, providing real-world examples, and sharing relatable anecdotes can help establish a deeper connection.
16. Overcoming the Fear of Silence
Some people fear moments of silence during a speech, viewing them as awkward or unprofessional. However, strategically placed pauses can enhance the impact of a speech by allowing the audience to absorb key points and reflect on the message.
17. Fear of Being Vulnerable
Fear of being emotionally vulnerable or revealing personal experiences can deter some individuals from public speaking.
They may feel uncomfortable sharing personal stories or insights. It's important to recognize that vulnerability can create authenticity and resonance with the audience, making the speech more relatable and memorable.
18. Lack of Support
A lack of support or encouragement from peers, family, or colleagues can be demotivating. People may feel that their speaking efforts are not appreciated or valued. Seeking out a supportive network, mentorship, or joining speaking groups can provide the encouragement and constructive feedback needed to overcome this excuse.
19. Fear of Confrontation
Some individuals worry that speaking on certain topics may lead to confrontation or conflict with the audience. They fear disagreement or heated debates. Accepting that public speaking can involve diverse viewpoints and learning to handle disagreements professionally can address this concern.
20. Lack of Presentation Skills
A perceived lack of presentation skills can lead to reluctance in public speaking. Individuals may believe that they lack the charisma or captivating speaking style necessary to engage an audience. Investing in presentation skills training and practicing effective speaking techniques can build confidence and competence.
21. Fear of Insufficient Knowledge
The fear of not having enough expertise or knowledge on a particular topic can be a significant barrier. Individuals may worry about being challenged or questioned by the audience. In such cases, thorough research, preparation, and continuous learning can provide the necessary confidence to address this excuse.
22. Fear of Disapproval from Authority Figures
The fear of disapproval or criticism from authority figures, mentors, or experts in the field can hinder public speaking. Individuals may worry about their ideas or perspectives being contradicted by those they admire. Recognizing that constructive feedback can lead to personal and professional growth can help overcome this fear.
23. Fear of Attention
Some people shy away from public speaking because they dislike being the center of attention. They may prefer a more low-profile role and feel uncomfortable in the spotlight. Gradually acclimating to the attention and practicing self-presentation techniques can help address this issue.
24. Fear of Misinterpretation
The fear of being misunderstood or having one's words misinterpreted by the audience can discourage public speaking. People worry about their message being misconstrued or taken out of context. Effective communication, clear articulation, and providing context to key points can help minimize this fear.
25. Fear of Failure to Meet Expectations
The fear of not meeting the audience's expectations or delivering a subpar presentation can be paralyzing. People may worry about disappointing their listeners or failing to deliver a memorable speech. Setting realistic expectations, thorough preparation, and continuous improvement can alleviate this concern.
26. Fear of Overshadowing Others
Some individuals fear that their speaking engagement may overshadow others or steal the spotlight from colleagues or team members.
They may worry about being perceived as self-centered. Recognizing the value of collaborative communication and giving credit where it's due can help mitigate this fear.
27. Fear of Legal Implications
Concerns about potential legal repercussions from statements made during a speech can discourage public speaking. People may worry about inadvertently saying something that could lead to legal trouble. Familiarity with legal guidelines and practicing responsible communication can address this concern.
28. Fear of Physical Appearance
Some individuals worry about their physical appearance while speaking in public. They may be concerned about clothing choices, body language, or visible nervousness. Embracing self-acceptance and focusing on the message's content can help alleviate this fear.
29. Fear of Cultural Insensitivity
The fear of unintentionally offending individuals from diverse cultural backgrounds can deter some from public speaking. People may worry about cultural insensitivity or using inappropriate language. Cultural sensitivity training, awareness, and seeking guidance can help navigate this concern.
30. Fear of Being Vulnerable in Front of Peers
The fear of being emotionally vulnerable or revealing personal experiences in front of peers can discourage public speaking. People may worry about how their peers will perceive them. Embracing vulnerability as a strength and recognizing that sharing personal stories can inspire and connect with others can address this fear.