Switching classes can sometimes seem like a good idea for different reasons. Imagine a student who finds their math class too hard and feels overwhelmed.
They might want to switch to a class they're better at, like English or history. Or maybe they have a chance to go to a special event but it clashes with their current class time.
Health issues can also be a reason. Like if a student is allergic to chemicals in their science class, they might need to switch to a different one.
Switching classes isn't always about taking the easy way out, but about making sure you're in the right class for your growth and health. It's important to talk to your teachers and school about it to make sure it's the right move for your education.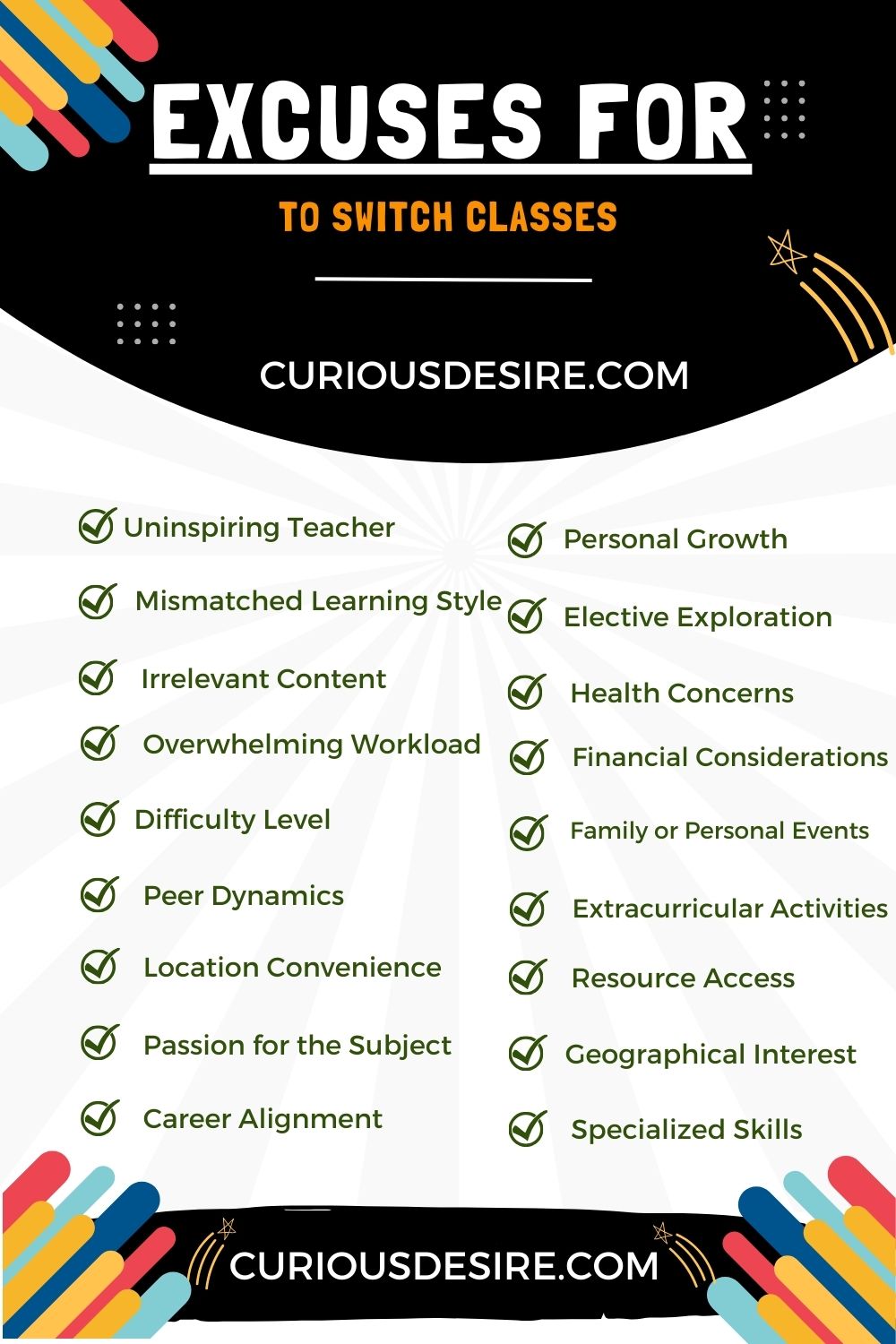 Top 30 Valid Excuses To Switch Classes
Are you tired of being in a boring class? Want to find a class that makes learning fun? We've got you covered with the top 30 reasons to switch classes! Maybe your current class doesn't fit your schedule, or you're curious about a new subject.
Whether you're chasing your dreams or just want a fresh start, switching classes can make learning exciting again. So, don't settle for a dull classroom. Explore these reasons and find the perfect class to make your learning journey awesome!
Here are the Top 30 excuses to switch classes.
1. Uninspiring Teacher
A teacher plays a pivotal role in your learning experience. If your current teacher lacks enthusiasm, clear communication, or the ability to make the subject matter engaging, it may be time to seek a more inspiring educator.
2. Mismatched Learning Style
We all have unique ways of learning. If your current class's teaching style doesn't align with your preferred learning style, you might struggle to grasp the material effectively.
3. Irrelevant Content
Sometimes, a class's curriculum might not align with your academic or career goals. Switching to a class that offers more relevant content can be a wise choice for your future.
4. Overwhelming Workload
Excessive assignments, projects, or exams can lead to burnout. If your current class is drowning you in work, switching to one with a more manageable workload can alleviate stress.
5. Difficulty Level
On the flip side, if you find your current class too easy, it can become monotonous. Switching to a more challenging class can keep your mind engaged and help you grow academically.
6. Peer Dynamics
The dynamics within a class can greatly impact your learning experience. If you're having issues with classmates or find it hard to collaborate, switching to a more harmonious class can improve your social and academic life.
7. Location Convenience
If your current class is far from your residence or requires a lengthy commute, switching to a more conveniently located class can save you time and energy.
8. Passion for the Subject
Sometimes, you discover a new passion or interest that isn't being addressed in your current class. Switching to a class that explores this newfound interest can be incredibly fulfilling.
9. Career Alignment
If your academic goals are closely tied to a specific career path, switching to a class that aligns better with your career aspirations can be a strategic move.
10. Personal Growth
Change can be a catalyst for personal growth. If you've been in the same class for a while and feel stagnant, switching to a new class can offer fresh perspectives and opportunities for personal development.
11. Elective Exploration
If you're in a program that allows for elective courses, switching to a different elective can broaden your knowledge and skillset in areas that genuinely interest you.
12. Health Concerns
If your current class schedule or environment negatively affects your physical or mental health, it's crucial to prioritize your well-being. Switching to a class with a healthier setting can make a significant difference.
13. Financial Considerations
Sometimes, financial constraints or scholarship requirements can necessitate a switch to a more affordable class or one that meets specific financial criteria.
14. Family or Personal Events
Life events like family emergencies or personal commitments might require a temporary or permanent switch to a class with a more flexible schedule.
15. Extracurricular Activities
Engaging in extracurricular activities or clubs can be enriching. Switching to a class with a schedule that accommodates your extracurricular involvement can provide a more balanced college experience.
16. Language Barrier
If you're struggling with the language of instruction in your current class, switching to a class taught in a language you're more comfortable with can enhance your understanding and performance.
17. Resource Access
Access to resources like libraries, labs, or specific materials can vary by class. Switching to a class that offers better access to essential resources can enhance your learning.
18. Inclusivity and Diversity
If you value a diverse and inclusive learning environment but find your current class lacking in this regard, switching to a more inclusive class can broaden your perspectives and enrich your educational experience.
19. Availability of Support Services
Some classes may offer better access to support services like tutoring, counseling, or academic advising, which can be crucial for your success as a student.
20. Specialized Skills
If you have a particular skill or talent you want to develop, switching to a class that hones those abilities can be a strategic move for personal and professional growth.
21. Geographical Interest
Certain classes may incorporate field trips or experiences tied to specific geographical locations. If you have a passion for a particular region or culture, switching to a class that explores that area can be both educational and fulfilling.
22. Flexible Attendance Policies
Life can be unpredictable, and if your current class has rigid attendance policies that don't accommodate occasional absences, switching to a class with more flexibility might be necessary.
23. Educational Technology
Advancements in educational technology can enhance the learning experience. If your current class lacks access to these tools, switching to one that embraces technology can provide a more modern and interactive education.
24. Practical Application
Some classes focus heavily on theory, while others emphasize practical application. If you prefer a hands-on approach, switching to a class that offers more real-world experience can better prepare you for your future career.
25. Networking Opportunities
Building a professional network is vital in many fields. Switching to a class that offers better networking opportunities, such as guest speakers or industry connections, can be a strategic move for your future career.
26. Personal Passion
Sometimes, you have a deep personal passion for a subject that your current class doesn't address. Switching to a class that allows you to explore your passion can make your education more enjoyable.
27. Time Management:
If you're struggling with time management in your current class due to conflicting assignments or a demanding schedule, switching to a class with a more manageable workload can help you balance your academic life.
28. Faculty Expertise
Certain professors are renowned experts in their fields. If you have the chance to switch to a class taught by a respected faculty member, it can be a valuable educational experience.
29. Change of Major
If you're considering a change of major, switching to classes aligned with your new academic path is essential for a smooth transition.
30. Peer Recommendations
Sometimes, friends or classmates recommend classes they find engaging and beneficial. Switching to a class with positive peer reviews can be a wise move to enhance your learning journey.
Resources Consulted For This Article On