Sometimes, we all have reasons for not texting back promptly. It's not about ignoring someone, but more about life happening. Maybe we were busy at work, lost in a good book, or just needed a break from our phones.
Technical issues like a low battery or bad signal can also get in the way. Sometimes, we're spending time with family, running errands, or enjoying moments with loved ones.
And yes, there are times when we get lost in our thoughts, and hours slip by without realizing it. The point is, when you don't get a quick text back, it's not always about ignoring you; it's just life taking us in different directions for a little while.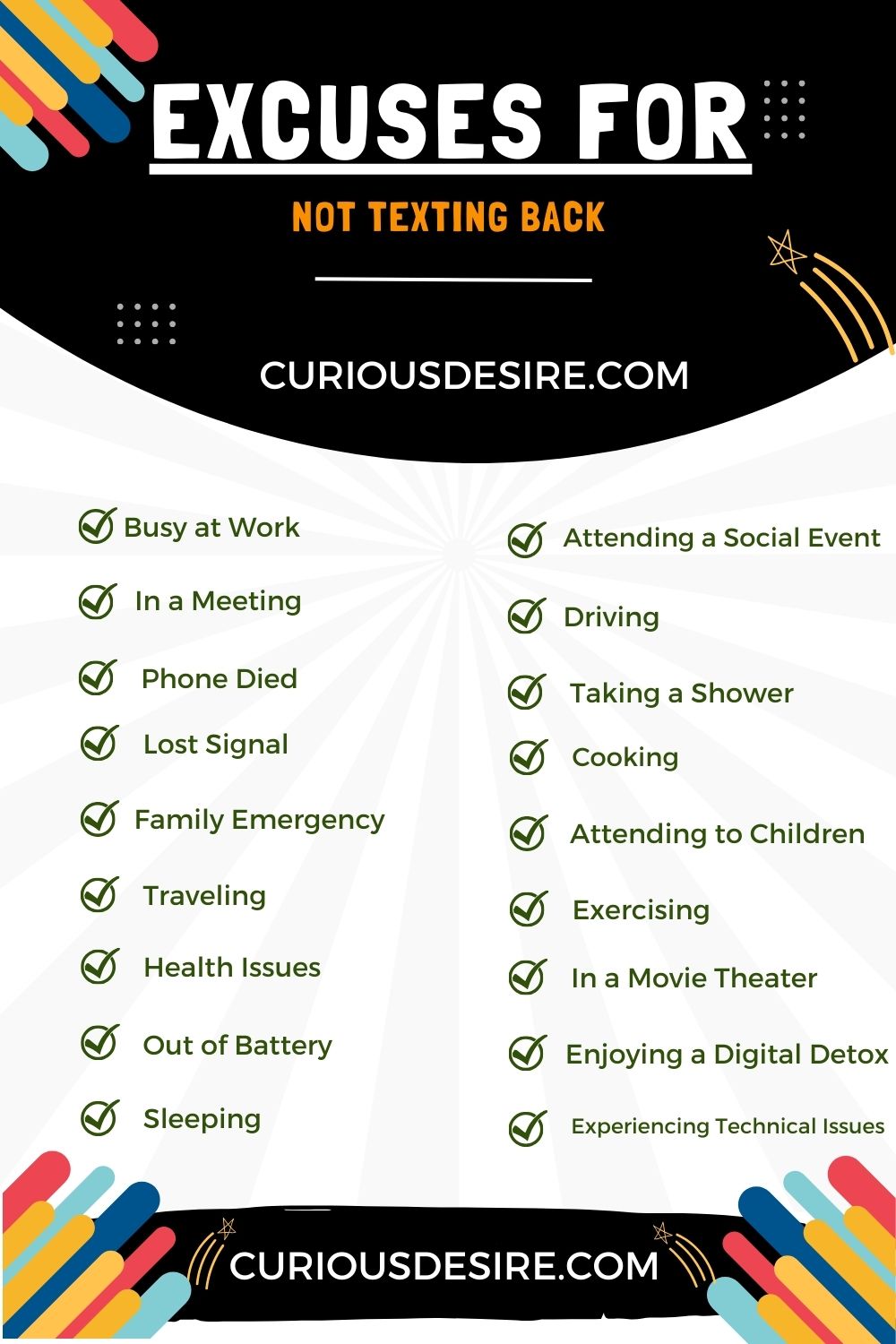 Top 30 Excuses For Not Texting Back
In the world of texting, we all have times when we can't respond right away. Whether we're super busy at work, our phone dies, or we simply lose track of time, we've got a list of the top 30 excuses to explain our delayed replies.
These excuses cover everything from unexpected situations to when we need a break from our phones. So, the next time someone doesn't text back right away, remember there are plenty of reasons for it, and it's usually not because they're ignoring you, but because life can be unpredictable and get in the way.
Here are the Top 30 Excuses For Not Texting Back.
1. Busy at Work
Work can often be all-consuming, with tasks and responsibilities that demand our full attention. During these times, responding to text messages can be challenging as it might disrupt your workflow and productivity. It's essential to prioritize your job responsibilities when work takes precedence.
2. In a Meeting
Being in a meeting is a valid reason for not texting back. It's a sign of respect for both the meeting's purpose and the participants. During meetings, your full attention should be on the discussion at hand, and texting can be considered disruptive and impolite.
3. Phone Died
The frustration of a dead phone battery is a common occurrence. Whether it's due to heavy usage, forgetting to charge it, or technical issues, a non-responsive phone means you can't send or receive texts. Keeping your device charged and having a backup plan for power can help mitigate this situation.
4. Lost Signal
Living in an area with poor cellular reception or traveling to remote places can result in lost signals. When your phone can't establish a connection, it's impossible to send or receive messages. In such cases, you'll need to wait until you're in an area with better signal strength.
5. Family Emergency
Family emergencies require immediate attention and care. When a loved one is facing a crisis or urgent situation, your priority naturally shifts to providing support and assistance. During these times, responding to text messages may not be possible due to the urgency of the situation.
6. Traveling
Texting while driving or navigating unfamiliar places can be unsafe and may not always be convenient. When you're exploring new locations or immersed in the experience of traveling, it's often more enriching to be fully present in the moment rather than constantly checking your phone.
7. Studying or Focused on a Task
Concentration is crucial when you're studying or engrossed in a challenging task. Texting can be a significant distraction, disrupting your workflow and hindering your ability to absorb information or complete the task efficiently. To maintain focus, it's essential to temporarily set aside your phone.
8. Health Issues
Your health should always be a top priority. Whether you're dealing with a minor ailment or a more serious medical condition, taking care of your health may require rest, medical attention, or simply a break from your phone. Friends and family who care about your well-being will understand the need to prioritize your health.
9. In the Middle of an Important Conversation
Sometimes, you may find yourself engaged in a deep, meaningful conversation with someone, and it's only natural to want to give that discussion your full attention. In such cases, it's considerate to let others know that you'll get back to them later when you can give their messages the attention they deserve.
10. Out of Battery
Running out of battery can happen unexpectedly, especially if you've been using your phone extensively throughout the day. When your phone powers off due to a depleted battery, you're unable to respond to messages until you recharge it. It's a situation that catches many of us off guard, but it's easily resolved by finding a power source.
11. Sleeping
Sleep is essential for your overall well-being, and it's not realistic or healthy to be available 24/7 to respond to messages. During sleep, your phone is often set to "Do Not Disturb" mode or placed away from your reach to ensure a restful night. Therefore, you shouldn't feel obligated to text back while you're sleeping.
12. Attending a Social Event
When you're at a social gathering, party, or event with friends and acquaintances, it's common to get caught up in the moment and engage in face-to-face conversations. At these times, you might not have your phone readily available, and it's perfectly acceptable to focus on the event rather than checking your messages.
13. Driving
Texting while driving is dangerous and illegal in many places. Safety should always come first when you're behind the wheel. If you receive a text message while driving, it's essential to wait until you've reached your destination or pulled over in a safe location to respond.
14. Out of Coverage Area
Traveling to remote or rural areas with limited cell coverage can result in being out of the coverage area. In such situations, you won't receive messages until you're back within range of a cell tower.
15. Taking a Shower
Taking a shower is a daily routine where you're disconnected from your phone for a brief period. It's a time for personal hygiene and relaxation, and it's entirely reasonable not to respond to texts during this time.
16. Cooking
Preparing meals requires concentration and often involves handling sharp objects, hot surfaces, and open flames. It's crucial to focus on cooking safely, which means not being distracted by your phone. Texts can wait until after the meal is prepared.
17. Attending to Children
If you're a parent or caregiver, attending to the needs of your children takes precedence over texting. Children require constant attention and care, and it's natural for them to demand your focus and time.
18. Exercising
When you're engaged in physical activities like working out, jogging, or participating in a fitness class, your primary focus should be on your exercise routine and safety. Texting during exercise can lead to accidents or injuries, so it's best to wait until you've finished your workout to respond to messages.
19. In a Movie Theater
Movie theaters are spaces designed for entertainment and immersion in a cinematic experience. It's not only courteous but also essential to turn off or silence your phone during a movie to avoid disrupting others. Texts can be addressed after the film concludes.
20. Attending a Religious Service
Religious services are sacred gatherings where participants come to worship, reflect, and find spiritual solace. Using your phone during such services can be disrespectful and disruptive to others in attendance. It's best to turn off or silence your phone and focus on the religious observance.
21. Engaged in a Hobby or Passion
Pursuing hobbies and passions is a fulfilling part of life. Whether you're painting, playing a musical instrument, gardening, or engaging in any other hobby, these activities often require your undivided attention. It's acceptable to put your phone aside to fully enjoy and excel in your chosen hobby.
22. In the Middle of a Workout
When you're at the gym, engaged in a fitness class, or working out at home, your primary concern should be your physical well-being and achieving your fitness goals. Constantly checking and responding to text messages can disrupt your exercise routine and hinder your progress.
23. Spending Quality Time with Loved Ones
Spending quality time with family and loved ones is precious. When you're enjoying moments with your partner, children, or close friends, it's important to be fully present and engaged in the conversation or activities. Texts can be answered later, once you've cherished those moments together.
24. Attending to Personal Self-Care
Taking care of yourself physically and mentally is essential for overall well-being. Whether you're at the spa, getting a massage, practicing meditation, or engaging in any self-care activity, it's crucial to unplug from your phone to fully relax and rejuvenate.
25. Participating in an Important Phone Call
There are instances when you're engaged in a significant phone call, such as a job interview, an important business discussion, or a heartfelt conversation with a loved one. During these calls, your attention should be entirely focused on the conversation at hand, and it's considerate to let text messages wait.
26. Attending a Wedding or Special Occasion
Weddings and special occasions are memorable events that deserve your full attention and participation. Whether you're a guest or part of the celebration, it's customary to put your phone away and immerse yourself in the festivities, allowing you to create lasting memories.
27. Handling a Personal Crisis
Personal crises, such as dealing with a breakup, a loss, or a challenging life event, can consume your emotional and mental energy. During these times, it's understandable if you need to take a break from texting as you cope with your feelings and seek support from loved ones.
28. Experiencing Technical Issues
Sometimes, your phone or messaging apps may encounter technical issues that prevent you from sending or receiving messages. In such cases, it's beyond your control, and you'll need to troubleshoot or wait for the issue to be resolved.
29. Engaged in Professional Development
Investing in your professional growth and development is a valuable pursuit. Whether you're attending a workshop, seminar, or training session, your focus should be on absorbing knowledge and improving your skills. It's best to keep your phone on silent or away to minimize distractions.
30. Enjoying a Digital Detox
Occasionally, it's healthy to disconnect from the digital world intentionally. Taking a break from your phone, social media, and constant connectivity can provide mental clarity and reduce stress. During a digital detox, you won't be readily available for texts, but it can be a refreshing and rejuvenating experience for your well-being.
Resources Consulted For This Article On