Sometimes, people have reasons for not going to spiritual or religious gatherings. These excuses can come from personal situations and beliefs. In this discussion, we'll explore why some folks make excuses to skip these events and try to understand what leads them to do so.
From busy schedules to questions about their faith, these excuses show us how personal, cultural, and social factors can affect whether someone goes to spiritual or religious gatherings. Learning about these excuses can help us better understand how people approach their spirituality and religion in today's world.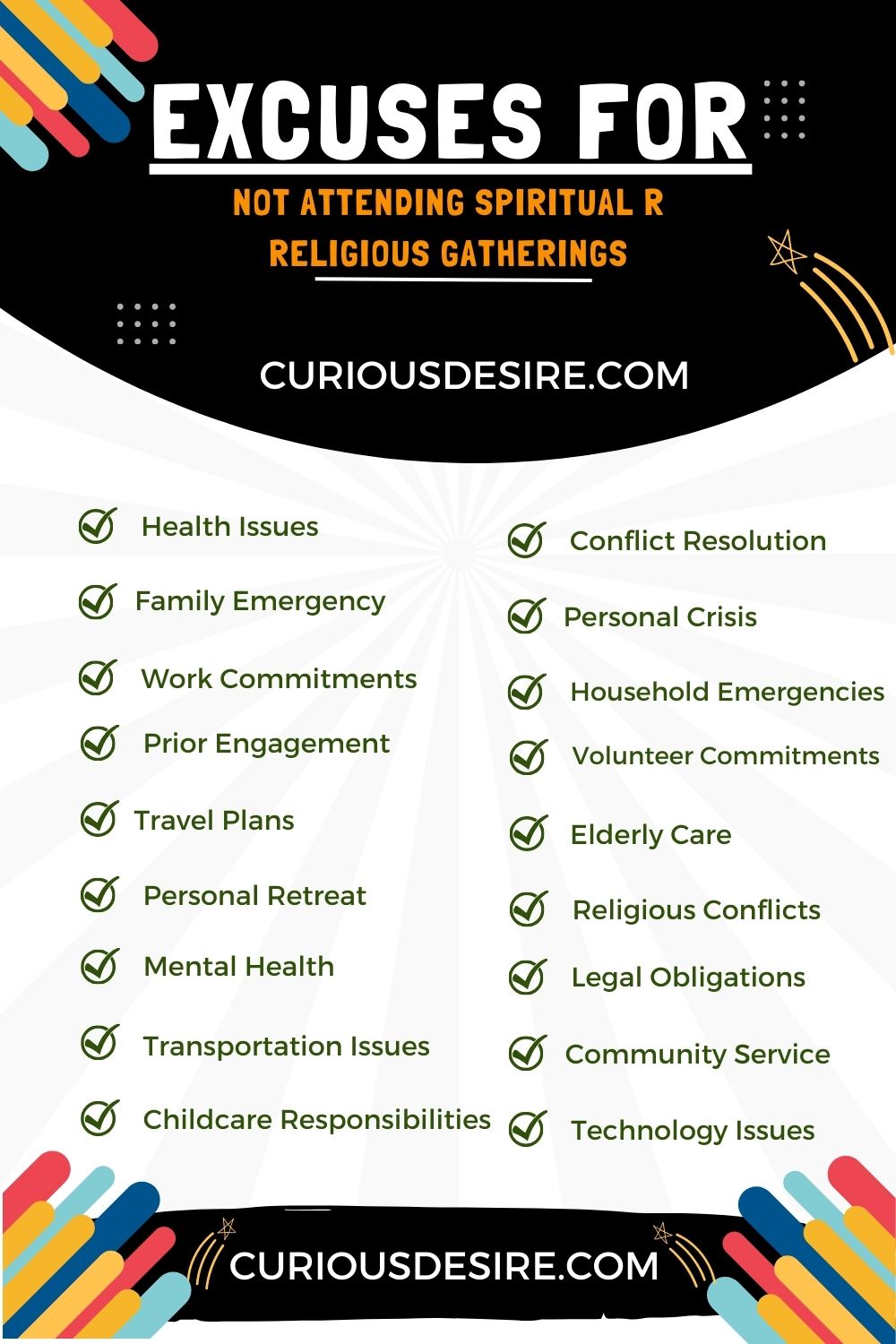 Top 30 Excuses for Not Attending Spiritual or Religious Gatherings:
Many people have reasons for not going to religious or spiritual gatherings. One big reason is not having enough time. People have busy lives with work and family, and it's hard to find time for religious events.
Some folks lose interest in their religion or beliefs. They might not feel connected anymore or may question what they used to believe in.
Health problems can also stop people from going to gatherings. If someone is sick or has trouble moving around, it can be tough to attend events. Mental health issues like anxiety or depression can make it hard to be in groups too.
Distance is another issue. Some people live far from their place of worship, so getting there can be a hassle.
Lastly, some people just have other things they'd rather do. They might want to spend their time on different activities or with different people.
So, there are various reasons why people skip religious or spiritual gatherings, but it often comes down to time, beliefs, health, distance, or personal priorities. It shows how diverse our world is and how people make different choices in life.
Here are the top 30 Excuses for not attending spiritual or religious gatherings:
1. Health Issues
Regrettably, I must refrain from attending the gathering due to recent health concerns. My doctor has advised me to avoid crowded places to prevent further illness and protect others from potential exposure.
2. Family Emergency
I find myself in the midst of a family emergency that demands my immediate attention and support. My family members rely on me during this challenging time, and I must prioritize their well-being.
3. Work Commitments
An unforeseen work obligation has arisen, and it coincides with the timing of the religious gathering. As much as I would love to attend, my professional responsibilities necessitate my presence elsewhere.
4. Prior Engagement
I genuinely regret not being able to participate in the religious gathering as I've previously committed to attending another event with friends or family. I believe in the importance of honoring my prior commitments.
5. Travel Plans
I had made longstanding travel arrangements that overlapped with the scheduled religious gathering. While I would have loved to be present, these plans were made well in advance and cannot be altered without significant consequences.
6. Personal Retreat
Lately, I've been feeling a strong inner calling to embark on a personal spiritual retreat during the time of the gathering. I believe that this period of introspection and solitude is essential for my spiritual growth.
7. Mental Health
Currently, I am prioritizing my mental health and well-being. I've been struggling with overwhelming stress and anxiety, and it's important for me to take this time to focus on self-care and recovery.
8. Transportation Issues
Unfortunately, I'm facing unexpected transportation challenges that prevent me from attending the gathering. My mode of transportation has become unreliable, and I wouldn't want to risk being stranded far from home.
9. Childcare Responsibilities
I have unforeseen childcare responsibilities that have arisen, making it impossible for me to attend the gathering. My family relies on me to provide care and support for my children during this time.
10. Conflict Resolution
I'm currently engaged in a personal conflict that requires my attention and efforts toward resolution. I believe that resolving this conflict is essential for my overall well-being and for maintaining harmonious relationships within my community.
11. Educational Commitments
I am pursuing a rigorous educational program, and I have an important exam or project due around the time of the gathering. My academic responsibilities require my full dedication at this moment.
12. Unexpected Financial Strain
I've encountered unexpected financial difficulties that prohibit me from participating in the gathering. It's essential for me to prioritize my financial stability and address these challenges responsibly.
13. Household Emergencies
There are urgent household repairs and maintenance issues that I need to address during the time of the gathering. These issues require immediate attention to ensure the safety and well-being of my family.
14. Volunteer Commitments
I've committed to volunteering for a cause that I'm deeply passionate about, and the volunteer work coincides with the timing of the gathering. Fulfilling this commitment is important to me.
15. Personal Development
I've enrolled in a personal development workshop or program that I believe will contribute significantly to my growth and well-being. Attending this event aligns with my current spiritual journey.
16. Elderly Care
I have elderly family members who require my assistance and care during the time of the gathering. It's my responsibility to ensure their comfort and well-being, especially when they need me the most.
17. Extreme Weather Conditions
Unforeseen extreme weather conditions, such as a severe storm or blizzard, have made it unsafe for me to travel to the gathering. My safety, as well as the safety of others, must be a priority.
18. Religious Conflicts
I'm currently navigating a period of spiritual exploration and growth that has led me to explore different religious or philosophical beliefs. I believe that taking some time to explore my spirituality independently is essential at this stage.
19. Legal Obligations
Unfortunately, I've encountered unexpected legal obligations that require my attention and presence during the time of the gathering. Compliance with these obligations is essential.
20. Community Service
I'm deeply committed to community service, and there's a service project that I've been actively involved in, which coincides with the gathering. Continuing this service is a priority for me.
21. Technology Issues
I'm experiencing unforeseen technological difficulties, such as internet or communication problems, which prevent me from participating in virtual gatherings. Without proper access, I wouldn't be able to engage meaningfully.
22. Loss of a Loved One
I am currently mourning the loss of a close friend or family member, and I'm not emotionally prepared to attend the gathering. Grieving and healing are my current priorities.
23. Personal Crisis
I'm facing a personal crisis that requires my immediate attention and emotional energy. It's crucial for me to address this crisis to ensure my well-being and stability.
24. Language Barrier
I'm experiencing language barriers that hinder my full participation in the gathering. I believe that understanding and communication are essential aspects of any spiritual experience.
25. Conflict of Beliefs
I'm in a stage of personal growth where I'm reevaluating my beliefs and spirituality. Attending the gathering may pose a conflict with my evolving worldview, and I need time for introspection.
26. Transportation Costs
Unforeseen financial constraints have made it difficult for me to cover transportation costs to attend the gathering. I need to manage my expenses responsibly.
27. Parental Responsibilities
As a parent, I have unexpected parental responsibilities that require my attention during the gathering. The well-being and needs of my children are my primary concern.
28. Professional Development
I'm currently participating in a professional development opportunity that will enhance my skills and career prospects. This investment in my professional future is paramount at this time.
29. Charitable Work
I've committed to a charitable project that directly impacts the lives of others and requires my involvement during the gathering. Contributing to this cause is a deeply held value of mine.
30. Personal Rest and Recovery
Finally, I believe that taking time for personal rest and recovery is essential for my overall well-being. I've been feeling physically and emotionally drained, and this period of rest will help me rejuvenate and return to my spiritual community with renewed energy.
Resources Consulted For This Article On: