In the world of professional growth and career development, networking is often hailed as the secret sauce that opens doors to opportunities and success.
Yet, remarkably, many of us find ourselves crafting excuses to avoid the prospect of networking within our industry.
Today, let's cut through the excuses and dive into the reasons why we might resist this vital step towards professional advancement.
No frills, just a clear exploration of why we hesitate to embrace the power of networking and why it's time to reconsider.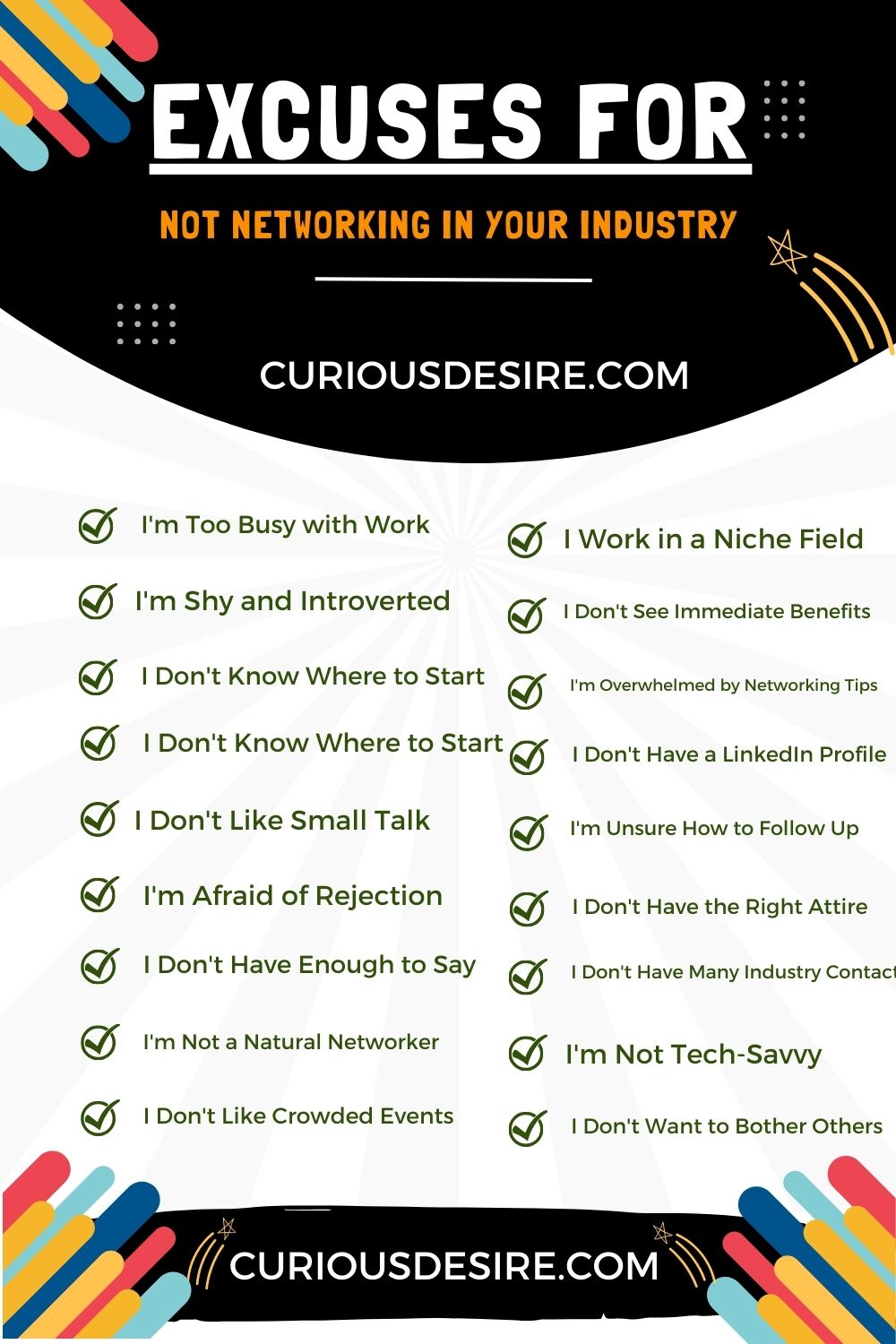 Top 30 Excuses for not Networking in your Industry
Networking is a powerful tool for career growth, but it's surprising how many folks still shy away from it. Here are the top 30 excuses people give for not networking in their industry.
From "I'm too busy" to "I don't know where to start," these excuses can hold you back from valuable opportunities. But remember, networking doesn't have to be intimidating.
It's about building relationships and learning from others in your field. So, let's ditch the excuses and start connecting with people who can help us succeed.
Here are the Top 30 Excuses for not Networking in your Industry:
1. I'm Too Busy with Work
A common excuse for not networking is a heavy workload. However, networking can provide opportunities to streamline your work, gain support, and discover new perspectives that can ultimately enhance your efficiency.
2. I'm Shy and Introverted
Social anxiety and introversion can make networking intimidating. Nonetheless, understanding that networking doesn't always mean large gatherings can help introverts find comfortable ways to connect with others in their industry.
3. I Don't Know Where to Start
Some people may feel overwhelmed by the prospect of networking due to a lack of direction. Identifying specific goals and seeking out industry events or online communities can provide a clear starting point.
4. I Don't Have Time for Networking Events
Busy schedules can hinder attendance at networking events. However, dedicating even a small amount of time each week to online networking or attending occasional events can still yield valuable connections.
5. I'm Not Confident in My Abilities
A lack of self-confidence can deter people from networking. Remember that networking is an opportunity to learn and grow, and practice can help improve confidence over time.
6. I Have a Full Social Life
A bustling personal life can make some individuals feel that they already have a strong network. While personal connections are important, professional networking offers distinct advantages for career growth.
7. I'm Satisfied with My Current Job
Contentment in one's current job may lead to complacency, resulting in a lack of motivation to network. However, networking can help secure your current position and prepare for future opportunities.
8. I Don't Want to Seem Opportunistic
Some people fear coming across as opportunistic when networking. Authenticity and a genuine interest in others' work can help mitigate this concern.
9. I Don't Have Anything to Offer
Feeling that you have nothing valuable to offer in networking can hold you back. Remember that networking is a two-way street, and you can provide insights, support, and collaboration opportunities.
10. I'm Too Far Along in My Career
Professionals with many years of experience may believe they don't need to network. However, staying connected can prevent professional isolation and uncover new learning opportunities.
11. I Don't Like Small Talk
Disliking small talk can make networking events unappealing. Focus on deeper, meaningful conversations by asking open-ended questions and actively listening.
12. I'm Afraid of Rejection
Fear of rejection can paralyze networking efforts. Recognize that not every interaction will lead to a meaningful connection, and rejection is a normal part of networking.
13. I Don't Want to Bother Others
Some individuals hesitate to network out of fear of bothering others. Networking is built on the mutual exchange of information and support, and professionals often appreciate opportunities to connect.
14. I'm Not Tech-Savvy
Lack of familiarity with online networking platforms can be an excuse. However, many resources and tutorials are available to help individuals become more tech-savvy networkers.
15. I Don't Have Many Industry Contacts
A limited number of industry contacts can be discouraging. Start by reaching out to your current contacts and gradually expand your network through referrals and introductions.
16. I Don't Want to Be Seen as a Brown-Noser
A fear of being perceived as a "brown-noser" can deter networking efforts. Authenticity and building relationships based on genuine interest can help dispel this concern.
17. I Don't Have the Right Attire
Worries about dress code at networking events can be a barrier. Dressing professionally is important, but it's equally crucial to focus on building meaningful connections.
18. I'm Unsure How to Follow Up
The prospect of following up after networking events can be daunting. Developing a follow-up strategy, such as sending a personalized message or arranging a coffee chat, can simplify this process.
19. I Don't Have a LinkedIn Profile
Not having a LinkedIn profile can make online networking seem impossible. Creating a profile and optimizing it with relevant information can enhance your online presence.
20. I'm Overwhelmed by Networking Tips
Information overload from networking tips and advice can be paralyzing. Start with the basics and gradually incorporate more advanced strategies as you become more comfortable.
21. I Don't Want to Mix Business with Personal Life
A desire to keep personal and professional life separate can deter networking. However, setting boundaries and selectively sharing professional interests can strike a balance.
22. I Don't See Immediate Benefits
Some individuals expect instant results from networking and become discouraged when they don't see immediate benefits. Remember that networking is a long-term investment in your career.
23. I'm Not Good at Remembering Names
Difficulty remembering names can make networking awkward. Practice active listening and use memory aids, like repeating names during the conversation.
24. I Work in a Niche Field
Working in a niche field may lead to the belief that networking opportunities are limited. However, niche industries often have specialized events and communities that can be highly valuable.
25. I Don't Know What to Talk About
A lack of conversation topics can create anxiety. Preparing a few conversation starters related to your industry or recent industry news can help alleviate this concern.
26. I Don't Like Crowded Events
Crowded networking events can be overwhelming. Seek out smaller, more intimate gatherings or online forums that align with your preferences.
27. I'm Not a Natural Networker
Believing that networking is a talent you're born with can be discouraging. Networking skills can be developed and refined over time with practice and learning.
28. I'm Worried About Competing with Peers
Fearing competition from peers within your industry can lead to hesitation. Remember that networking can lead to collaborations and opportunities for growth, rather than solely competition.
29. I Don't Have Enough to Say
Feeling that you lack substantial contributions to industry discussions can be a barrier. Engaging in ongoing learning and staying informed can boost your confidence in networking conversations.
30. I'm Nervous About Networking with Higher-Ups
Networking with higher-ranking professionals can be intimidating. Approach these interactions with respect and a focus on learning, recognizing that senior colleagues were once in your position.
Resources Consulted For This Article On