Addressing the issue of laziness is important as it can impact productivity and personal growth. While there might be reasons or explanations for periods of reduced motivation or inactivity, seeking excuses for laziness is not a productive approach.
Instead, it's more constructive to understand the root causes of laziness and work towards developing habits and strategies that promote productivity and motivation.
In this guide, we emphasize the importance of taking responsibility for one's actions and offer insights into how to overcome laziness by fostering discipline, setting goals, and creating a conductive environment for success.
Want excuses for being lazy? Here it is.
When it comes to addressing laziness, looking for excuses is not the solution. Laziness can affect productivity and personal growth, and it's essential to confront it with a proactive mindset. Instead of seeking excuses, consider exploring ways to overcome laziness and boost motivation.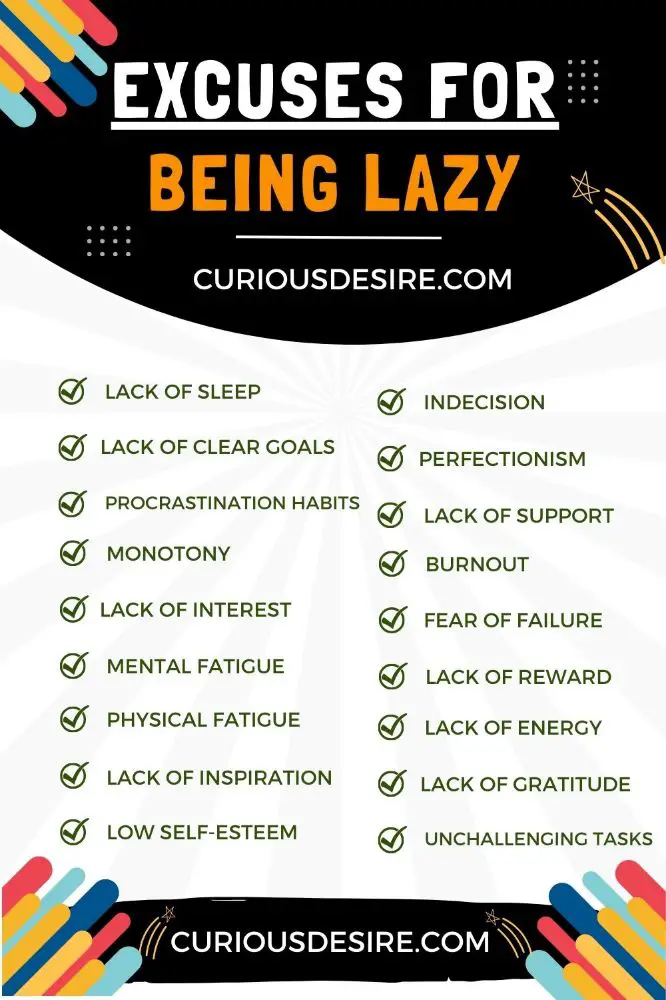 This guide offers insights into understanding the root causes of laziness and provides practical strategies for fostering discipline, setting achievable goals, and creating an environment conducive to productivity.
By embracing responsibility and taking steps to combat laziness, you can work towards a more fulfilling and productive life without the need for excuses.
Here are some of the following excuses which are given below:
1. LACK OF SLEEP
A lack of adequate sleep can lead to feelings of laziness and low energy levels. When your body is not well-rested, it becomes challenging to stay motivated and focused.
To address this issue, prioritize a consistent sleep schedule and create a sleep-friendly environment. Aim for 7-9 hours of quality sleep per night to improve your energy levels and overall motivation.
2. OVERWHELMING TASK LIST
An overwhelming to-do list can be demotivating, making you feel lazy as you don't know where to start.
Break down your tasks into smaller, manageable steps and prioritize them. Completing smaller tasks can provide a sense of accomplishment and motivate you to tackle larger ones.
3. LACK OF CLEAR GOALS
When you lack clear goals or a sense of purpose, it's easy to feel unmotivated and lazy. Take time to set specific, achievable goals that inspire you. Having a clear direction can provide the motivation needed to overcome laziness.
4. PROCRASTINATION HABITS
Habitual procrastination can lead to feelings of laziness. Putting off tasks repeatedly can create a cycle of inaction.
Combat procrastination by breaking tasks into smaller chunks, setting deadlines, and using productivity techniques like the Pomodoro method.
5. POOR TIME MANAGEMENT
Inefficient time management can result in feeling overwhelmed and unproductive, leading to laziness.
Improve your time management skills by creating a schedule or to-do list, prioritizing tasks, and eliminating time-wasting habits.
6. LACK OF INTEREST
A lack of interest in the tasks at hand can make you feel lazy. When you're not passionate about something, it's challenging to find the motivation to engage with it.
Try to find aspects of the task that interest you, or consider delegating it if possible. Alternatively, set a reward for yourself upon completion to boost motivation.
7. MENTAL FATIGUE
Mental exhaustion from a demanding job or responsibilities can lead to feeling lazy. Incorporate relaxation techniques like mindfulness, meditation, or breaks during your day to recharge mentally and combat laziness.
8. PHYSICAL FATIGUE
Physical exhaustion can also contribute to laziness. A tired body can make even the simplest tasks feel burdensome.
Prioritize regular exercise, maintain a balanced diet, and ensure you get enough rest to combat physical fatigue and boost motivation.
9. LACK OF INSPIRATION
A lack of inspiration or a creative rut can lead to feelings of laziness and a lack of motivation. Seek out sources of inspiration, whether through art, music, literature, or engaging with creative communities. Surrounding yourself with inspiring content and people can reignite your motivation.
10. LOW SELF-ESTEEM
Low self-esteem can lead to feelings of worthlessness, which in turn can make you feel lazy or unmotivated.
Work on building your self-esteem through self-affirmation, setting achievable goals, and seeking support from friends, family, or a therapist.
11. ENVIRONMENTAL FACTORS
An unorganized or cluttered environment can contribute to feelings of laziness and a lack of motivation.
Declutter your space, create an organized workspace, and eliminate distractions to create an environment conducive to productivity.
12. LACK OF ACCOUNTABILITY
A lack of accountability can lead to laziness as there is no external pressure to complete tasks. Seek an accountability partner or use productivity apps that help you track and manage your goals, keeping you on track and motivated.
13. PERFECTIONISM
Striving for perfection can lead to procrastination and feelings of laziness, as tasks may seem too daunting to start.
Shift your focus from perfection to progress. Understand that it's okay to make mistakes and that taking action, even imperfect action, is better than doing nothing.
14. LACK OF SUPPORT
A lack of emotional or social support can lead to feelings of isolation and laziness. Reach out to friends or join support groups to connect with others who can provide encouragement and motivation. Sharing your goals and progress with others can help keep you accountable.
15. BURNOUT
Burnout from overextending yourself physically or mentally can result in feelings of extreme fatigue and laziness.
Prioritize self-care and set boundaries to prevent burnout. Taking time for relaxation and recharging is essential for maintaining motivation and overcoming laziness.
16. FEAR OF FAILURE
Fear of failure can paralyze you and lead to procrastination, making you feel lazy. Embrace failure as a natural part of growth and learning. Understand that making mistakes is a valuable opportunity to improve.
17. LACK OF REWARD
Without the promise of a reward or positive outcome, it's easy to feel unmotivated and lazy.
Set up a rewards system for completing tasks, no matter how small. Treat yourself to something enjoyable when you achieve your goals to boost motivation.
18. NEGATIVE SELF-TALK
Negative self-talk and self-criticism can erode your self-esteem and lead to laziness. Replace negative self-talk with positive affirmations and self-encouragement. Practice self-compassion and remind yourself of your capabilities.
19. LACK OF ENERGY
Physical or mental health issues that result in low energy levels can contribute to feeling lazy.
Prioritize your health and seek medical advice if needed. Address underlying health issues to regain your energy and motivation.
20. LACK OF INSPIRING ROLE MODELS
A lack of role models or mentors can make it challenging to find motivation and direction.
Seek out inspirational figures, whether in your field of interest or life in general. Learning from their experiences and success stories can provide motivation and guidance.
21. UNREALISTIC EXPECTATIONS
Unrealistic expectations or setting overly ambitious goals can lead to feelings of overwhelm and laziness.
Set achievable, realistic goals that align with your abilities and resources. Gradual progress is more sustainable and motivating than attempting massive leaps.
22. HABITUAL PROCRASTINATION
Habitual procrastination can create a cycle of inaction and laziness, making it challenging to break free.
Break tasks into smaller steps, use time management techniques, and practice discipline to combat procrastination and regain motivation.
23. LACK OF GRATITUDE
A lack of gratitude for your current circumstances and achievements can lead to feelings of complacency and laziness.
Practice gratitude daily by acknowledging your accomplishments and the positive aspects of your life. Gratitude can shift your mindset toward motivation and appreciation.
24. UNCHALLENGING TASKS
Engaging in unchallenging or monotonous tasks can lead to boredom and laziness. Seek ways to make tasks more engaging or challenging. Incorporate variety and creativity to maintain your interest and motivation.
25. UNHEALTHY LIFESTYLE CHOICES
Unhealthy lifestyle choices, such as a sedentary lifestyle or poor nutrition, can contribute to low energy levels and laziness.
Prioritize a balanced diet, regular exercise, and a healthy lifestyle to boost your energy and motivation.
26. LACK OF SOCIAL SUPPORT
A lack of encouragement or support from friends or family can lead to feelings of laziness.
Share your goals with your loved ones and ask for their support and encouragement. Their positive reinforcement can motivate you to take action.
27. INDECISION
Indecision and the inability to make choices can result in feeling stuck and lazy.
Practice making decisions confidently, even if they are small ones. Over time, decisive action can boost your overall motivation.
28. MONOTONY
Engaging in monotonous routines without variety or novelty can lead to feelings of lethargy and laziness.
Introduce variety and spontaneity into your daily life. Try new activities, explore different interests, and break free from the monotony to regain motivation.
29. LACK OF STRUCTURE
A lack of structure and routine can result in wasted time and a sense of aimlessness.
Create a daily schedule or routine that includes dedicated time for work, relaxation, and self-improvement. Having structure can provide a sense of purpose and combat laziness.
30. NEGATIVE ENVIRONMENTAL INFLUENCES
A negative or unsupportive environment can affect your mindset and lead to feelings of laziness.
Evaluate your environment and seek positive influences. Surround yourself with people, resources, and settings that encourage productivity and motivation.
Each of these reasons or excuses can serve as a starting point for individuals looking to overcome feelings of laziness and regain motivation. Remember that overcoming laziness often involves a combination of self-awareness, discipline, and positive changes in mindset and lifestyle.
Resources Consulted For Research On This Article