When it comes to owning a gun, understanding the reasons behind it is crucial. Owning a firearm is a significant responsibility and a decision that should be carefully considered.
While there are valid excuses for owning a gun, such as personal safety or hunting, it's essential to abide by local laws and regulations, ensuring that ownership is lawful and safe.
This guide explores some of the legitimate reasons for gun ownership, emphasizing the importance of responsible gun ownership within the bounds of the law.
Most familiar 30 excuses for owning a gun
Here, we delve into some of the most common and legitimate reasons for gun ownership. These familiar excuses typically revolve around personal safety and protection, hunting and sport shooting, and in some cases, collectors who have a passion for firearms as historical or artistic artifacts.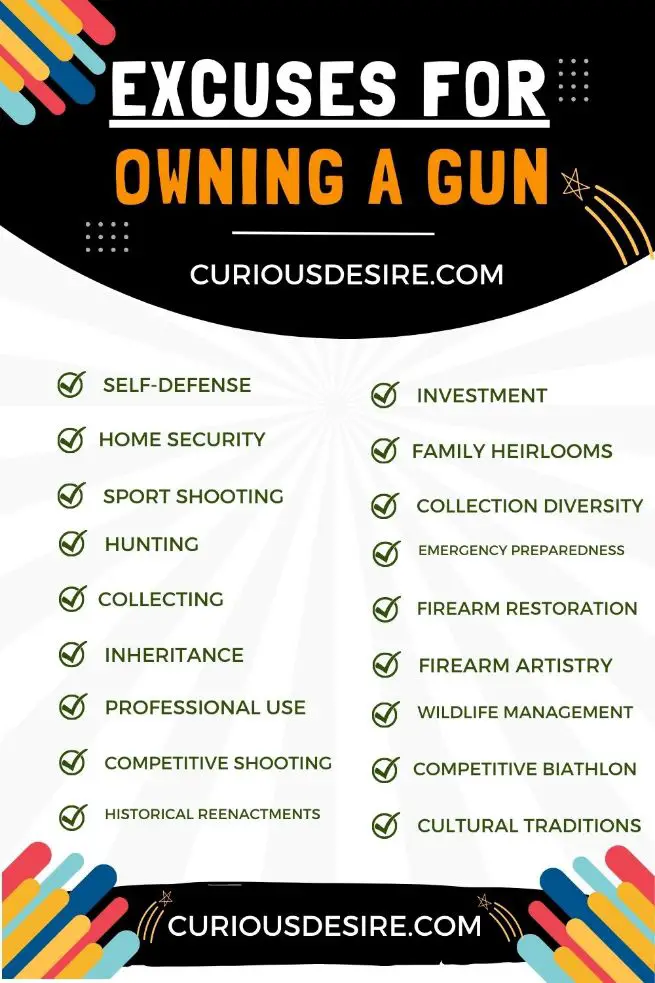 However, it's crucial to remember that responsible gun ownership should always go hand in hand with strict adherence to local laws and regulations, as well as a commitment to safety, education, and training to ensure that firearms are handled responsibly and with respect for the potential dangers they pose.
Here are some of the following excuses which are given below:
1. SELF-DEFENSE
You may need to own a gun for self-defense. In certain areas or situations, personal safety can be a concern. Having a firearm can provide a means to protect yourself and your loved ones from potential threats. However, it's essential to understand the local laws and regulations regarding gun ownership for self-defense purposes.
When considering self-defense as a reason to own a gun, it's crucial to prioritize safety and responsible firearm handling. Proper training and secure storage are essential to ensure that the firearm serves its intended purpose while minimizing any risks.
2. HOME SECURITY
Owning a gun for home security is a common consideration. A firearm can act as a deterrent to potential intruders and can provide a sense of security for homeowners.
However, using a firearm for home security should be a last resort, and it's vital to prioritize safety and responsible gun ownership.
To use a gun effectively for home security, it's crucial to receive proper training in firearm use and safety. Additionally, secure storage is essential to prevent accidents or unauthorized access.
Understanding the laws and regulations surrounding gun ownership and use within your jurisdiction is also crucial.
3. SPORT SHOOTING
Many individuals own guns for sport shooting purposes. Sports such as target shooting, skeet shooting, and competitive shooting require the use of firearms. Owning a gun for sport shooting can be a rewarding and enjoyable hobby, promoting skill development, discipline, and camaraderie with fellow enthusiasts.
If you intend to own a gun for sport shooting, it's essential to engage in proper training and follow safety guidelines. Participating in shooting clubs or organizations can provide valuable resources and opportunities to improve your skills. Always adhere to local laws and regulations related to sport shooting and firearm ownership.
4. HUNTING
Hunting is a traditional and regulated activity where owning a gun is a necessity. For individuals who engage in hunting, firearms are essential tools used for harvesting game animals in a safe and ethical manner. Hunters must comply with hunting seasons, bag limits, and other regulations in their respective regions.
When owning a gun for hunting purposes, it's imperative to be well-educated about local hunting laws, safety practices, and ethical hunting principles. Additionally, hunters should maintain their firearms responsibly, ensuring they are in proper working order and safely stored when not in use.
5. COLLECTING
Firearm collecting is a hobby for many enthusiasts who appreciate the historical, cultural, and artistic aspects of firearms. Collectors may acquire firearms for their historical significance, unique design, or rarity. Owning firearms for collecting purposes can be a legitimate and culturally enriching pursuit.
If you are interested in firearm collecting, it's important to research and learn about the specific firearms you wish to collect. Understanding the history, provenance, and value of firearms in your collection is essential. Compliance with local laws and regulations governing firearm collections is also crucial to avoid legal issues.
6. INHERITANCE
Some individuals come into possession of firearms through inheritance. In such cases, you may not have actively chosen to own a gun but have acquired them as part of an estate or bequest from a family member. Handling inherited firearms responsibly is important to ensure their safe and legal ownership.
If you inherit firearms, it's advisable to familiarize yourself with your local laws and regulations regarding the transfer and ownership of inherited firearms. Proper storage and maintenance of inherited firearms are essential to prevent accidents and comply with legal requirements.
7. PROFESSIONAL USE
Certain professions require individuals to own firearms as part of their job responsibilities. This includes law enforcement officers, security personnel, and armed forces personnel. In these cases, firearm ownership is a necessary component of the profession.
For those in professions that require firearm ownership, rigorous training and adherence to strict safety protocols are paramount. Professionals must also stay up-to-date with relevant laws and regulations governing the use and possession of firearms in their line of work.
8. COMPETITIVE SHOOTING
Competitive shooting sports such as practical shooting, three-gun, and precision rifle shooting demand specialized firearms for participants to compete effectively. Individuals who engage in competitive shooting may need to own guns tailored to their chosen discipline.
If you're interested in competitive shooting, it's essential to seek out training and competition opportunities within your chosen sport. Maintaining your firearms in top condition and complying with competition rules and regulations are essential for success in this field.
9. FILM AND THEATRICAL PRODUCTION
The entertainment industry often requires the use of firearms as props in film and theatrical productions. Firearms used in these settings are typically modified to fire blanks or are entirely non-functional, but they play a crucial role in creating realistic scenes.
If you work in film or theatrical production, it's important to be knowledgeable about the safe handling of firearms on set. Understanding the distinction between real firearms and props is critical to ensuring the safety of cast and crew.
10. FIREARM SAFETY EDUCATION
Some individuals may own firearms as part of their commitment to firearm safety education and training. Educators, instructors, and advocates for responsible gun ownership may maintain a collection of firearms to facilitate training and awareness campaigns.
If you're involved in firearm safety education, it's essential to emphasize responsible gun ownership, safe handling, and compliance with local laws. Staying updated on the latest safety practices and educational resources is vital to effectively promote firearm safety.
11. GUNSMITHING AND FIREARM MODIFICATION
Gunsmiths and firearm enthusiasts with expertise in customization and modification may own firearms for the purpose of working on them. This includes repairing, modifying, and customizing firearms to meet specific preferences and needs.
If you're a gunsmith or enthusiast involved in firearm modification, it's crucial to operate within the bounds of local laws and regulations. Ensuring that any modifications comply with safety standards is also essential to prevent accidents.
12. HISTORICAL REENACTMENTS
Historical reenactors use firearms as part of their efforts to recreate historical events and periods accurately. Owning firearms in this context allows reenactors to provide a realistic portrayal of historical scenarios.
For those engaged in historical reenactments, it's essential to be knowledgeable about the historical accuracy of firearms used in specific time periods. Safety and compliance with laws and regulations governing historical reenactments are crucial.
13. PREVENTING ILLEGAL ACCESS
Some individuals may own firearms to prevent their illegal acquisition or use by others. In cases where firearms are inherited or acquired through various means, owners may retain them to ensure they are not misused.
When owning firearms for the purpose of preventing illegal access, it's essential to secure them properly. Using secure storage options, such as gun safes or lockboxes, can help prevent unauthorized use or theft.
14. INVESTMENT
Firearms, particularly antique or collectible models, can appreciate in value over time, making them attractive investments. Some individuals purchase firearms as part of a diversified investment portfolio, aiming to benefit from potential appreciation.
If you're considering firearms as an investment, it's crucial to thoroughly research the firearms market and trends. Additionally, understanding the factors that influence firearm value, such as rarity, historical significance, and condition, is essential for making informed investment decisions.
15. FAMILY HEIRLOOMS
Firearms passed down through generations may hold sentimental value as family heirlooms. These firearms often have historical or personal significance within a family and are treasured as part of its heritage.
When owning firearms as family heirlooms, it's important to ensure that they are maintained and preserved for future generations. Understanding the stories and histories associated with these firearms can add to their sentimental value within the family.
16. FIREARMS FOR DISABLED INDIVIDUALS
Some individuals with disabilities may rely on modified firearms for self-defense, hunting, or sport shooting. Customized firearms may accommodate specific physical needs and enable disabled individuals to enjoy these activities safely.
For disabled individuals who require modified firearms, it's essential to work with experts who can adapt firearms to meet their unique requirements. Ensuring compliance with local laws and safety measures is paramount in these cases.
17. COLLECTION DIVERSITY
Gun enthusiasts may choose to diversify their firearm collections by acquiring various types of firearms, including handguns, rifles, shotguns, and more. This diversification allows collectors to appreciate the different designs, functions, and historical significance of various firearms.
When building a diverse collection, collectors should research and acquire firearms with specific characteristics or attributes that interest them. Proper storage and maintenance are essential to preserve the value and functionality of each firearm in the collection.
18. COMPETITIVE SHOOTING TEAMS
Competitive shooting teams and clubs often require members to have their firearms, which are specialized for their respective shooting disciplines. Owning firearms is necessary for participating in team-based competitive shooting events.
If you're part of a competitive shooting team, you should be well-versed in the rules and regulations of your chosen sport. Maintaining your firearms in optimal condition and collaborating with fellow team members for training and competitions are key aspects of this pursuit.
19. SEARCH AND RESCUE TEAMS
Search and rescue teams, including volunteer organizations and professional responders, may use firearms as part of their equipment when operating in remote or dangerous environments. Firearms can provide additional protection and safety for team members during rescue missions.
For those involved in search and rescue teams that use firearms, it's essential to receive appropriate training and certification in firearm use and safety. Ensuring compliance with relevant laws and regulations governing the use of firearms in search and rescue operations is crucial.
20. ANTIQUE FIREARM COLLECTING
Collecting antique firearms is a specialized and historically significant pursuit. Antique firearms are often valued for their unique craftsmanship, historical relevance, and cultural heritage. Collectors may acquire antique firearms to preserve and appreciate this heritage.
When collecting antique firearms, it's vital to research the specific time periods, manufacturers, and historical contexts of the firearms in your collection. Proper documentation and preservation techniques are essential to maintain their historical integrity and value.
21. AMMUNITION TESTING AND DEVELOPMENT
Individuals involved in ammunition development and testing may own firearms to conduct experiments and assess the performance of various ammunition types. This work is crucial for enhancing ammunition quality, safety, and effectiveness.
If you're engaged in ammunition testing and development, it's essential to adhere to safety protocols and follow established industry standards. Proper record-keeping and documentation of test results are also important for advancing ammunition technology.
22. EMERGENCY PREPAREDNESS
Some individuals acquire firearms as part of their emergency preparedness plans. In situations where access to law enforcement or assistance may be limited, firearms can serve as tools for protection and survival.
When owning firearms for emergency preparedness, it's important to prioritize safety and responsible firearm handling. Developing a comprehensive emergency plan that includes firearms training and secure storage is crucial to effectively use firearms for this purpose.
23. FIREARM RESTORATION
Firearm restoration enthusiasts may acquire firearms in various conditions with the intention of restoring them to their original or functional state. This hobby involves disassembling, repairing, and refurbishing firearms to their former glory.
If you're passionate about firearm restoration, it's essential to have a good understanding of gunsmithing techniques, firearm history, and the necessary tools and equipment. Complying with laws and regulations regarding firearm ownership and restoration is also vital.
24. FILM AND THEATRICAL ARMORERS
Film and theatrical armorers are responsible for supplying and maintaining firearms used as props in movies, television shows, and theatrical productions. Their expertise ensures that firearms are safe and functional for use in entertainment productions.
If you work as a film or theatrical armorer, it's imperative to have in-depth knowledge of firearm safety and regulations in the entertainment industry. Ensuring that firearms used in productions are modified and handled safely is essential for the safety of the cast and crew.
25. FIREARM ARTISTRY
Firearm artisans and craftsmen create custom firearms that combine artistic design with functional performance. These unique firearms showcase the skill and creativity of the craftsmen and may be used for display or as collector's items.
If you're a firearm artist, it's crucial to have a deep understanding of both firearm mechanics and artistic techniques. Complying with relevant regulations and ensuring the safe storage of artistic firearms are important considerations.
26. WILDLIFE MANAGEMENT
In some regions, landowners and wildlife managers may own firearms to assist in wildlife management efforts. Firearms can be used for humane population control, protecting crops and livestock from wildlife damage, and reducing the risk of disease transmission between wildlife and domestic animals.
For those involved in wildlife management, it's essential to work in conjunction with local authorities and adhere to wildlife conservation and firearm safety guidelines. Obtaining the necessary permits and following ethical practices are integral to responsible wildlife management.
27. COMPETITIVE BIATHLON
Biathlon is a winter sport that combines cross-country skiing and rifle shooting. Athletes competing in biathlon events require specialized firearms designed for precision shooting while participating in strenuous physical activity.
If you're a competitive biathlete or aspire to be one, it's essential to receive training in both skiing and rifle marksmanship. Adhering to the rules and regulations of biathlon competitions and maintaining your equipment are key aspects of this demanding sport.
28. PROFESSIONAL TRAINING
Firearm instructors and trainers need access to firearms for teaching and instructing individuals on proper firearm use and safety. These professionals play a crucial role in ensuring responsible firearm ownership and safe handling.
For those engaged in firearm training, it's essential to be well-versed in safety protocols and possess the necessary qualifications and certifications. Maintaining a high standard of instruction and adhering to applicable laws and regulations are vital for effective training.
29. CULTURAL TRADITIONS
In some cultures and regions, firearm ownership is deeply rooted in tradition and heritage. Firearms are cherished as symbols of cultural identity and may play a role in ceremonies, celebrations, or rituals.
When firearms are valued as part of cultural traditions, it's important to respect and preserve these customs while adhering to local laws and regulations. Understanding the cultural significance and history of firearms within the context of tradition is essential.
30. FISH AND WILDLIFE ENFORCEMENT
Fish and wildlife enforcement officers, also known as game wardens, often use firearms as part of their duties to enforce conservation and wildlife protection laws. These officers may encounter situations where they need to protect themselves or address illegal activities related to wildlife.
For individuals working in fish and wildlife enforcement, comprehensive training in firearm use and safety is critical. They must also stay updated on relevant laws and regulations governing their responsibilities. Properly maintaining their firearms ensures they are ready for duty when needed.
In all cases of firearm ownership, responsible handling, adherence to laws and regulations, and ongoing education about safety and best practices are fundamental principles. Ownership should align with the specific purpose and needs of the individual, always prioritizing safety and compliance.
Resources Consulted For Research On Excuse For Owning A Gun