Weddings hold immense significance in one's life, demanding utmost punctuality. However, unforeseen circumstances may arise, causing delays. Whether you're the bride, groom, or guest, arriving late at a wedding is strongly discouraged.
It can lead to unnecessary stress, anxiety, disappointment, and frustration for everyone involved. Unlike making excuses for work lateness, being tardy to a wedding is far more serious. To prevent spoiling this special occasion, here are some potential excuses for being late to a wedding that could save the day, along with graceful tips on handling such situations.
Our Top Excuses For Being Late To A Wedding
In times of urgency when you find yourself running late to a wedding, you may require one of these magical excuses to salvage both your reputation and your friendship/relationship.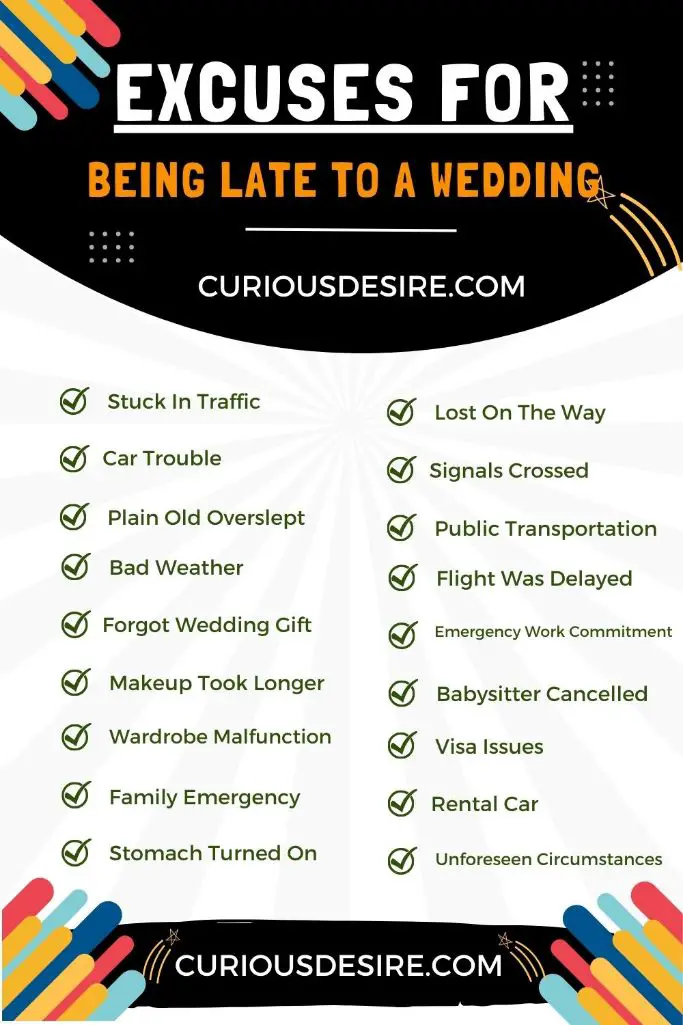 1. You Got Stuck In Traffic 
It's a classic, but traffic genuinely can be a reason for wedding lateness. Whether it's due to a car accident, road construction, or heavy congestion, allocating extra travel time is crucial.
To circumvent traffic woes, consider utilizing a GPS app to explore alternative routes or simply depart earlier than scheduled to ensure a timely arrival.
2. You Had Car Trouble
Automobiles may break down at the most inconvenient moments, and a wedding day is no exception. A flat tire, dead battery, or mechanical issue can all lead to delays, but it's vital to remain composed and seek assistance promptly.
Carrying essentials like a spare tire, jumper cables, or a roadside assistance plan can prove invaluable in handling unforeseen car problems during such crucial events.
3. You Plain Old Overslept
Hitting the snooze button and oversleeping can be tempting, especially after late-night wedding celebrations. Yet, oversleeping can lead to significant delays.
To counter this, it's crucial to set multiple alarms or seek assistance from someone else to ensure you wake up on time.
4. Bad Weather Made You Late
Unfavorable weather conditions, like heavy rain, snow, or hurricanes, can result in unforeseen delays and even event cancellations. When traveling during inclement weather, it becomes imperative to stay informed by checking the weather forecast and making appropriate plans ahead of time.
5. You Forgot The Wedding Gift
Forgetting crucial items, such as the wedding gift or rings, can lead to significant delays. To prevent such mishaps, it's vital to create a checklist and thoroughly double-check everything before heading to the wedding. This simple practice ensures a smooth departure without any unnecessary delays.
Excuses For Being Late To Your Own Wedding
Finding yourself running late to your own wedding can be quite a predicament. It's reminiscent of what your old boss/teacher/parents used to say, "That boy/girl will be late for their own wedding."
Now, as fate would have it, the prophecy seems to be coming true. Nevertheless, fear not, for you'll require a handy excuse to explain this delay on your special day.
1. Your Hair And Makeup Took Longer Than Expected
It's a well-known fact that hair and makeup can often consume more time than anticipated, leading to substantial delays on your wedding day. To circumvent this issue, it's crucial to allocate ample time for hair and makeup and establish a contingency plan for any possible delays.
A trial run prior to the wedding day can provide valuable insights into the time required, allowing you to plan accordingly and ensure a smooth and timely preparation process.
2. You Experienced A Wardrobe Malfunction
Experiencing a clothing issue, such as a torn dress or a broken zipper, can result in notable delays on your wedding day. To avert this situation, it's wise to have a backup outfit or accessories readily available in case of a wardrobe malfunction.
Conducting a dress rehearsal before the wedding day ensures everything fits perfectly, providing an extra layer of assurance against any last-minute attire mishaps.
3. You Had A Family Emergency
A family emergency, like an abrupt illness or injury, can lead to considerable delays on your wedding day. In such situations, it is crucial to prioritize family matters and promptly communicate with the wedding party to avoid any confusion.
Preparing a backup plan in case of a family emergency, such as rescheduling the wedding or arranging a small ceremony with immediate family, can provide a sense of security during uncertain times.
4. Your Stomach Turned On You
On your wedding day, nerves and anxiety are no strangers, and they may lead to some extra time spent in the restroom.
We've all experienced those "pre-event" moments that can cause unexpected lateness, despite our best efforts to be punctual.
Excuses For Being Late To A Wedding Reception
Punctuality is equally vital not just for the wedding ceremony but also for the wedding reception. Being late to the reception can result in frustrations from the bride, groom, your significant other, and their family. In such a situation, quick thinking is essential to come up with a plausible excuse for the delay. Otherwise, you may find yourself learning how to manage a wedding day disaster effectively.
1. You Got Lost On The Way
While traveling to a wedding in an unfamiliar area, getting lost is a possibility. To prevent this, it's crucial to plan your route in advance and rely on a GPS app for guidance.
In case you find yourself lost, don't hesitate to call for assistance and remember to remain calm throughout the situation.
12. You Got Your Signals Crossed With The Wedding Party
Miscommunication with the wedding party, like not having precise information about the ceremony's location or time, can result in substantial delays.
To steer clear of such misunderstandings, it is vital to ensure clear communication and clarify all details with the wedding party well before the wedding day. This proactive approach will help prevent any unnecessary delays and ensure a smooth and organized event.
3. Public Transportation Screwed You
Depending on public transportation to reach the wedding venue may entail inevitable delays. Trains or buses could be running late, and cancellations or reroutes might occur unexpectedly.
To navigate this challenge successfully, it's essential to plan your route well in advance and allow extra time by leaving earlier than required to accommodate any potential delays. Alternatively, if you don't want to take any chances, consider opting for a cab – don't worry about the cost; it's better than being late!
More Reasons For Being Late To A Wedding
1. Your Flight Was Delayed
When traveling by air to attend a wedding, flight delays can occur due to weather conditions or mechanical problems. To steer clear of being stranded at the airport, it's crucial to meticulously plan your travel itinerary and allow for ample time in your arrival schedule to account for any unforeseen delays.
Being well-prepared will help ensure a smooth journey and enable you to arrive at the wedding on time without unnecessary stress.
2. You Had An Emergency Work Commitment
Unforeseen work emergencies can pose significant challenges when it comes to being punctual for an event. Ideally, you would have communicated with your employer well in advance about needing time off and the importance of being on time for the occasion.
However, in the event of a genuine emergency where you're the only person available for the job, you might find yourself having to arrive at the event, such as a wedding ceremony, halfway through it.
3. The Babysitter Cancelled
One of the classic yet effective reasons is childcare issues, especially if you have children. Such unexpected situations can lead to significant delays on your wedding day.
To tackle this, it's crucial to have a solid backup plan in place. Enlist the support of a trusted friend or family member who can step in to help and ensure everything runs smoothly despite any unforeseen childcare challenges.
4. Passport Or Visa Issues
Attending a destination wedding or traveling internationally can bring about delays due to passport or visa issues. To avoid such setbacks, it's vital to meticulously plan your travel itinerary and ensure you possess all the required documentation well in advance before embarking on your journey.
This preparation will help you navigate smoothly through customs and immigration, ensuring a timely arrival at the wedding destination.
5. You Got Stuck Waiting For A Rental Car
When renting a car to attend a wedding, unexpected car rental issues can lead to frustrating delays. To tackle this challenge, having a backup plan is essential.
Consider keeping an alternative option in mind, like renting from a different company or utilizing ride-sharing services such as Uber or Lyft. This way, you can swiftly address any rental problems and ensure a smooth and punctual arrival at the wedding venue.
6. Unforeseen Circumstances
Just as freight insurance considers unforeseen events, the same applies when you arrive late to your friend's wedding.
Unpredictable circumstances, like a natural disaster or a power outage, can lead to substantial delays on your special day.
7. You Ran Into An Issue With Your Personal Grooming
While some may scoff at personal grooming issues like a broken nail or a missing earring as an excuse for lateness, they can genuinely cause delays. It might be wise to consider an alternative reason, but in a pinch, you could give this excuse a shot.
In Conclusion
Undoubtedly, being late to a wedding is far from ideal, and making every effort to be on time is crucial. However, if circumstances do lead to lateness, handling the situation gracefully becomes essential.
Whether you're a guest or the bride or groom, choosing the right excuse can make a significant difference. Take note of these top excuses for being late to a wedding, along with tips on handling them with ease and confidence.

FAQs
1. Is it acceptable to arrive late to a wedding?
While arriving late to a wedding is generally discouraged, it's essential to prioritize punctuality to show respect for the couple's special day. However, life can be unpredictable, and if you find yourself running late, having a genuine excuse can help mitigate any discomfort.
2. What are some valid reasons for being late to a wedding?
Some valid reasons for being late to a wedding include unavoidable traffic delays, car trouble, getting lost on the way, unexpected family emergencies, or unforeseen work commitments. It's crucial to communicate your situation to the couple or the wedding coordinator as soon as possible.
3. Should I inform the couple if I know I'll be late to their wedding?
Yes, if you know you'll be late to a wedding, it's essential to inform the couple or the designated point of contact, such as the wedding coordinator, as soon as possible. This allows them to make necessary adjustments and ensures a smooth flow of the wedding proceedings.
4. How can I handle being late to a wedding gracefully?
If you find yourself running late to a wedding, remain composed and avoid drawing attention to your tardiness. Once you arrive, offer your heartfelt congratulations and apologies to the couple and their families. Be discreet and respectful during the ceremony and try to blend in with the other guests.
5. What if I can't find a suitable excuse for being late to the wedding?
If you can't find a suitable excuse for being late to the wedding, it's best to be honest about the reason for your delay. Transparency and sincerity are appreciated in such situations. Express your regret for not being able to make it on time and convey your warm wishes to the couple.
Resources Consulted For Research On This Article
Hello, I am Humaira Ahsan. I have done Mater's in English literature. Writing articles on various topics has become my passion. I love to learn and grow every moment. Hard work is my motto of life.