Social media platforms have transformed the way we connect, share, and interact with others. While these platforms offer numerous benefits, they also expose us to potential negative encounters with other users.
Blocking someone on social media can be a powerful tool to protect your mental well-being, safeguard your privacy, and create a positive online environment.
I will explore 21 valid Excuses For Blocking Someone On Social Media, emphasizing the importance of maintaining a respectful and secure virtual space.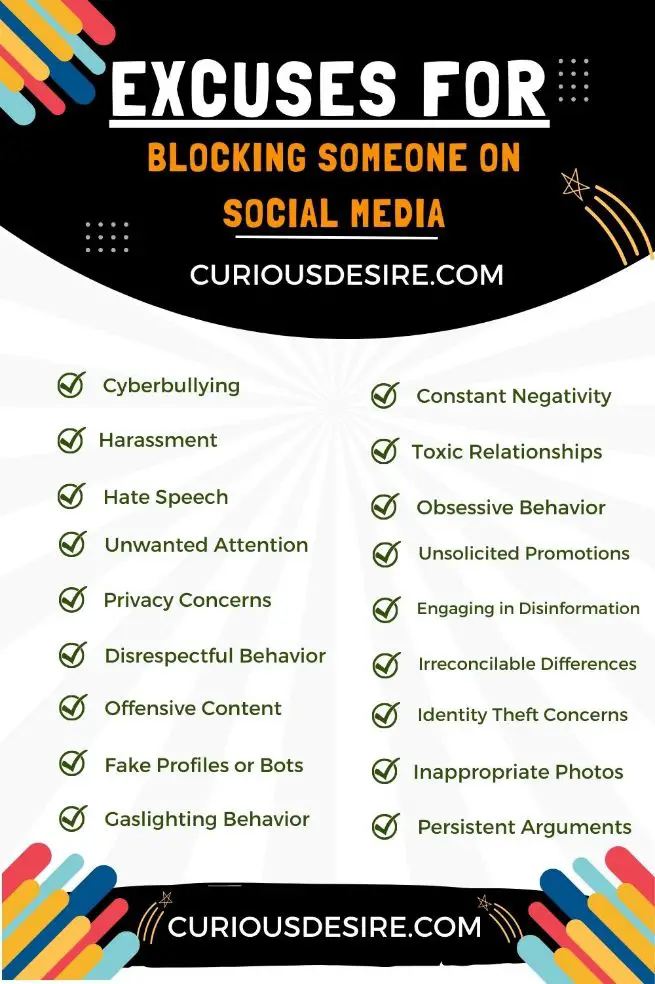 Here are some of the following excuses which are given below:
1. Cyberbullying and Harassment
Blocking individuals who engage in cyberbullying, harassment, or online abuse is essential for protecting your mental well-being and maintaining a safe online community.
2. Trolling and Hate Speech
Blocking those who spread hate speech or engage in trolling can prevent unnecessary conflicts and maintain a positive environment for constructive discussions.
3. Unwanted Attention
If someone is persistently bombarding you with unwanted attention or advances, blocking them can help establish personal boundaries.
4. Privacy Concerns
Blocking individuals with questionable intentions can safeguard your personal information and maintain your privacy on social media.
5. Disrespectful Behavior
Blocking someone who consistently displays disrespectful behavior ensures a respectful online space for yourself and others.
6. Offensive Content
Blocking individuals who post offensive or triggering content can help you avoid distressing and harmful material.
7. Fake Profiles or Bots
Blocking fake profiles or bots helps maintain an authentic social media experience and protects against potential scams.
8. Manipulative and Gaslighting Behavior
Blocking those who engage in manipulative or gaslighting behavior protects you from emotional manipulation.
9. Constant Negativity
If someone continually spreads negativity or pessimism, blocking them can help preserve your mental well-being.
10. Repeatedly Breaking Social Media Rules
Blocking those who repeatedly violate social media platform rules ensures a safer and more respectful online community.
11. Toxic Relationships
Blocking individuals from toxic relationships can provide a fresh start and promote healthier connections online.
12. Stalking or Obsessive Behavior
Blocking those who display stalking or obsessive behavior can protect your safety and privacy.
13. Unsolicited Promotions
Blocking individuals who send unsolicited promotions or spam can keep your social media feed clutter-free.
14. Engaging in Disinformation
Blocking those who consistently spread false information can promote a more informed and reliable social media environment.
15. Irreconcilable Differences
Blocking individuals with whom you have irreconcilable differences can help avoid unnecessary conflicts and stress.
16. Identity Theft Concerns
Blocking suspicious accounts can protect you from potential identity theft or scams.
17. Inappropriate Photos or Content
Blocking individuals who post inappropriate or offensive content helps maintain a family-friendly online environment.
18. Persistent Arguments
Blocking those who continually engage in heated arguments can promote a more peaceful and respectful online community.
19. Unwanted Advancements
Blocking individuals who make unwanted romantic or personal advances can safeguard your online interactions.
20. Protecting Younger Audiences
Blocking users with inappropriate content or behavior helps protect younger audiences on social media.
21. Maintaining a Positive Online Space
Ultimately, blocking someone on social media allows you to create and nurture a positive and supportive online space for yourself and your connections.
Conclusion
As we navigate the ever-changing landscape of social media, it's crucial to prioritize our well-being and protect ourselves from harmful or toxic encounters. Blocking individuals for legitimate reasons can help us maintain a positive online environment where respectful communication and constructive interactions flourish.
By using these 21 valid excuses for blocking someone on social media, you can foster a more enjoyable and secure virtual experience for yourself and others. Remember, your online well-being matters, and creating a respectful online space is a step towards a healthier digital life.
Why should I consider blocking someone on social media?
Blocking someone on social media is a necessary step to protect yourself from cyberbullying, harassment, or unwanted attention. It helps create a safer and more positive online environment, promoting respectful interactions and safeguarding your mental well-being.
Can I block someone for posting offensive content or engaging in hate speech?
Yes, absolutely. Blocking individuals who consistently post offensive or hateful content is essential for maintaining a respectful online space. By blocking them, you can shield yourself from distressing material and discourage the spread of negativity.
Is blocking someone a permanent action? Can I unblock them later?
Blocking someone is not necessarily permanent. Most social media platforms allow you to unblock users later if you choose to do so. However, consider unblocking only if the issue has been resolved, and you feel comfortable reconnecting.
What should I do if the person I blocked tries to contact me through other means?
If someone you blocked attempts to contact you through other means, such as email or other social media platforms, it's essential to maintain your boundaries and avoid engaging with them. You can also consider reporting their behavior to the platform administrators.
Is blocking someone a common practice on social media?
Yes, blocking someone is a common practice on social media, and many users resort to it to maintain a positive and secure online environment. It's a valuable tool to protect oneself from potential online threats and foster a respectful digital community.
Resources Consulted For Research On This Article
Hello, I am Humaira Ahsan. I have done Mater's in English literature. Writing articles on various topics has become my passion. I love to learn and grow every moment. Hard work is my motto of life.