When a woman is pregnant, her body goes through a lot of changes. One important thing she needs to do is avoid drinking alcohol. This helps keep both the mom and the baby safe and healthy. Sometimes, when people are together and they're drinking, a pregnant woman might have to tell them she's not drinking.
This is because she's taking care of her baby. In this introduction, we will talk about the different Excuses For Not Drink When Pregnant and why it's important to explain this to friends and family. When pregnant women understand this and feel confident explaining it, they can handle social situations well.
30 Valid Excuses for not drinking when pregnant
Valid excuses for not drinking when pregnant are rooted in the essential need to prioritize the health and well-being of both the mother and the developing fetus.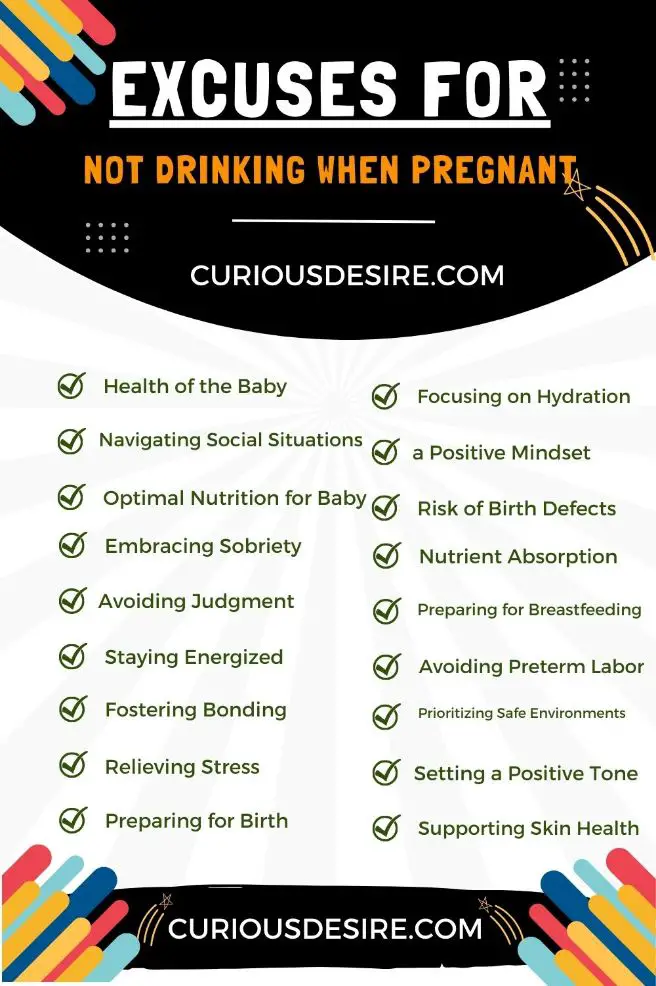 Medical experts universally advise against alcohol consumption during pregnancy due to the potential risks it poses to the unborn child's growth and brain development. Given these established risks, refraining from alcohol becomes a responsible choice that aligns with ensuring a safe and healthy pregnancy journey.
1. Health of the Baby

Pregnancy is a precious journey filled with anticipation, and safeguarding your baby's health is paramount. Consuming alcohol during pregnancy can potentially harm the developing baby.
Alcohol crosses the placenta, affecting the baby's growth and development. Even small amounts can lead to serious complications like fetal alcohol syndrome. Prioritizing your baby's well-being is an excellent excuse to stay away from alcohol, ensuring a healthy start to life.
2. Navigating Social Situations
Being pregnant often means attending social gatherings where alcohol is served. Sharing your pregnancy news may lead to pressure or awkward situations.
Using your pregnancy as a reason to abstain from alcohol is a perfectly valid choice. Politely explain that you're prioritizing your baby's health and that you're looking forward to celebrating with them in other ways.
3. Optimal Nutrition for Baby
Providing your growing baby with the best possible nutrition is crucial. Alcohol lacks nutritional value and diverts resources from the baby's development.
By skipping alcohol, you're actively contributing to your baby's optimal growth. Emphasize that you're making choices that support your baby's health and development.
4. Preventing Unwanted Complications
Alcohol consumption during pregnancy increases the risk of complications, such as premature birth, low birth weight, and developmental issues. It's essential to safeguard both your health and your baby's by avoiding alcohol.
Your commitment to a complication-free pregnancy is a strong reason to abstain.
5. Embracing Sobriety
Pregnancy presents a unique opportunity to embrace sobriety and experience a clear, focused state of mind.
By not consuming alcohol, you're making a conscious choice to stay present and fully engaged in this transformative journey. Embrace sobriety as a gift to both you and your baby.
6. Role Model for Healthy Choices
Your choices influence your baby's future behaviors. Demonstrating healthy habits, including avoiding alcohol, sets a positive example from the beginning.
You're showing your commitment to providing a healthy environment for your child to thrive in.
7. Avoiding Judgment
Some situations can be uncomfortable, especially if others are drinking while you're not.
Use your pregnancy as a shield against judgment or awkward questions. Politely explain that you're not drinking because you're focusing on nurturing a healthy baby.
8. Ensuring Emotional Well-being
Pregnancy can bring about heightened emotions and changes in mood. Alcohol can amplify these feelings and potentially lead to emotional distress. Opting for alcohol-free choices ensures your emotional well-being during this sensitive time.
9. Staying Energized
Growing a baby demands extra energy. Alcohol can disrupt your sleep and leave you feeling fatigued. Avoiding alcohol helps you maintain your energy levels, ensuring you're prepared for the challenges of pregnancy.
10. Fostering Bonding
Pregnancy is a time of connection between you and your baby. Alcohol interferes with this connection, affecting your awareness of your baby's movements and cues. Choosing not to drink enhances the bonding experience between you and your little one.
11. Relieving Stress
Pregnancy can be stressful, and some turn to alcohol to unwind. However, there are safer and healthier ways to manage stress, such as meditation, gentle exercise, and talking to loved ones. Prioritize your well-being and your baby's by seeking healthier stress-relief strategies.
12. Preparing for Birth
Smooth labor and delivery require optimal health. Alcohol disrupts your body's readiness for childbirth. By abstaining from alcohol, you're ensuring that your body is prepared for the rigors of labor and recovery.
13. Focusing on Hydration
Staying hydrated is crucial during pregnancy. Alcohol is dehydrating, which can negatively impact your health and the baby's development. Choosing water over alcohol is a simple yet impactful decision for your well-being.
14. Alleviating Morning Sickness
Many pregnant women experience morning sickness, which can be exacerbated by alcohol. By avoiding alcohol, you're reducing the risk of making nausea and vomiting worse, making your days more comfortable.
15. Encouraging a Positive Mindset
Choosing not to drink during pregnancy encourages a positive mindset. You're demonstrating resilience and determination in prioritizing your baby's health, fostering a positive mental attitude.
16. Reducing the Risk of Birth Defects
Consuming alcohol during pregnancy increases the risk of birth defects and developmental issues. By abstaining from alcohol, you're taking a proactive step to ensure your baby's healthy development.
17. Enhancing Nutrient Absorption
Pregnancy demands a higher intake of essential nutrients. Alcohol interferes with nutrient absorption, potentially compromising your baby's nourishment. Opting for alcohol-free choices supports optimal nutrient uptake.
18. Supporting Brain Development
Alcohol negatively impacts brain development in the fetus. By abstaining from alcohol, you're providing the best chance for your baby's brain to develop healthily.
19. Preparing for Breastfeeding
If you plan to breastfeed, staying alcohol-free during pregnancy helps prepare your body for producing milk and ensures that your milk is free from alcohol when your baby arrives.
20. Avoiding Preterm Labor
Alcohol consumption increases the risk of preterm labor. By making the choice to avoid alcohol, you're actively working to prevent premature birth and its associated complications.
21. Prioritizing Safe Environments
Alcohol impairs judgment and coordination. By choosing not to drink, you're contributing to creating a safe environment for both you and your baby.
22. Encouraging Holistic Wellness
Holistic wellness encompasses physical, mental, and emotional health. Abstaining from alcohol during pregnancy aligns with this holistic approach, ensuring you and your baby's overall well-being.
23. Simplifying Dietary Choices
Pregnancy can be overwhelming, and making conscious dietary choices simplifies decision-making. By avoiding alcohol, you're eliminating one complex choice from the equation.
24. Setting a Positive Tone
Starting motherhood with a healthy approach sets a positive tone for your parenting journey. Abstaining from alcohol sends a strong message that you're committed to your baby's health and happiness.
25. Preventing Alcohol-Related Issues
Alcohol-related accidents or decisions can have lifelong consequences. By not drinking during pregnancy, you're safeguarding yourself and your baby from potential harm.
26. Enhancing Emotional Connection
Staying alcohol-free helps you stay in tune with your emotions and fosters a deeper emotional connection with your baby. It allows you to experience the full range of emotions that come with pregnancy.
27. Preparing for Postpartum
Pregnancy is just the beginning of your journey. Avoiding alcohol prepares your body and mind for the demands of postpartum life, ensuring a smoother transition into motherhood.
28. Supporting Skin Health
Pregnancy can impact your skin, and alcohol further exacerbates these changes. By abstaining from alcohol, you're promoting healthy skin throughout your pregnancy.
29. Prioritizing Sound Sleep
Quality sleep is essential for both you and your baby. Alcohol disrupts sleep patterns. Opting for an alcohol-free lifestyle promotes better sleep and overall well-being.
30. Creating Lasting Memories
Your pregnancy is a unique chapter in your life. By avoiding alcohol, you're ensuring that you remember every precious moment and creating lasting memories with your growing baby.
Resources Consulted For Excuses For Not Drink When Pregnant On: