In social situations, we often need to make choices. Sometimes, we might need to say no to hanging out with friends. This is okay! It's important to be honest and polite when we explain why.
In this article, we'll talk about some good reasons for not going out with friends. We'll also talk about how talking openly is important. It's okay to have your own limits and things you need to do. This article will help you understand all of that better.
30 excuses for not going out with friends
Sometimes, we can't go out with friends. We might have real reasons like work, feeling tired, or having other important stuff to do. It's okay to be honest about these things.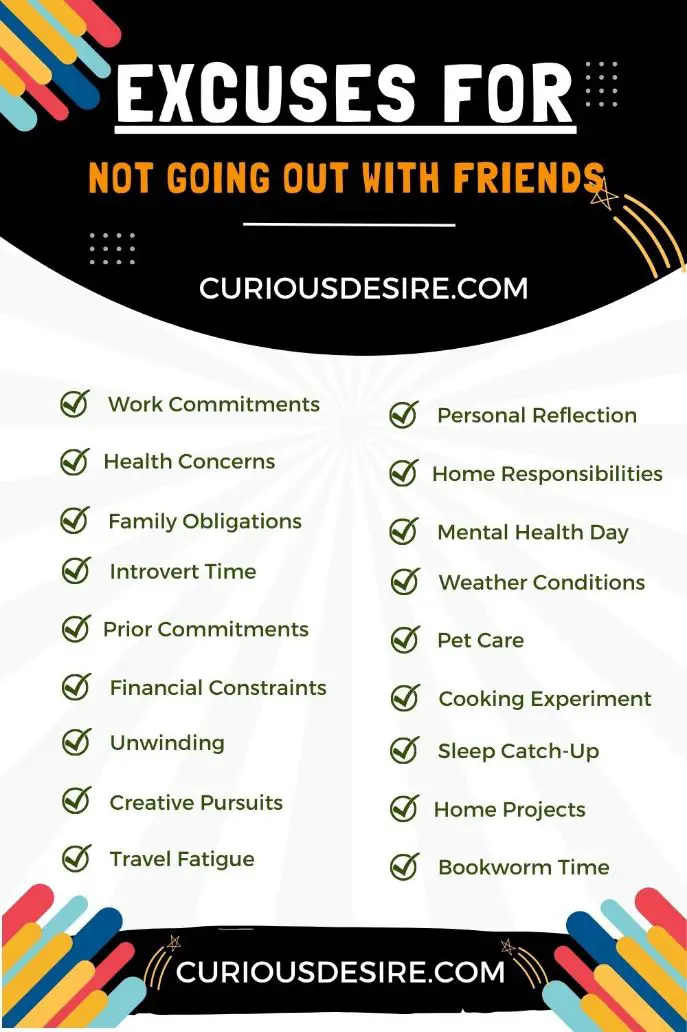 It's important to talk openly with friends and explain why we can't hang out. Being clear and respectful helps everyone understand each other better.
here are some of the following excuses which are given below:
1. Work Commitments: At times, heavy workloads or unexpected tasks can pile up, making it difficult to leave the office or focus on social activities. Prioritizing your job responsibilities can be a valid reason for staying in.
2. Personal Health Concerns: If you're feeling under the weather or dealing with health issues, it's important to rest and recover. Letting your friends know that you're taking care of yourself can help them understand your absence.
3. Family Obligations: Family events, responsibilities, or emergencies can arise unexpectedly, requiring your presence and attention. Explaining the situation to your friends will likely garner their understanding.
4. Introvert Time: Everyone needs some alone time to recharge their energy. Communicate to your friends that you're in need of solitude to unwind and rejuvenate.
5. Prior Commitments: Sometimes, you might have prior engagements or appointments that clash with your friends' plans. Honesty about these pre-existing commitments is key.
6. Financial Constraints: If your budget is tight, it's reasonable to opt for a frugal night in instead of spending money on social activities. Your friends will likely appreciate your transparency about your financial situation.
7. Unwinding: A long day can leave you drained, and you might prefer to unwind by yourself. Explain to your friends that you're seeking some relaxation time.
8. Creative Pursuits: Engaging in personal creative projects, hobbies, or interests can be a fulfilling reason to stay home. Share your passion with your friends and they'll likely respect your dedication.
9. Travel Fatigue: If you've recently returned from a trip, you might need some time to readjust and recover from jet lag. Your friends will understand the need to catch up on rest.
10. Personal Reflection: Taking time for self-reflection and personal growth is essential. Let your friends know that you're working on yourself during this time.
11. Home Responsibilities: Chores, home maintenance, and other responsibilities can sometimes demand your attention. Communicate that these tasks need completion, and your friends will likely empathize.
12. Mental Health Day: Prioritizing your mental health is crucial. If you're having a tough day, let your friends know that you're focusing on self-care and well-being.
13. Weather Conditions: Unfavorable weather, such as heavy rain or extreme cold, can make going out less appealing. Explain to your friends that you're avoiding the discomfort of the elements.
14. Recharging Technology-Free: Disconnecting from technology occasionally can be refreshing. Let your friends know you're having a technology-free evening to reconnect with yourself.
15. Pet Care: Your furry companions might need your attention and care. Inform your friends that you're spending quality time with your pets.
16. Cooking Experiment: Trying out new recipes or experimenting with cooking can be a delightful way to spend an evening. Share your culinary adventures with your friends.
17. Personal Study Time: Whether you're learning a new skill or studying for a course, your personal growth matters. Inform your friends that you're dedicating time to your educational pursuits.
18. Sleep Catch-Up: If you've been lacking sleep lately, catching up on rest is a valid reason to stay in. Friends who care about your well-being will support your decision.
19. Home Projects: Engaging in DIY projects or home improvements can be time-consuming but rewarding. Explain to your friends that you're investing time in enhancing your living space.
20. Supporting Remote Friends: Sometimes, your friends who are not physically present might need your emotional support. Let your local friends know that you're there for someone who needs you from a distance.
21. Bookworm Time: If you're an avid reader, spending an evening lost in a book can be immensely enjoyable. Share your reading interests with your friends.
22. Movie or TV Marathon: Everyone enjoys a good movie or TV series binge. Let your friends know that you're having a cozy movie night at home.
23. Personal Projects: Whether it's writing, painting, or another creative endeavor, your personal projects deserve dedicated time. Communicate your passion to your friends.
24. Volunteering Commitments: If you're involved in volunteer work, the commitment can occasionally coincide with social plans. Friends who value your altruism will understand your absence.
25. Nighttime Routine: Prioritizing a healthy nighttime routine can be beneficial for your well-being. Let your friends know you're focusing on self-care before bedtime.
26. Traffic or Transportation Challenges: Traffic jams or transportation issues can sometimes make going out more trouble than it's worth. Explain to your friends that you're avoiding the hassle.
27. Language or Skill Practice: Dedicating time to learn a new language or practice a skill is commendable. Share your learning journey with your friends.
28. Personal Rest Day: Similar to a mental health day, sometimes you need a full day of rest. Communicate that you're taking a break to recharge.
29. Home Spa Night: Treating yourself to a spa-like evening at home can be incredibly relaxing. Let your friends know you're indulging in self-pampering.
30. Planning and Organization: Sometimes, you might need to plan your week or organize your life. Communicate that you're focusing on setting yourself up for success.
Resources Consulted For This Article On: