Are you frequently bothered by friends or family members who insist on using FaceTime instead of regular phone calls?  If you find yourself wanting to avoid appearing on camera, worry not! We've compiled a helpful list of excuses to get off facetime.
Although FaceTime is exclusive to iPhone users, the term is often used broadly by Android users when referring to video calls in general. Various reasons may prompt us to dodge FaceTime calls. Perhaps we value our privacy and prefer not to disclose our activities to others, or we simply don't feel camera-ready.
At times, we might intentionally ignore the call, hoping the other person will take the hint that we're occupied or not in the mood for a chat.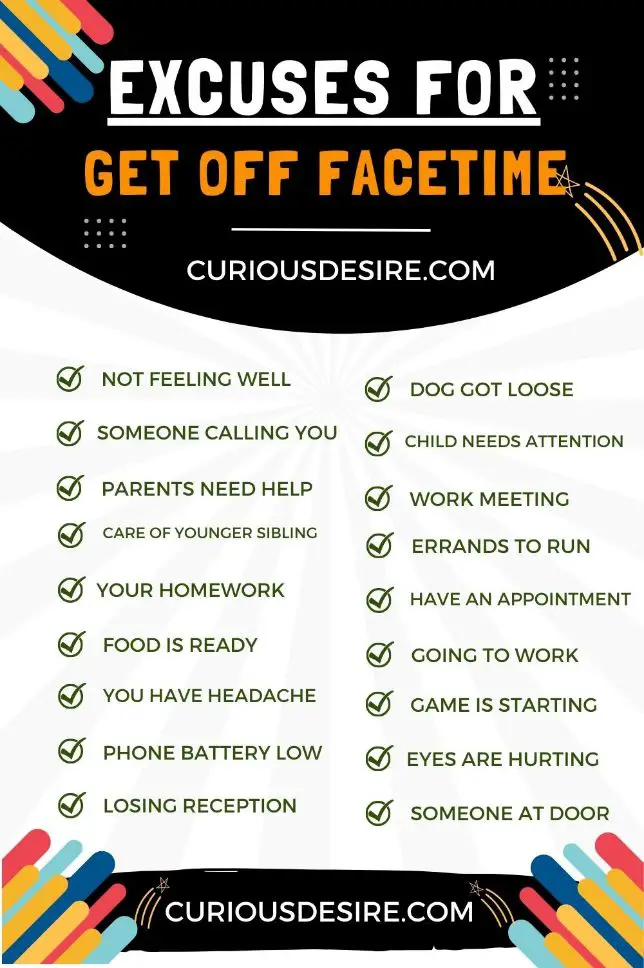 Here Is Our Best List Of FaceTime Excuses
1. ALL OF A SUDDEN, YOU'RE NOT FEELING WELL
When the need arises to gracefully exit a FaceTime conversation, claiming not feeling well can be a reliable excuse.
Whether it's a sudden upset stomach or a tickle in your throat that hints at an impending cold, there's an array of plausible illnesses you can employ to politely end the call.
2. SOMEONE ELSE IS CALLING YOU
To gracefully exit a FaceTime call when you're not in the mood for conversation or being on camera, citing an incoming call from someone else works wonders.
It might be a long-lost friend you haven't chatted with in ages or an urgent call you've been eagerly anticipating. In any case, it's time for me to go!
3. YOUR PARENTS NEED HELP WITH SOMETHING
"Oh? Mom, the couch needs to be moved now?" Coming to the aid of your parents with a household task is a convenient excuse to gracefully end a FaceTime call.
To add credibility, try to sound slightly annoyed as if you're reluctant to hang up, but your parents genuinely require your assistance.
4. YOU HAVE TO GO LOOK AFTER YOUR YOUNGER SIBLING
As the older sibling, you often have the responsibility of looking after your younger siblings. This duty doesn't only arise when your parents are away, but also when they need to cook dinner or take a shower, putting you in charge of babysitting with little to no prior notice.
5. YOU HAVE TO GET BACK TO YOUR HOMEWORK
Your homework can't wait any longer; it's time to prioritize it. As you aspire to secure a spot in a good college, your grades play a crucial role.
Avoid giving your teachers or parents any excuses for incomplete assignments by diligently focusing on your work. It's time to bid farewell to FaceTime and buckle down on your studies.
6. FOOD IS READY, AND YOU NEED TO GO EAT
Dinner is calling, and your hunger can't be ignored any longer. As much as you'd love to continue the conversation, your growling stomach insists otherwise.
Moreover, others are eagerly waiting for you to join them at the dinner table, and it would be impolite to keep them waiting while being on the phone. Time to head off and savor the meal!
7. YOU HAVE A HEADACHE THAT'S NOT GOING AWAY
As we began the FaceTime call, I was already dealing with a persistent headache, hoping it would subside. Despite taking Advil and staying well-hydrated, the headache seems to be getting worse inexplicably.
Considering the possibility that the screen might be intensifying the discomfort, I think it's best for me to end the call and give my eyes and head some much-needed rest.
8. YOUR PHONE BATTERY IS ABOUT TO DIE
My phone's battery is on the brink, with less than 5% remaining, and it's depleting rapidly. Unfortunately, charging it isn't an option right now because:
1. Someone else is currently using my charger.
2. I can't seem to locate my charger.
3. My charger is too far away to reach.
4.My charger has been malfunctioning and won't properly charge my phone.
If I let my phone die, we won't be able to continue talking! So, I better wrap up the call before it's too late!
9. YOU ARE LOSING RECEPTION
During FaceTime calls, you might find yourself in situations where you're not at home, which can lead to problematic cellphone reception, especially when you're on the go. Various areas, such as elevators, tunnels, and cell phone dead zones, can cause a loss of reception.
So, if you're considering using poor reception as an excuse to end a FaceTime call, ensure you're genuinely facing connectivity issues and not just sitting comfortably on the couch at home!
10. YOUR DOG GOT LOOSE
Oh no, my dog has managed to get loose again! It's always finding a way to escape, and I need to act quickly to prevent any trouble.
The last time it happened, my furry friend caused quite a mess on a neighbor's property, and I can't afford a repeat of that situation.
I must go and find my dog before it gets into any mischief. This is indeed an unexpected and creative reason to end our FaceTime call.
11. YOUR CHILD NEEDS ATTENTION
Having young children at home can present various opportunities to use excuses for getting out of things, including FaceTime calls. However, in reality, it's often not just an excuse but a genuine and valid reason.
Children require constant attention, so staying on FaceTime for extended periods is usually not feasible. As a parent, attending to my child's needs takes precedence, making it necessary to cut our FaceTime conversation short.
12. YOU HAVE A WORK MEETING YOU NEED TO JOIN
Working from home provides a convenient excuse to gracefully end a FaceTime call when necessary.  By strategically timing it out, you can mention having a work meeting at a specific hour, like 10:15 AM or 10:30 AM, and limit the duration of the FaceTime call right from the beginning.
Moreover, stating that you need to prepare for the upcoming meeting will give you some additional buffer time before joining the work-related discussion. This way, you can smoothly transition from the call to your professional commitments.
13. YOU HAVE ERRANDS TO RUN
Life can get pretty busy, and there are always errands that need attention. Using errands as a valid reason to end a FaceTime call is perfectly understandable. The errands can encompass a wide range of tasks, such as:
1. Grocery shopping
2. Picking up clothes from the dry cleaner
3. Doing laundry
4. Cleaning your room or house
5. Driving your kids somewhere
6. Getting gas for your car
7. Picking up lunch or dinner
8. Scheduling an appointment
With these errands on my plate, I should wrap up the call and tackle these responsibilities.
14. YOU ARE LATE FOR AN APPOINTMENT
Having an appointment is a reliable excuse to politely end a FaceTime call. Whether it's a visit to the dentist, doctor, or veterinarian, these appointments are crucial and deserve immediate attention.
So, if I mention having a doctor's appointment, it should be a valid reason for the other person on FaceTime to understand and let me go. Prioritizing my commitment, I need to wrap up the call and head to the appointment.
15. YOU NEED TO GO TO WORK
I must head to work to avoid being late again, and this time, I can't risk any excuses. Letting the person I'm Face Timing with know that I need to prioritize my job and can't afford to be late will also ensure that they understand the importance of our conversation ending promptly.
It's crucial for me to be responsible and focused on my work commitments, so I better wrap up the call and get going.
16. THE GAME IS ABOUT TO START
As a sports enthusiast, I know how crucial it is not to miss the beginning of a game. With this excuse to end a FaceTime call, I'll need to time it precisely around the schedule of the TV game.
So, if the game is about to start, I better wrap up the call quickly to catch all the action. Game time waits for no one!
17. YOUR PARTNER WANTS TO SPEND TIME WITH YOU
Spending quality time with your partner is a top priority, making it a perfect excuse to gracefully end a FaceTime call with a friend or family member. Just mention that your partner is eager to spend time with you, and you need to be present for them.
While the other person on the call might not be thrilled, they probably won't argue with the priority of your relationship. It's a convenient excuse that shifts the responsibility elsewhere!
18. YOUR EYES ARE HURTING FROM LOOKING AT THE SCREEN TOO LONG
If our FaceTime call has been going on for a considerable amount of time, using eye strain as an excuse to end the call is a valid option.
While it might not be convincing if we've only been talking for a few minutes, after 15+ minutes, I can honestly mention that my eyes are hurting and in need of some rest. Taking care of my well-being is essential, so it's time for me to give my eyes a break.
19. SOMEONE IS AT THE DOOR
Oh, it seems someone is at the door! With all the Amazon and delivery services these days, it's a highly plausible reason to end the phone call.
For added assurance, I can promise to text you once the person at the door is gone, so you know I'm safe and we can continue our conversation later. Gotta go and check who it is!
20. YOU SPILLED YOUR DRINK
Oh no, my clumsiness strikes again! I just spilled my drink, and it's making a mess. This is the perfect excuse to end our FaceTime call, especially if you've seen me with a drink in hand during the conversation.
I need to clean this up quickly. I'll catch up with you later once everything is sorted. Take care!
21. YOU'RE TIRED AND NEED TO GO TO SLEEP OR TAKE A NAP
Feeling tired and in need of sleep or a quick nap is a versatile excuse that can be used throughout the day, but it's particularly effective in the afternoon or evening. Using this excuse to end a FaceTime call at 9 AM might be a bit questionable.
So, when using it as one of your reasons to wrap up the conversation, ensure that the timing aligns appropriately. It's essential to be mindful of when you employ this excuse to make it more convincing.
22. SOMETHING IS BURNING!
Oh no! I smell something burning, and I need to check on it immediately. As someone who enjoys cooking, this is a plausible excuse to get off FaceTime. I must make sure my food isn't ruined, so I better go attend to it quickly. Alternatively, for a more creative twist, I could claim that something else is burning, and I need to ensure the safety of my house.
In this case, it's a good idea to send a text afterward to let the person know that everything is okay and everyone is safe. Otherwise, they might worry and try to call me back immediately. Either way, it's time for me to handle the situation, so I'll have to end our FaceTime call. Talk to you later!
23. YOU NEED TO SHOWER
I need to jump into the shower right away! It's been a couple of days, and my own smell has caught up to me. It's definitely time for a refreshing rinse-off.
Apologies for the slightly gross update, but I better wrap up our FaceTime call and get myself cleaned up. Let's catch up later when I'm feeling fresh and rejuvenated!
24. YOUR CAT NEEDS ATTENTION
My apologies, but I must attend to my cat right now. They are quite demanding and are in need of some quality attention and a good belly rub.
As a fellow pet owner, you probably understand how it is with these adorable furballs sometimes! I'll catch up with you later when my feline friend is content and happy.
25. YOU'RE TRYING TO SPEND LESS TIME ON YOUR PHONE
I've been reflecting on how much time I spend on my phone, and I've realized the need to cut back a bit. It's essential to disconnect occasionally and engage in other activities like going outside, reading a book, or spending quality face-to-face time with loved ones.
So, in an effort to reduce phone usage, I should end our FaceTime call now and focus on enjoying some offline moments. Let's catch up in person or through other means later on!
At the start of our conversation, I wanted to mention that I'm making a conscious effort to limit my screen time. So, while I'm glad we could connect on FaceTime, I might need to end the call shortly. I hope you understand, and let's make the most of the time we have for a meaningful conversation.
26. YOU JUST DON'T FEEL LIKE TALKING ANYMORE
Being honest is important, and sometimes, the truth is the best approach. While it might be difficult to say that I don't feel like talking anymore during our FaceTime call, I believe in open communication.
Depending on our relationship, expressing my current feelings might be perfectly acceptable. However, I understand that this approach may not be suitable for everyone, especially if the other person is sensitive. In such cases, I'll consider using a different excuse that aligns better with the situation.
Additional Funny Excuses To Get Off FaceTime
If you're in the mood for some humor, here are a few funny and totally unbelievable excuses to get off FaceTime, guaranteed to bring a smile:
1. Oh no, my cat is on fire! (Don't worry, it's just a wild imagination!)
2. Oops, held it too long, and now I've peed my pants! (Of course, not really!)
3. Whoa, I smell poop! Gotta go investigate! (It's all in good fun, I promise!)
4. Quick, the secret service is here! (In your wildest dreams, maybe!)
5. Oh dear, I've lost my phone; I need to go find it! (Not really, but it's an excuse, right?)
And there you have it! A list of hilarious excuses to get off FaceTime, perfect for a good laugh. Remember, while these excuses are all in good humor, it's always better to use an excuse with some truth to it when ending a call. Enjoy your FaceTime chats and have some fun!
Resources Consulted For Research On This Article
Hello, I am Humaira Ahsan. I have done Mater's in English literature. Writing articles on various topics has become my passion. I love to learn and grow every moment. Hard work is my motto of life.