Looking for clever excuses to escape your abode? We've got you covered. Whether you're craving a break from routine or simply need a reason to step outside, this list of creative excuses will have you out the door in no time.
Say goodbye to monotony and hello to adventure with these tried-and-true escape strategies.
30 Best excuses to get out of House
Discover the ultimate list of the 30 best excuses to break free from your home's confines. No more need for elaborate stories or half-baked reasons – we've curated a concise collection of compelling excuses that'll have you out and about in no time.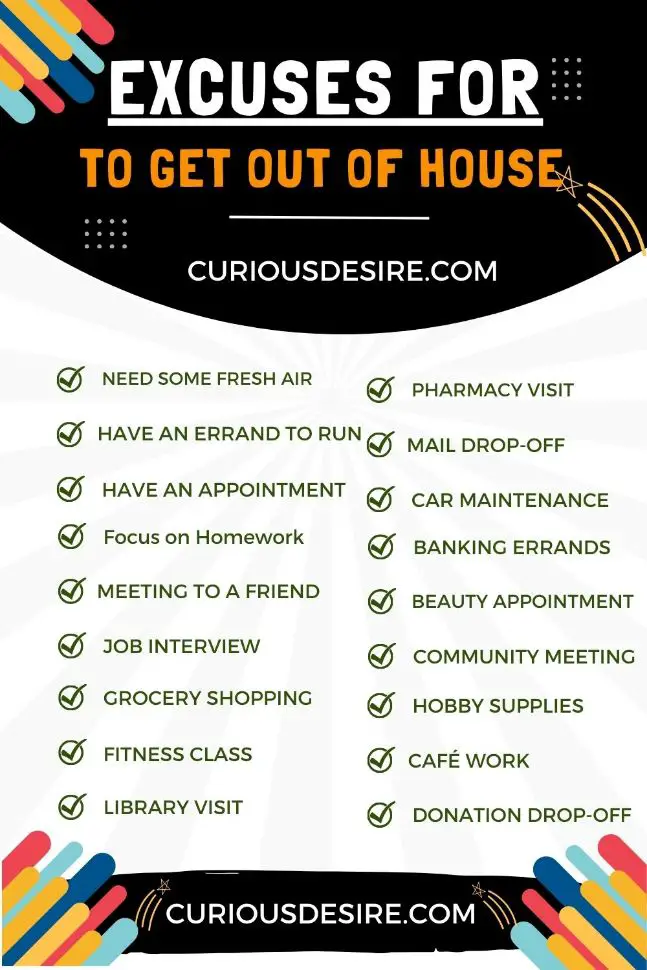 Whether it's a much-needed solo adventure or a clever way to socialize, these excuses have you covered. Say goodbye to cabin fever and hello to a world of possibilities with our top 30 excuses to get out of the house.
Here are some of the following excuses:
1. YOU NEED SOME FRESH AIR
Stepping outside to get some fresh air is a good excuse to leave the house on those days when you need to calm yourself and relax a bit.
Breathing in fresh air is good for the mind and the soul. It can boost your mood, lower your heart rate, and increase energy levels. Sometimes we need to reset ourselves mentally, and getting a breath of fresh air can do that.
2. YOU HAVE AN ERRAND TO RUN
You know those errands you've been putting off for a while now? Well, today is the perfect day to get them done. Especially since you've been itching to get out of the house for a bit.
Maybe your husband or wife has been irritating you and you just need a good excuse to get out of the house. There are lots of different types of errands you can run to accomplish just this.
3. YOU HAVE AN APPOINTMENT
A last-minute appointment is another one of those excuses to leave the house that can work multiple times. If you say you have an appointment, you can always claim that there will be follow-up appointments involved as well.
You can claim you have an appointment with your doctor, dentist, physiotherapist, or psychiatrist. You have lots of options here!
4. TAKING A DOG FOR A WALK
Taking the dog for a walk is a great way to get out of the house on a regular basis. Dogs need lots of walks and depending on your dog, it might require you to take them out 3-4 times per day.
If you're looking for excuses to leave the house, but don't have a dog, then maybe you should consider getting one!
5. YOU ARE MEETING A FRIEND
Going to meet a friend is another great example of a reason to leave the house. It's important to maintain friendships, and face-to-face interaction is also important for your mental health.
You love your family of course, but seeing someone outside of your family circle from time to time is necessary for your own sanity.
6. YOU HAVE A JOB INTERVIEW
If you've been unemployed for a long time, going to a job interview is not only a great excuse to get out of the house, but it will make your partner or parents happy that you have a prospect in a new line of work.
You don't even need to be unemployed either to use this excuse. If you have a job but are looking for something better, a job interview is the perfect reason to leave the house for a bit. Of course, if you're going to use this, make sure you dress the part and don't look like a slob when you step out the door.
7. YOU HAVE TO GIVE SOMETHING BACK TO A FRIEND
Your friend has been asking for that thing you borrowed back for some time now. Their patience is wearing thin with you, so you better go return it!
8. VOLUNTEERING COMMITMENT
Your commitment to a volunteering project calls for your presence outside the house. Volunteering is a fulfilling way to spend your time, and it allows you to make a positive impact on your community.
Whether it's at a local shelter, a food bank, or a charity event, this excuse not only gets you out of the house but also provides a sense of purpose.
9. FITNESS CLASS OR GYM SESSION
Staying active is crucial for your health, and attending a fitness class or hitting the gym is a legitimate reason to leave home.
Whether it's yoga, spinning, or weightlifting, exercise classes offer structure to your day and help you maintain a healthy lifestyle. Plus, it's an opportunity to meet like-minded individuals who share your fitness goals.
10. LIBRARY VISIT FOR RESEARCH
Tell your family you're off to the library for research purposes. Libraries provide a quiet and focused environment to work on personal projects, study, or dive into a good book.
It's a respectable excuse that allows you to invest in your personal or academic pursuits while enjoying some solitude.
11. GROCERY SHOPPING
Running out of essential groceries is a common reason to leave the house. You can mention that you need to restock the kitchen and ensure that there's food for the family.
Plus, a trip to the grocery store can be an opportunity to explore new recipes and experiment with cooking.
12. PHARMACY VISIT
Claim that you need to visit the pharmacy to pick up essential medications or healthcare supplies. Health-related errands are a valid reason to step outside, and they underscore your commitment to maintaining your well-being.
13. POST OFFICE OR MAIL DROP-OFF
You can say that you have to visit the post office or a mailbox to send out important mail or packages. It's a responsible task that requires your physical presence and is a common reason to leave home.
14. CAR MAINTENANCE
If you have a car, schedule it for maintenance or a routine checkup. Mention that it's essential to keep your vehicle in good condition, and this will require you to leave the house for a while.
15. BANKING ERRANDS
Tell your family that you have some banking tasks to attend to in person. Whether it's depositing a check, withdrawing cash, or resolving a financial matter, visiting the bank is a valid excuse that often necessitates leaving the house.
16. HAIRCUT OR BEAUTY APPOINTMENT
Maintaining personal grooming and hygiene is important, so schedule a haircut, spa day, or beauty appointment. This not only gives you a reason to get out of the house but also helps boost your confidence.
17. ATTENDING A COMMUNITY MEETING
Claim that you're attending a community meeting or neighborhood gathering. This portrays you as an active and responsible member of your community, and such meetings can be both informative and socially engaging.
18. ART OR HOBBY SUPPLIES
If you have a creative hobby like painting, crafting, or gardening, express your need to purchase supplies. Engaging in creative activities is not only enjoyable but also therapeutic.
19. SUPPORTING A FAMILY MEMBER
Explain that you need to support a family member with an important task or event. Whether it's accompanying a relative to a medical appointment or helping with a school project, family obligations are a legitimate reason to leave the house.
20. COFFEE SHOP OR CAFÉ WORK
Suggest that you're heading to a local coffee shop or café for a change of scenery to work or study. Sometimes, a different environment can boost productivity and creativity.
21. PHOTOGRAPHY EXPLORATION
If you have an interest in photography, mention that you're going out to explore your neighborhood or a nearby scenic spot to capture some photographs. It's a creative excuse that allows you to indulge in your passion.
22. CHARITY OR DONATION DROP-OFF
Explain that you're making a trip to a charity organization or donation center to drop off items you no longer need. It's a thoughtful and selfless way to spend your time outside the house.
23. CLOTHES SHOPPING
Express your desire to update your wardrobe or find a specific clothing item. Shopping for clothes can be an enjoyable and practical reason to leave the house.
24. VISITING A MUSEUM OR ART GALLERY
If you're interested in culture and art, plan a visit to a museum or art gallery. It's an enriching experience that allows you to appreciate creativity and history.
25. PUBLIC PARK PICNIC
Suggest a family picnic in a nearby public park. It's a delightful way to spend quality time with loved ones while enjoying the outdoors.
26. SUPPORTING A LOCAL BUSINESS
Say you want to support a local business by visiting their shop or restaurant. Supporting small businesses is essential for the local economy, and it's a great excuse to enjoy a meal or buy unique products.
27. ATTENDING A WORKSHOP OR SEMINAR
Mention that you're attending a workshop or seminar related to your personal or professional development. It shows your commitment to learning and self-improvement.
28. CHARITY RUN OR EVENT
Participating in a charity run or event is a noble reason to leave the house. It combines physical activity with contributing to a good cause.
29. BOTANICAL GARDEN VISIT
Plan a visit to a nearby botanical garden to enjoy the beauty of nature and learn about various plant species. It's a peaceful and educational way to spend your time outside.
30. A SCENIC DRIVE
Suggest going for a scenic drive, perhaps through the countryside or along a coastal route. Exploring new vistas and enjoying the journey can be a refreshing break from routine.
These excuses offer you a wide range of options to get out of the house, whether for practical reasons or leisure activities. Remember to communicate openly with your family or housemates to ensure your plans align with everyone's needs and expectations.
Resources Consulted For Research On This Article