Do you sometimes need a quick way to leave your home, even if it's just for a little time alone or a short break from your usual routine? Finding reasons to go out isn't just something teenagers do when they're feeling restless.
It's like having a useful tool that can help in many different situations. Whether you want some fresh air to feel better in a relationship, a short break from taking care of your kids, or even a secret break from your personal habits, having a list of believable excuses is like having a special key to open up moments of freedom.
This guide is here to help you understand these situations and give you good reasons to go out that make sense. It will help things go smoothly without making anyone suspicious. So, if you've ever wanted to leave quietly for a little while, you don't need to look any further—these excuses are here to help.
30 Good Excuses to Leave the House
Looking for solid reasons to leave your house? Here are some good excuses that can help you step out with confidence.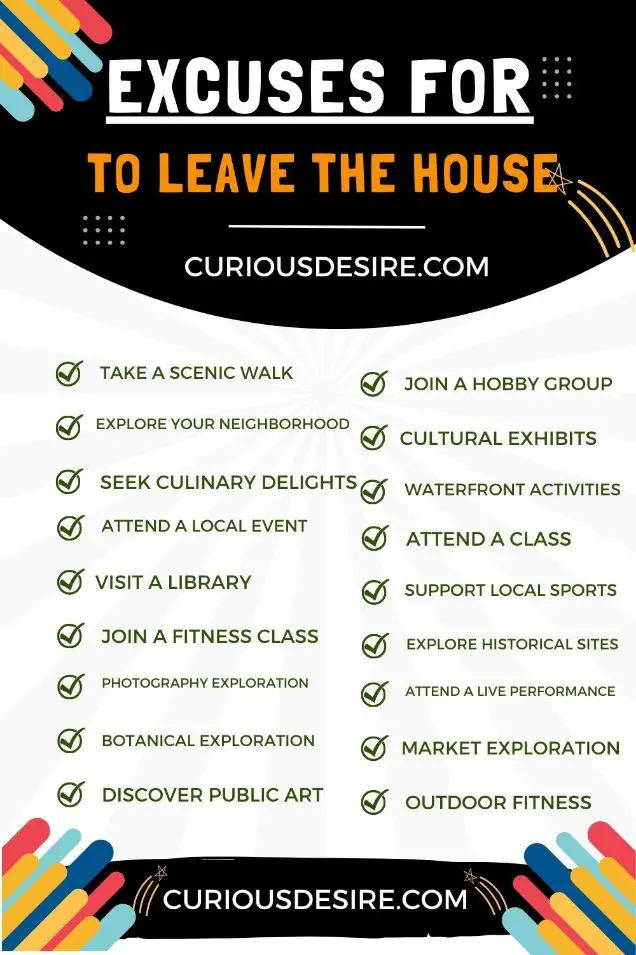 Whether you need a breath of fresh air, a quick break from responsibilities, or a valid reason for some time alone, these excuses are straightforward and practical options to consider.
Here are some of the following excuses which are given below:
1. TAKE A SCENIC WALK
Stepping out for a leisurely stroll through a nearby park or along a scenic trail can be a wonderful excuse to enjoy nature's beauty. The soothing sights and sounds of birds chirping and leaves rustling can provide a welcome escape from daily stressors.
Embrace this opportunity to clear your mind, breathe in the fresh air, and recharge your spirits. A gentle walk can help you feel rejuvenated and ready to tackle whatever lies ahead.
2. EXPLORE YOUR NEIGHBORHOOD
Embark on a mini-adventure by exploring your own neighborhood. Take a different route, notice unique architectural details, and maybe even discover a hidden gem like a cozy café or charming boutique you hadn't noticed before.
This excuse offers a chance to break away from routine, spark curiosity, and foster a deeper connection with the community around you. Whether you're an introvert seeking solitude or an extrovert looking to meet new faces, your neighborhood holds surprises waiting to be unveiled.
3. SEEK CULINARY DELIGHTS
Treating yourself to a meal outside the home can be a delightful escape. Whether it's trying a new restaurant's cuisine or enjoying a favorite dish from your go-to spot, dining out can add a touch of excitement to your day.
Engage your taste buds, savor flavors you may not replicate at home, and let someone else do the cooking. Additionally, sharing a meal with friends or family can enhance the experience, fostering connections and creating lasting memories.
4. ATTEND A LOCAL EVENT
Local events, such as farmers' markets, craft fairs, or live performances, can provide an engaging reason to leave the house. These occasions offer a chance to immerse yourself in the creativity and culture of your community.
Browsing unique artisanal products, sampling fresh produce, or enjoying live music can inject vibrancy into your day. Plus, engaging with local artists and vendors can offer valuable insights into your area's creative scene.
5. VISIT A LIBRARY OR BOOKSTORE
For book enthusiasts, a trip to the library or bookstore is an excellent excuse to step out. Whether you're seeking an engaging novel, an informative non-fiction work, or just a quiet place to read, these spaces provide a haven for literary exploration.
Lose yourself in the aisles, discover new authors, or reacquaint yourself with old favorites. The environment fosters focus and reflection, making it an ideal outing for solo contemplation or shared book discussions with like-minded readers.
6. JOIN A FITNESS CLASS
Boost your physical and mental well-being by attending a fitness class. Whether it's yoga, dance, spinning, or martial arts, group exercise sessions can energize your body and uplift your mood.
The camaraderie of fellow participants and the guidance of an instructor provide motivation and structure to your workout routine. Engaging in regular exercise contributes to a healthier lifestyle and a positive sense of accomplishment.
7. VOLUNTEER IN YOUR COMMUNITY
Offer your time and skills to a local organization through volunteering. Giving back to your community not only benefits others but also offers a sense of purpose and fulfillment.
Whether you're assisting at a soup kitchen, participating in a beach cleanup, or tutoring students, your efforts contribute to positive change. Volunteering provides an opportunity to connect with fellow community members, fostering meaningful relationships and creating a sense of unity.
8. PHOTOGRAPHY EXPLORATION
If you have a passion for photography, use it as an excuse to venture out and capture captivating moments. Roam the streets with your camera in hand, seeking interesting angles, vibrant colors, and unique compositions.
Photography encourages you to see the world with a creative lens, heightening your appreciation for details you might otherwise overlook. Plus, sharing your photos can inspire conversations and connections with others who share your artistic interests.
9. HUNT FOR ANTIQUE TREASURES
Uncover the allure of the past by visiting antique shops, flea markets, or thrift stores. This excuse offers a thrilling hunt for unique treasures and a glimpse into history. Explore vintage furniture, retro clothing, and curious artifacts that tell stories of bygone eras.
The act of discovering hidden gems can be both exciting and rewarding, and each find carries a sense of nostalgia and individuality.
10. GARDEN OR BOTANICAL EXPLORATION
Embark on a botanical adventure by visiting a local garden, arboretum, or botanical conservatory. Immerse yourself in the beauty of diverse plant species, from vibrant flowers to lush foliage.
These spaces offer a serene atmosphere for relaxation, photography, and contemplation. Engage with the natural world, learn about different plant varieties, and embrace the therapeutic benefits of being surrounded by greenery.
11. DISCOVER PUBLIC ART
Explore your city's creative side by seeking out public art installations, murals, and sculptures. These artistic expressions can be found on walls, sidewalks, and plazas, turning the urban landscape into an open-air gallery.
Use this excuse to take a leisurely walk while appreciating the diversity of styles and messages conveyed by the artwork. Capture these ephemeral moments through photography and share your discoveries with others.
12. JOIN A HOBBY GROUP
Participating in a hobby group or club can lead to exciting outings and meaningful connections. Whether it's a knitting circle, a board game night, or a hiking club, shared interests create a sense of belonging.
Engage with like-minded individuals, exchange insights, and expand your social circle. These gatherings offer a chance to learn new skills, share experiences, and create memories that extend beyond the group's activities.
13. EXPERIENCE CULTURAL EXHIBITS
Visit museums, galleries, or cultural centers to immerse yourself in the world of art, history, or science. These establishments offer thought-provoking exhibitions that ignite curiosity and broaden your understanding of various subjects.
Engage with interactive displays, examine historical artifacts, and ponder contemporary artworks. Exploring cultural exhibits provides opportunities for self-discovery, learning, and connecting with the rich tapestry of human creativity.
14. ENJOY WATERFRONT ACTIVITIES
If you're near a body of water, take advantage of waterfront activities. Whether it's a beach, a lake, or a riverbank, these areas provide a refreshing escape. Picnicking, kayaking, paddle boarding, or simply lounging by the water can rejuvenate your senses.
The soothing sound of waves and the cool breeze create a tranquil environment that encourages relaxation and introspection.
15. ATTEND A WORKSHOP OR CLASS
Broaden your horizons by participating in workshops or classes that align with your interests. Whether you're drawn to cooking, painting, pottery, or writing, these sessions provide opportunities for skill development and creative expression.
Learning in a group setting fosters a sense of camaraderie and shared growth. You'll leave with new knowledge and a feeling of accomplishment, ready to apply what you've learned to your daily life.
16. SUPPORT LOCAL SPORTS
Cheer on your favorite local sports team by attending a game or match. Whether it's a minor league baseball game, a high school basketball match, or a community soccer tournament, the thrill of live sports creates an electric atmosphere.
Show your support for local athletes while enjoying the camaraderie of fellow fans. The excitement of the game and the unity of the crowd make for a memorable outing.
17. EXPLORE HISTORICAL SITES
Delve into history by visiting historical landmarks, heritage sites, or old towns in your area. These locations offer insights into the past, revealing the stories of those who came before us.
Wander through cobblestone streets, admire the preserved architecture, and envision the lives of earlier generations. The experience provides a sense of connection to history and a deeper appreciation for the cultural heritage of your region.
18. ATTEND A LIVE PERFORMANCE
Immerse yourself in the world of entertainment by attending a live performance, whether it's a play, a concert, or a comedy show. The thrill of witnessing talented performers in action can uplift your spirits and create lasting memories.
Engage with the emotions conveyed through music, theater, or stand-up comedy, and relish in the shared experience with fellow audience members.
19. FARMERS' MARKET EXPLORATION
Visit a local farmers' market to engage with your community and support local farmers and artisans. These markets offer a vibrant array of fresh produce, handcrafted goods, and culinary delights. Take your time to browse stalls, sample seasonal fruits, and discover homemade treats.
Engaging with vendors fosters connections and provides insights into the stories behind the products you're purchasing.
20. ENGAGE IN OUTDOOR FITNESS
Embrace the great outdoors for your fitness routine by going for a hike, cycling through scenic trails, or practicing yoga in a park. This excuse combines physical activity with the therapeutic benefits of nature.
Engaging in outdoor fitness activities allows you to challenge your body while appreciating the beauty of your surroundings. It's a wonderful way to boost your energy, enhance your mood, and experience a sense of accomplishment.
21. PHOTO WALK ADVENTURE
Combine your love for photography with exploration by embarking on a photo walk. Choose a theme or simply let your creativity guide you as you capture interesting sights and details.
Wander through urban landscapes, nature trails, or historical districts, finding inspiration in the everyday scenes that surround you. This excuse encourages you to see the world through a different lens and appreciate the beauty in the ordinary.
22. VISIT AN ANIMAL SHELTER
Experience the joy of spending time with furry friends by visiting an animal shelter. Interacting with shelter animals can be heartwarming and fulfilling, and it provides companionship to both you and the animals awaiting adoption.
Whether you're playing with cats, walking dogs, or simply offering a comforting presence, your visit contributes to the well-being of these animals and brightens your own day.
23. ATTEND A LOCAL LECTURE
Stimulate your mind by attending a local lecture or discussion on a topic that intrigues you. Many communities host talks on diverse subjects, from science and history to art and social issues.
Engaging with thought-provoking ideas and listening to experts can broaden your perspective and spark meaningful conversations. This excuse encourages you to be a lifelong learner and engage in intellectual exploration.
24. COMMUNITY CLEANUP DAY
Participate in a community cleanup event to make a positive impact on your surroundings. Whether it's picking up litter from a park, tidying up a beach, or beautifying a public space, your efforts contribute to a cleaner and more inviting environment for everyone.
Joining forces with fellow volunteers creates a sense of unity and shared responsibility, while the tangible results of your work provide a sense of accomplishment.
25. ATTEND A FILM SCREENING
Immerse yourself in the world of cinema by attending a film screening, whether it's a classic movie night, an independent film festival, or a documentary showcase.
Film screenings provide an opportunity to engage with thought-provoking stories, diverse perspectives, and captivating visuals. The shared experience of watching a film with an audience enhances the emotional impact and invites post-screening discussions.
26. OUTDOOR ART SESSION
Unleash your creativity in the great outdoors by indulging in an art session. Set up your easel, sketchbook, or painting supplies in a park or garden, and let the natural surroundings inspire your artistic endeavors.
Whether you're capturing the beauty of landscapes, experimenting with color, or simply sketching what catches your eye, this excuse allows you to connect with nature while expressing yourself artistically.
27. LOCAL WINE OR BREWERY TOUR
Explore the flavors of your region by embarking on a wine or brewery tour. Visit local wineries or craft breweries to savor a variety of beverages while learning about the production process.
Engage with knowledgeable staff, ask questions, and discover new tastes that reflect the unique character of your area. This excuse combines enjoyment with education, making it a perfect outing for enthusiasts and curious minds alike.
28. VISIT A BOTANICAL GARDEN
Delight in the beauty of nature by visiting a botanical garden dedicated to showcasing diverse plant species. Wander through themed gardens, tropical greenhouses, and serene pathways that transport you to different landscapes.
Embrace the tranquility of these spaces as you immerse yourself in the soothing ambiance created by vibrant blooms and lush foliage. This excuse offers a peaceful retreat for relaxation and contemplation.
29. COMMUNITY MUSIC EVENT
Attend a community music event, whether it's an outdoor concert, a local band performance, or an open mic night. Live music has the power to uplift your spirits, evoke emotions, and create a sense of connection with fellow music enthusiasts.
Engaging with local artists and sharing the experience with others fosters a vibrant and communal atmosphere that celebrates the magic of music.
30. ENVIRONMENTAL VOLUNTEERING
Channel your love for nature into meaningful action by participating in environmental volunteering. Join a tree planting initiative, engage in a beach cleanup, or help restore local habitats.
Your efforts contribute to the preservation of natural spaces and the well-being of ecosystems. Volunteering also offers opportunities to learn about environmental challenges and connect with like-minded individuals who share your passion for a greener world.
Resources Consulted For This Article On: