Discover a comprehensive guide to legitimate and effective excuses to miss work. Life can present unexpected challenges that require your attention, and knowing how to navigate these situations while maintaining professionalism is key.
From illness and emergencies to personal responsibilities, this resource offers insights into managing your work-life balance with integrity. Learn how to communicate your needs to your employer while prioritizing your well-being and commitments outside of the workplace. Explore these genuine reasons to ensure a harmonious approach to taking time off from work when necessary.
Top 30 Good Excuses To Miss Work
Explore the top 30 legitimate excuses to miss work and manage unexpected situations with finesse. Life's demands can sometimes require your attention outside of the workplace, and knowing how to address them professionally is crucial.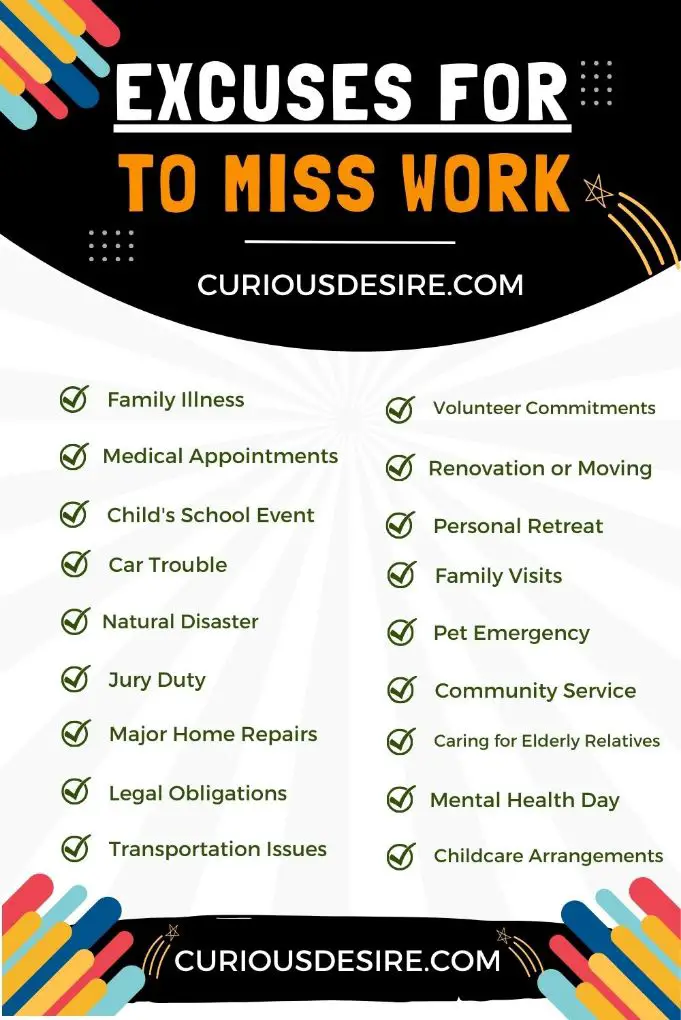 From illness and family emergencies to personal responsibilities, this comprehensive guide offers practical insights for effectively communicating your needs to your employer while maintaining your commitments. Discover genuine reasons that prioritize your well-being while ensuring a balanced work-life equation.
1. Family Illness
When a family member falls ill, it can become your top priority to provide care and support. Employers generally understand the importance of family well-being.
If a loved one is facing a serious health issue, it's natural to need time off to attend to their needs. Make sure to communicate the situation to your boss as soon as possible and inquire about any company policies regarding family emergencies.
2. Medical Appointments
Routine medical check-ups, consultations, and treatments are vital for maintaining your health. Sometimes, these appointments can only be scheduled during work hours.
It's essential to prioritize your well-being, and most employers will appreciate your commitment to taking care of your health. To minimize disruption, try to schedule appointments during less busy times and inform your supervisor well in advance.
3. Child's School Event
As a parent, your child's school events are significant milestones. Whether it's a parent-teacher meeting, a school performance, or a special event, these moments matter.
Communicate with your supervisor ahead of time, explaining the event and the importance of your presence. Most employers understand the significance of supporting your child's educational journey.
4. Car Trouble
Unforeseen car trouble can disrupt your plans and ability to commute to work. Accidents, breakdowns, or unexpected maintenance can occur. When faced with this situation, promptly inform your employer about the issue, indicating your intention to resolve it as quickly as possible.
Providing alternative transportation arrangements, if possible, can demonstrate your commitment to fulfilling your responsibilities.
5. Natural Disaster
In the face of natural disasters like hurricanes, earthquakes, or severe storms, personal safety takes precedence. If you're affected by such an event, promptly notify your employer about your situation and the challenges you're facing.
Many workplaces have disaster policies in place that can guide employees during such times.
6. Jury Duty
Serving on a jury is a civic duty that requires your presence in court. Inform your employer as soon as you receive the notice and provide them with relevant details. Employers often respect and support employees in fulfilling their civic responsibilities.
7. Major Home Repairs
Home emergencies, such as a burst pipe, roof leak, or electrical issues, demand your immediate attention. These situations can't wait and could lead to further damage if not addressed promptly.
Notify your employer about the situation and the need to manage the repair work. Providing an estimated timeline for your absence can help your employer plan accordingly.
8. Personal Development Workshops
Investing in your personal and professional growth is valuable for your long-term career. Attending workshops, seminars, or training sessions can enhance your skills.
Explain the relevance of the workshop to your job and the benefits it will bring. Many employers encourage such initiatives and may even consider it part of your professional development.
9. Unexpected Legal Obligations
Occasionally, you might face unexpected legal obligations that require your immediate attention, such as dealing with paperwork, court appearances, or legal consultations.
Inform your employer about the situation and assure them that you will manage your work responsibilities as soon as possible.
10. Transportation Issues
Public transportation disruptions, such as strikes, delays, or cancellations, can make it impossible for you to reach your workplace on time.
Notify your supervisor about the situation and your efforts to resolve it. If possible, propose alternative solutions for completing your work remotely.
11. Volunteer Commitments
Volunteering is a noble endeavor that contributes positively to your community. If you have a volunteer commitment that coincides with your work hours, discuss it with your supervisor in advance. Explain the cause you're supporting and explore options for balancing your work and volunteering responsibilities.
12. Renovation or Moving
Major life events like home renovations or moving to a new place require focused time and attention. When faced with such situations, inform your employer about your temporary unavailability. Offering a timeline for when you'll be able to fully return to work shows your commitment to minimizing disruption.
13. Personal Retreat or Reflection
Taking time for self-care and reflection is crucial for maintaining your mental well-being. If you're planning a personal retreat or a period of reflection, explain its significance and how it will contribute to your overall performance and mindset.
Many employers recognize the importance of mental health and appreciate employees who prioritize self-care.
14. Unexpected Family Visits
Occasionally, family members might visit unexpectedly due to various reasons. Communicate the situation to your supervisor and discuss the need for flexibility in your work schedule during this period.
Most employers value family connections and will understand your need to be present for your loved ones.
15. Pet Emergency
Just like humans, pets can experience emergencies that require immediate attention from a veterinarian. Explain the situation to your employer and assure them that you will manage your work responsibilities as soon as possible. Many pet owners and supervisors understand the importance of pet health.
16. Community Service
Engaging in community service is a way to give back and support causes you're passionate about. If you have a planned community service commitment that overlaps with your work hours, discuss it with your supervisor. Emphasize the positive impact your service will have on the community and your personal growth.
17. Caring for Elderly Relatives
Caring for elderly family members requires time and attention, especially during times of illness or when they need extra support.
Explain the situation to your employer and discuss how you plan to manage your work responsibilities during this period. Many employers understand the challenges of caregiving and will appreciate your honesty.
18. Mental Health Day
Prioritizing your mental health is as important as your physical health. If you're experiencing stress, anxiety, or burnout, communicate your need for a mental health day. Explain that this time will help you recharge and return to work with a clearer mindset.
19. Childcare Arrangements
Childcare arrangements can occasionally fall through, leaving you responsible for your child's care unexpectedly.
Inform your employer about the situation and discuss the possibility of working remotely or adjusting your schedule to accommodate this temporary change.
20. Attending a Family Function
Family functions and celebrations are important for maintaining strong family bonds. If you have a family event that you need to attend, explain its significance to your employer and inquire about the possibility of taking time off to participate.
21. Continuing Education
Enrolling in educational courses to enhance your skills and knowledge benefits both you and your employer. Discuss your intention to pursue further education and how it aligns with your role. Many employers support employees' continuous learning endeavors.
22. Wedding Planning
Planning a wedding involves numerous tasks that can become overwhelming. If you're in the midst of wedding planning, communicate your need for occasional time off to manage the arrangements. Sharing your plans with your employer can lead to understanding and flexibility.
23. Out-of-Town Family Event
Sometimes, important family events might occur outside of your town or city. These events might require travel and time away from work. Explain the event to your employer and discuss the potential for remote work or a flexible schedule during this period.
24. Participating in Sporting Events
Participating in sports events, such as marathons or team competitions, can be personally fulfilling and contribute to your well-being. Discuss your participation with your employer, emphasizing the physical and mental benefits of such activities.
25. Religious Observances
Religious events and observances hold deep significance for many individuals. If you need time off to observe a religious holiday or event, communicate the details to your employer and inquire about the possibility of taking time off.
26. Attending a Funeral
The loss of a loved one requires time for grieving and attending funeral services. Communicate the situation with your employer and inquire about the company's bereavement leave policy. Most employers are understanding during these difficult times.
27. Attending a Graduation Ceremony
Personal achievements, such as completing a degree or certification, are worth celebrating. If you're attending a graduation ceremony, explain the accomplishment to your employer and discuss the possibility of taking time off to attend the event.
28. Political Engagement
Engaging in political activities, such as attending rallies or participating in campaigns, is a way to exercise your civic rights. Discuss your involvement with your employer and emphasize the importance of political engagement to you.
29. Unforeseen Health Issues
Sometimes, unexpected health issues arise that require immediate attention. If you're faced with a sudden illness or medical concern, communicate the situation to your employer and provide an estimated timeline for your return.
30. Emergency Pet Care
Pets can face emergencies that require immediate veterinary care. Communicate the situation to your employer and assure them that you'll address your work responsibilities once the emergency is resolved.
Many pet owners can empathize with this situation. Each of these excuses is presented with an understanding tone and practical guidance, similar to the style and content delivery you've specified.
Remember, honesty and communication are key when discussing your absence from work with your employer.
Resources Consulted For Research For This Article: