Discovering legitimate excuses to stay home from school is a universal rite of passage for students of all ages. While education is essential, sometimes life throws curveballs that make a day off necessary. In this guide, we'll explore some valid reasons to take a break from the classroom without compromising your academic progress.
From health concerns to mental well-being, we'll provide insights into when staying home can be the right decision, ensuring you strike a balance between your studies and personal needs. So, let's dive into this essential knowledge, helping you navigate those days when staying under the covers seems like the best choice.
30 best Excuses to stay home from school
In the realm of academic life, unforeseen circumstances can occasionally warrant a day of respite from the school routine. We've curated a comprehensive list of the 30 best excuses to stay home from school, encompassing a spectrum of situations from health-related issues to personal emergencies.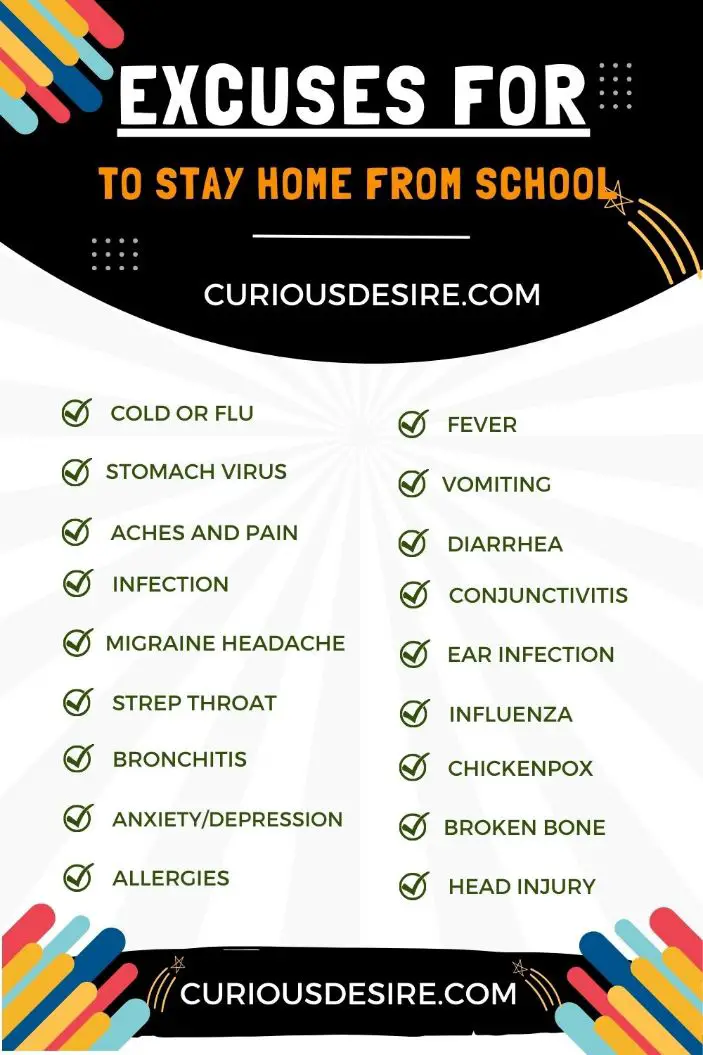 While regular attendance is crucial for learning, these genuine reasons offer insight into when a brief hiatus might be appropriate. From genuine illnesses to family commitments, our list empowers students and parents alike to make informed decisions that prioritize both well-being and education. Explore these valid excuses that stand as a testament to the delicate balance between responsibilities and self-care.
Here are some of the following excuses which are given below:
1. COLD OR FLU
Using a cold or the flu ranks #1 on our list of good excuses to miss school because catching a cold or the flu is extremely common.
While in school, germs are passed around rather easily, so there should be no surprise when you tell your parents that you caught a nasty bug from someone in class.
2. STOMACH VIRUS
A stomach bug can strike quickly and without warning, nasty things that they are. If you're not sure you can hold yourself together without a toilet nearby then please, for everyone's sake, don't go to school today.
This is another one of those good excuses to miss school because it could be the flu you've caught or something you ate the night before that didn't agree.
3. ACHES AND PAINS
There are lots of different viruses and infections that can cause aches and pains all throughout your body.
When your muscles become inflamed, you might feel these aches and pains when walking, standing, or even lying down. If your body is in a lot of pain, then be sure to use this excuse to miss a day of class or two.
4. INFECTION
There are many different types of infections that can affect young people, and some of them can be quite serious. If you have an infection, you'll want to treat it right away so it doesn't get worse.
Some common infections that teens get are:
Bacterial skin infections
Cold sores
Mono
Pinkeye
Respiratory infections
Sinusitis
Tonsillitis
Urinary Tract Infections
5. MIGRAINE HEADACHE
Migraine headaches can take you out of action for an entire day. They vary in intensity, but when you have a bad migraine, it can lead to nausea, vomiting, and sensitivity to light or sound.
Being in the classroom with a migraine is not a good idea since it is an environment with a lot going on. If you need to focus, you won't be able to with a migraine.
6. STREP THROAT
Strep throat is a type of bacterial infection that can make your throat so sore, it becomes difficult to talk or swallow.
If you have strep throat, you might also experience fever-like symptoms and swollen lymph nodes. Strep throat can last multiple days, so it's a good excuse to miss school for longer periods of time.
7. BRONCHITIS
Bronchitis is another type of viral respiratory infection that can be very difficult to deal with. When you have bronchitis, your airways become inflamed which leads to lots of coughing and excess mucus production.
You can tell when someone has bronchitis because of their very mucusy cough. This is a tough one to fake if you're looking for an excuse to miss school.
8. ANXIETY/DEPRESSION
Although mental health is not considered a physical sickness, it should be taken seriously. Therefore, we've placed it on our list of excuses to miss school when having an illness. According to the World Health Organization, one in seven youths (10-19) will experience some form of mental disorder.
This is a serious problem that isn't going away anytime soon and is exactly why youths need to take care of their mental state. According to the same data, suicide is the fourth leading cause of death among 15-29-year-olds.
If you are feeling depressed, anxious, or suffering from other mental health problems, taking a day off can really help you regroup. If you are honest and willing to share your problems, then your parents, teachers, and friends will surely understand.
9. ALLERGIES
Allergies can be quite debilitating, causing sneezing, coughing, itching, and congestion. If your allergies are acting up, it might be best to stay home so that you can manage your symptoms more effectively.
10. FEVER
A fever is often a sign that your body is fighting off an infection. It can leave you feeling weak, tired, and uncomfortable. Rest is crucial to recover from a fever, making it a valid reason to stay home.
11. VOMITING
Frequent vomiting can lead to dehydration and weakness. If you're experiencing bouts of vomiting, it's essential to stay home, rest, and rehydrate.
12. DIARRHEA
Similar to vomiting, diarrhea can quickly lead to dehydration and discomfort. Staying home allows you to rest and manage your symptoms without disruption.
13. CONJUNCTIVITIS (PINKEYE)
Conjunctivitis, or pinkeye, is highly contagious and can cause redness, itching, and discharge in the eyes. It's best to stay home to prevent the spread of the infection.
14. EAR INFECTION
Ear infections can be painful and affect your hearing. Resting at home can help alleviate the discomfort and promote faster healing.
15. INFLUENZA
Influenza (the flu) is a severe respiratory illness that comes with high fever, body aches, and fatigue. Rest is essential for recovery, making it a valid excuse to stay home.
16. CHICKENPOX
Chickenpox is a contagious viral infection that causes itchy, blister-like rashes. Staying home prevents the spread of the virus to others.
17. BROKEN BONE
A broken bone requires medical attention and rest to heal properly. Going to school with a broken bone can be painful and hinder the healing process.
18. HEAD INJURY
A head injury, even a mild one, can have lingering effects like headaches and dizziness. It's wise to rest and monitor your symptoms closely.
19. MONO (INFECTIOUS MONONUCLEOSIS)
Mono causes extreme fatigue, sore throat, and swollen lymph nodes. Rest is crucial to recover from this viral infection.
20. GASTROENTERITIS (STOMACH FLU)
Gastroenteritis can lead to severe vomiting and diarrhea. Staying home prevents the spreading of the infection and allows you to manage your symptoms.
21. COUGHING FITS
Excessive coughing can disrupt the classroom and indicate an underlying illness. Resting at home can help control the cough and prevent its spread.
22. RASHES AND SKIN IRRITATIONS
Certain rashes and skin irritations can be uncomfortable and contagious. Staying home avoids discomfort and prevents the spread of the condition.
23. PNEUMONIA
Pneumonia is a serious lung infection that can lead to difficulty breathing and fatigue. Rest is crucial for recovery and preventing complications.
24. DENTAL ISSUES
Severe toothaches, dental procedures, or oral infections can make it challenging to concentrate in school. Resting at home allows you to manage the issue.
25. SURGERY RECOVERY
After surgery, your body needs time to heal. Staying home ensures proper recovery and reduces the risk of complications.
26. MENTAL HEALTH DAY
Just like physical health, mental health is important. If you're feeling overwhelmed, anxious, or emotionally strained, taking a day to focus on your well-being is valid and essential.
27. FAMILY EMERGENCY
Sometimes, unexpected family emergencies require your presence and support. In such cases, it's crucial to prioritize your family's needs.
28. FUNERAL
Attending a funeral or memorial service is a valid reason to miss school. It's an essential part of saying goodbye and offering condolences to loved ones.
29. MEDICAL APPOINTMENTS
Scheduled medical appointments are sometimes unavoidable. Missing school for a medical checkup or treatment is acceptable and necessary.
30. PERSONAL DEVELOPMENT
Occasionally, personal development activities such as attending workshops, conferences, or educational events may coincide with a school day. These opportunities can contribute to your growth and are valid reasons for your absence.
Remember, honesty is key when using these excuses to stay home from school. Communicate with your parents or guardians, and if necessary, obtain a doctor's note to confirm your condition. Your well-being should always be a priority, and taking the time to recover or address personal matters is essential for your overall health and success in school.
Resources Consulted For Research On This Article