Inventory is one of the most important aspects of any business. It is the stock that a company has on hand to sell to its customers.
Several factors go into determining how much inventory a business needs, including projected sales, lead time, and shipping time. By taking these factors into account, businesses can ensure that they have the right level of inventory at all times. But why is it so important? This blog post will give you 15 reasons why inventory is important.
15 Benefits Of Inventory For Any Business
Inventory allows you to track what you have and what you need, which helps ensure that your business runs as smoothly as possible. Without proper inventory management, your business could quickly run out of products or materials, which could lead to lost sales and decreased profits.
1. Inventory Saves Time & Energy
Having proper inventory saves you a lot of time that you could be spending on other tasks.
You can complete this task with ease when you use software or apps to help automate the process. Why waste hours on tedious manual efforts when you can get the job done in minutes?
Good inventory is necessary to keep a track of everything. It will ensure accuracy and save you time.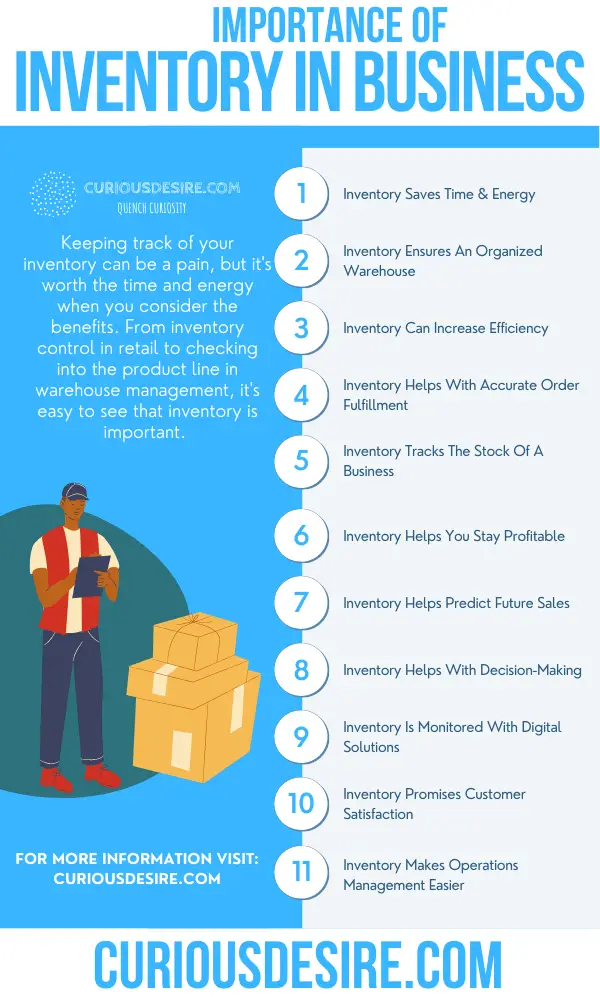 2. Inventory Ensures An Organized Warehouse
A warehouse is the business' playground, and if you have a good foundation, it will be easier to work there. Keeping your inventory organized lets you move around the warehouse more easily.
It's easy to choose the right items for your buyers when everything is well-labeled and organized in a way that makes sense to everyone on your team.
The only way to keep track of everything is by having an organized system, which can be accomplished through proper inventory.
3. Inventory Can Increase Efficiency
Good inventory increases efficiency, which is extremely valuable to any business.
Tracking your inventory can save you money and allow for greater productivity. It will make things easier for everyone who works at the company.
Inventory management facilitates better planning, which gives employees one less thing to worry about every day by making it easier for them to stay organized.
4. Inventory Helps With Accurate Order Fulfillment
Having proper inventory lets you take orders correctly. If you don't have enough items to fulfill the demand you are seeing, it will be difficult for your business to grow.
Taking the time to create a more solid strategy might help businesses avoid incorrectly filled orders, high return rates, and loss of client base. Inventory comes into play when it comes to determining how much to buy and in what quantities.
Related Video – The Importance of Inventory:
5. Inventory Tracks The Stock Of A Business
Your inventory is a picture of what you have available to sell at any given time. It tracks the stock of your business and shows what proportion of it is sold or unsold, allowing you to make better decisions about future purchases and sales.
This information can be used as a guide to understanding what you should buy in bulk or not.
6. Inventory Helps You Stay Profitable
If your business is growing, then there's a good chance that your inventory will be increasing as well. You need to keep a balance of the amount of physical stock that you have on hand with the demand from your customers. If you don't have enough items available for purchase, it can hurt your profits.
Keeping a track of what is moving and why can help you make better decisions to stay profitable.
It can also help you identify why numbers are changing – whether it is due to a lack of inventory or if there is a problem with customers returning items.
7. Inventory Helps Predict Future Sales
Sales depend on the availability of your inventory. By knowing what you think will sell in the next few weeks, you can make educated guesses about how many items to order from your suppliers before they run out. Accurately predicting future sales allows for better planning and spending of your money.
By tracking your inventory, you can better predict how much demand there will be for certain items and adapt accordingly. It helps businesses decide how many units to purchase, what products to prioritize, and how much of an item to keep in stock at once.
8. Inventory Helps With Decision-Making
You need your sales numbers to make good decisions about your inventory. If you want to know why certain products are selling better than others, you must track everything accurately. 
It is only possible to make smart decisions when you have all of the necessary data that can help guide these choices. You can start this process by creating a solid inventory plan.
9. Inventory Helps You Avoid Financial Losses
Inventory management can help avoid financial problems that could hurt your business. It is very easy to lose money through overlooked mistakes with managing inventory, which is why it's necessary to prioritize accuracy and efficiency when it comes to this process.
You need accurate numbers to adjust your inventory. It is to ensure that you are not accidentally over-ordering expensive items. This is one of the most common mistakes made when it comes to inventory management, so avoiding it can help improve profits and avoid unnecessary losses.
10. Inventory Helps Determine Product Promotions
Knowing how much inventory you have available lets you know when and where that product should be promoted. It keeps your customers interested and helps keep you competitive.
It is only possible to plan promotions if the inventory numbers are accurate and up-to-date, so entrepreneurs should always monitor this process closely.
11. Inventory Is Monitored With Digital Solutions
Keeping track of inventory has traditionally been very expensive and time-consuming.
Digital solutions can help entrepreneurs with tracking their product inventory and orders. It keeps everything in one place so that entrepreneurs can see the big picture.
It is now possible to keep track of inventory on a large scale without needing any additional help from outside sources. Digital solutions allow businesses to automate the entire process. So they can save more time and money for other business expenses.
12. Inventory Helps Avoid Supply Chain Obstacles
Having a proper inventory can also help avoid other problems in your supply chain which could hurt your relationship with your customers.
Managing inventory can help avoid supply chain problems like lost or late shipments. Keeping an accurate inventory allows for better decisions – what to order and how much – which could help avoid these obstacles.
13. Inventory Helps With Taxes
Keeping track of your inventory can help you avoid tax penalties at the end of the year.
You should know how much inventory you have in stock at all times to avoid any confusion when it comes to filing taxes. It is a must to keep accurate records – keeping track of your inventory numbers or using digital solutions that can help automate this process for you.
14. Inventory Promises Customer Satisfaction
Customers that shop online is eagerly anticipating their purchases. And there's nothing worse than receiving a purchase that isn't as described, is late, or is damaged. Buyers are less likely to buy from the company again when this happens. On the other hand, improved inventory management may help eCommerce while online retail companies develop a solid rapport with customers.
Managing inventory can help you find out which items are not selling so that you can adjust your product line to better suit the needs of your customers..
Tracking your inventory is the only way to ensure that all of your customers are satisfied with what you have available for them.
15. Inventory Makes Operations Management Easier
Inventory can also play a huge role in operations management. You must have an accurate count of what you have available for your customers and which items are not selling so that you can adjust accordingly.
Good inventory management makes certain that there is no overstock or shortages while keeping prices low enough to remain competitive while still making a profit. It's only possible to accomplish this with the help of good inventory management.
The Importance Of Inventory – Conclusion
Keeping track of your inventory can be a pain, but it's worth the time and energy when you consider the benefits. From inventory control in retail to checking into the product line in warehouse management, it's easy to see that inventory is important.
References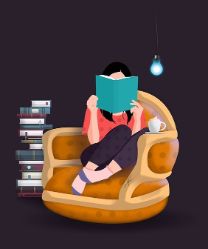 A sophomore in engineering, I'm a budding writer and an adventure enthusiast. My passion leads me on to try my hands on different things. I enjoy music, food, and good company. Making my way through life in my own ways, you'll find me holding a camera and capturing what this world has to offer.