Earth is full of so many beautiful aspects, the most popular being the ocean.
The ocean is a part of the sea or other body of salt water that is partly or wholly enclosed by land. It helps to regulate our climate and is a rich source of biodiversity.
Yet, we are still damaging it through overfishing, pollution, and climate change. We need to start taking better care of the ocean if we want it to be around for generations to come. Here are 15 convincing reasons why the ocean is important to our survival.
15 Benefits Of Oceans That Help Sustain Life On The Planet
The ocean is home to an abundance of marine life. It plays a key role in regulating our climate and helps to generate oxygen. It also provides us with food, jobs, and recreation.
1. Ocean Is A Part Of Ecosystem
The ocean is a part of the ecosystem. Every living thing on the planet needs another to survive, and that's why Earth is full of biodiversity.
Water is crucial to all life on the earth. And oceans are the biggest stores of water on the planet. Hence oceans support the biosystem and all the life on the planet.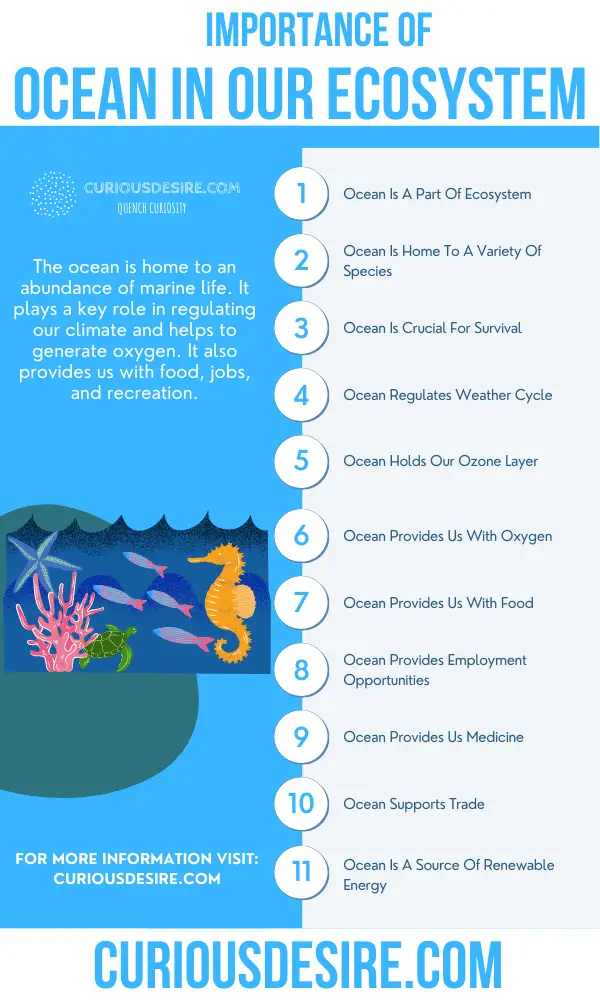 2. Ocean Is Home To A Variety Of Species
The ocean is home to a variety of species. But there are so many creatures from the deepest black sea to the warmest coral reef that we have barely seen.
Marine life depends on the ocean for its survival. It is estimated that over 2.2 million marine species are occupying the earth's oceans, and the number is still increasing.
The ocean contains a variety of ecosystems. These ecosystems range from shallow coastal areas to dark abysses thousands of meters deep. Ocean habitats can be divided into coastal marine habitats – bays, estuaries, and lagoons – and pelagic habitats such as open seas and deep basins.
All these life forms play a vital role in forming relationships that keep the oceans thriving and healthy.
3. Ocean Is Crucial For Survival
The ocean is crucial for our survival. 70% of the Earth is covered with water, and of that water, 96.5% of it is oceans.
Water makes up around 70 percent of the human body – the brain and lungs are composed mostly of water. Blood is 92 percent water, and bones are 25 percent hydroxylapatite, a substance similar to calcium.
Water helps regulate the body's temperature and provides an exit for chemicals from our cells. In addition to it, it is necessary for other animals too, so it is important for survival.
4. Ocean Regulates Weather Cycle
The ocean is a major factor in the water cycle that affects climate and weather. It controls rainfall and droughts. The sea is the source of almost all rain that falls on land.
The ocean absorbs 99.96 percent of the sun's heat, which is absorbed ocean. This heat is then carried across the globe via currents, thus circulating warm water at the equator while moving it around the earth.
Ocean also helps regulate the water cycle by absorbing around 30% of the carbon dioxide from the atmosphere. CO2 is absorbed by the ocean, which helps maintain the carbon cycle and, as a result, the temperatures. It functions similarly to our global climate control system.
The ocean also influences things like tides and currents – which are affected by the gravitational pull. It is these factors that contribute to our Earth's climate and weather patterns.
Related Video – The Importance Of Our Oceans:
5. Ocean Protects Us From Storms
The world's oceans create a barrier between landmasses and storms. The large body of water absorbs most of the energy released by wind, which can cause dangerous waves.
This barrier between the land and sea protects people living on the coast from violent weather conditions, including hurricanes.
6. Ocean Holds Our Ozone Layer
Ozone is a molecule made up of three oxygen atoms. It normally absorbs the harmful ultraviolet rays from the sun, protecting us from being burned by those UV rays. The ozone layer around our planet is located between 15 and 35 kilometers above the earth's surface.
The ozone hole was discovered in 1985 over Antarctica. This is a hole in the ozone layer which allows extra harmful rays to come through.
The ocean absorbs approximately 80 percent of the atmosphere's ozone. This is because ozone molecules are soluble in water. And it dissolves as seawater evaporates from the sea surface leaving behind salt particles that attract more dissolved ozone molecules.
7. Ocean Provides Us With Oxygen
Oxygen from the ocean helps during photosynthesis.
We all need oxygen to live – it's a vital part of life for humans and other organisms. Phytoplankton – tiny plantlike creatures that dwell in the sea – contribute at least 50% of the oxygen on Earth.
They are similar to land-based plants as they utilize photosynthesis to convert light into energy and produce oxygen as a byproduct. They also consume carbon dioxide, removing about 10 gigatons of carbon from the air every year and putting it deep into the ocean.
8. Ocean Provides Us With Food
The ocean provides an endless bounty of food for millions of people all over the world.
Every day, billions of people throughout the world consume fish. It accounts for nearly 16% of all animal protein consumed on the globe. Fish is merely one component of seafood, although it's by far the most common and well-known type.
Algae and sea plants are used for cooking. With a variety of species prest, it is rich to provide nutritious food to people.
9. Ocean Provides Employment Opportunities
Millions depend on the ocean to provide them with their livelihood, whether directly or indirectly. A number of jobs are related to ocean resources. These include fishing, navigation, and shipping industries.
People work in all sorts of ways in the sea – such as catching fish, operating boat engines, working on boats, manufacturing nets and equipment used for fishing, and maintaining underwater vehicles.
10. Ocean Provides Us Medicine
The ocean supplies us with medicine. It is a source of many compounds used to make a range of medicines, including antibiotics, painkillers, blood clotting agents, and anticoagulants.
The sea has been home to some incredible medical advances. From penicillin – the first antibiotic developed by Alexander Fleming in 1928 – to pacemakers, which were developed by engineers in the 50's with assistance from doctors.
11. Ocean Serves A Transport System
The ocean is a vital part of our transportation system. Ships transport millions of tons of cargo every day on rivers, canals, oceans, seas, and other navigable waters.
Shipping is a cheap and efficient method of transport. Using the ocean, goods are easily shipped to remote parts of the world.
12. Ocean Supports Trade
The ocean supports trade and transit between countries. Without the use of ships, it would be almost impossible for anyone to conduct international trade.
For example, more than 70% of everything that is imported into Europe arrives via ship while more than 60% of global exports are carried by ship.
Exports sent across the ocean include oil, coal, grain, ore, sugarcane, coffee beans, cocoa pods, cotton bales, hides, and skins.
Ocean transport also opens up trade between regions. It provides the opportunity for people to learn more about each other's culture and way of life while opening up new markets for entrepreneurs across the globe.
13. Ocean Provides Recreation
Ocean resources serve both commercial and recreational users. Millions of people enjoy the ocean for its beauty, bounty, and recreational opportunities.
The ocean provides people with places to have fun. Recreational activities that take place in the water include fishing, boat racing, surfing, swimming, and snorkeling.
14. Ocean Is A Source Of Renewable Energy
Ocean resources are a potential source of renewable energy. For example, the waves and tides in oceans generate electricity through wind power or hydroelectricity.
The world's first commercial wave farm was opened off the coast of Portugal in 2008. In 2009 it supplied enough power for 1,500 homes – a promising sign that renewable ocean resources could provide a cleaner alternative to chemical-based energy production.
15. Ocean Improves Well Being
People who live near the ocean tend to be healthier and happier. People who move from inland areas to coastal cities experience a significant improvement in mental health.
According to numerous studies, people prefer viewing environments with blue and green features – a therapeutic landscape. And crashing waves support meditation techniques.
These positive influences are thought to arise because of the ocean's positive effect on mood, stress relief, and social interaction.
The Importance Of Ocean – Conclusion
The ocean is one of the most important aspects of our planet. It provides us with food, jobs, and so much more. Unfortunately, the ocean is in trouble. We need to do our part to help protect it.
References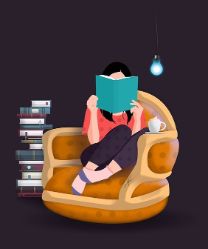 A sophomore in engineering, I'm a budding writer and an adventure enthusiast. My passion leads me on to try my hands on different things. I enjoy music, food, and good company. Making my way through life in my own ways, you'll find me holding a camera and capturing what this world has to offer.