Making excuses for bad behavior is a common human tendency, often stemming from the instinct to defend oneself or avoid accountability. However, it's crucial to recognize that offering excuses for inappropriate actions can hinder personal growth, damage relationships, and undermine accountability.
In this guide, we explore the psychology behind making excuses for bad behavior, shedding light on why it happens and offering insights on how to take responsibility for one's actions, fostering personal development and healthier interactions with others.
Want to make excuses for bad behavior? Here we go.
If you find yourself inclined to make excuses for bad behavior, it's essential to address this tendency proactively. In this direct guide, we delve into the reasons behind making excuses for inappropriate actions and how it can impact your personal growth and relationships.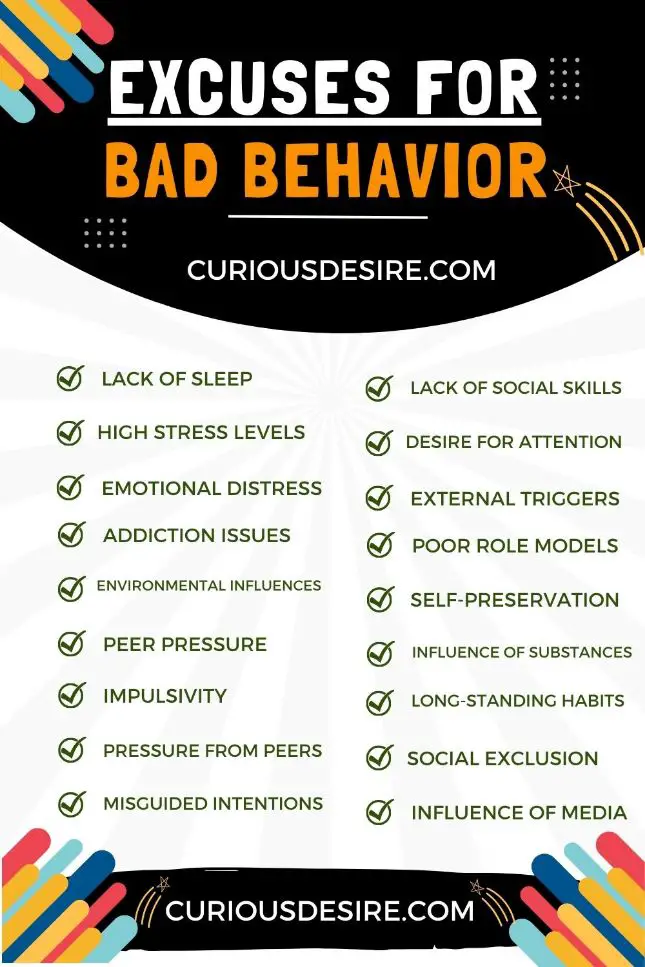 Rather than perpetuating this behavior, we offer insights on acknowledging mistakes, taking responsibility, and working towards positive change. Embracing accountability can lead to personal development and healthier interactions with those around you, creating more constructive and authentic connections in the long run.
Here are some of the following excuses which are given below:
1. LACK OF SLEEP
A common excuse for bad behavior is the lack of sufficient sleep. Sleep deprivation can lead to irritability, mood swings, and impaired judgment, making it easier for individuals to act out of character or respond negatively to situations.
While sleep deprivation can indeed impact one's behavior, it's essential to recognize that it's not an excuse for harmful actions. Acknowledging the effects of sleep deprivation is the first step. To mitigate this, individuals should prioritize good sleep hygiene, maintain a consistent sleep schedule, and seek help or medical advice if chronic sleep issues persist.
2. HIGH STRESS LEVELS
Excessive stress can trigger poor behavior, such as snapping at others, making impulsive decisions, or reacting negatively in stressful situations. Stress can cloud judgment and hinder rational thinking.
Recognizing the impact of stress on behavior is crucial, but it's also essential to take responsibility for managing stress in healthy ways.
Engaging in stress-relief techniques like meditation, exercise, or counseling can help individuals better cope with stress and reduce the likelihood of making excuses for their actions.
3. EMOTIONAL DISTRESS
When individuals are dealing with emotional distress, such as grief, anger, or anxiety, they may use it as an excuse for behaving poorly. Emotional pain can lead to outbursts, avoidance, or lashing out at others.
While it's essential to acknowledge the emotional distress someone may be experiencing, it's equally important to seek healthier outlets for processing emotions.
Encourage individuals to seek support from friends, family, or professionals, as well as to explore therapeutic methods to address and manage their emotional challenges without resorting to bad behavior.
4. ADDICTION ISSUES
People struggling with addiction often use their dependency as an excuse for their bad behavior. Substance abuse can lead to impaired judgment, impulsive actions, and a disregard for consequences.
Addressing addiction is a complex journey, but it's essential to prioritize seeking help and treatment. Encourage individuals to seek support from addiction specialists, attend support groups, and explore rehabilitation options to overcome addiction-related behaviors.
5. MENTAL HEALTH CHALLENGES
Mental health conditions, such as depression, bipolar disorder, or borderline personality disorder, can contribute to erratic or harmful behavior. Individuals with mental health challenges may struggle to regulate their emotions and actions.
While understanding the role of mental health in behavior is crucial, it's equally important for individuals to seek professional help, therapy, or medication when necessary. Encourage them to develop coping strategies and a support network that can assist them in managing their mental health effectively.
6. ENVIRONMENTAL INFLUENCES
Sometimes, individuals attribute their bad behavior to their environment, upbringing, or external influences. They may believe that their surroundings or past experiences justify their actions.
While acknowledging the impact of one's environment is important, individuals should also take responsibility for their choices and actions.
Encourage them to reflect on their behavior, make amends when necessary, and take proactive steps to create a healthier and more positive environment for themselves.
7. PEER PRESSURE
Peer pressure can lead individuals to engage in bad behavior they might not otherwise choose. The desire to fit in or gain approval from peers can override one's judgment.
It's essential to recognize the power of peer pressure and its potential consequences. Encourage individuals to develop assertiveness skills to resist negative influences and make choices aligned with their values. Building a supportive network of friends who share similar values can also help counteract negative peer pressure.
8. MISUNDERSTANDING OR MISCOMMUNICATION
Sometimes, individuals attribute their bad behavior to misunderstandings or miscommunication. They may claim they didn't intend to harm or offend others.
While misunderstandings can indeed lead to misbehavior, it's crucial for individuals to take responsibility for their actions.
Encourage open and empathetic communication to resolve misunderstandings and promote healthy relationships. Acknowledging the impact of one's actions and seeking to repair any harm caused is essential in these situations.
9. SOCIAL NORMS OR CULTURAL DIFFERENCES
Cultural norms and societal expectations can sometimes be used as an excuse for bad behavior. Individuals may argue that their actions were acceptable within their cultural context or aligned with prevailing social norms.
While cultural differences are real and should be respected, it's vital to recognize that harmful behavior remains unacceptable regardless of cultural or societal norms.
Encourage individuals to seek a balance between respecting their cultural background and adhering to universal ethical principles. Promote open dialogue to foster understanding and bridge cultural gaps.
10. IMPULSIVITY
Impulsivity can lead individuals to make rash decisions or engage in reckless behavior without considering the consequences. They may later regret their actions but attribute them to a momentary lack of control.
While impulsivity can be challenging to manage, individuals can develop strategies to improve impulse control. Encourage mindfulness practices, therapy, or cognitive-behavioral techniques to help individuals become more aware of their impulses and make more considered choices.
11. PRESSURE FROM PEERS
Peer pressure can be a powerful force that leads to bad behavior. Individuals may succumb to the influence of their friends or social groups, making choices they wouldn't typically make.
When peer pressure is the excuse for bad behavior, it's essential to remind individuals of the importance of making independent and responsible choices.
Encourage them to develop assertiveness skills and practice saying no when faced with peer pressure. Building a strong sense of self and values can help resist negative influences.
12. MISGUIDED INTENTIONS
Sometimes, individuals engage in bad behavior with good intentions, believing their actions will benefit others. However, these actions may still harm or inconvenience others.
In such cases, it's important to help individuals recognize the discrepancy between their intentions and the actual impact of their behavior.
Encourage open communication and empathy, and suggest alternative ways to achieve their positive goals without causing harm.
13. TEMPORARY EMOTIONAL OUTBURST
Strong emotions, such as anger, frustration, or sadness, can lead to momentary emotional outbursts that result in bad behavior. Individuals may later regret their actions and attribute them to the intensity of their emotions.
Encourage individuals to develop emotional regulation skills, such as deep breathing exercises or mindfulness techniques, to manage their emotional outbursts constructively. It's important to acknowledge their feelings while emphasizing the need to express them in healthier ways.
14. LACK OF SOCIAL SKILLS
Some individuals may engage in bad behavior due to a lack of social skills or awareness. They may not understand appropriate social norms or may struggle to navigate social situations effectively.
In such cases, it's essential to offer guidance and support in developing social skills. Encourage individuals to seek resources or training that can help them improve their communication and social interactions.
15. DESIRE FOR ATTENTION
A desire for attention or validation can sometimes drive individuals to engage in negative behavior, seeking recognition or acknowledgment from others.
Encourage individuals to seek healthier ways to fulfill their need for attention, such as pursuing hobbies, joining clubs, or engaging in activities that allow them to connect with like-minded individuals in positive ways.
Help them understand that seeking attention through bad behavior is ultimately unfulfilling and can harm relationships.
16. EXTERNAL TRIGGERS
External triggers, such as specific situations or environments, can lead individuals to exhibit bad behavior. These triggers may evoke strong emotional responses or past traumas.
Support individuals in recognizing their triggers and developing coping strategies to navigate challenging situations more effectively. Encourage them to seek professional help if past traumas continue to affect their behavior negatively.
17. SOCIAL MEDIA INFLUENCE
Social media can exert a significant influence on behavior. Individuals may engage in negative actions online, such as cyberbullying or trolling, under the guise of anonymity or peer pressure.
Educate individuals about responsible online behavior and the potential consequences of their actions. Encourage empathy and respectful communication in the digital space.
18. POOR ROLE MODELS
Growing up with poor role models or exposure to bad behavior in their upbringing can contribute to individuals replicating these patterns later in life.
Support individuals in breaking the cycle by providing positive role models and encouraging self-awareness and personal growth. Help them understand that their past doesn't define their future behavior.
19. UNEXPECTED LIFE STRESSORS
Sudden life stressors, such as financial crises, job loss, or personal setbacks, can overwhelm individuals and lead to bad behavior as a way to cope with their distress.
In these situations, offer emotional support and assist individuals in seeking practical solutions to their stressors. Encourage them to reach out to professionals or support networks for guidance during challenging times.
20. LACK OF COPING MECHANISMS
Some individuals may resort to bad behavior because they lack healthy coping mechanisms to manage stress, anxiety, or emotional turmoil.
Help individuals develop constructive coping strategies, such as exercise, meditation, or therapy, to navigate life's challenges without resorting to negative behavior. Encourage them to seek professional help if necessary.
21. SELF-PRESERVATION
At times, individuals may argue that their bad behavior stems from a perceived need for self-preservation. They might believe that their actions were necessary to protect themselves or their interests.
While acknowledging the instinct for self-preservation is important, it's equally crucial to explore alternative approaches that prioritize safety and well-being without resorting to harm or negative behavior.
Encourage individuals to seek guidance on conflict resolution and assertiveness skills to navigate challenging situations while maintaining their dignity and integrity.
22. INFLUENCE OF SUBSTANCES
Substance abuse or intoxication can significantly impair judgment and lead to bad behavior. Individuals may use their state of inebriation as an excuse for actions they wouldn't typically engage in while sober.
Recognizing the influence of substances on behavior is vital. Encourage individuals to seek help for substance abuse issues, such as rehabilitation or counseling, to address the root causes of their behavior and develop healthier coping mechanisms.
23. LONG-STANDING HABITS
Individuals may rationalize their bad behavior by attributing it to long-standing habits or patterns they find difficult to break. These habits may include impulsivity, procrastination, or negative communication styles.
Help individuals understand that habits can be changed with effort and determination. Encourage them to seek support, therapy, or self-help resources to break free from destructive habits and replace them with healthier alternatives.
24. SOCIAL EXCLUSION
Feeling excluded or marginalized within a social group or community can lead individuals to engage in bad behavior as a way to regain a sense of power or belonging.
Address the feelings of exclusion by encouraging individuals to seek supportive social environments that align with their values and interests. Promote inclusion, empathy, and diversity within social groups to prevent negative behavior stemming from exclusion.
25. LACK OF ROLE MODELS
Growing up without positive role models or guidance can result in individuals using this as an excuse for their bad behavior. They may argue that they never learned appropriate behaviors or values.
Support individuals in identifying positive role models and mentors who can provide guidance and support. Encourage self-reflection and personal growth, emphasizing that individuals can learn and adopt better behavior patterns throughout their lives.
26. INFLUENCE OF MEDIA
Media, including television, movies, and video games, can sometimes be used as a scapegoat for bad behavior. Individuals may argue that exposure to violent or negative content has influenced their actions.
While media can have an impact on behavior, it's essential to remind individuals of their personal responsibility for their choices and actions.
Encourage media literacy and critical thinking to help individuals differentiate between fictional portrayals and real-life behavior.
27. UNHEALTHY RELATIONSHIPS
Being in toxic or abusive relationships can lead individuals to engage in bad behavior, often as a result of emotional manipulation or coercion from their partners.
Support individuals in recognizing the signs of unhealthy relationships and encourage them to seek help from domestic violence or abuse support services. Empower them to prioritize their safety and well-being and make choices that lead to healthier relationships.
28. SELF-ESTEEM ISSUES
Low self-esteem and a lack of self-worth can contribute to bad behavior as individuals may act out to seek validation or attention from others.
Encourage individuals to work on their self-esteem through therapy, self-help resources, and self-compassion practices. Help them understand that self-worth comes from within and is not dependent on external validation.
29. MISMANAGEMENT OF TIME
Poor time management skills can lead to bad behavior when individuals feel overwhelmed or stressed due to missed deadlines or uncompleted tasks.
Assist individuals in developing effective time management strategies, such as setting priorities, creating schedules, and breaking tasks into manageable steps. By improving their time management, individuals can reduce stress and minimize the likelihood of engaging in bad behavior due to perceived time constraints.
30. LACK OF CONSEQUENCES
Some individuals may continue engaging in bad behavior because they perceive minimal or no consequences for their actions. They may use this as an excuse to justify their continued misconduct.
Highlight the importance of accountability and consequences for one's actions. Encourage individuals to take responsibility for the harm they may have caused and work towards making amends and rectifying their behavior.
Emphasize the value of personal growth and ethical decision-making to create a more responsible and compassionate future.
Resources Consulted For Research On Making Excuses for bad behavior