We all want to be successful, but success doesn't happen overnight. It takes hard work, dedication, and most importantly, accountability.
Accountability is essential for a productive, successful life. By being accountable, we set the example for others to follow and inspire them to do their best as well. Let's explore why accountability is important and how it can benefit us all!
15 Benefits Of Accountability Essential For Success
Accountability helps us stay focused on our goals and ensures that we're doing everything we can to achieve them. It's an important tool for success. Here are 15 benefits of accountability so you can use it to reach your goals.
1. Accountability Helps You Stay On Track
It's easy to get sidetracked on our drive to succeed, but we stay focused when we're accountable to someone else. This is because we don't want to let them down and show that we are capable of attaining our objectives.
Unfortunately, the worldwide workforce faces a full crisis of engagement: according to Gallup, only 13% of workers are engaged at work.
Accountability helps us stay on track by ensuring that we're always working towards our goals. It's a constant reminder of what we need to do and where we need to focus our attention. Hence it can be a very effective way of keeping us motivated and on track.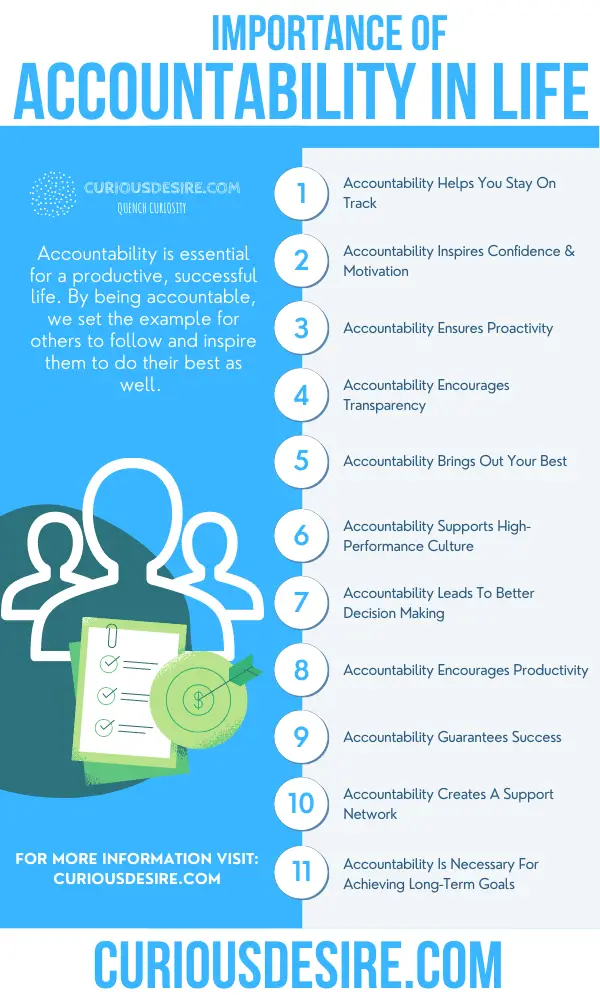 2. Accountability Inspires Confidence & Motivation
Accountability can help team members improve their skills and confidence. It is not synonymous with controlling conduct. Accountability is all about assisting individuals in improving their performance.
It requires you to stay positive and keep pushing forward. It's an excellent way to stay motivated and focused on your goals. With accountability, we're constantly reminded of what we're working for and why it's important. This helps us stay motivated and inspired to achieve our goals.
When we feel accountable to someone, it gives us confidence in ourselves and our abilities. We know that the person who's holding us accountable has faith in us, which helps encourage self-confidence and motivation.
3. Accountability Ensures Proactivity
Proactivity is the ability of individuals or teams to identify and address issues before they become a problem. It's about taking action rather than reacting.
Accountability promotes proactivity by encouraging individuals to take initiative and be proactive in their work. When we're accountable, we're more likely to anticipate potential problems and take steps to prevent them from happening.
4. Accountability Encourages Transparency
Transparency is the practice of being open and honest with others. It makes it easier for people to trust one another and encourages teamwork.
To be transparent, an organization must give stakeholders accurate, comprehensive, and timely information about its activities and governance.
Accountability practices transparency because it holds us answerable for our actions. This allows others to see what we're doing and how we're performing.
Related Video – Check Yourself – Accountability:
5. Accountability Brings Out Your Best
There are times when we're tempted to give up on our goals. there is no motivation or acknowledgment to keep you pushing forward. This is where accountability comes into play.
When we're accountable, however, we're less likely to quit because we don't want to let down the person who's holding us accountable for our actions.
It adds a sense of responsibility to perform well and succeed. This encourages us to bring out our best!
6. Accountability Supports High-Performance Culture
A high-performance culture is one in which employees are driven to achieve results. They are focused on the task at hand and work together as a team to get the job done.
High-performance cultures are successful because they have a system of accountability in place. This ensures that everyone is doing their part and that tasks are completed efficiently.
7. Accountability Promotes Integrity
Integrity is the quality of being honest and having strong moral principles. It's about doing the right thing, even when no one is watching.
Accountability helps promote integrity by encouraging individuals to act with honesty and sincerity. When we're accountable, we're more likely to make decisions based on our values and principles. This helps us maintain our integrity in the workplace.
8. Accountability Leads To Better Decision Making
We often find it difficult to decide what to do when we are on our own. Accountability requires self-reflection, which means we need to be honest with ourselves and make decisions that help us achieve our goals.
We have to weigh all of our options carefully before making a decision. It prevents us from making careless mistakes and keeps us on track.
Accountability makes us carefully consider our options. We don't want to let others down, so we take the time to think things through. This can lead to better decision-making overall.
9. Accountability Reduces Conflict
When people are accountable to one another, it reduces the amount of conflict that arises. It creates a sense of responsibility within the team, which minimizes disagreements.
When there's no accountability present, it's easy for disagreements to escalate into conflict. It can be damaging to the team's progress and morale.
10. Accountability Encourages Productivity
When individuals are accountable to one another, they tend to be more productive. It leads them to act more efficiently, which ultimately increases output.
Accountability helps us focus on the task at hand and eliminates distractions. It allows us to be more productive and efficient in our work.
Good leaders empower employees to be productive and with accountability as a tool, it is easier to achieve this goal.
11. Accountability Promotes Responsibility
Accountability is all about taking responsibility for your actions and the decisions you make. You're required to accept blame when something goes wrong while sharing praise when things go well.
Without accountability, it's easy to shift the blame onto others. This creates a culture of finger-pointing and excuses. Accountability encourages responsibility by holding individuals accountable for their own actions.
12. Accountability Is Crucial For Self-Development
To improve, we need to be able to assess our current situation honestly. This is where accountability comes in! It provides a framework for honest and open communication.
With accountability, we can identify the skills we need to work on and the goals we want to achieve. This makes it easier for us to develop our performance and improve ourselves!
Accountability is an important part of self-development. It allows individuals to identify their strengths and weaknesses. It also helps them work on improving themselves.
13. Accountability Guarantees Success
When you're accountable to someone, they'll hold you to the promises you've made. They want to know that you're doing your best and will be there every step of the way.
Research shows that accountability improves performance by up to 25% – because individuals are more likely to succeed when they're held accountable.
Accountability guarantees success by providing a framework to achieve winning results. It ensures that everyone is doing their part and working towards the same goal.
14. Accountability Creates A Support Network
Accountability helps us find support in people around us. It encourages us to reach out for help when we are struggling. We always have someone willing to listen and provide encouragement, even when times are tough!
If there's no accountability, it can be harder to find support. We may feel as though there's no one we can turn to or confide in about how we're feeling. Accountability makes it easier for us to approach those around us and ask for help when we need it most.
Accountability also encourages cooperation within teams. It helps individuals put the team's success above their personal goals.
15. Accountability Is Necessary For Achieving Long-Term Goals
Accountability is an integral part of the success process. When we're accountable to others, they can review our performance and provide feedback.
It helps us identify what we need to do better in the future, which ultimately contributes to our long-term goal achievement.
Accountability plays a vital role in helping us achieve our goals by encouraging continuous improvement and preventing us from becoming complacent.
The Importance Of Accountability – Conclusion
In conclusion, accountability is an essential ingredient for a successful workplace. It promotes transparency, integrity, cooperation, responsibility, and proactivity. It is a crucial part of self-development too.
These qualities are necessary for achieving long-term goals. If you're looking to improve your productivity and achieve success, then adopt an accountable mindset and watch your results soar!
References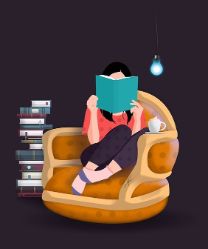 A sophomore in engineering, I'm a budding writer and an adventure enthusiast. My passion leads me on to try my hands on different things. I enjoy music, food, and good company. Making my way through life in my own ways, you'll find me holding a camera and capturing what this world has to offer.