Almost everything in the world runs on databases. From your local coffee shop's inventory system to the New York Stock Exchange, just about every company and organization relies on some form of database to store information.
Databases are important tools for storing and managing data. They allow you to keep track of information.
But why is this technology necessary? In this post, we'll take a look at why database is important and how they're so essential for businesses and other organizations.
15 Benefits Of Database In Any Organization
The database allows you to keep track of information and access it quickly and easily. It is a company's lifeline. It also helps organize the scattered data and help you make informed decisions for the future.
1. Database Organizes The Data
The database helps keep data organized systematically. It organizes and catalogs information. Without a database, you'd have to manually search for data in multiple different files and documents.
The database makes it easier to find what you're looking for and keep related data in one place – because it stores all the data in the form of tables, records, and files. Also, it records data in rows and columns to allow easy access to the specific information you need at any point in time.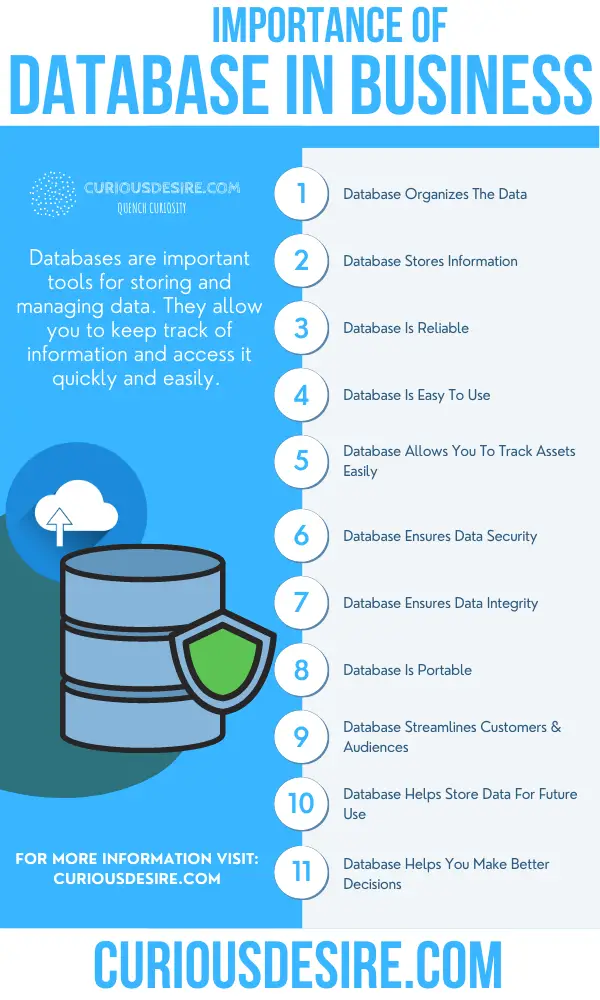 2. Database Stores Information Easily
The database helps manage information more effectively than paper-based filing systems because they can store a greater volume of data.
It also allows you to add, delete, or modify information quickly and easily. It helps keep your data up-to-date and accurate.
In addition, databases allow searches for specific information, which is not possible with paper-based systems.
3. Database Is Reliable
Databases store data consistently and reliably. This helps to prevent the data from becoming corrupted.
If the data is stored in a database, it can be easily recovered, even if it is corrupted. However, if the information is stored on paper, it may be difficult or impossible to retrieve the data if it becomes damaged or lost.
4. Database Is Easy To Use
Databases are easy to use. They can be accessed from any computer with an internet connection.
This allows you to quickly and easily get the information you need when you need it.
In addition, many databases have user-friendly interfaces that make them easy to learn and use.
Related Video – What Are Databases and Why You Need Them:
5. Database Allows You To Track Assets Easily
Databases allow businesses and organizations to keep track of their company assets, which is important for maintaining accurate records.
Using a database, you can track each item in your inventory and access this information at any time. This helps make it easier to locate each item if there are problems with your computer systems or office location.
6. Database Allows You To Manage A Large Volume Of Data Efficiently
Databases allow you to easily manage a large volume of data. This is why many massive corporations rely on this technology to organize their vast amount of information.
For example, the New York Stock Exchange uses a database system called Unifi to quickly and efficiently manage the large volume of data that is associated with stock trading.
7. Database Ensures Data Security
Your data is secure when it's kept in a database. Only authorized individuals can access the information, which prevents unauthorized users from gaining access to your sensitive data.
Databases use a variety of security mechanisms to protect data. They usually require user accounts before access can be granted, and there are various access specifiers available.
It helps protect you from identity theft and other problems that can occur due to security breaches.
8. Database Ensures Data Integrity
Integrity is an important element when it comes to your data.
The database ensures data integrity by providing you with accurate information, even if multiple users are working in the system at once.
When there is a conflict in the data, the database automatically chooses one version over another so that only correct information is stored.
This helps ensure that quality information is always available to you, even when there are multiple users.
9. Database Is Portable
The database is portable. It means that the data can be easily transferred from one computer to another. For example, you can easily transfer a Microsoft Access database to another computer.
This is especially useful if you need to work on projects from different locations. It also makes it easier to back up your data so you can restore it if it's lost or damaged.
This allows you to continue working on projects and accessing your data even when you're not in the office. In addition, many databases can be exported into different formats, which allows you to share your data with others.
10. Database Helps You Save Time
By using a database, you can save time in your organization and complete projects in less time than before. This is especially helpful when you need to access large amounts of data quickly.
In addition, a database can help you automate tasks. It can save you time and money in the long run.
Using a database for your organization helps you avoid the hassle of keeping track of separate copies of the information or unorganized files.
11. Database Streamlines Customers & Audiences
A properly designed and consistently updated database is the key to managing an effective customer relationship. This is essential for any business, whether it's a small store or a large corporation.
When you can identify long-term customers, understand their purchase histories, and track their interactions with your business, you create the ability to market selectively to them via e-mail, snail mail, or phone with relevant offers as well as providing a better overall customer service experience.
The database also helps to identify new leads, understand what services or products they may be interested in, and track how well marketing campaigns are performing.
12. Database Improves Business Performance
A well-managed database is essential for any business to improve performance. It helps you keep track of your business operations, makes it easier to analyze data, and enables you to make better decisions based on accurate information.
In addition, a database can help you improve customer service, target marketing campaigns, and understand how well your business is performing.
Therefore, by using a database you can easily manage important information and make better decisions to continually improve your business.
13. Database Helps Store Data For Future Use
The database can be used to store data for future use. This is known as data mining.
Data mining allows you to analyze past trends and make predictions. Typically, this data is stored in databases that are designed to hold large amounts of data.
By using this information, you can make better business decisions and improve your overall operations.
14. Database Helps You Make Better Decisions
By using a database, you have access to important information whenever you may need it.
In addition, a database allows you to store a variety of different types of data, such as financial reports, number charts, and personal information. With this type of system, your organization can always stay up-to-date and productive.
The database can help you make informed decisions for the future by providing you with historical data. This data can be used to analyze trends and make predictions about what may happen in the future so you take action quickly when necessary.
15. Database Supports Collaboration
By using a database, you can collaborate with different users to work on projects together.
This makes it easier to share information and provide access to your data according to specific needs or requirements.
As a result, this enables many people within an organization to share the workload, which helps improve productivity and performance.
The Importance Of Database – Conclusion
The database is important because it allows users to easily manage and access data. It also helps you make informed decisions and complete projects in less time than before. In addition, a database can help improve customer service and performance while helping you collaborate with other users.
References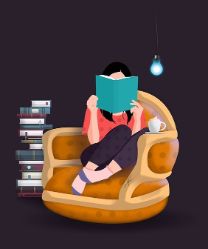 A sophomore in engineering, I'm a budding writer and an adventure enthusiast. My passion leads me on to try my hands on different things. I enjoy music, food, and good company. Making my way through life in my own ways, you'll find me holding a camera and capturing what this world has to offer.