In today's society, companies are relying more heavily on the internet to reach their target audience. In fact, for many businesses, it is becoming a necessity. This means that digital marketing has become an important factor in the success of any company. It reaches so many people and allows businesses to be reached any time! 
Digital marketing is a field that focuses on the use of digital technologies to market and advertise products. This form of advertising has grown in popularity over the past decade because it's often cheaper than traditional forms.
It's no longer just about advertising your product or service through social media, but also designing websites that are user-friendly so people can find you. Digital marketing is becoming more and more important as time goes on. This blog post will highlight why digital marketing is important for any business.
15 Benefits Of Digital Marketing That Will Help Your Business Grow
Digital marketing encompasses many different aspects of the digital world including SEO, PPC, email marketing, mobile apps, and much more. It is concerned with multimedia, customer engagement, interactions, and tracking for smooth running. Hence following benefits give reasons to adopt it in commerce.
1. Digital Marketing Is Affordable
Digital marketing provides a way for your company to market and advertise without breaking the bank. Why spend thousands of dollars on a billboard campaign when you can take that same budget and allocate it to digital marketing?
You can get your message across and do so in no budget! Digital marketing is more cost-effective than traditional advertising because it's cheaper and easier to produce. Moreover, it reaches a large audience in minimum time.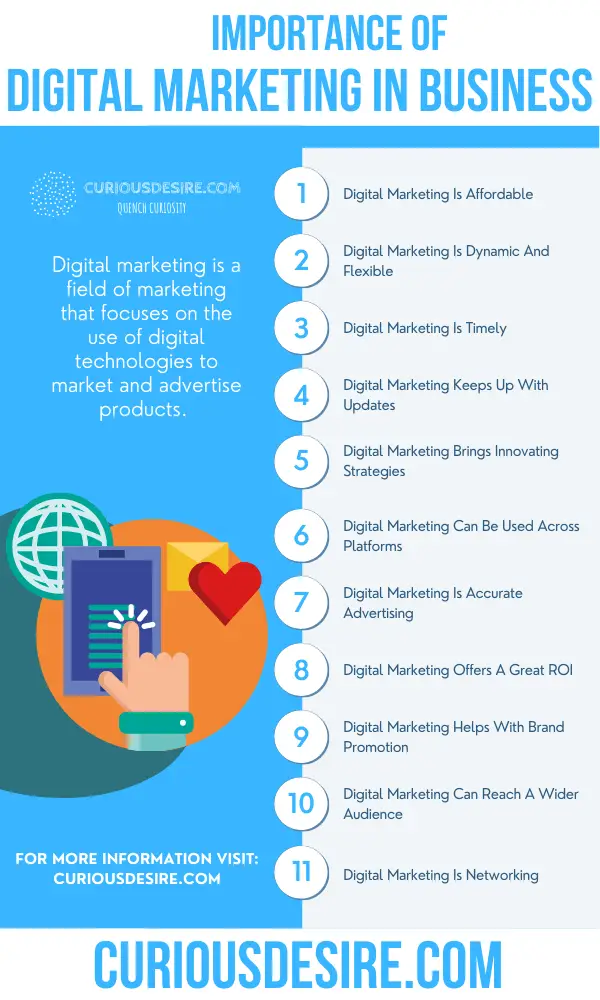 2. Digital Marketing Is Dynamic And Flexible
The internet never stays the same – people expect things to change every day! By using digital marketing, you can keep up with your customers and adjust your strategy as needed, keeping it fresh and dynamic.
Digital marketing doesn't stay static; it changes rapidly which keeps customers engaged and feeling like they're finding new information all the time. It is flexible and always help companies come up with innovative ways to engages customers.
3. Digital Marketing Is Fast
Marketing and advertising through social media can send an ad out to thousands, or even millions, of people in seconds. The next day you could receive dozens, or even hundreds, of new followers.
Digital marketing is fast and helps to promote a business through social media in a short span of time. It's possible to have a new customer within seconds without spending too much time and effort.
4. Digital Marketing Is Timely
Marketing has never been easier thanks to digital marketing's timeliness. Gone are the days of needing to place an ad in a newspaper or magazine just to have it sit until someone happens upon it.
With the help of digital marketing, your advertisement can be up-to-date and relevant at all times. You can also change or update your ads as much as you want without having to reprint new ones every time.
Related Video – Why Digital Marketing Is Important For Businesses?
5. Digital Marketing Keeps Up With Updates
You can do a lot to make your digital marketing reach the right people. This includes adding new content, changing or updating existing material, and targeting specific audiences. It saves marketers from hiring an expensive PR firm and handling it all on their own within minutes.
It gives the power to update the audience to get updated immediately which saves both time and money. There's no need to wait for something to be published to make sure that people are seeing it.
6. Digital Marketing Brings Innovating Strategies
The digital marketing world is ever-changing and new ideas and strategies are always coming out of it.
Digital marketers know that staying up-to-date with trends and new ideas is the key to success. They are always looking for new ways to reach their customers and keep them engaged with their products or services.
Digital Marketing brings innovation to the table. This will keep the audience updated and ultimately helps business in getting success.
7. Digital Marketing Is Widely Available
One of the best parts about digital marketing is that it's available for anyone who wants to utilize it! You can create simple social media posts or spend money on a full-scale marketing campaign.
There are a wide variety of free digital marketing tools, all with their own unique benefits and capabilities.
Limited resources can stand in the way for marketers but thanks to digital marketing you have almost unlimited resources at your disposal for little cost.
8. Digital Marketing Can Be Used Across Platforms
Digital marketing is available across all platforms, including mobile devices, email, social media networks websites, or even on TV with video advertisements.
It is possible to use digital marketing strategies on multiple channels simultaneously by simply changing the way we communicate and engage our audience.
9. Digital Marketing Helps With Research And Development
Digital marketing gives marketers access to data they wouldn't normally have in the traditional forms. It also helps with market research, user demographics, market trends, etc., which are all important for creating a product or service that your target audience will love.
This gives more precise information about the consumer's behavior which helps with product development.
Market research is no longer an issue; there are plenty of tools out there to get this information quickly and effectively. It works both ways too; businesses can also carry out targeted marketing campaigns for a fraction of the price.
10. Digital Marketing Is Accurate Advertising
In the age of fake news, digital marketing provides accurate information about products or services to customers when they need it.
You can measure and track so many aspects of your campaign and compare it to others. This gives marketers the ability to tweak their campaigns and makes them more efficient than ever before.
Digital marketing is all about accurate advertising which helps in making a perfect advertisement by tracking online data and statistics.
11. Digital Marketing Offers A Great ROI
Digital marketing brings a great ROI and price. You can do everything you want with digital marketing for a low cost and get the best return on investment.
The digital world is very vast, expansive, and cheap. It helps to give your brand an edge over others because of its dynamic pricing. It's not only affordable but also gives accurate results making your brand a success.
Digital marketing offers great ROI at an affordable price which allows marketers to perform different campaigns and test them in a limited time without spending too much money.
12. Digital Marketing Is Diverse
There isn't a limit to who can use digital marketing and how it can be used. Digital marketing can be used for any business or brand, whether it's small or large, local or international.
Digital marketing has no boundaries; anyone can take advantage of its tools and features which helps in promoting brands, goods, and services, ultimately leading to success. Hence it is diverse.
13. Digital Marketing Helps With Brand Promotion
Digital marketing makes promoting brands easier than ever before which helps with increasing sales and revenue for businesses or entrepreneurs.
In the age of information overload, digital marketing makes it easy to capture a customer's attention and promote your brand. It allows you to control what people see and make sure they are seeing what you want them to see.
Additionally, if something goes wrong with a campaign it can be fixed quickly before too many customers are affected by it.
14. Digital Marketing Can Reach A Wider Audience
A traditional marketing campaign can be targeted to a certain geographical location, age group, or gender. This means that only the people living in your city or who fall into one of those categories will see your advertisements.
Digital marketing allows you to target a much wider audience because it knows where the user is, what they're viewing, and how to reach them.
This is beneficial for companies who want to get their message out to attract people from different regions.
15. Digital Marketing Is Networking
Digital marketing is all about networking. Digital marketers can network with the masses through different social media platforms and build their brand. This helps promote their work over time.
These networks can then lead to more opportunities for collaboration, sharing ideas, etc., which will help drive digital marketing success for businesses or entrepreneurs.
Digital marketing helps you to build relationships with customers, partners, suppliers, and other stakeholders by networking with them on social media.
The Importance Of Digital Marketing – Conclusion
When it comes to marketing, a lot goes into a successful campaign, and keeping track of everything can be hard work.  As technology evolves new forms of digital advertising arise to keep up with this change.
Digital Marketing is an ever-evolving industry with new developments happening every day. It requires creativity and problem-solving skills while using analytical thinking to measure success.
It also keeps you up-to-date with what's going on everywhere in your marketing campaign so that no piece is missing from its puzzle. If you want your company to succeed in this age, then understanding what digital marketing can do for you is key.
References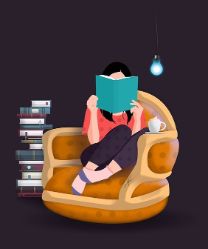 A sophomore in engineering, I'm a budding writer and an adventure enthusiast. My passion leads me on to try my hands on different things. I enjoy music, food, and good company. Making my way through life in my own ways, you'll find me holding a camera and capturing what this world has to offer.