Economics is a huge field that can be very difficult to understand. Very vast and influential, this knowledge has many practical applications in every facet of society.
Economics is the study of wealth production, use, and transfer. It can be used to answer questions about how to best allocate resources so that everyone has enough. It starts with the idea that there are limited resources in the world, which means people have to make tradeoffs when they spend money. 
Economics is important because it helps us better understand our society and ourselves. This blog post will discuss why economics is important.
15 Benefits Of Economics Making It A Great Subject To Study
Economics can help us make better decisions in our lives and help us understand how prices are determined for goods and services. It also gives us a greater understanding of the world we live in.
1. Economics Is One Of The Oldest Disciplines In The World
Economics has its roots deep in the world of knowledge. It is one of the oldest disciplines in the world and has been around for centuries.
Adam Smith was the first to write about economics in his classic book – An Inquiry into the Nature and Causes of The Wealth of Nations. This happened a long time ago, in 1776.
Perhaps one of the most famous economists is John Maynard Keynes who is known for his work in macroeconomics. He was born in 1883 and died in 1946. This makes economics a well-respected field of study.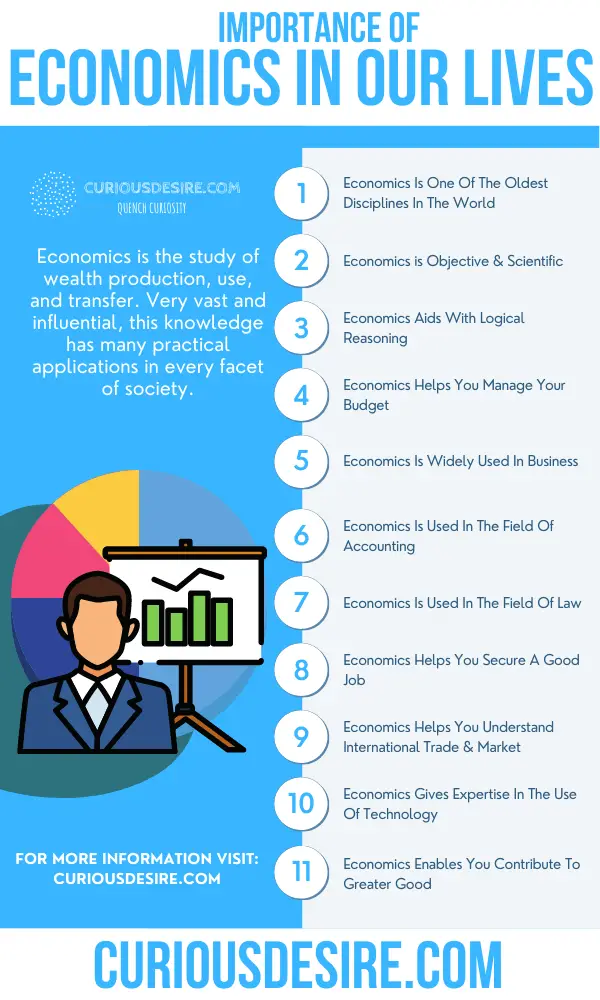 2. Economics is Objective & Scientific
Economics is a social science that is often considered more objective and scientific than other social sciences such as psychology or sociology. This is because economics relies heavily on data and empirical evidence to make conclusions.
Economists use mathematical models and statistical techniques to analyze data and test hypotheses. This makes economics a very quantitative field.
While the other social sciences often rely on case studies, economics uses deductive reasoning and tries to create theories that explain observed events.
3. Economics Aids With Logical Reasoning
Economics focuses on the reasoning and decision-making process of individuals, companies, and governments. Therefore, economics enhances people's ability to think logically and critically.
Logical reasoning is very important in economics. It helps us make sense of why things happen and attempt to predict the future.
Economics has a complex approach to decision-making, so logical reasoning skills are a must if you want to succeed in this subject.
4. Economics Helps You Manage Your Budget
One of the most important aspects of economics is understanding how to manage your finances. It can help you understand how to save money, invest money, and make wise financial decisions.
It can also help you understand the economy as a whole and how it affects you personally. This knowledge is essential for anyone who wants to be financially successful.
Related Video – Why You Should Learn Economics:
5. Economics Enhances Problem-Solving Skills
Making choices and finding solutions to problems is what economics teaches us about.
People who study economics become good problem solvers, often because economics provides them with tools that help them analyze different situations and find optimal solutions that work for everyone.
This skill is extremely important in the business world, but it is also valuable in our personal lives. Economics is a very useful subject because it helps us make better decisions in our lives and better understand the world we live in.
6. Economics Helps You Make Informed Decisions
Economic intelligence is based on data and modeling. The use of economic models has increased in recent years as economists have tried to make their forecasts more accurate.
They study, analyze, and prediction of economic trends to assist businesses and governments make informed decisions.
7. Economics Is Widely Used In Business
Businesses use economic concepts to make decisions about pricing, investment, production, and other factors.
Economics can help us understand how businesses work and make money. It can also help us understand the global economy and how businesses operate on a large scale.
In addition, economics can help us understand financial concepts such as stocks, bonds, and derivatives. This knowledge can be very useful in making investment decisions.
8. Economics Is Used In The Field Of Accounting
When coupled with a more career-specific business major like accounting, finance, or computer information systems, an economics degree might be quite beneficial.
Economics knowledge is widely used in the field of accounting because businesses need to know how their business will affect market prices and make a profit or a loss.
In addition, accountants use economic concepts such as scarcity, opportunity costs, and incentives to help them make better business decisions.
9. Economics Is Used In The Field Of Law
Economics has numerous applications in the legal profession. Lawyers use economic concepts to understand contract law, tort law, etc.
According to a study, law students with an economics major make $10,000 more each year than other lawyers.
In addition, economists can be called expert witnesses in court to give their opinion on various economic matters. Economics can also help us understand the impact of law on the economy and how businesses operate.
10. Economics Is Used In Government
Government officials use economics to make decisions about taxation, spending, and other policies. Economics can help them understand how people respond to economic incentives and how government intervention can affect the economy.
In addition, economists are often called upon to serve as expert witnesses. Governments also use them to advise on making important fiscal decisions.
11. Economics Helps You Secure A Good Job
Economics is a very versatile degree and you can use it in a variety of different careers. A degree in the subject can help you get a good job in the private or public sector.
The lifetime earnings of economics majors, according to a recent study, outpace other business majors, social science majors, and even general engineering majors. Another research claims that economists are particularly well-qualified for the position of CEO because they have a solid understanding of business activities and the ability to perform efficient analysis. They are more likely than any other major to become a CEO.
So if you're looking for a good job with a lot of opportunities, economics is a great degree to pursue.
12. Economics Helps You Understand What's Happening In The World Today
One of the main goals of economics is to understand how people use their resources and how to best allocate them so that everyone can have what they need.
From climate change and global poverty to the conflicts in Syria, Afghanistan, and Somalia, virtually every major issue facing the world today has an economic component. If we want to be a part of resolving those issues, we need to be able to comprehend them.
This understanding is extremely important in today's world, where we are constantly bombarded with news about the economy. So it is crucial to have know-how about this subject. Economics can help us make sense of all the news that we see every day.
13. Economics Helps You Understand International Trade & Market
International trade and the market are part of economics, which can help us understand how companies and countries buy and sell goods to each other.
In addition, economists study how foreign investment and capital flows can impact a country's economy. This knowledge is extremely important for business people who want to expand their business into new markets.
International trade and market is a large area in economics. This subject can be studied from an economic, sociological, and legal perspective.
14. Economics Gives Expertise In The Use Of Technology
Technology has been integrated into every single field, so economics is not an exemption. In fact, technology has become a vital part of the economy.
Economists need to study how technology is used by businesses and they need to be able to forecast how it will impact future markets.
Economists use technology to gather data, research and stimulate economic models. They also use technology to communicate with each other and the public.
15. Economics Enables You Contribute To Greater Good
A degree in economics will help you identify problems and come up with solutions, which is exactly what we need right now.
The main responsibilities are to teach people how to understand the key policy issues that influence the market and social development. An economist understands both immediate and broader concerns, such as trade-offs, benefits vs costs, market failure, public finance, and inequality.
Economics can help you make a difference by enabling you to contribute more resources for the greater good.
The Importance Of Economics – Conclusion
Many people view economics as a challenging subject to study. However, it is one of the most important degrees you can pursue. It can help you secure a good job, manage your budget, understand international trade and markets, and contribute to the greater good.
It's a fascinating subject that can help you understand the world around you in a better way.
References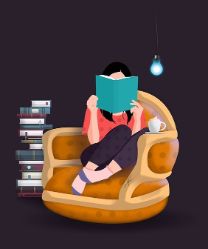 A sophomore in engineering, I'm a budding writer and an adventure enthusiast. My passion leads me on to try my hands on different things. I enjoy music, food, and good company. Making my way through life in my own ways, you'll find me holding a camera and capturing what this world has to offer.