Communication is an essential part of the collaboration. Whether you're creating a presentation for work or brainstorming with your family, it can lead to positive outcomes that wouldn't be possible otherwise. 
Effective communication is equally important in all walks of life. It influences your career, relationships, and lifestyle. Find out 15 convincing reasons why effective communication is important.
15 Benefits Of Effective Communication That Highlight Its Significance
Effective communication helps build trust between people so they know they have been heard and understood. It can also help avert mistakes and make any process much easier for everyone involved!
1. Effective Communication Is Crucial For Team Building
Communication is the foundation for any cooperative effort, whether it's a project at school or a presentation at work. To achieve success in your team projects, you have to communicate with your fellow members until everyone understands each other.
Working in teams is an inevitable part of our lives. You can't work in teams without communicating effectively. Team building exercises are even more important in today's workplace where teamwork is essential for success.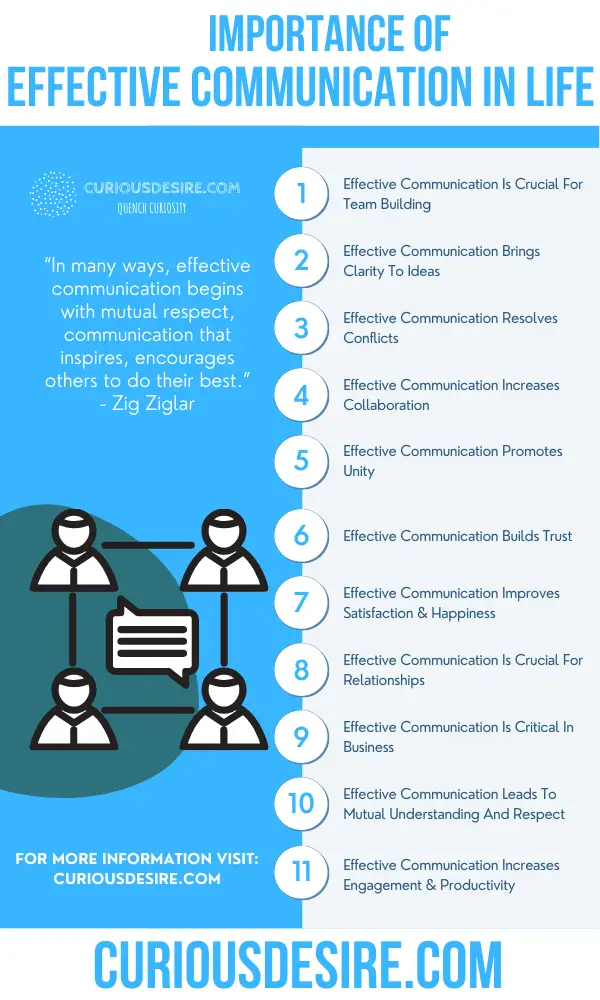 2. Effective Communication Brings Clarity To Ideas
When you communicate effectively, your ideas are easily understood, which brings clarity to them. Your team can then work with that shared understanding of the project's objective and direction.
This fosters a sense of teamwork because everyone knows what they have to do individually to bring their idea or plan to life! A clear picture helps the members set goals per the objective.
3. Effective Communication Prevents Stress
Effective communication can also prevent stress from being pushed onto you by other people or from forming in the first place.
By listening and understanding each other's points of view, it is easier to avoid any misunderstandings. This leaves no room for misinterpretation or unnecessary arguments that can increase stress levels.
4. Effective Communication Resolves Conflicts
Problems can arise from a lack of communication – when one party doesn't share their thoughts and feelings or fails to listen when another is speaking. If you communicate effectively, however, all misunderstandings and disagreements can be solved before they become a problem.
This way, you can prevent any bad blood from rising between people and focus instead on achieving the project's common goal.
Related Video – The Importance Of Effective Communication:
5. Effective Communication Makes Things Easier
Effective communication makes a lot of things easier in every aspect of life. It is one of the fundamental human interactions that allow us to know what other people are thinking and how they're feeling. This has also been used in psychological therapies for decades.
In fact, by communicating effectively with your friends or family, you can remove any misunderstandings that might have led to arguments or even break relationships.
6. Effective Communication Increases Collaboration
Effective communication is crucial in any sort of collaboration, whether it's for schoolwork or a business meeting with potential clients.
Everyone should voice their opinions without the feeling of being judged. You can increase collaboration only when everyone involved communicates freely. This will increase the sense of camaraderie and will help you achieve the best results.
7. Effective Communication Promotes Unity
Unity creates strength and power in everything we do as a society. It helps us fight for what we believe in and achieve the goals we set out to conquer.
Communication helps people connect to others and feel like they belong to a community or group. It also facilitates collective efforts by bringing people together toward the same goal.
This sense of togetherness is one of the strongest forces that drive humanity forward.
8. Effective Communication Builds Trust
Effective communication fosters trust and sincerity. Communication is enhanced when individuals can straightforwardly talk to one another.
You influence people around you – addressing people and listening to them carefully helps others trust you. They then try to demonstrate your ability to acknowledge and embrace opposing views.
This confidence will be passed on to your team, allowing them to have faith in their teammates' ability to carry out their tasks and responsibilities.
9. Effective Communication Improves Satisfaction & Happiness
Proper communication makes you feel more satisfied because it gives you a sense of closeness with the people around you. It is also nice to be acknowledged by your peers for what you contribute to the task at hand.
This level of fulfillment is achieved when the people around you make an effort to understand your needs and interests. In return, you also try to meet theirs for a more fulfilling friendship or relationship. Happiness stems from a sense of contentment and satisfaction with life. And effective communication helps you achieve just that!
10. Effective Communication Is Crucial For Relationships
The most important components of any relationship are trust and open communication.
Effective communication can help you understand your loved ones better, which builds an even stronger foundation for your relationship.
Being considerate of their needs is also a surefire way to make them feel appreciated and respected. Hence it helps strengthen relationships.
11. Effective Communication Is Critical In Business
Businesses today require a lot of time and attention to grow successfully. Businesses need to communicate not only with the people outside their company but also within it.
Every customer counts in today's competitive market. It is vital to keep them happy by regularly communicating with them about the business plans and changes.
By regularly communicating with their customers, businesses will create long-lasting relationships that will help them thrive in the future.
12. Effective Communication Promotes Diversity & Tolerance
Effective communication fosters diversity. It helps you understand how others think, feel, and act. Furthermore, by listening to their views with an open mind, you can appreciate them for who they are despite possibly differing backgrounds or beliefs.
This mutual understanding also makes your teammates more tolerant of one another's opinions which allows them to work together cohesively.
13. Effective Communication Leads To Mutual Understanding & Respect
Effective communication also allows us to respect each other's values and opinions even if they are different from our own.
Mutual understanding and respect make your team more united in achieving their goal, and this energy helps them to create something great! Respect also helps us avoid unnecessary conflicts and achieve the team's common goal amicably.
14. Effective Communication Increases Engagement & Productivity
Employees become more productive when they understand their responsibilities. Conflicts are swiftly settled and employees may better manage their workload. These advantages contribute to increased employee engagement.
According to recent research on employee engagement, only 15% of adult workers are engaged with their employers. We may improve engagement and satisfaction by focusing on effective communication.
15. Effective Communication Makes You A Better Leader
Leaders are tasked with the responsibility of bringing teams together to work towards one common goal.
This objective is impossible to achieve if nobody in a group is on the same page or can voice out their ideas and opinions freely. With effective communication, you and your team can work better together because everyone is heard.
Effective leaders believe that good communication is a two-way affair, with two key elements; speaking and listening. It makes them adopt different strategies to come through different people and make them work towards achieving success.
The Importance Of Effective Communication – Conclusion
There are many reasons why effective communication is important in your life. By understanding human needs, there can be better relationships and increased happiness in one's personal and professional life.
References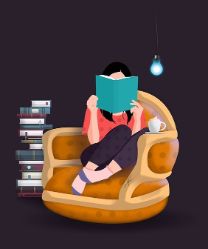 A sophomore in engineering, I'm a budding writer and an adventure enthusiast. My passion leads me on to try my hands on different things. I enjoy music, food, and good company. Making my way through life in my own ways, you'll find me holding a camera and capturing what this world has to offer.