Email is used by more than 2.5 billion individuals all around the world. It is expected to grow to 2.8 billion email users by the end of 2022. It is also reckoned that a total of 196 billion emails are sent daily, and out of them the majority – 109 billion, are generally related to business.
People often assume emails are old technology, however, they are very much vital for effective communication with customers.
Email marketing is a versatile tool that companies of all shapes and sizes may utilize. It can be used for business-to-business (B2B) or business-to-customer (B2C) communication. So we provide you with 15 reasons why email marketing is important.
15 Benefits Of Email Marketing For Any Business
Email marketing is one of the most cost-effective and powerful methods for generating new customers. You can send out newsletters and announcements, collect contact information from new customers, and even sell products directly through your email list! It's an easy way to stay in touch with your audience and if done right, it can generate a ton of conversions.
1. Email Marketing Is Personal And Customisable
Email marketing is personal, effective, and flexible. Emails sent to your subscribers are not just ads or announcements, they're tailored messages reaching out to an individual who has personally opted-in for updates from you. They can be sent to a specific target audience that has shown interest in what you have to offer.
Email marketing allows you to establish a connection with individuals. It allows you to communicate one-on-one with your readers and potential customers.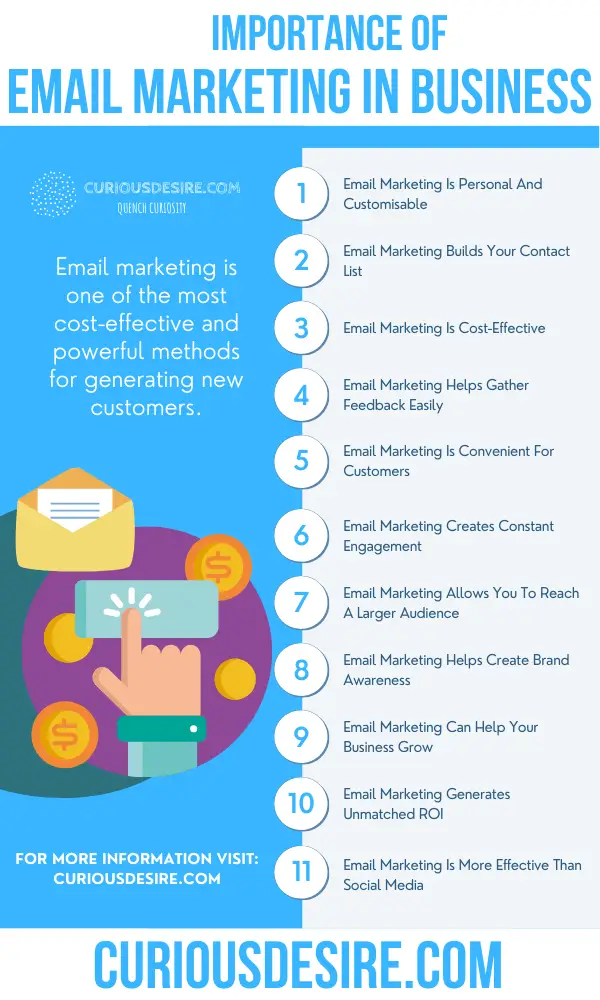 2. Email Marketing Builds Your Contact List
Email marketing allows you to build a list of contacts that can be used as a database.
Every business has different customers and target markets, so they will need relevant information for each one to send out the most effective email. Email marketing provides marketers with all the tools needed to segment their lists based on age, gender, income level, interests, location, and more. You'll keep ownership of the content you put out and send.
It's easy to create a filtered list without having to hire someone just to buy the email addresses.
3. Email Marketing Is Cost-Effective
Compared to other marketing channels such as print and television ads, email is a lot more affordable.
Email allows you to reach out to people without having to pay for expensive advertisements in papers or on TV. You will generate a list of potential customers in a very short period regardless of the small or large following.
Marketers can send an email from the comfort of their computer. The software will allow bulk mailings and even track ROI (return on investment) on every marketing campaign launched.
Email marketing is a cost-effective way to reach out to people who have already expressed interest in a business.
4. Email Marketing Helps Gather Feedback Easily
Everyone has an opinion, and most of the time they are happy to share it.
There's no better way to get feedback than with email marketing. You can easily send out a survey or other forms that allow your subscribers to give their thoughts on what you have to offer. You'll be able to see what people like about your brand, what they dislike, and if there are any ways you can improve your business.
Many tools allow you to send out surveys straight from your email list. It's a great way to gain valuable information with minimal effort.
Related Video – Why Market Your Business with Email? Importance of Email Marketing | Dopinger:
5. Email Marketing Is Convenient For Customers
You can reach out to people from the comfort of your computer or mobile device at any time and anywhere through emails.
You can choose a time that is best for you to send out emails. It's convenient for both customers and marketers because they can simply click a link to become a subscriber, read an email when it suits them, and unsubscribe when they no longer want to receive updates.
6. Email Marketing Lets You Communicate Directly With Customers
Email marketing lets you establish a one-on-one connection with customers. They can communicate directly with your business through email by simply replying to an email that was sent out in real-time.
It's an effective way for people to ask questions, express concerns or feedback, and get a real answer without having to wait on hold or talk to a representative over the phone.
7. Email Marketing Creates Constant Engagement
Do you want to notify your subscribers of a recent sale? Or, perhaps, your new stock? How about that new how-to video?
For many years, email has been a means of communication. An email has rapidly evolved into one of our primary methods of communication over time.
We have all been groomed to reply to an email in some fashion. Knowing this, you may utilize email to entice visitors to your website, call them or perform any other action you choose. According to statistics, over 25% of sales were attributed to email marketing last year.
Email marketing is a smart way to create constant engagement so you can keep your customers upbeat. The email connection is direct. While you'll still have to compete for attention in the inbox, providing value with your newsletters regularly may eliminate this issue.
8. Email Marketing Allows You To Reach A Larger Audience
Email marketing allows you to reach out to a large audience without having to specifically target each person one at a time.
You can send out newsletters to everyone who has subscribed to your list, no matter where they are located or the different languages they speak. You can also stay connected to filtered groups of people by using tags.
There's no longer a need to hire cheap labor just to create custom marketing campaigns for different parts of your target audience when email marketing allows you to reach out to a larger audience in an instant.
10. Email Marketing Provides A Forum For Promotion
Email marketing provides a forum for promotion. This is particularly helpful when it comes to content promotion, which remains the biggest challenge for marketers.
You can easily email your customers when you release new content, such as blog posts, videos, podcasts, and eBooks. The best part is they will receive it at their convenience since they opted into your list.
It's an effective way for marketers to promote their work through the help of the people who matter the most – current and potential customers.
11. Email Marketing Helps Create Brand Awareness
Email marketing is a great way to create brand awareness.
With just a few clicks, you can easily send out newsletters to your subscribers and contact them with important information about new products or upcoming events.
Email marketing is necessary for announcements such as product updates and upgrades as well as discounts and promotions so your customers know what's going on with your business.
12. Email Marketing Can Help Your Business Grow
Email marketing has been named as one of the most popular and effective digital marketing tools for good reason – it is convenient, cost-effective, hardworking, and it can help your business grow.
You can find new customers or keep in touch with loyal ones through email marketing. The possibilities are endless when it comes to growing your business no matter how big or small it is. Hence email marketing improves sales by tenfold!
13. Email Marketing Generates Unmatched ROI
Email marketing is a powerful tool that continues to grow as the years go by. Many businesses have started using it as a way of generating ROI and increasing their sales.
On average, firms will get a 44:1 return or $44 for every $1 put into the company.
It's an inexpensive, convenient, and effective way to communicate with your customers and prospects without breaking the bank or draining your resources. Because of its numerous benefits, it'll continue to be a key player for marketers for a long time to come.
14. Email Marketing Is Easy To Track
Email marketing enables you to measure your results and track which strategies are most effective. You can even analyze how many people opened or read your email as well as the clickthrough rate of different links.
Email allows you to monitor the performance of your email, allowing you to use everything learned as part of future marketing campaigns.
You can now track which links are getting the most attention, which subject lines work best, and how much revenue is generated from each campaign.
By tracking this information, it'll help you determine if your email marketing campaign is working or not.
15. Email Marketing Is More Effective Than Social Media
The power of social media to connect and interact with your audience is unrivaled. And, since to this end, it's a significant initial step in attaining your ultimate objective — conversion — emails are also important.
In terms of overall performance, you could be shocked to discover that email generally outperforms social media. Customer acquisition through email marketing has quadrupled in the previous four years. Email marketing is already responsible for nearly 7% of all online consumer acquisitions.
Hence email marketing, on the other hand, is a fantastic way to convert customers or buyers into members.
The Importance Of Email Marketing – Conclusion
Email marketing is a valuable tool for any marketer that helps create brand awareness, delivers unmatched ROI, creates constant engagement, and is easy to track among many other benefits it possesses.
Email marketing may help you increase sales, build and nurture leads, decrease churn rates, and boost repeat purchases. Given that this is still the place where individuals want to get information, we can say that email marketing is not dead.
References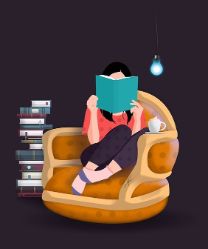 A sophomore in engineering, I'm a budding writer and an adventure enthusiast. My passion leads me on to try my hands on different things. I enjoy music, food, and good company. Making my way through life in my own ways, you'll find me holding a camera and capturing what this world has to offer.