Experience is important because it allows you to grow and evolve. When you are presented with a new environment, you will learn how to adapt to the situation to succeed.
You may also develop brand new ideas and strategies as a result of your experience with different things. Experience is important because it provides you with information about how to operate within the world.
The good news is that everyone can gain experience since it can be acquired in different ways. Here are the top 15 Reasons Why Experience is Important.
15 Benefits Of Experience That Will Make You Want to Gain It More
Without the knowledge you gain from experience, you would be completely clueless about certain aspects of life. You wouldn't understand what goes into making a successful business, or why people behave in a certain way; instead, they would seem like an enigma.
Experience allows you to build relationships. Also, Experience teaches you how to deal with different types of people. As you gain experience, you will learn how to handle different personalities – some of which may be difficult to please. You'll also learn how to negotiate and compromise, which can come in handy when working with a team.
Experience gives you knowledge and insight into things such as human nature, history, math concepts, and scientific theories; this kind of knowledge will help give you an edge when it comes to competing in the job market. Shared below are the top 15 benefits of experience:
1. Experience Makes You More Marketable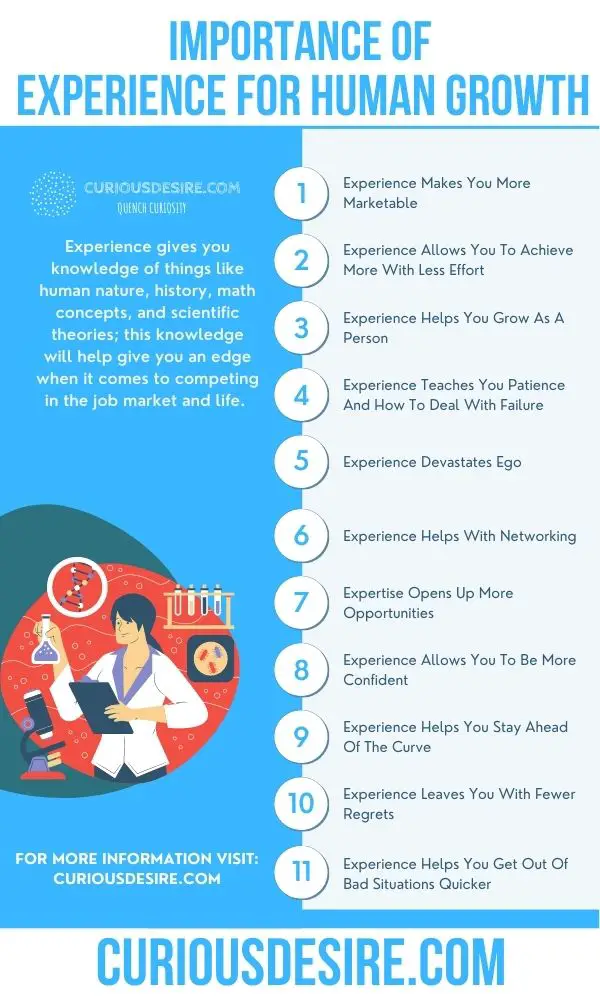 Employers are always on the lookout for employees with experience because they know that these employees have the skills and knowledge required to do the job well. With experience under your belt, you will be a more desirable candidate for any position that you may apply for.
2. Experience Allows You To Achieve More With Less Effort
This is perhaps the most underrated benefit of experience. For example, if you know that you can complete something in two hours, then why try to do it in one hour? You will give yourself unnecessary pressure that way and end up spending far too much time on a task that would have taken half the time had you not tried rushing through it.
3. Experience Helps You Grow As A Person
As you go through life and experience different things, you will learn more about yourself. You will come to understand your strengths and weaknesses, and this understanding will help you become a better person.
4. Experience Teaches You Patience And How To Deal With Failure
Both of these are important traits to have if you want to be successful in any area of life. Experience will teach you how to be patient because not everything happens overnight. It will also teach you how to deal with failure because not everyone is going to like you or your ideas.
Reference Video – A Life Built On Experiences
5. Experience Devastates Ego
There is nothing more satisfying than achieving something with your talent and hard work, but the experience will crush that ego quicker than anything else. You need to be humble about the skills and talents you have because not everyone is as skilled as you may think you are (and you don't know everything either).
6. Experience Helps With Networking
These days, networking is an important skill to have if you want to find a job or expand your business. Most of the time, it's about whom you know rather than what you know. This means that having people to back up your ideas can help open up growth opportunities.
7. Expertise Opens Up More Opportunities
The more expertise you have in a certain field of work, the more doors it will open for you. It can lead to opportunities such as consulting or working on side projects that might be an extension of your main project (and add more money to your pocket).
8. Experience Allows You To Be More Confident In Your Abilities
There is nothing worse than not trusting yourself and always second-guessing your decisions and abilities. If you have lots of experience under your belt, then you will be able to know how capable you are of doing something and be more confident in your decisions.
9. Experience Helps You Stay Ahead Of The Curve
Technology is always changing, and if you want to stay ahead of the curve, then you need to have experience in the latest technologies. With experience, you will be able to know what is new in the industry and how to use it to your advantage.
10. Experience Leaves You With Fewer Regrets
Regret is toxic, and there is nothing worse than looking back at something you did and thinking about how much time and effort went into it. If you have experience, then there will be fewer regrets for you because you will know that you did everything in your power to make things right.
11. Experience Gives You The Confidence To Take On More Responsibility
If you want to get ahead in life, then it's important to take on responsibility whenever the opportunity arises. Having more responsibility means having more control over what happens (and can lead to better opportunities). This also gives other people confidence in the fact that they can trust you with bigger tasks/responsibilities when the time comes.
12. Experience Helps You Get Out Of Bad Situations Quicker
As stated before, the experience will help you navigate through bad situations more quickly and efficiently. This will save you time and energy so you can focus on the more important things in life instead of getting bogged down in a few mistakes that are easy to fix with your experience under your belt.
13. Experience Helps You Find Your True Purpose
We all have a certain purpose in our lives, and it is this purpose that guides us through whatever we do. Experience helps you figure out what your true purpose is by helping you see what truly interests you and makes you happy while also teaching you more about yourself along the way.
14. Experience Makes Life More Enjoyable
The older I get, the more I realize how important it is to live every day like it's your last because one day it will be (no one knows what will happen tomorrow). This means that doing things such as traveling, learning new skills, and living life to the fullest is more important than ever.
15. Experience Helps You Prioritize Better
One of the biggest problems that young people face is figuring out how to prioritize their time correctly. This is mainly because they are still trying to figure out what they want in life and what is important to them. With experience, this changes as you learn what is important to you and what is not. This way, you can focus your time and energy on the things that matter most instead of wasting it on things that don't matter in the grand scheme of things.
The Importance Of Experience – Conclusion
In conclusion, experience is important because it teaches us a lot about ourselves and the world around us. It helps us find our true purpose in life, makes life more enjoyable, and teaches us to appreciate the little things. With experience under your belt, you will be able to take on more responsibility and achieve great things. So what are you waiting for? Start gaining experience today!
References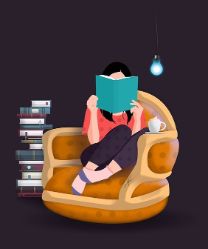 Passionate about literature, books, and weaving words into phrases, I'm pursuing an academic career in English Literature and Linguistics and have been working as a content writer since 2016. Writing, to me, is the smoothest way to explain things to others and share knowledge with them. On this platform, I aim to utilize my passion for writing in the best possible manner, using it as a medium to share whatever knowledge I have with the readers.