Free speech is an essential part of society and it helps to make the change. It helps bring awareness to people about many issues. People who speak freely about issues are open-minded and have a clear thoughts.
Free speech means to hold legal rights to seek it and express opinions. Freedom of speech is a part of expressing freedom. Here is a list of reasons why free speech is important in our society and community.
15 Benefits Of Free Speech For The Society
Individuals speak freely about whatever they want. Problems, crises, taxes, and issues people need to know and stand up for. In a democratic country, citizens speak up for the country and its betterment. Let's begin with why free speech is important and is needed.
1. Free Speech Builds Awareness And Understanding
One of the benefits of free speech is that it gives people the freedom to seek what they want and express their views. This opens up new ideas or information about many different topics such as politics, history, religion, human rights and so much more.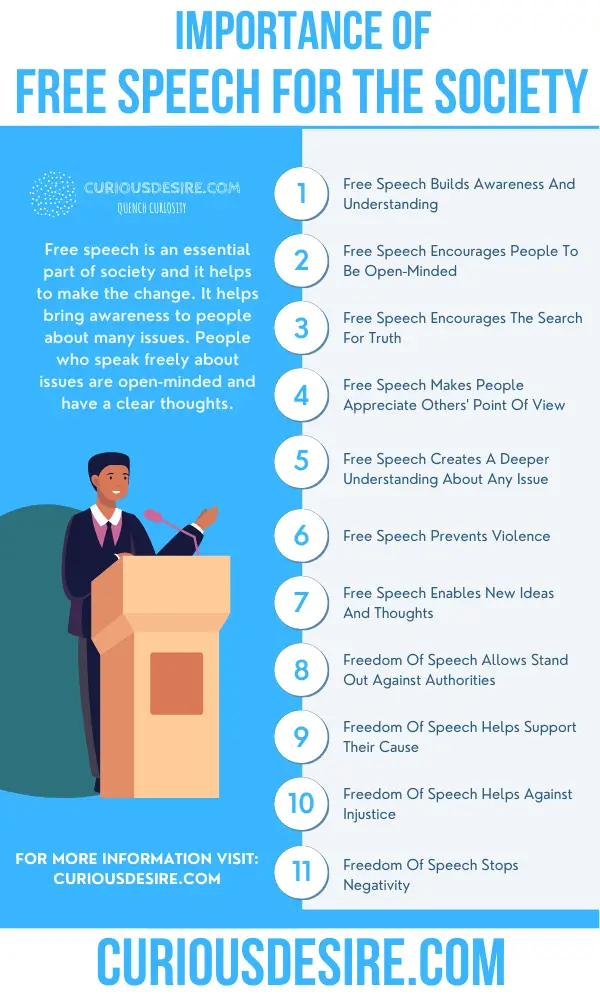 2. Free Speech Encourages People To Be Open-Minded
When a person expresses themselves freely they are able to think clearly about all different types of issues whether it be political, religious, etc…This makes a person have an open mind towards many different things in life. 
They can think objectively about something that is happening in their community or society which is a good thing because then the person can make changes within themselves through self-criticism.
3. Free Speech Encourages The Search For Truth
When a person speaks freely they can express their views or opinions on any issue. In this way, this brings up other ideas and thoughts which leads people to look further into many issues.
Whether it be social, political, or any other.
This study makes them learn about others' perspectives of an issue that they did not know before which broadens their mind.
4. Free Speech Makes People Appreciate Others' Point Of View 
When an individual expresses themselves freely and openly they can understand why another person may think differently than them, understands what the other person feels, and acknowledge.
There is always something good in every situation or excuse. This also helps a person to learn more about another individual's beliefs, life, and background story which can help a person become more accepting of others.
Related Video – Why Freedom Of Speech is Important
5. Free Speech Creates A Deeper Understanding About Any Issue
When a person speaks freely they can express their feelings more openly and this allows them to converse with another person who is on the other side of the issue which helps a person look into what that individual is thinking more closely.
This also helps people realize there are two sides to every story which brings up multiple ideas and thoughts from different people for an issue. For example, between two political parties, ideas are shared and discussed to know the ideas of each.
6. Free Speech Prevents Violence
Within communities by opening up channels of communication that lead to healthy discussions, we can solve issues without violence and conflicts. For example, violence among teenage students at a school could be prevented if the administration allowed them to speak freely about what they were angry about.
7. Free Speech Enables New Ideas And Thoughts 
Free speech provides new ideas to emerge for any given individual or group of people because it allows one to have an open mind towards new issues being brought up by others without being shut down or mocked by society. In other terms, which will cause someone not to speak their minds freely.
For example, public school teachers may feel critical of the system they work in but if free speech was allowed in schools, they might be more open to discussing how certain areas could be changed and improve the working environment for themselves and students.
8. Freedom Of Speech Allows Stand Out Against Authorities
Freedom of speech enables us to express thoughts about policies or issues that affect them without fear of censorship from authorities. This will allow people to fully understand what is happening within their community/society.
They can come up with better strategies for solving such problems because it gives them access to other people's opinions about these matters as well as information about the problem.
9. Freedom Of Speech Helps Support Their Cause
Speech Freedom is often used as a reason for other people to support their cause because it allows them to express their opinion which will influence others to join their side. If they are already supporting this cause, then they can use freedom of speech as a way to convince more people about why they should do so themselves.
10. Freedom Of Speech Stops Negativity
The right to freedom of expression does not permit citizens to speak negatively about other people without giving them the chance first to explain their perspective on the issue at hand. 
This also includes insulting or cursing at another person because that would be considered an abuse of one's rights and freedoms whereas, for one's rights and freedoms to be in place in a society, there must also be respect for other people.
11. Freedom Of Speech Helps Against Injustice
Freedom of speech means that everyone must the right to voice their opinion because otherwise, there would be inequality among men. Not having freedom of speech means that the rights of some are given more value than others.
12. Freedom Of Speech Is A Tool Of Defense
To not being able to speak freely means that it wouldn't be safe for anyone to criticize other people since they could get arrested under false charges if someone with enough power makes up lies and tries to frame them. Freedom of speech should be a right that all people have, not just those who agree with you.
13. Freedom Of Speech Educates People
Freedom of speech is a principle that doesn't only apply to opinions and ideas about positive things – it applies to the whole spectrum from good to bad things. It's an essential principle because if we didn't have freedom of speech it would mean that there was no opportunity for discussion- no matter what the context is. 
Not allowing freedom of speech or giving censorship too much power would mean that important issues wouldn't be allowed to surface and we as a society wouldn't have any opportunities whatsoever to discover them or fix them.
14. Freedom Of Speech Resolve Religious Conflicts
Many people have been killed in the course of human history because of their beliefs – whether that was due to religious rules or political ideas. One of my main concerns about religion is how much political power it has over things like law, science, education, etc. Political decisions based on religious ideas will never ensure true freedom for all.
"Freedom is essentially self-determination…the freedom essential to religion is reflected in one's right to think freely and to act according to the dictates of one's conscience, free from any interference or punitive action by society…freedom of thought is essential for religious freedom."
If there is no freedom of speech, it means that someone's opinion has more value than another person's, which isn't fair. Freedom of speech means equal rights for everyone.
15. Freedom of Speech Presents New Ideas
 Freedom of Speech is necessary to discover new ideas and concepts because if people are not able to express themselves freely then they are more likely not going to get heard at all since others will probably disagree with them or think their idea is stupid so won't take them seriously enough.
Importance of Free Speech – Conclusion
As you read above, freedom of speech is very important not only for us but also for our communities. This helps resolve issues on different agendas and issues.
References