The business landscape is evolving quickly. It has become even more dynamic at the same time. While startups search for someone to make their concept of an ultimate application a reality, others wonder what project management is all about.
Project management is a highly important and necessary part of any business. It's the process of monitoring, planning, and directing a team to achieve goals efficiently.
Project management skills are necessary for every type of company. It facilitates the proper management of human and material resources. This is an integral part of the development process to bring any type of product or service into existence. So we bring to you 15 reasons why project management is important.
15 Benefits Of Project Management Making It Crucial For Any Business
Project management also allows to cut costs, improve resource allocation, and adjust activities for better results. It's one of the best tools that businesses use to help themselves grow. Project management is a core concept to be able to pursue any business solution.
1. Project Management Saves Time And Money
Project management is best at saving both time and money by knowing how to schedule and allocate resources to complete tasks in the most effective way.
The project manager can help achieve more with less expenditure of time and money than what is expected from those working on the project.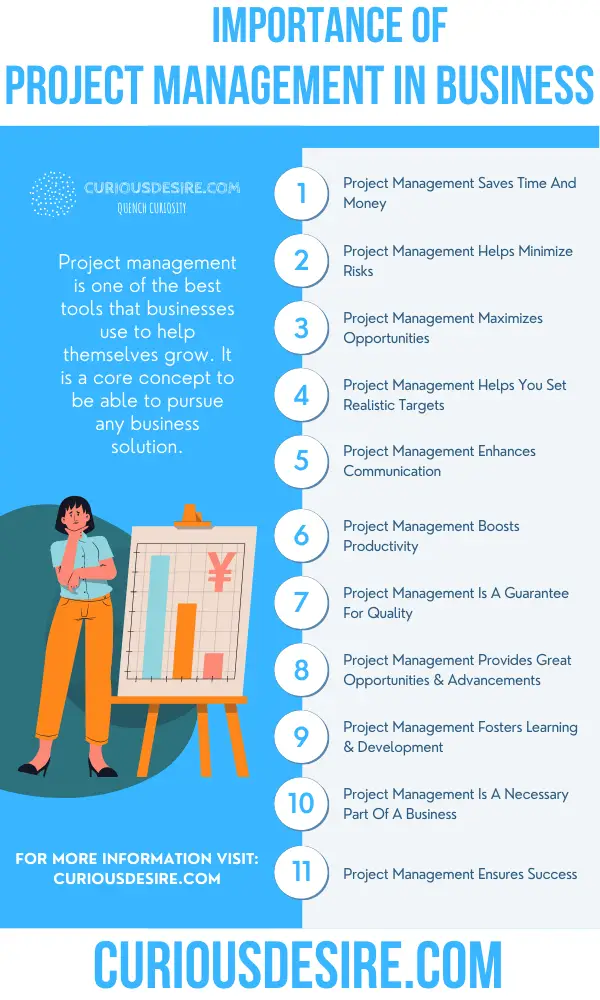 2. Project Management Helps Minimize Risks
Every project encounters difficulties. People are unable to anticipate all problems since risks are natural. Those risks need to be properly controlled to avoid becoming major concerns.
Project management helps to minimize risks by having a plan that improves results. It's one of the best ways to secure success without jeopardizing products or services for clients.
3. Project Management Maximizes Opportunities
Project management can assist you in scaling high performance and developing your team's best practices.
The best thing about a well-planned project is that you can take advantage of opportunities when they arise. Not only will project management help your business to achieve its deliverables, but it also helps in creating new opportunities.
4. Project Management Helps You Set Realistic Targets
With a well-defined strategy, you can reach your goal. The same goes for project management.
It allows you to devise a comprehensive plan that details the development process in minute steps.
Project management provides the right skills and an ability to prioritize tasks so that you can deliver what's needed in time. The company can set focused targets to be achieved.
Related Video – Why Is Project Management Important?
5. Project Management Provides Consistency & Consensus
Excellent project management allows you to anticipate problems before they become issues, prevent bottlenecks, and make more informed data-driven judgments.
Because you have a better understanding of how your project is progressing, you can see where your resources are being spent, what needs to be prioritized and when, and whether you're heading off track.
Project management helps in developing consensus among different departments inside an organization. Consistency allows for better decision-making between teams.
6. Project Management Enhances Communication
Working together might be difficult. Even while working across teams or departments, you can minimize complexity, increase transparency, and ensure accountability by using more efficient project management methods.
Managers who handle projects, know how to create and maintain successful relationships with people inside and outside the company. They effectively communicate with a variety of individuals and groups about project goals.
They also assist in solving problems quickly and efficiently by having a wide range of skills and abilities much needed for businesses today.
7. Project Management Boosts Productivity
Project managers are always looking for ways to maximize the use of limited resources. They are constantly reviewing their team's workflows and refining project tasks according to deadlines, budgets, client demands, or resource availability.
Productivity thrives in a competitive environment and project management is the best way to achieve your goals in less time than expected.
8. Project Management Is A Guarantee For Quality
Project management makes it easier to find and correct errors early on, which is critical when quality control is involved. It helps you ensure that all tasks are completed correctly before they reach your clients or go into production.
Project management is especially useful when it comes to complex solutions that involve multiple departments working together. It allows them to meet the strictest industry standards and achieve high levels of quality.
9. Project Management Is A Way To Ensure Accountability & Responsibility
Project management is about making deadlines, sticking to budgets, and meeting client needs while managing multiple responsibilities at once. It requires the right skills and an ability to prioritize tasks so that you can deliver what's needed in time.
Project managers understand the individual strengths and weaknesses of members. So they distribute work according to their abilities.
Project management also evolves the sense of accountability. Everyone is responsible for their actions and has to deliver what they've promised.
10. Project Management Provides Great Opportunities & Advancements
Project managers can take on additional responsibility by offering support for new projects or extending the scope of their current project management roles with better team members and training courses.
They are often capable to become supervisors, team leads, managers, or even C-level executives because of their experience and knowledge of company processes.
11. Project Management Helps You Handle The Chaos
Project management can help you handle multiple tasks at once while keeping track of deadlines, budgets, and other responsibilities. It ensures quality work by encouraging peer reviews and constant communication between stakeholders.
If done properly, project management defines the vision and scope of any mission – the ultimate goal needed to be achieved. It also saves time and money by avoiding mistakes that might cost your organization more in the long run.
12. Project Management Fosters Learning & Development
Most project managers are able to offer overall guidance, decision-making, coaching, training, and support to their team members. They help to develop new skills and foster learning opportunities that assist you in growing throughout your career.
Project managers can improve the lives of employees by making processes easier for them to understand, managing workflows more efficiently, setting up systems that will help them grow, and becoming better at what they do on a daily basis.
13. Project Management Is A Necessary Part Of A Business
It is important for business owners to look at project management as a necessity to run their companies successfully.
Project management is necessary to ensure business processes are completed on time and within budget. There are many ways that project managers can help any type of company increase its profits and boost productivity.
Every company requires the support of one or more project managers at any given time throughout its lifespan. Because these professionals can create useful solutions that foster success.
14. Project Management Ensures Success
Project management provides a clear picture to set targets and help find success. It is a process and methodology that allows communication and feedback from all stakeholders, which leads to improved organizational performance.
Project managers also maximize the return on investment by delivering projects within budget and on time. They make use of their resources efficiently and handle challenges in a strategic way, which leads to better results.
Hence project management is the best way to achieve your goals in less time than expected. This leads to increased productivity resulting in satisfied clients or customers – the success of a company.
15. Project Management Makes A Difference
Project management is more than just an abstract concept that brings more work, responsibility, and pressure on already busy employees.
It is a way to achieve better results in the most effective way possible. It empowers your team members to meet goals by planning and working with clear objectives in mind.
Project management makes a difference because it helps you stay more organized, manage your time effectively, and improve the quality of work.
The Importance Of Project Management – Conclusion
With project management, you and your team members can work more efficiently. It makes processes easier for everyone to understand and helps you save time and money in the process. Ultimately it allows business owners to run their companies more efficiently.
If you want to achieve better results, stay organized, save time and money, improve the quality of work while being more efficient, implementing project management is a good way to go.
References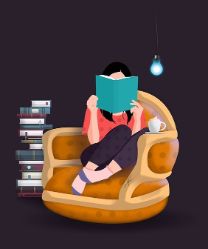 A sophomore in engineering, I'm a budding writer and an adventure enthusiast. My passion leads me on to try my hands on different things. I enjoy music, food, and good company. Making my way through life in my own ways, you'll find me holding a camera and capturing what this world has to offer.